If you happen to approach Navin's BBQ when owner Chris Armstrong is tending to the smoker on the restaurant's modest patio, the precariously thin line between the teeming South Grand strip and the residential streets the thoroughfare bisects will vanish entirely. Armstrong's offset barrel smoker might be a little bigger and sturdier than what you impulsively buy from a big-box home-improvement store on Memorial Day weekend, but you can picture it in the backyard of a passionate amateur pitmaster, wafting fragrant blue smoke over the sturdy brick blocks of Tower Grove East.
Not too long ago, Armstrong himself was a backyard amateur, though one steeped in American barbecue culture. He grew up among the low-and-slow aficionados of Kansas City and central Texas — he lived in Overland Park, Kansas, and San Antonio, respectively — and he has cooked with his uncle's competitive-barbecue team.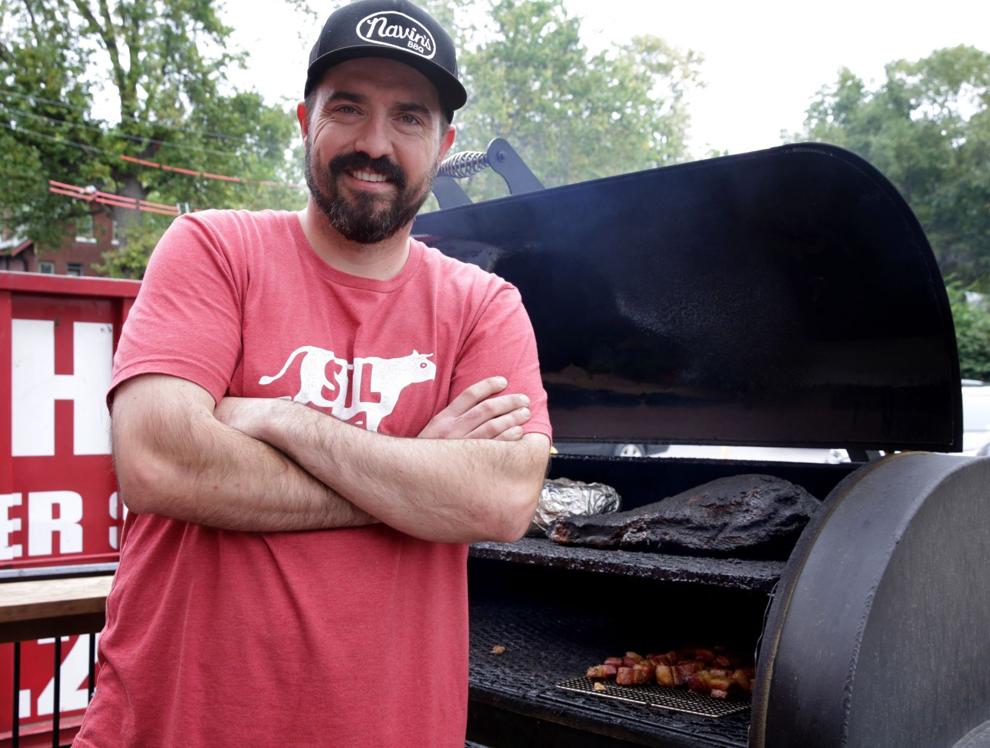 When the pandemic hit last year, Armstrong was working in St. Louis as the Midwest sales representative for a Texas brewery. He was furloughed twice from his job and then laid off. In his now more ample free time, he focused on barbecue, refining his techniques and recipes, developing a consistent process to let each meat shine.
Armstrong's friends and neighbors dug his barbecue. Friends of friends and neighbors soon joined them, and demand outstripped what he could smoke in his backyard. He started planning a restaurant, which debuted in June in the former Guerrilla Street Food storefront on Arsenal Street at South Grand Boulevard.
Navin's is a compact operation: a single smoker, a small indoor kitchen behind the counter where you order, a dining room that seats about two dozen. If anything on the menu grabs your attention at a glance, it is the list of sandwiches — with names like the Jerk and the Mess and options both vegetarian (the ShiNOLA) and vegan (the Shroom) — or maybe the Texas Twinkie, a fun variation on the jalapeño popper stuffed with brisket and cream cheese, wrapped in bacon and not fooling around with its capsaicin wallop.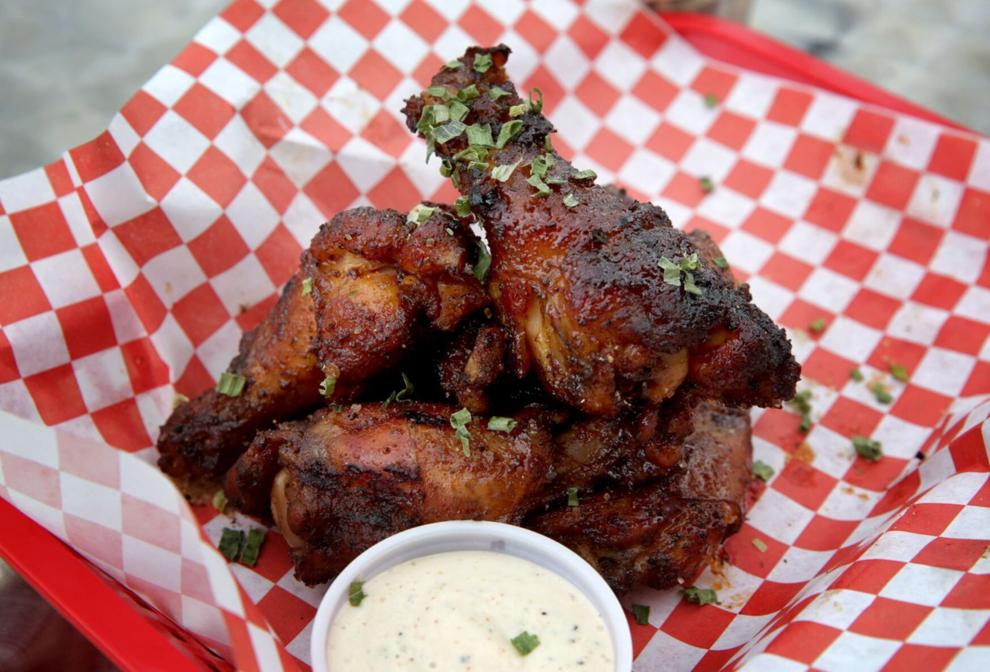 Studying this menu, you wouldn't guess that chicken wings were the breakout hit during Armstrong's backyard experiments. These wings are listed separately from the brisket, pulled pork and other meats that you order by the pound or as a plate, but the placement isn't especially prominent. I didn't think to order them until my final visit here — nearly a colossal oversight.
Armstrong developed his approach to smoked wings cautiously. He isn't "the biggest chicken-wing fan in the world," he told me in a phone interview. Too often, the skin is rubbery. So he studied techniques to avoid this flabby fate. He consulted his uncle, who also judges wing competitions. The resulting process, he said, is one of Navin's most elaborate recipes: a beer brine, a 2½- to three-hour smoke, a spiced brown-sugar glaze, a brief finishing blitz from the kitchen's charbroiler.
What you get is a superior wing, crisp and sticky, its meat juicy down to the bone. The flavors aren't subtle, but their balance and deployment are. Navin's signature blend of smoke — oak as the mellow base, with the autumnal sweetness of apple wood and a bite of hickory — extends and deepens the glaze's initial hit of caramel and pepper. For an invigorating accent, dip each wing in the tangy Alabama white sauce.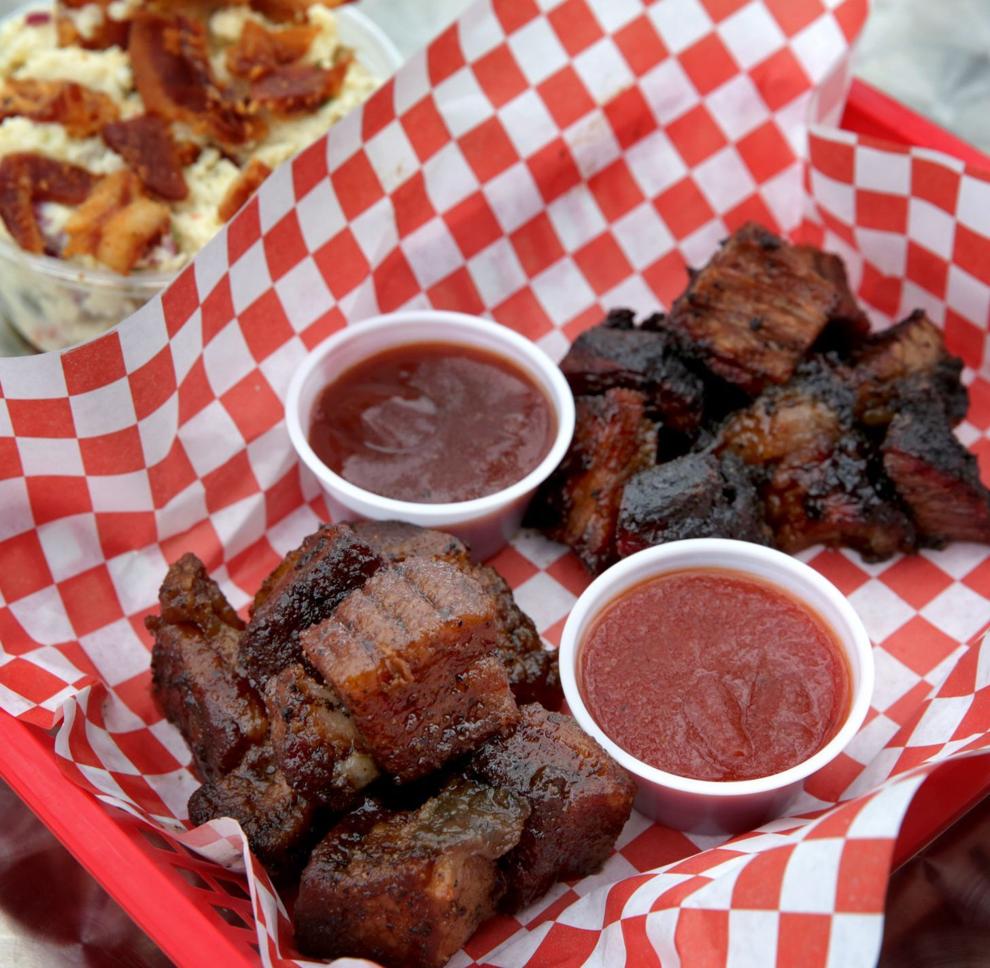 Navin's isn't chicken-focused. The brisket and burnt ends are clamoring for the spotlight of this review. But the poultry here can hold its own with the beef and pork. Actually, I prefer Armstrong's pulled chicken to his pulled pork — and his pulled pork displays the tenderness so often missing from this cut.
Armstrong uses thighs for his pulled chicken. This is exceptionally juicy, with a natural dark-meat essence that can stand up to the smoke flavor and also takes well to Navin's tangy Alabama-style white barbecue sauce. In the Jerk sandwich, the addition of jerk seasoning to this pulled chicken helps the meat stand out amidst a collapsing tower of bacon, pepper jack cheese, onion straws, coleslaw and that white sauce.
The Jerk is also part of Navin's grand in-joke. Armstrong named his restaurant after Steve Martin's character in the 1979 comedy "The Jerk." One of the movie's signature scenes is set at a St. Louis gas station. (Search "He hates these cans!" on YouTube, kids.) For a less oblique reference to St. Louis, try the Lou sandwich, which accents slices of succulent, Busch beer-brined pork steak — not available on the standard smoked-meat menu— with Provel, Red Hot Riplets, sweet barbecue sauce and, skewered on its bun, a single, plump T-rav.
Armstrong can riff on "The Jerk" and garnish sandwiches with toasted ravioli, but he knows when to let his barbecue stand alone. Both the brisket and the burnt ends display an unshowy confidence drawn from his time in Texas and Kansas City. The brisket he slices to showcase the trinity of crackling, peppery bark, a stripe of molten fat and meat in the sweet spot between supple and firm, its beefiness and smokiness inextricable from each other.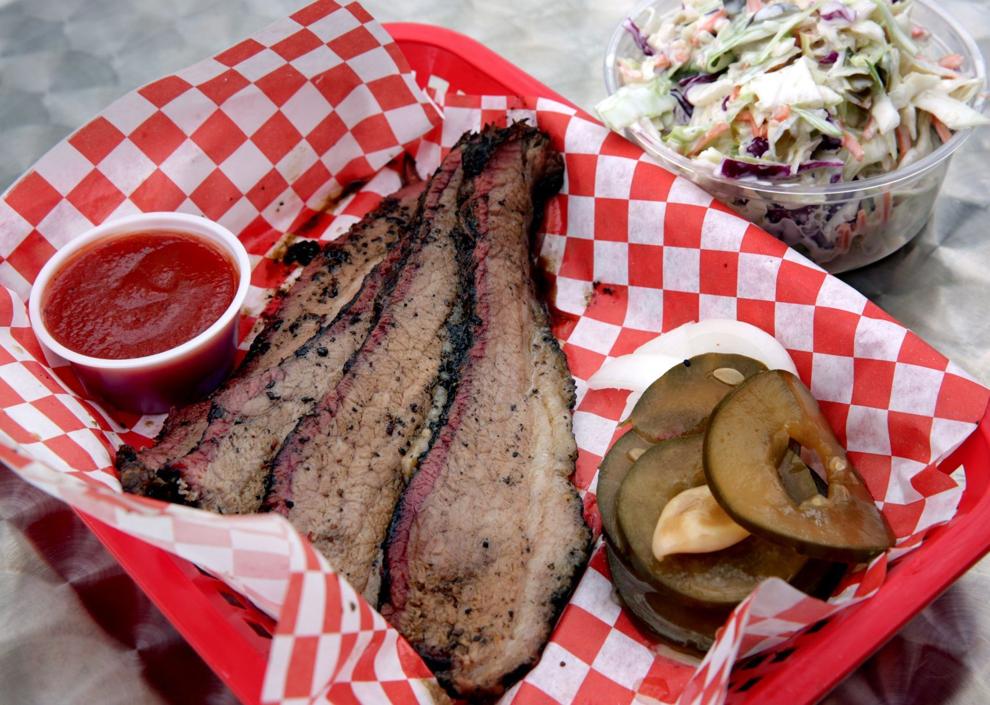 The burnt ends deliver an even more intense bark and more yielding meat. In addition to traditional beef burnt ends, Armstrong also serves burnt ends made from pork belly. At their best, these cubes approximate the smokiness and crisp-to-luscious texture of great bacon, but my order tended toward toughness, especially in comparison to their beef counterparts.
The selection of sides is brief but no afterthought. Pinto beans soaked overnight and beefed up with brisket trimmings pack an eye-watering combination of garlic and chile powder. Collard greens are smoked before being cooked down in red-wine vinegar, oil, sugar and Cajun seasoning, which gives some oomph to the vibrant, meatless dish.
Atop its exceptionally creamy mac and cheese, the restaurant sprinkles a seasoning powder made from a truffle-Parmesan blend, a honey-garlic powder blend and — why not? — Flamin' Hot Cheetos. This dish is the sort of thing you dream up late at night on the living-room couch rather than during careful backyard barbecuing, but at cozy Navin's it finds a home nonetheless.
We are currently not assigning star ratings to restaurants. This review is based on takeout service.
Where Navin's BBQ, 3559 Arsenal Street • More info 314-449-1185; navinsbbq.com • Menu Barbecue • Hours 11 a.m.-7 p.m. Thursday-Saturday