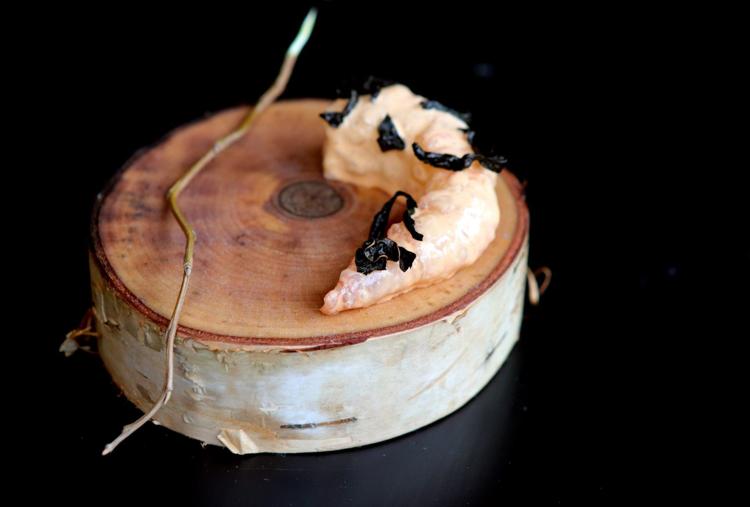 Logan Ely sets a single spot prawn on a piece of crosscut wood. There is nothing to accompany the prawn but a twig to use as a skewer, a twig I'll eschew for my fingers. I want nothing to come between myself and this prawn.
Ely is the chef and owner of Savage, the ambitious 3-month-old restaurant inside a former corner market in Fox Park. He's also, on this December night, one of only six people (three cooks, two servers and a busser-dishwasher) keeping this complex operation humming.
Ely grilled the prawn gently over coals, and while gently is an unusual word to pair with grilled, I think it's the right one. There's no char on the prawn, no fug of smoke. Even the heat was gentle, barely enough to cook the prawn through.
The flavor, though, is electric: the prawn's sweet, briny essence intensified. After grilling the prawn, Ely dipped it in a sauce made from its own roe and garnished it with wakame seaweed. The result isn't "fresh" as we usually mean when discussing seafood — that is, not obviously thawed-from-frozen — but fresh as if the prawn were plucked moments ago from the cold waters off the coast of Washington state.
The prawn is an early dish in what will be a 12-course tasting menu. It won't prove to be the most complex or ingenious of those 12 courses or even the next few minutes. It arrives more or less simultaneously with slivered white radishes dusted with powdered penicillium roqueforti (the blue-cheese fungus) and set in an emulsion of oysters poached in their own liquid with garum and miso.
But the prawn has lingered in my memory into the moment of writing the review as Savage's brilliance distilled. It's direct in its appeal, with little pretense in its delivery. It's delicious even if you don't know (or care) how Ely achieved the effect.
A St. Louis native, Ely has worked and staged in kitchens across the country and around the world: Dan Barber's Blue Hill in New York City (and its companion restaurant Blue Hill at Stone Barns in Tarrytown, N.Y.), North Pond in Chicago and Amass in Copenhagen, Denmark.
From Amass chef Matt Orlando, especially, Ely learned to think critically about the resources wasted in producing food. There, he told me in an interview in September, "if you're running water (unnecessarily), they'll stop you."
Ely returned to St. Louis in 2017 and launched Square1 Project, a series of pop-up dinners featuring only basic kitchen equipment and highlighting the sort of ingredients typically treated as supporting actors or ballast at best, at worst as waste. In lieu of fancy cooking gadgets, Ely relied on techniques like fermentation and preservation.
Savage retains Square1's ad-hoc ethos. Ely has one business partner, Brian Schuman, and one cook who has been with him since the restaurant opened, Ashley Niemeyer. Ely designed the space himself, and with friends he gutted the former A&B Market and built out the restaurant. While he lacked the budget for Instagram-ready décor, the space is striking in its starkness: 18 high-top seats along a counter on three sides of the open kitchen. (There are a few additional non-high-top seats.) The experience can also be disarmingly casual, a welcome development. Ely or one of his cooks brings each dish to you and your companions and explains the basics without flourishes. If the evening's pace allows it, he might chat for a bit.
Dishes change often based on what is available — my prawn reverie aside, Ely's larder is mostly local and primarily vegetable — and you must place yourself in his hands. For dinner, there is no a-la-carte selection. You choose a six-course ($55) or 12-course ($75) tasting menu or, for a more condensed experience, the Snacks menu of five small dishes ($25).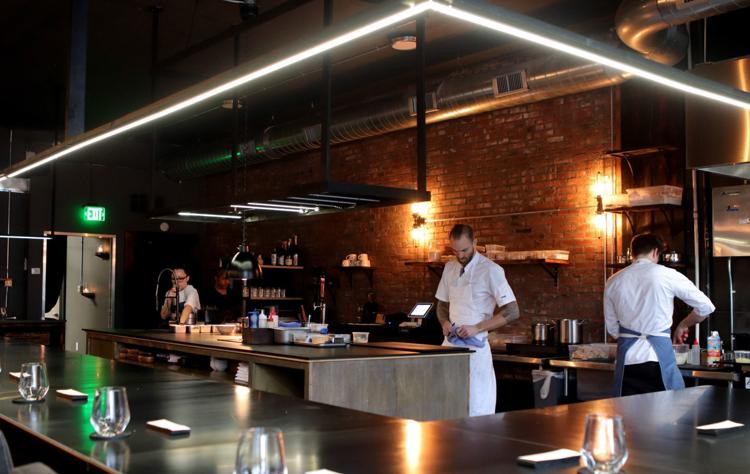 Fermentation and preservation remain Ely's key tools. Both my 12-course tasting menu and my Snacks menu began with a fun riff on chips-and-dip — or, in this case, a single chicharrón-like chip made from beets that had been pureed, dried and then deep-fried, paired with a tangy fermented-potato mousse flecked with dried fish for an added dose of umami.
If you've ever wondered what pretentious food writers such as yours truly mean by umami, consider Ely's yeast mousse, served with preserved onion, shaved turnip and grilled-onion oil. Though the mousse is as light as whipped cream, it delivers the sort of satisfying savoriness you associate with a bite of steak.
The thrill of Savage is not knowing where Ely is leading you on any given evening. If you have heard anything about the restaurant's food, it might be Ely's use of ants as an ingredient. But how? On my visit, dried black ants were sprinkled like poppy seeds over squash that had been dehydrated and then rehydrated with vegetable stock and then intensified with additional squash trimmings. The ants are tart little pops against the squash's earthy sweetness.
More memorable than ants: As soon as I ordered the 12-course tasting menu, the kitchen began setting a fresh cow's milk cheese. By the fourth course, it was ready, and Ely served it atop a housemade cheese aged for three months. The contrast in texture and flavor between the creamy fresh cheese and the firmer aged cheese was beguiling by itself. Fermented chiles amped up the edge and funk of the hard cheese, while the warm sweetness of grilled fennel smoothed out the edges and tied it back to the fresh cheese.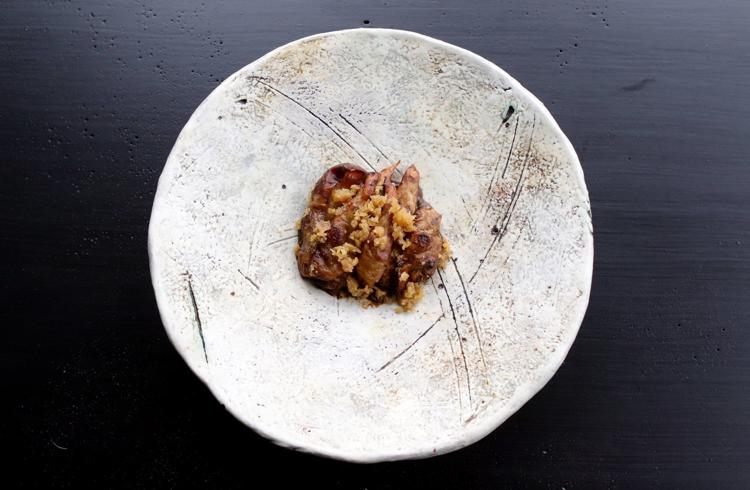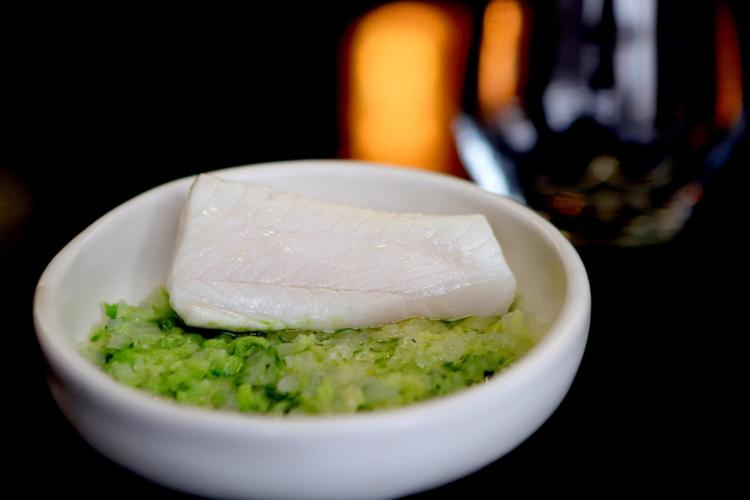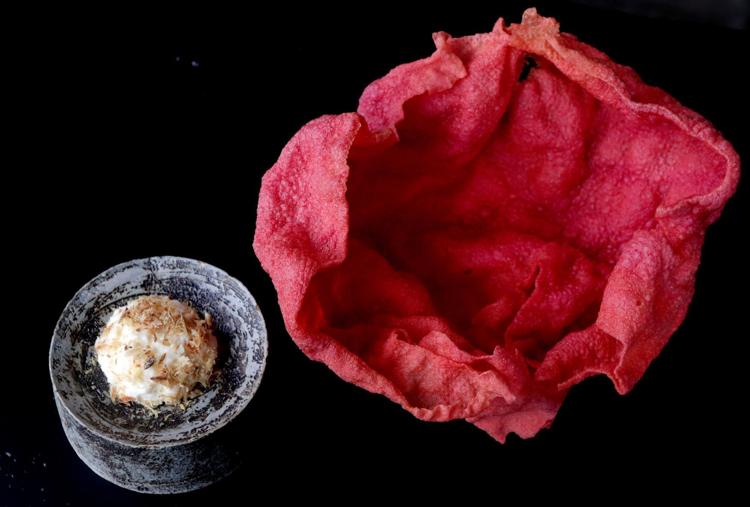 Ely knows when to dial back the intensity. He poaches a lovely piece of rockfish (like the spot prawn, from Washington ) in kombu butter and serves it in fish stock with cabbage, evoking the fish's natural habitat without overwhelming the subtle sweetness of its flesh. Animal proteins are rare. My final savory course was a roasted sunchoke warmed up in chicken fat and topped with crisp chicken skin, but what made the dish was a barbecue sauce made of parsnip cooked some 90 days to develop a rich, deeply savory Malliard reaction.
Crisp chicken skins were also a highlight of the Snacks menu. Morsels of meat were still attached to the skin, but the skins seemed heftier than they were thanks to another umami trick, in this case a glaze of mushroom juice and yeast. As long as your expectations of portion size are properly calibrated, the Snacks menu is its own delight. Mine began with the beet chip and the spot prawn, followed by the chicken skins and a little cup of pheasant stewed with rutabaga and Gala apple.
Preservation even makes its way into the dessert courses, the highlight of which is a refreshing mint-infused ice with tangy housemade kefir and preserved berries.
Savage offers drink pairings for each of the tasting menus. The 12-course pairings were smart throughout and occasionally brilliant, whether easing you into the first small bites with a fun, food-friendly rose lambrusco or meeting the challenge of the fresh-and-aged cheese course with a sweeter semillon. The wine list as a whole favors natural wines, and the list playfully (if not always helpfully) classifies each as "clean" or "dirty."
My main criticism of Savage is the name. Ely means to refer to his use of preservation, fermentation and other techniques that predate restaurant cooking by centuries as well as to his DIY ethos. But it's a word with a troubled history, especially as a descriptor used throughout history by people who pointedly didn't consider themselves "savages."
This isn't the meaning Ely intended, of course, and I must emphasize that this connotation isn't borne out by the restaurant experience at all. It just strikes me as an unnecessary complication.
More pragmatically, I think it's unnecessary because I don't think it's the word Ely actually wants. Which is why I keep coming back to that prawn. That dish is elemental in its flavor, and that, too, describes Ely's cooking: elemental, with deep reverence for the ingredients and their sources.
And Ely's debut restaurant is essential.
Where Savage, 2655 Ann Avenue • 3½ stars out of four • More info 314-354-8488; savagestl.com • Menu Often-changing tasting menus of local ingredients • Hours Dinner Thursday-Sunday (open at noon for drinks and limited a-la-carte menu)