Squatter's Café isn't the restaurant Rob Connoley intended to open in St. Louis. The restaurant he intended to open is Bulrush, an upscale venture featuring modernist cooking and foraged ingredients. Those were the elements that defined the Curious Kumquat, the Silver City, N.M., restaurant that earned Connoley plaudits (among them, he was a semifinalist for the "Best Chef: Southwest" James Beard Award in 2014) and the opportunity to write a foraging-focused cookbook, "Acorns & Cattails."
Connoley's résumé ensured I and my peers in the St. Louis food media would circle his ambitions, licking our chops. It didn't ensure he would enjoy any more luck finding and securing a location for Bulrush than a less gilded chef might. Two years after he closed the Curious Kumquat and returned to his native St. Louis, he hasn't yet finalized where and when Bulrush will open.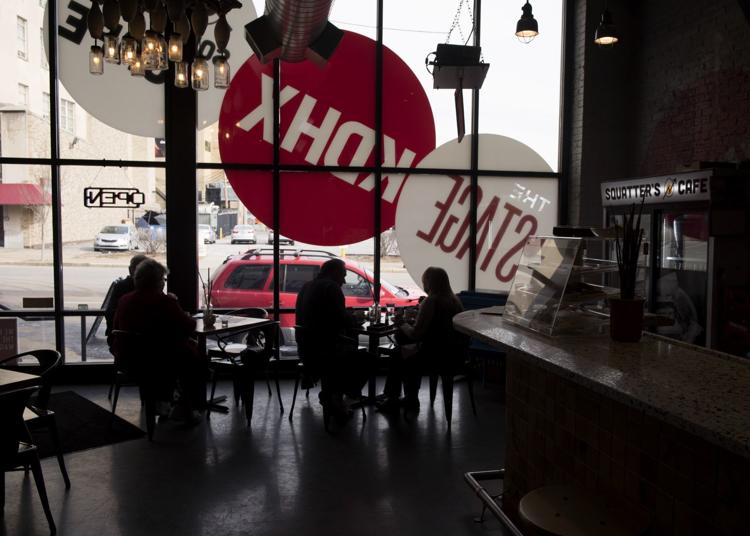 In the meantime, Connoley has thrown pop-up dinners and worked the line in established restaurants. Last October, however, he announced a permanent gig. He would take over the restaurant space inside KDHX's Grand Center building (previously Magnolia Cafe) and reopen it a month later as Squatter's Café.
The name is a playful reference to how Connoley's plans have been forced to couch-surf while Bulrush is delayed, and the restaurant's logo superimposes the international symbol of squatters over a sunny-side-up egg. The setup is casual. You order at the counter, which is one end of the open, diner-style galley kitchen. The most expensive item is $15, the majority of dishes range from $10 to $13 and all prices already include a tip.
But for all this, Squatter's Café doesn't feel like an ambitious chef settling, nor is it merely a prologue to Bulrush. It stands on its own merits as one of the most interesting and appealing breakfast-lunch restaurants to open in St. Louis in recent memory.
The Brekkie Biscuit ($10) alone should win Squatter's a cult following — and an award for special achievement in breakfast engineering. Somehow, smothered in country gravy that shellacks your spoon, further topped by two over-easy eggs and bits of candied bacon, the biscuit retains its light, fluffy structure and a distinct buttery sweetness.
Connoley pulls a similar trick with the meat and beans ($15), a lunch dish. The Missouri white beans all but dissolve into the rich braising liquid (usually a pork- or chicken-based broth), but that all but is vital: You can sink your teeth into the al-dente heart of each bean. The meat when I ordered the dish was confit pork and chicken, both flavored more intensely of themselves. A dash of fermented-pepper hot sauce enlivened the entire dish, not so much with chile heat as a smoky, vinegarlike tang.
Back to that Brekkie Biscuit. The candied bacon adds just a hint of sweetness. It's still a savory dish. Connoley knows exactly how to walk this line. The breakfast hash ($12) lightens its base of pork, egg and sweet potato with the clean sweetness of Connoley's 100-layer apples and a smooth bass note of bourbon butterscotch. Again, you wouldn't mistake the dish for waffles or a doughnut, but the sweet notes give what could be a heavy dish a light finish.
The specific grits preparation ($10) changes daily. When I tried it, the grits — a variety selected by Connoley for its natural creaminess; he cooks them in broth without any cream — were paired with pork in a mole the color of burnished wood that was a bottomless well of bittersweet-chocolate and spice. Mole returned again with chicken in a soup of the day (cup $4, bowl $6), lighter this time, with less chocolate and sharper spice.
The Veg Marrow ($13) showcases the clever concepts and artful plating you'd expect from a James Beard Award semifinalist. Sitting on a bed of wheat berries and seeds are "bones" of roasted carrots halved lengthwise with a hollowed-out center. There are two varieties of "marrow" in these hollows, one a blend of pureed white beans and pureed roasted beets, the other of the pureed beans and pureed roasted carrots. Post a photo on Instagram, and tell your friends you're in Los Angeles.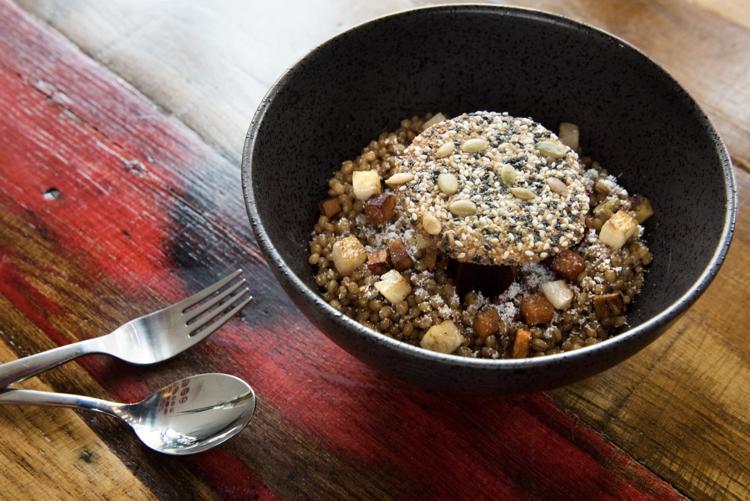 If you weren't already anticipating Bulrush before you visited Squatter's, you'll be ready to camp out for the grand opening (whenever and wherever that is) after a meal here. As remarkable as Connoley's journey back to his hometown has been — he's a self-taught, second-career chef; he and his husband originally opened the Curious Kumquat as a gourmet grocery store, not a restaurant — Squatter's is a foundational part of that journey, not a sidestep along the way.
Where Squatter's Cafe, 3524 Washington Boulevard • 2½ stars out of four • More info 314-925-7556; squatterscafe.com • Menu Creative modern breakfast and lunch fare • Hours 7 a.m.-2 p.m. Monday-Friday (limited menu available 2-4 p.m.)
Stay up-to-date on what's happening
Receive the latest in local entertainment news in your inbox weekly!