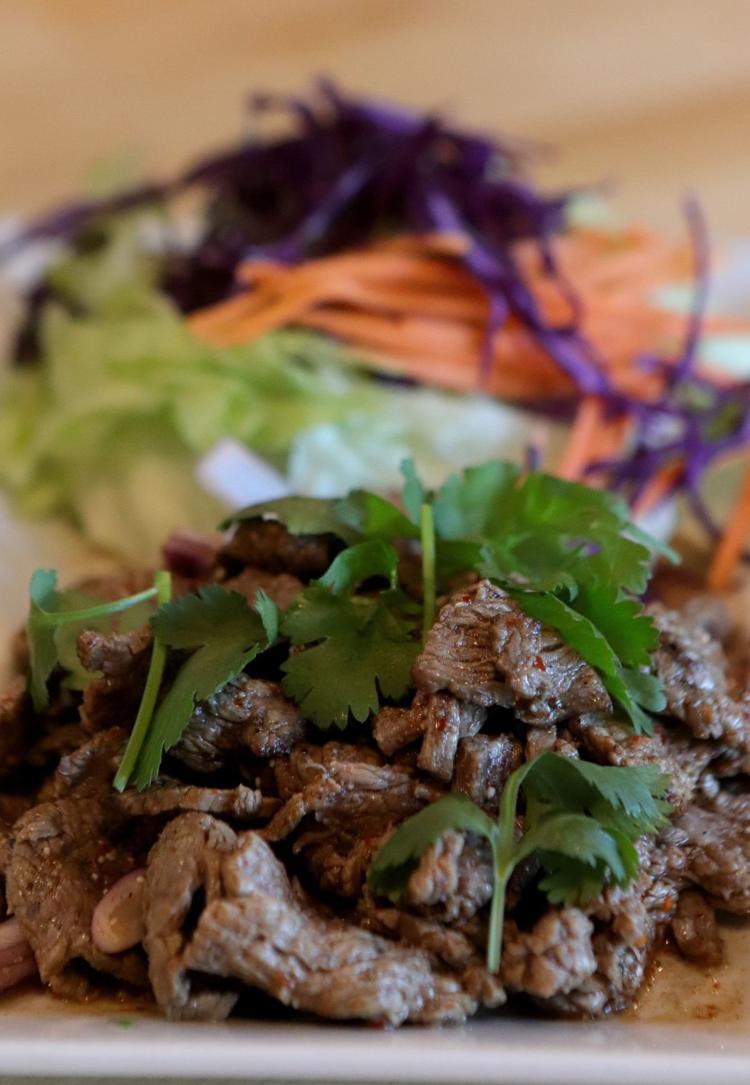 Nam tok is Thai for waterfall, and the northeastern Thai dish nam tok beef takes its name (in most of the accounts I've read) from the supposed waterfall of juices dripping onto the grill while the beef cooks. It's a lovely turn of phrase, even in translation: waterfall beef. If all I knew about the dish were its name, I'd still order it.
At 3-month-old Thai Table in Maplewood, where my table was too far from the kitchen to see or hear any waterfall, the nam tok beef ($13.95) is no less compelling on the plate. Chef-owner Natthinee "Joy" Teerakawanid tosses thin slices of warm grilled steak with red onion, scallion, cilantro and ground toasted rice in a puckering lime-juice dressing undergirded with fish sauce and suffused with a blistering, persistent chile heat.
Teerakawanid serves the salad with sticky rice and some fresh crisp vegetables, and the dish as a whole finds that rare sweet spot between substantial — this is steak, after all — and light. The steak itself, between its own juices and the dressing with its notes of citrus and fruity chile, is unexpectedly refreshing, even energizing. You might have come up with a waterfall metaphor for the dish for another reason altogether.
The name of a dish or an ingredient can unfurl poetry, history, anthropology. The name of a restaurant, on the other hand, is often a more pragmatic affair. Consider Thai Table. The name looks good in stylized black letters above its Manchester Road address, between a tax-prep office and one of those escape-room games. It lets Maplewood residents know there is now a Thai restaurant along their main drag, which is partly the point. As Teerakawanid told me in a phone interview, she lives in Maplewood herself and decided to opened Thai Table there because the neighborhood lacked a Thai restaurant.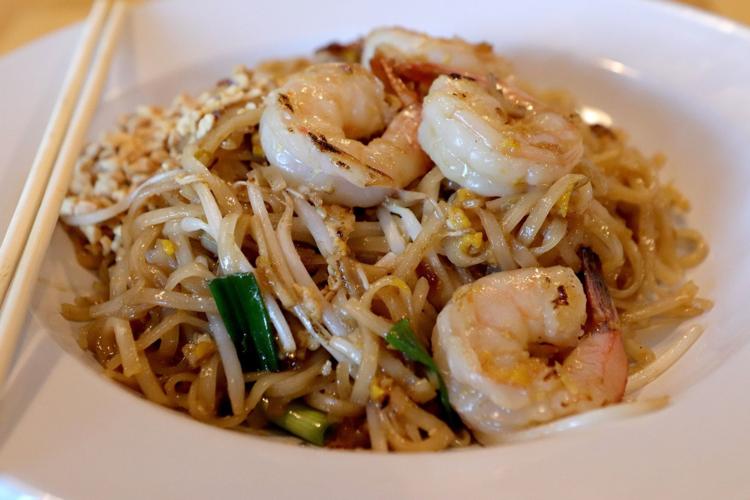 But the name and the restaurant's streamlined look — a shotgun space, with high ceilings and light-wood tables in the dining room, which peeks into the kitchen at the back — don't reveal much about Thai Table's personality. It won't point out how Thai Table's menu, while it features several familiar dishes (pad thai, Thai fried rice, red and green curries), doesn't conform to a template. It's a personal collection of recipes, including those Teerakawanid learned from her family growing up in Buriram in northeastern Thailand.
To find the heart of Thai Table, go toward the back of the menu, in brief sections titled Thai Table Special Entrees and Bangkok Zabb. (Teerakawanid told me zabb is a Thai word for tasty, spicy and generally full of flavor; come to think of it, Bangkok Zabb would be a pretty great name for a restaurant.) The latter section includes the nam tok beef and a version with pork. If the description of nam tok beef sounds somewhat similar to the northeastern Thai and Lao dish larb (or laab), you won't be surprised to find larb with chicken in this section.
Tom zabb soup ($13.95) is a chicken broth with a citrus-chile punch much like nam tok beef's. Galangal, lemongrass and makrut-lime leaves intensify the soup's citrus character but also, with Thai basil, give it a fresh, herbal and almost piney or resiny notes. The soup includes quartered button mushrooms for ballast and your choice of meat. The photo in the menu features appealing hunks of bone-in pork ribs, but this wasn't available when I ordered it. Sliced pork couldn't match the lusty fantasies the pork-rib photo had inspired, but I didn't mind so long as I could sip the broth.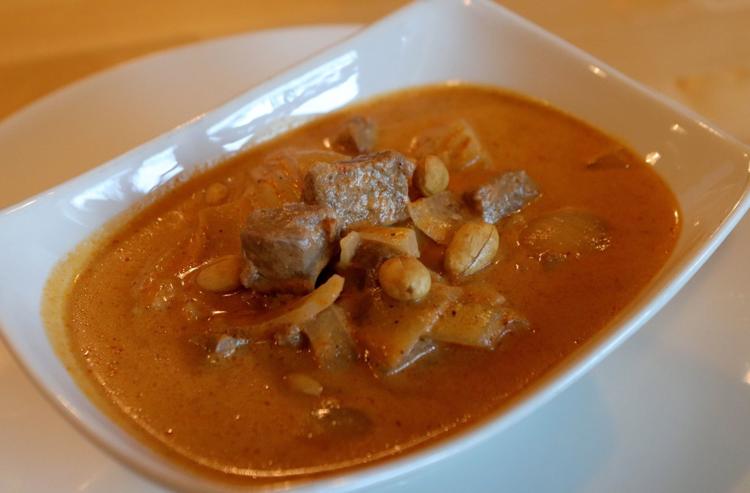 Among the house specialties are two classic curries. Teerakawanid's version of massaman beef curry ($13.95) cushions fork-tender beef with a hint of coconut-milk sweetness, gently warming spices and a whisper of heat. Brighter in flavor but equally complex in its spicing is Ghang Ped Bhed Yang ($15.95), roasted duck breast in red curry sauce. Pineapple and grape tomatoes add sweetness but, crucially, just enough acid to keep the dish from being sugary, and the curry sauce provides enough heat and a note of roasted peanut to keep things interesting. The highlight, though, is the duck breast itself, the fat perfectly rendered so the skin is still crisp after its bath of red-curry sauce, the meat is tender and, for all its seasoning, still distinct.
There are pleasures throughout the menu, of course. The standard green curry ($11.95) is verdant, with just the right balance of sweetness and chile heat. I loved the hearty soup with barbecue pork and chicken-stuffed wontons in a silken chicken broth ($10.95).
But in the Bangkok Zabb and Special Entrees selections, Teerakawanid is cooking dishes that clearly excite her — an impression reinforced by the fact that several of them reappear on a separate section of the menu titled Recommended — which compels me to return to them.
The restaurant is called Thai Table, but Natthinee "Joy" Teerakawanid is the name to know and a chef to watch.
Where Thai Table, 7403 Manchester Road, Maplewood • Two stars out of four • More info 314-449-6919; thaitablestl.com • Menu Thai cuisine • Hours Lunch and dinner daily (closed Tuesday)