At his first restaurant — opened in 2018 as Savage, renamed Shift last year — the chef Logan Ely proved himself a magician of the ordinary, the overlooked, the unexpected. Into the top hat went some onions or yeast or penicillium. Out came a dish not simply delicious but uniquely, transportingly so. You left dinner as dazzled as you were sated, and after a dozen or so of those courses, you were plenty sated.
The cooking is more exuberant at Ely's second restaurant, the Lucky Accomplice, the dining experience less theatrical. Still, the sleight of hand can arrest your attention mid-forkful, and even when you see the turn coming, you won't guess the prestige.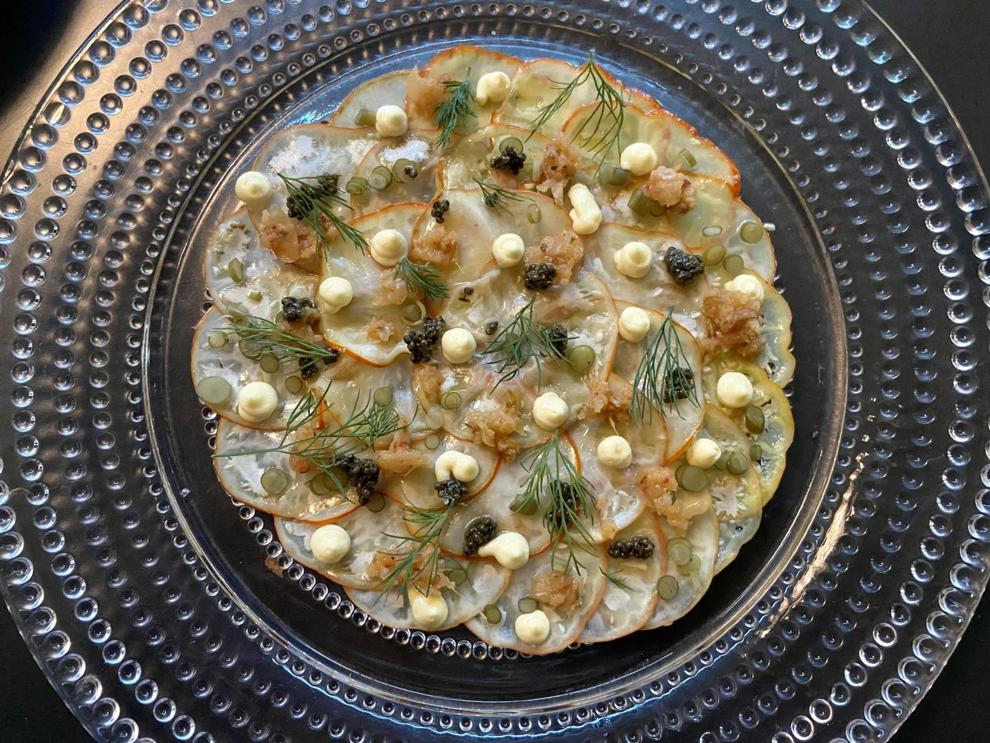 Consider the Turkish orange eggplant carpaccio that Ely served earlier this fall. The eggplant, roughly orange-sized, was sliced so thin that its pale interior became translucent, its burnt-orange skin a halo. These slices were then fanned over one another in a circle on the plate and precisely decorated with fresh dill, pickled scapes and alternating dollops of an aioli-like sauce of salted egg yolks; tonburi, the tiny black seeds sometimes called field caviar; and a pale pink kosho made from gooseberries rather than the traditional yuzu.
Maybe the eggplant "carpaccio" was just a visual joke. But in this age of the Impossible Burger and the jackfruit burrito — when even a lumbering, middle-aged omnivore like myself lingers over a menu's plant-based alternatives — I figured Ely must be up to something.
I leaned into the zig. Ely zagged. The dish didn't evoke beef carpaccio. Instead, it tasted freshly plucked, a little sweet. With the juicy vegetal pop of the tonburi, the bite of the scape and especially the complex tartness of the kosho, it riffed on maki or ceviche.
The dish encapsulated everything appealing about Ely's cooking. It rewired my brain without distracting me from the pleasure of eating. It was beautiful on the plate and resourceful in its conception. What to do with these Turkish orange eggplants the restaurant had procured? Well, there were already preserved gooseberries in the kitchen, Ely told me in a phone interview, so why not turn those into kosho, which would in turn pair well with tonburi?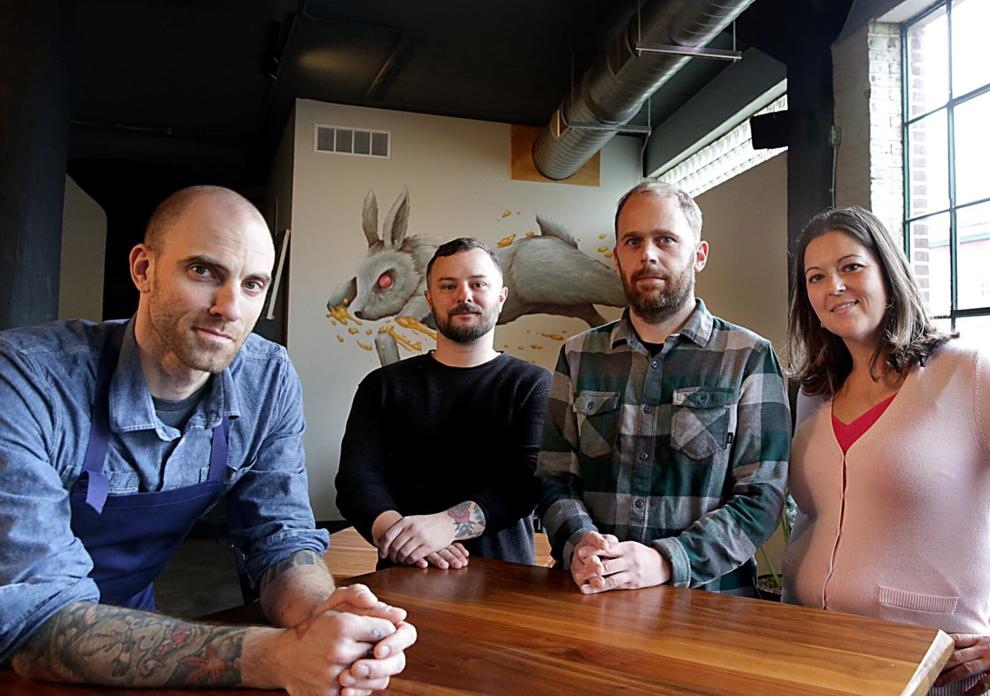 Ely had one last, familiar trick up his sleeve. When I next returned to the Lucky Accomplice, the eggplant carpaccio had disappeared from the menu. Its signature ingredient was no longer available.
(Shift remains closed. Its future is uncertain. Several food trucks are currently using the space as a commissary kitchen. If it does reopen, Ely said, it will not be for another year, maybe two. Meanwhile, Ely teased another project "in the pipeline," and Shift fans can take solace that the restaurant hasn't been forgotten. Just last week, the Lucky Accomplice hosted a series of ticketed dinners featuring a Shift-style menu.)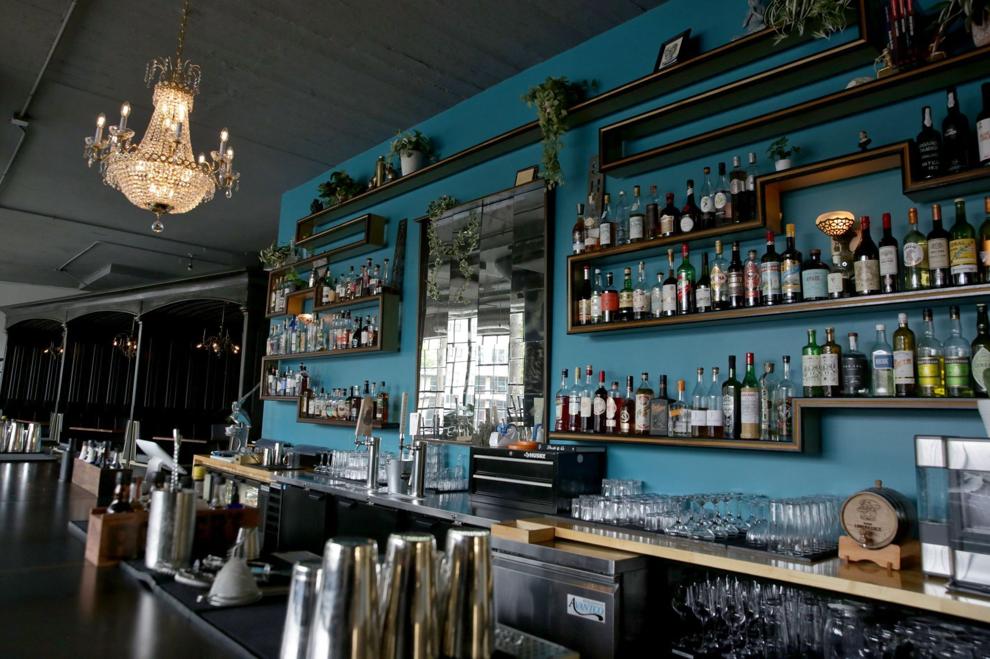 Ely, Schuman and managing partner Sarah Cymber (Shift's general manager) opened the Lucky Accomplice in late September 2020. Like Shift, the newer restaurant doesn't heavily advertise itself. (Look for the neon rabbit.) Unlike Shift, the interior isn't austere, though the spacious room does feel a little cool, if not cold, as though a neighborhood pub had overly polished and then stretched to fit a much larger footprint.
What gives the space life is the energy of the bar and the attitude of the rabbit-themed decor. Corey Moszer oversees the bar, which adds elegant cocktail variations — a rosemary-tinged negroni, a margarita with hibiscus syrup and butterfly pea flower-infused tequila — to the sort of forward-thinking wine list Shift was known for. The decor ranges from whimsical to punk, most memorably a mural by artist Jason Spencer of an understandably furious, possibly undead bunny whose paws have been freshly lopped off.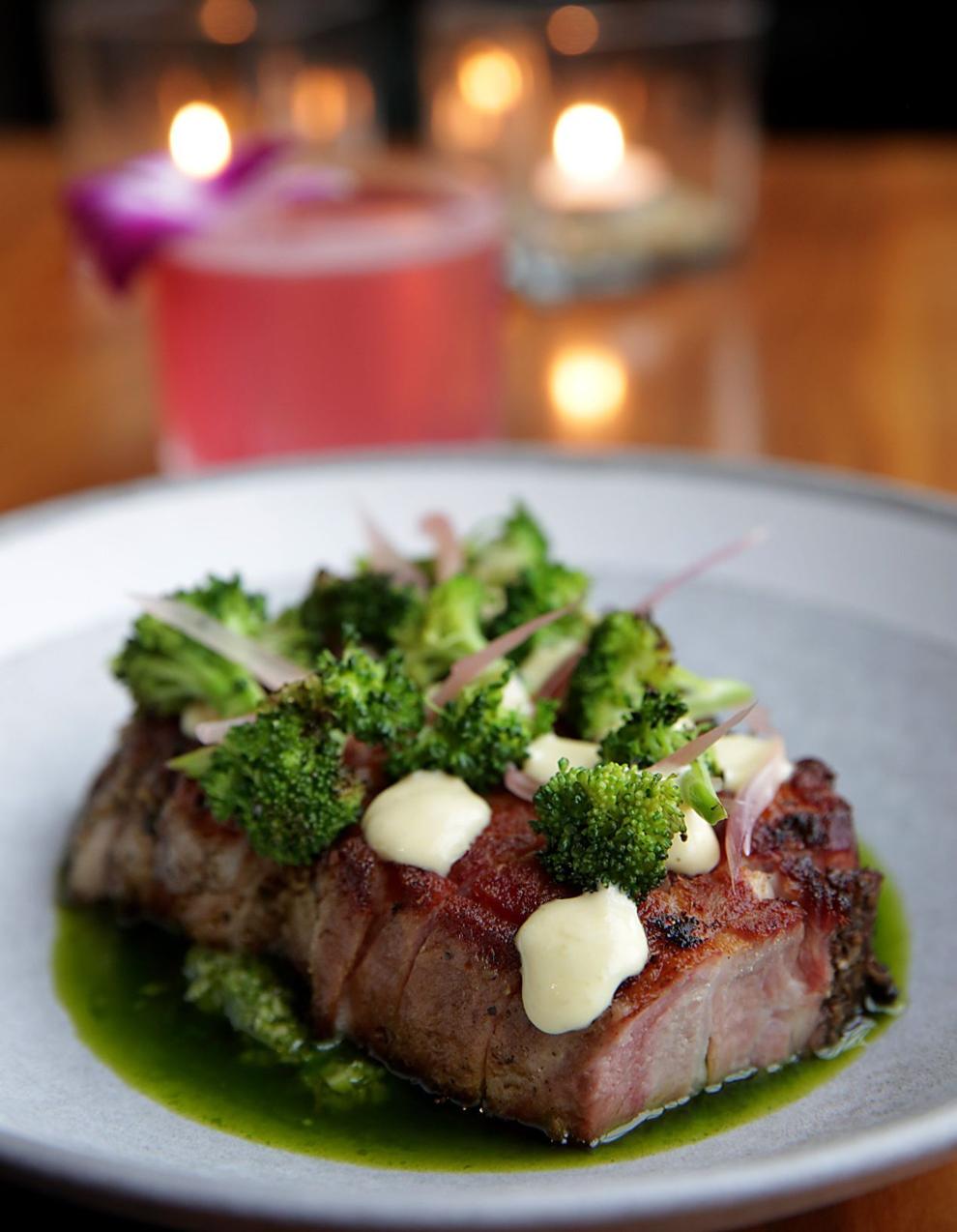 There's no rabbit on the menu at the Lucky Accomplice. There is a tremendous slab of pork collar, which might be even more of a shocking if you were accustomed to Ely's sparing use of meat at Shift. Cooked mainly in a circulator bath and finished in the oven, the collar delivers a succulence akin to pork belly but without that cut's dominating fattiness. A kitchen doesn't need to complicate a pork flavor this pure, and on my visit Ely set the collar over a toasty, almond-heavy salsa macha nudged by shishito chile and tomatillo. (The accompaniments have since changed.)
As at Shift, though, I came away from the Lucky Accomplice most impressed by how Ely and his team operate when meat is absent or at least twiddling its thumbs in the wings. Here that can be as straightforward as the house bread, which fuses the crackle of a great croissant and the squish of focaccia. The bread comes with both cultured butter and a tapenade of olive and cauliflower, and while it is excellent by itself, slathered with either (or both) you could imagine it as your main course.
Save some of that bread for an order of the black trumpet mafalda. Ely surrounds the modest portion of pasta and mushrooms with kale and toasted yeast with Parmesan foam. I know: I winced at the mention of foam in 2021, too. This, however, is a very thick foam — a Cheez Whiz of the gods. Stirred into the dish, it picks up and lifts the earthiness and sweetness of the black trumpet mushrooms.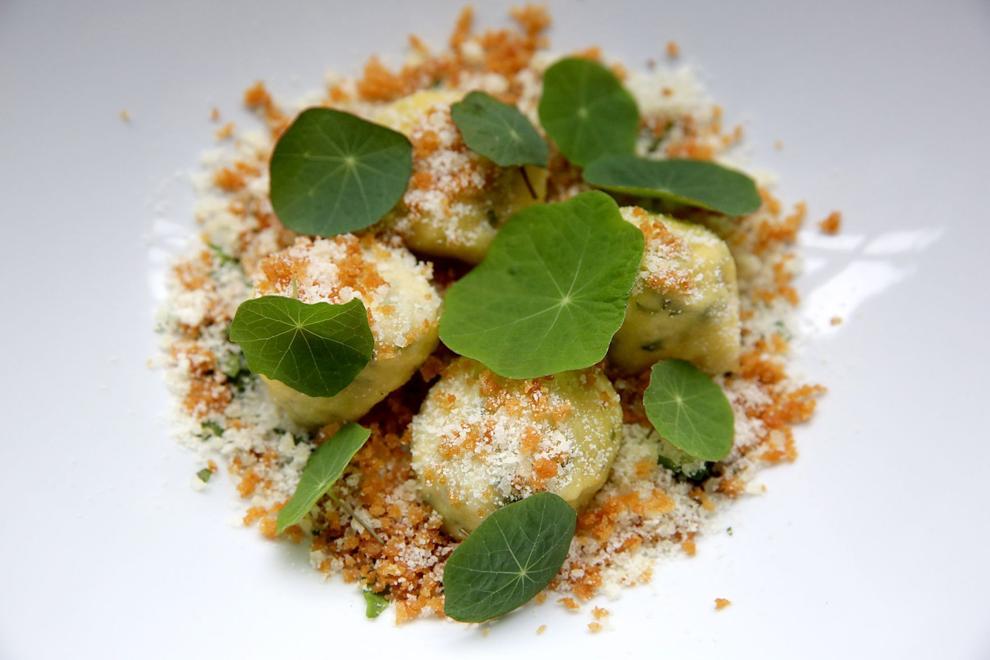 A "ragu" of rutabaga and horseradish leaf — not as biting as horseradish itself, more like a memory of the flavor — is an autumnal bed for the ethereal gnudi made from quark, with a touch of flour for structure and lemon zest for sparkle. Even a seemingly straightforward salad of romaine heart is engineered for each bite to the just-right tickle of pickled onion or lemon and the additional crunch of fried breadcrumbs.
Though obviously looser than Shift's here's-what-you're-eating tasting menus, the Lucky Accomplice's a-la-carte format does present a challenge. How do you build a meal here? I suppose the best approach is to dine with a large group and order everything to share.
For smaller groups or solo diners, there will be some trial and error. A dish of warm shelling beans with goat cheese, Castelvetrano olives, and preserved eggplant and green garlic would make a fine side dish; alone, you chase a depth that isn't there. Shrimp sauced in a bisque based on their own shells and served with wakame over hominy grits cooked in a mussel stock is a smack of umami and deep, briny ocean sweetness that loses its immediacy after a few bites.
Still, even in the few moments when it doesn't quite work, the sheer ambition and inventiveness of the Lucky Accomplice is thrilling. During the pandemic, and even after returning to dining rooms, I've wondered if there would be an appetite for the sort of progressive cooking Ely undertakes.
Walking out of the Lucky Accomplice, I understood that what he performs isn't really a magic act but an act of faith.
We are currently not assigning star ratings to restaurants. This review is based on dine-in service.
Where The Lucky Accomplice, 2501 South Jefferson Avenue • More info 314-354-6100; theluckyaccomplice.com • Menu Progressive contemporary fare • Hours Dinner Wednesday-Sunday, brunch Sunday