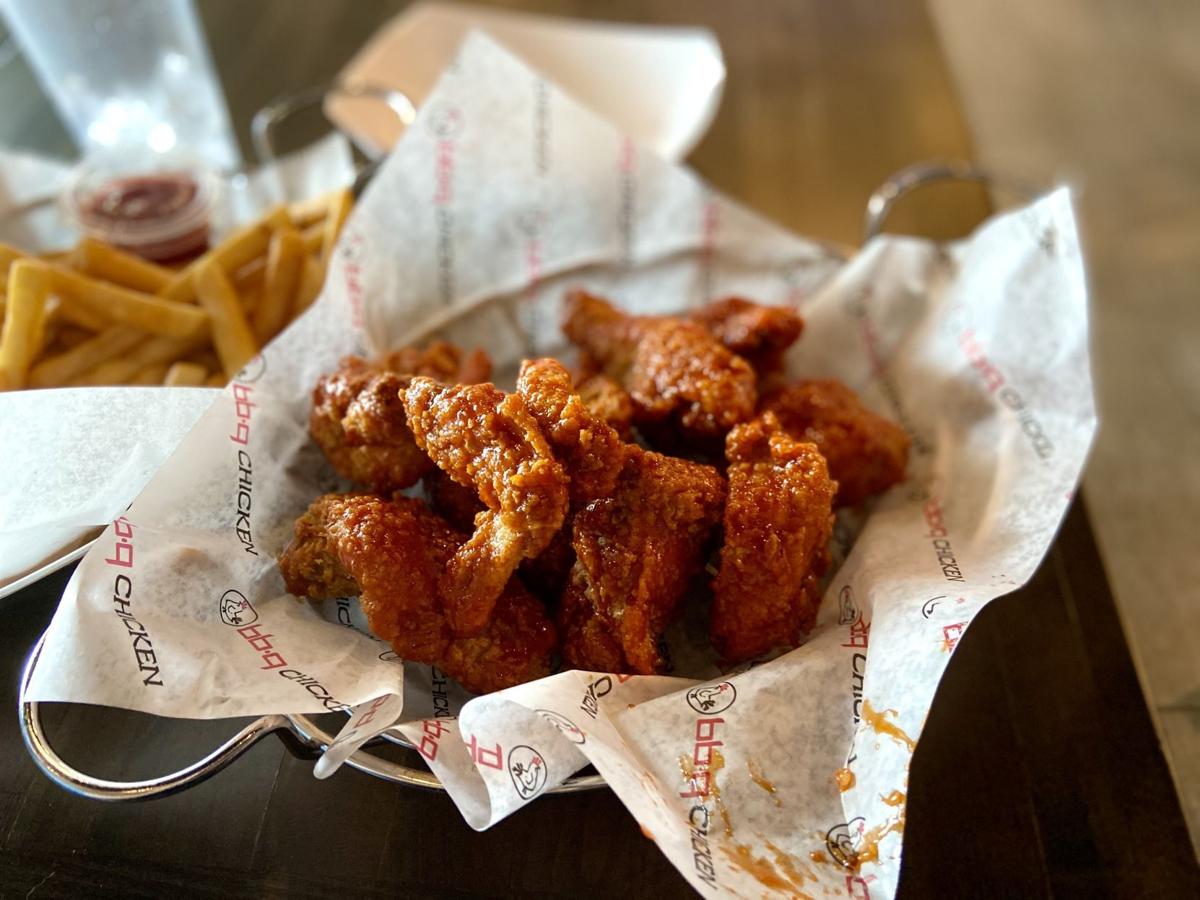 A restaurant chain with more than 2,000 locations worldwide isn't the typical subject of this column, but BB.Q Chicken isn't typical of the restaurant chains that open in St. Louis. For one, BB.Q Chicken is based in South Korea. Also, it's really, really good, a destination for crackling, juicy fried chicken chased with bracing little cubes of pickled white radish.
BB.Q Chicken — BB.Q is an initialism for "best of the best quality," not short for barbecue — was founded in 1995. Its growth has included not only its aforementioned thousands of locations (mainly in South Korea), but also the creation of a research-and-development "university."
It's serious business, this fried chicken. You will recognize the dedication when you bring your takeout home and find it has retained its crispness, or while you study the nuances between, say, the hot spicy and spicy galbi sauces.
The website for BB.Q Chicken's U.S. operations lists locations in 18 states. The metro area's first debuted in September just off Interstate 64 in O'Fallon, Illinois, inside a nondescript and relatively small storefront set about 1,000 feet back from the nearest thoroughfare.
On my visits, a steady stream of K-pop videos played on a TV in one corner of the dining room. The dine-in ordering process was unclear. Did I go to the fast-casual-esque counter, or did I wait for table service? Both approaches worked.
BB.Q Chicken's signature version of Korean fried chicken is called Golden Original: marinated, battered and breaded and then fried to order in an olive oil blend. You can order it plain or with the Secret Spicy or Hot Spicy sauce; the latter red-chile concoction gilds the chicken's crunchy exterior with a potent, lasting burn.
As for the chicken itself, across all my orders, it was tender and juicy without being greasy. Now, I don't mind a little grease with my fried chicken, but at BB.Q Chicken, it would have interfered with the delicate balance of sauce and crispness.
The Golden Original and its Secret Spicy and Hot Spicy variations are available as whole-chicken or boneless-chicken platters. The selection of boneless-chicken flavors expands to include several more sauces. (An official with the corporate office of BB.Q Chicken's U.S. operations told me in a phone interview that the exact preparation of the chicken besides the Golden Original trio varies from style to style, but all are fried in the olive oil blend.)
Of those I tried, my favorite was the Spicy Galbi, which leads with a sticky sweetness and a backyard-grill smokiness. A fierce chile heat rumbles underneath these top notes and then overtakes them. A close second is the Gangnam-Style preparation, available only with an order of wings, heady with black pepper and pungent pops of chile.
BB.Q Chicken's menu identifies cinnamon as a key ingredient of the gang-jeong chicken. I didn't taste cinnamon directly, but it makes sense given the warm spice undergirding its restrained sweetness.
Cheesling isn't a sauce but a powdered seasoning that made me think fondly of boxed mac and cheese and microwave popcorn. I didn't get the full effect, though. Whether because of how it was prepared or how my takeout order shifted during the drive home, the Cheesling powder didn't adhere very well to the chicken.
The brief selection of other Korean fare — listed as K-Food on the menu — might not be BB.Q Chicken's main draw, but its takes on ddeok-bokki (also transliterated as tteokbokki, rice cakes and fish cakes in a spicy broth) and kimchi fried rice make for more interesting pairings with the chicken than the restaurant's regular or sweet-potato fries.
We are currently not assigning star ratings to restaurants. This review is based on dine-in service and takeout. Contact the restaurant directly for the most up-to-date hours and operating procedures.
Where BB.Q Chicken, 1334 Central Park Drive, Suite 6, O'Fallon, Illinois • More info 618-589-9909; facebook.com/bbqofallon • Menu Korean fried chicken • Current services Dine-in; takeout • Hours Lunch and dinner Tuesday-Sunday