Ask me what is the best meat at Beast Butcher & Block, and I will tell you without hesitation it is the fatty brisket from Snake River Farms domestic wagyu cattle. My confidence is a cheat, though. Beast Butcher & Block opened in June in the Grove in Forest Park Southeast, but owner and pitmaster David Sandusky has been perfecting his brisket at his first restaurant, Beast Craft BBQ Co. in Belleville, since late 2014.
Smoked over white-oak wood, this wagyu brisket quivers like a cube of Jell-O with the tension between its firm but not unyielding flesh and creamy, palate-gilding fat. Each bite through its peppery bark is as luxe as its cost: $19.99 for the regular platter, $24.99 for the large portion (both served with two sides and flour tortillas).
Now, ask me which Beast Butcher & Block meat I have been thinking about obsessively since I ate it, and I will hem and haw and then refuse to look you in the eye as I mutter, "The ham, actually."
The ham in question is Berkshire pork from Newman Farms in Myrtle, Mo., brined for a week and smoked for 12 to 13 hours. The texture is as pull-apart tender as excellent smoked pork shoulder and, depending on the slice, maybe even more luscious with fat. The salt and the smoke don't define the ham's flavor, but draw out the meat's natural, subtle sweetness.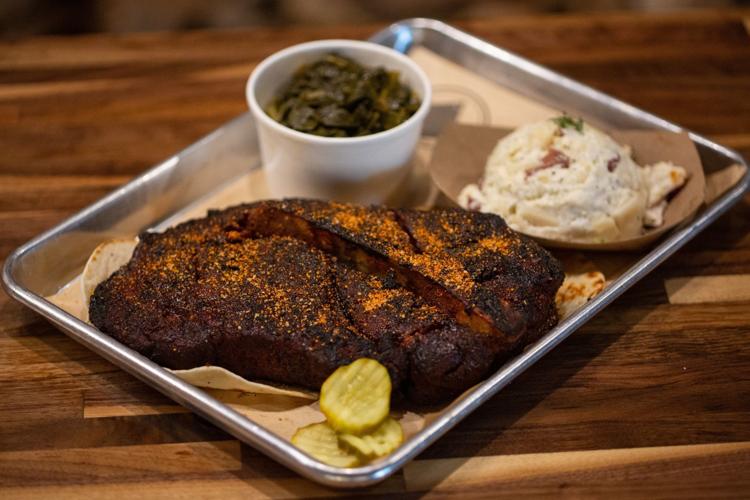 We rarely discuss ham in the context of American barbecue, and I write this while glancing over my shoulder, certain that a solemn conclave of certified barbecue judges draws near to condemn me to an eternity of boiled ribs and high-fructose sauce. But as terrific as Beast Butcher & Block's brisket is, I think the ham is more representative of the project, which is pushing against the very idea of what a barbecue restaurant should or could be.
For one, I tried the ham during Beast Butcher & Block's Sunday brunch buffet. This isn't simply a cornucopia of meats, though one station of course features some Beast standbys carved to order — the juicy turkey deeply imbued with hickory smoke; the Double R Ranch brisket, lesser only in comparison to the wagyu brisket — as well as special cuts like the ham and smoked salmon that seems to dissolve in your mouth.
This truly is brunch, though. The cook working the meat station also prepares waffles and French toast; another cook scrambles eggs and makes omelets to order. You can help yourself to meaty slabs of bacon and dense, snappy sausage links but also to smoked cauliflower, rice and beans and a light, sweet acorn-squash salad.
Give your palate a break with fresh fruit and a Caesar salad, and finish with a flurry of baked goods (though maybe skip the doughy bread pudding). The price is $24 per person ($15 for children 12 and under), a relative steal for this splendor.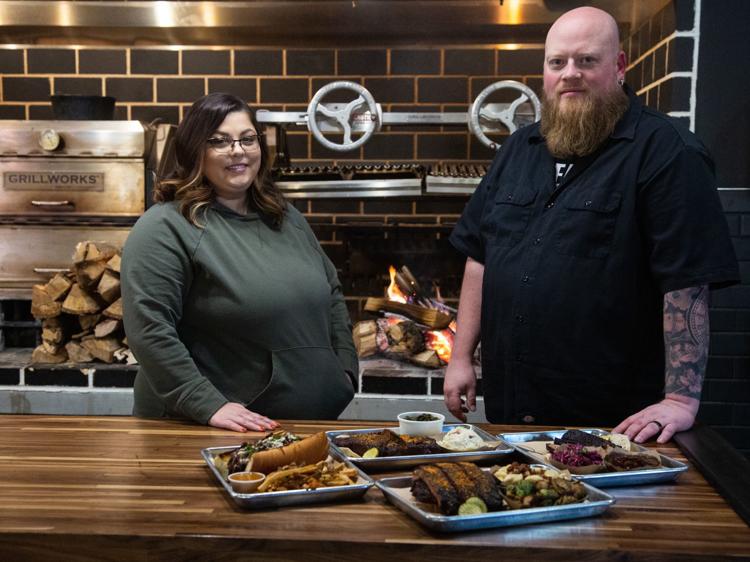 Brunch is based in the Skullery, which more than any one meat or technique sets Beast Butcher & Block apart from St. Louis' ever more crowded barbecue field. Set to one side of the restaurant's main dining room behind a glass partition, the Skullery is an open wood-fired kitchen with its own communal tables. (During brunch, these tables hold the buffet dishes, and you take your food into the main dining room.)
Besides brunch, the Skullery hosts tasting-menu dinners (more on that in a moment), cooking classes and special events with guest chefs. Adjacent to the Skullery is the Butchery, a self-contained, full-fledged butcher shop.
If you are fan of Beast Craft BBQ Co. in Belleville, the ambition behind Beast Butcher & Block won't surprise you. Over the past five years, Sandusky and his wife, Meggan, have continued to refine that operation, most notably in upgrading to better quality and pricier beef from Snake River Farms and Double R Ranch and Duroc-breed pork from Compart Family Farms in Minnesota.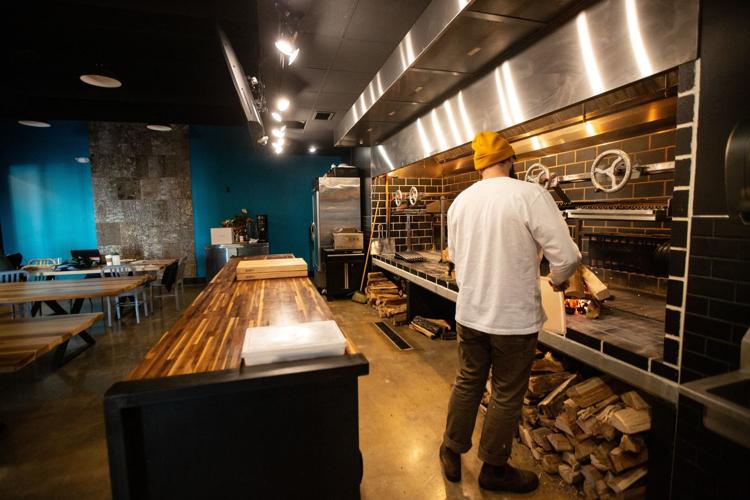 To my taste, at least, the Sanduskys' ambition has paid off. For two consecutive years now, the original Beast has been the highest-ranked barbecue restaurant in my STL 100. National publications like Food & Wine and Thrillist have celebrated Beast.
If you want to consider Beast Butcher & Block the original's sibling, you won't be disappointed. The wagyu brisket is here, as is Beast's original signature dish, the tremendous smoked pork steak as big as your head, all crackling crust and succulent meat.
That ham must have cast some spell on me, because I keep thinking about Beast Butcher & Block's pork: the sticky, sweet fat of the basted belly; the final basting in sauce and charring on the grill that gilds the cherry-wood smoke and peppery dry rub of the spare ribs with a caramelized sweetness.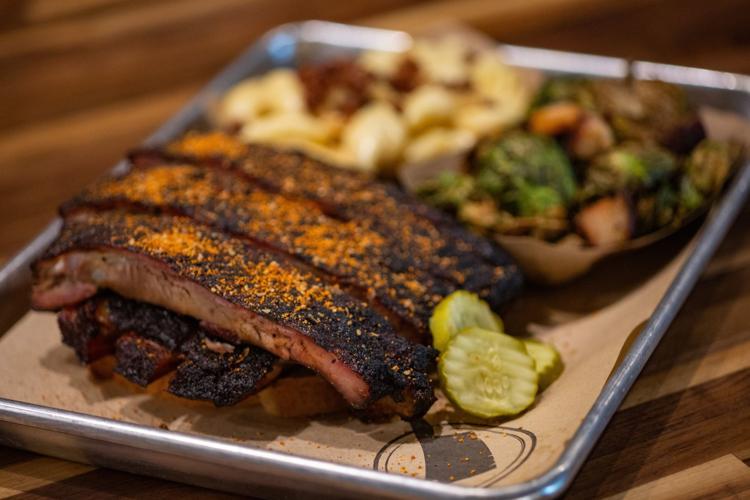 Most meats are available a la carte, but platters ($9.99-$24.99) include two sides, another of the elements that have distinguished Beast, from the simple pleasures of crisp, freshly cut fries and deep-fried Brussels sprouts larded with pork belly to the complex sweetness of the cooked-down greens and the molasses-kissed pit beans.
As at Beast Craft BBQ Co., the straightforward barbecue experience at Beast Butcher & Block is as close to a sure thing as you will find in the area. The new restaurant's "fire-to-table" tasting menu (visit Beast's page on Tock for the schedule and tickets) might be its biggest gamble. The cost is $100 per person, which includes service and tax but not drinks. The menu from executive chef Ryan McDonald (Juniper, Byrd & Barrel, Good Fortune) changes often. Barbecue in the traditional sense might be absent.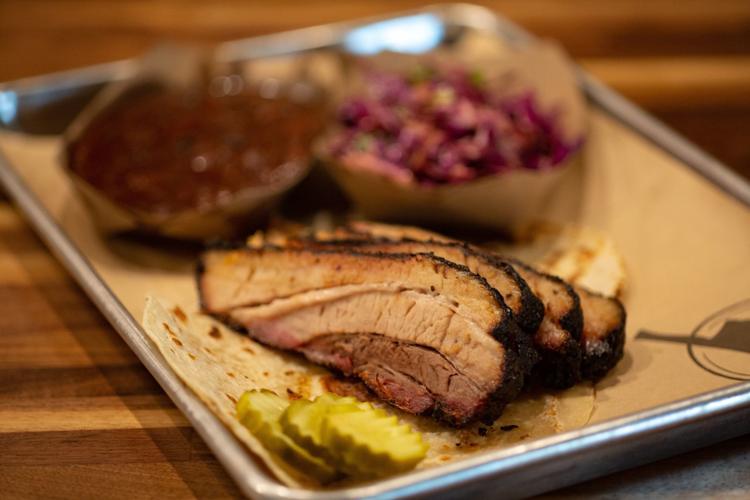 The vibe is more dinner party than fancy restaurant. As host, David Sandusky encourages a loose, if not raucous atmosphere. The friction between his energy and the seriousness and elegance of McDonald's cooking is compelling. My dinner began with a winter-squash consomme with delicate floral notes reminiscent of Earl Grey tea. A royal trumpet mushroom conserva, served with a little bit of guanciale over a swipe of celery-root puree, distilled the umami of a rib-eye steak into a few fungal bites. Two firm discs of smoked trout paupiette floated in a spicy and hauntingly smoky dashi.
There were a couple of missteps. The beans accompanying gnocchi and caramelized whey were on the chalky side of al dente, and I could have done without whole tallow-fried sunchokes, even with a "sauce" made of a foie-gras torchon that had been frozen and then grated over the dish to melt (a trick from David Chang of Momofuku fame).
But the savory courses ended with striking and welcome simplicity: slices of coppa from Such and Such Farm in De Soto served with jus over grits. For dessert, though, McDonald threw a final curveball, an apple tartelette he topped with a scoop of sweetened chicken-liver mousse.
My brain is still rewiring itself to understand why the offal worked so well with the dessert. Ask me what is most exciting about Beast Butcher & Block, and I will gesture at the Skullery and happily tell you I have no idea.
Where Beast Butcher & Block, 4156 Manchester Avenue • Three stars out of four • More info 314-944-6003; beastbbqstl.com • Menu Traditional barbecue and live-fire cooking • Hours Lunch and dinner daily, brunch Sunday
No time to cook this Thanksgiving? No desire to clean up all those dishes? We have you cover…