At Tempus, the debut restaurant from the acclaimed chef Ben Grupe, the bread served with your dinner is focaccia, and the butter served with your focaccia is bread. Sort of.
During Tempus' takeout-only first year, the restaurant made a tartine that generated copious scraps of sourdough bread. Grupe didn't want to waste these scraps, but he didn't simply want to turn them into breadcrumbs or croutons, either. Sous chef Justin Bell, formerly Rob Connoley's lieutenant at Squatter's Cafe and Bulrush, suggested transforming the scraps into a sourdough miso, which begat the current menu's sourdough miso butter.
This shares its dish with sorghum, and the two are soon inextricably swirled together. Slathered over the focaccia, the velvety buttery absorbs the sorghum's sweetness into its own tangy, subtly savory essence. I wouldn't have guessed the secret sourdough ingredient. I did eat an entire serving of focaccia and butter by myself.
Buttered bread might seem like an odd place to begin discussing a chef with Grupe's resume and ambition. The St. Louis native completed a four-year apprenticeship program at the historic Greenbrier resort in Sulphur Springs, West Virginia, and cut his teeth in that mysterious alternate universe of country-club kitchens (Old Warson, Meadowbrook) and culinary competitions.
In 2016, Ben Poremba named Grupe the executive chef of Elaia, and over the next two years he brought his own style to that already dazzling restaurant, earning a semifinalist honor for "Best Chef: Midwest" at the James Beard Awards along the way.
I ranked Elaia No. 2 in consecutive editions of the STL 100 during Grupe's tenure. His technique was impeccable, and he understood how to balance splendor and soul. He would happily grate fresh black truffle over polenta with a veal ragu, but he understood (and you would soon learn) the dish didn't really require that final flourish to thrill you.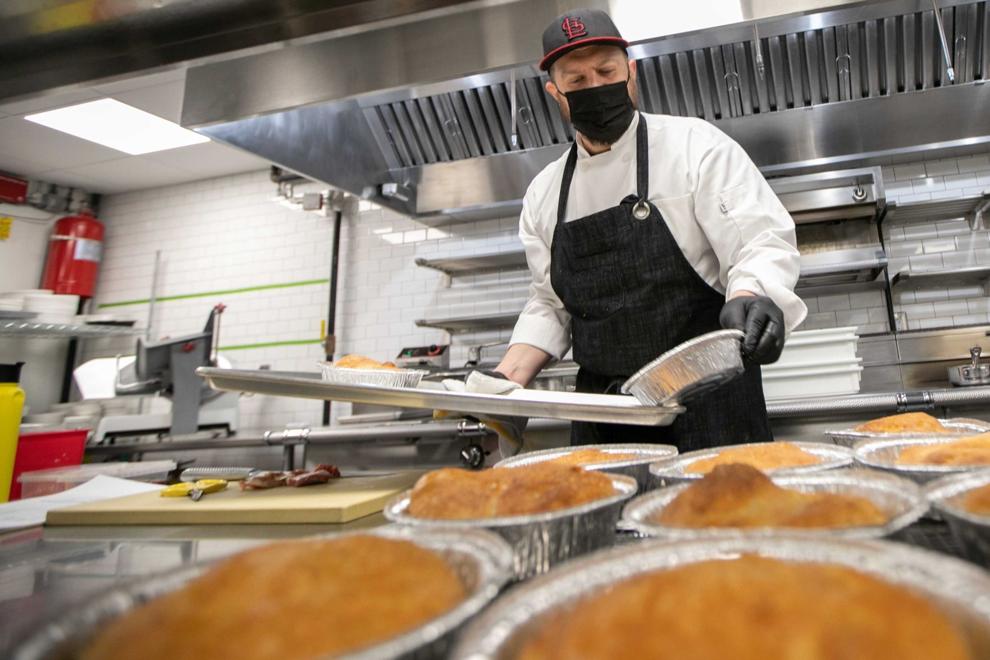 Grupe's cooking is just as precise and appealing at Tempus. Here, though, the menu doesn't read as a chef's hallowed vision. Instead, Grupe and his team have asked themselves what diners might want from this kind of restaurant — upscale, yes, but no tasting-menu palace — and applied their talents to the answer.
So bread-and-butter service becomes focaccia with sourdough miso butter. A croqueta appetizer topped with a sliver of country ham, olives and a sherry vinaigrette collapses into its traditional bechamel-sauce filling. The kitchen has punched up that bechamel not with any ham, but with ground trimmings from the same salty, intensely porky country ham that tops the croqueta.
A beef short rib main course is a Sunday roast — meat, au gratin potatoes, carrot, cippolini onion — neither overly deconstructed nor quoted ironically. Grupe coaxes each component into its best self. You don't need a cheat sheet to clean your plate.
The cheat sheet: The short ribs are seared in beef fat and then cooled down, smeared with a compound butter of roasted garlic, black pepper and herbs, and cooked sous-vide for 48 hours. Your individual portion is seared again to order while being basted with butter, beef fat and aromatics. This gives the short rib an even more succulent texture than traditional braising provides and intensifies the meat's flavor with the complexly flavored crust and primal heart of a steak.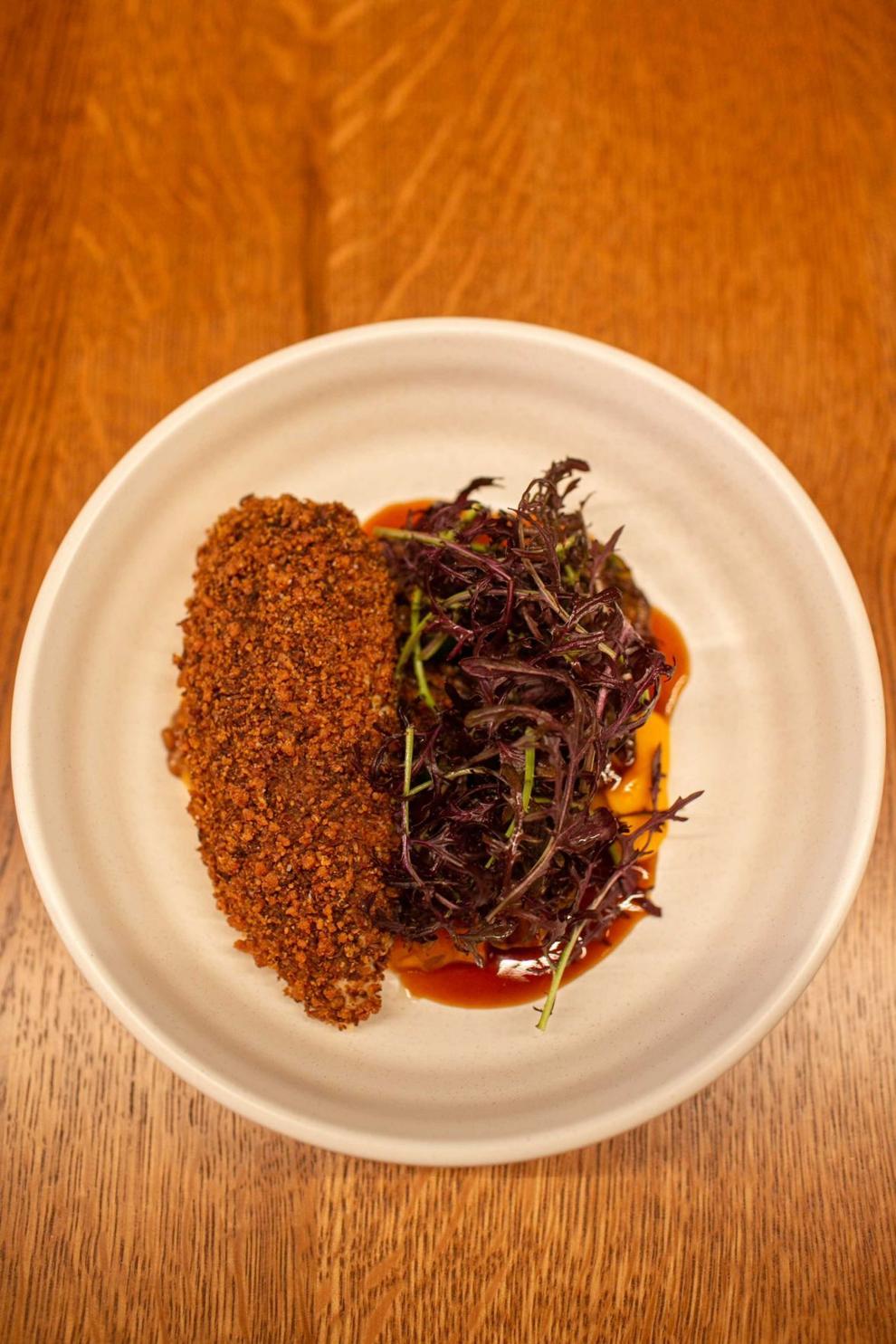 The chicken, another main course, looks like a chicken breast heavily dredged in seasoning and then baked or maybe pan-fried. This sits atop wheat berries and a butternut-squash puree beside roasted Brussels sprouts and a tangle of mustard greens. Call it haute Shake 'n Bake?
Grupe is actually channeling Dr. Frankenstein. He cooks the breast of a poulet rouge chicken at a low temperature; the thigh meat he turns into a smooth sausage, which he then layers atop the breast. The crust is the chicken's skin rendered down into very crisp bits and mixed with dehydrated sauerkraut, mustard and horseradish. It is a wonder of a composition, crackling and supple and delicate in the same bite, its flavor intensified by a golden jus.
The kitchen brings equal ingenuity to its vegetable dishes. Snappy Persian cucumbers with yogurt, smoked trout roe and a flurry of seasonings and garnishes — furikake, togarashi, fines herbes, squid-ink bagel chips — evoke both an everything bagel and the schmear and lox on that bagel.
For the vegetarian main course, Grupe compresses maitake mushrooms in a fermented mushroom-koji sauce and green-garlic oil, smokes them and serves them with caramelized onion and a classic soubise tweaked with the whey left over from housemade ricotta. The mushrooms are packed with the satisfying salty, smoky, umami notes you want from grilled meat but are undeniably their fungal self, not faux steak.
Grupe and his team have spent a year honing the approach behind these dishes. Tempus opened in October 2020 in the Grove in Forest Park Southeast, but the restaurant didn't debut its dining room until this November. That dining room is a handsome, modern space of brick, wood and shades of gray.
Two pieces of art give it real character. One is a mural by local artist Jacob Berkowitz along the back wall that bridges the dining room and bar area. The other commands your attention repeatedly at dinner, a piece by Humans Since 1982 that is both a digital clock and a kinetic sculpture about time.
For dine-in service, Tempus has focused on a prix-fixe format, with three courses for $75 per person. You pay in advance when you make your reservation; at the restaurant, you choose one each from a selection of (on my visits) four appetizers, four main courses and three desserts.
You can order cocktails, wine and other beverages from the intriguing list, or opt for general manager and beverage director Drew Lucido's three-course pairing ($25, non-alcoholic $15). With this format and compact menu, the kitchen sets an efficient though not rushed pace. It might surprise those who associate upscale dining with lingering, but it makes sense for the COVID era.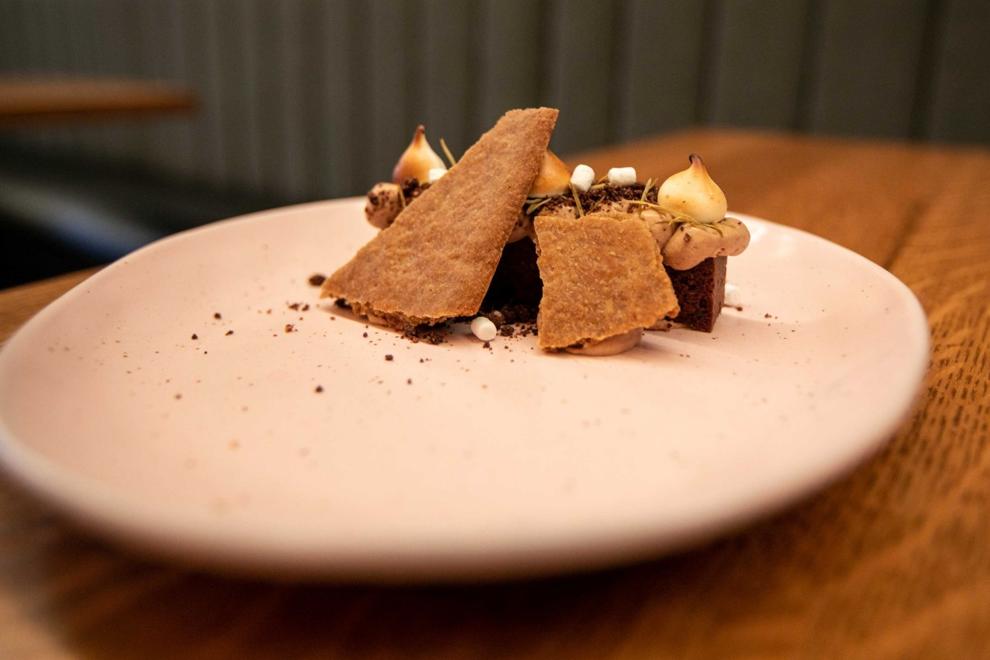 Dessert can send you home on a buoyant tropical note of coconut panna cotta with yuzu yogurt sorbet, passion-fruit curd and a bracing top note of lemongrass. Or it might warm you with apple cooked in yogurt caramel and paired with a brown-butter cake.
Do I need to tell you the kitchen uses nixtamalization to give the apple more bite than it usually retains when cooked? You just know the apple is exactly what you want but not at all what you expected.
We are currently not assigning star ratings to restaurants. This review is based on dine-in service.
Where Tempus, 4370 Manchester Avenue • More info 314-349-2878; tempusstl.com • Menu Progressive American fare • Hours Dinner Wednesday-Saturday; proof of COVID-19 vaccination or a negative PCR test from the past 72 hours required