As I write this, the heat and humidity that wrapped around St. Louis this summer like a blanket steeped in dog's breath have relented somewhat, which is a relief, but also annoying. I was eager to tell you the only nonfrozen thing you will want to eat these muggy months is jben, the Moroccan-style fresh farmer's cheese Ben Poremba is serving at his new restaurant, the Benevolent King.
You will want to eat jben anyway. This is what the tub of cream cheese in your fridge imagines when it looks in the mirror: a cool, thick spread, neither tacky or pasty, with the breezy sweetness of cream and a gentle tang of buttermilk and yogurt. Poremba decorates the jben ($12) with dill, dried mint and fennel pollen and serves it with crudites for dipping. The cheese is great with the snappy crudites — and even better slathered on batbout, warm, airy Moroccan pita.
The Benevolent King, which opened in April in downtown Maplewood, marks a return to the kitchen for Poremba, who with Elaia, Olio, Parigi and Nixta has established himself as one of St. Louis' premier chef-restaurateurs. In 2016, however, after Poremba and his wife welcomed their second child, he decided to become more restaurateur, less chef. This didn't diminish his restaurants. He handed the reins of Elaia and Olio to the tremendously talented Ben Grupe; the Italian Parigi showcases veteran chef Ramon Cuffie, the Mexican Nixta rising young talent Alex Henry.
Still, Poremba's voice as a chef is singular, informed by his native Israel, his mother's native Morocco, the Jewish diaspora, by classical continental cuisine and progressive modern dining. It remains the inspiration for Olio's menu, and it hums in the background of his other restaurants, but I missed it speaking directly.
The Benevolent King's space, formerly the restaurant and cocktail bar Water Street, offered the ideal circumstances for Poremba's return. The dining room seats only 30, and the open kitchen at the rear of the narrow storefront is even smaller.
"I don't have the time or stamina or energy to run a brigade kitchen like Elaia," Poremba told me in a phone interview when he announced the Benevolent King.
The Benevolent King is certainly more casual — not to mention less expensive — than Elaia. Casual too is how Poremba has described the Benevolent King's approach to Moroccan cuisine. The food is nontraditional Moroccan or Moroccan-inspired or, more broadly, what Poremba likes to eat at home. The menu is divided among snacks, salatim (a selection of small salads and spreads, like mezze) and main courses. Specific dishes change frequently based on what is in season and on Poremba's whims.
(Poremba knows me from numerous visits to his restaurants over the years. At the Benevolent King, he sent some small dishes I hadn't ordered to my table. This accomplishes nothing but make me uncomfortable. Each dish was on the regular menu, so I added the cost of each to the tips I left.)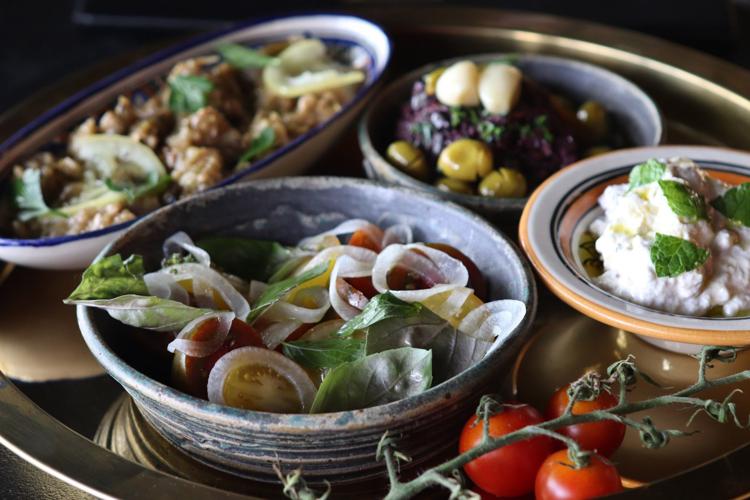 The Benevolent King's menu rewards, maybe even demands, grazing. Begin with the jben, of course, and a plate of olives ($6) goosed with citrus juice and habanero chile. You will want something crunchy. Split-pea falafel ($9), with harissa-spiked yogurt for dipping, boast an interior as tender as any falafel in town. Briouat, thin, cigar-shaped phyllo shells filled with sardine ($8) or chicken ($10), crackle rather than crunch. Preserved lemon and harissa punch up the sardine's intense fishiness, while honey, cinnamon and turmeric bathe the chicken in sun.
The salatim (three for $20; five for $30; seven for $40) are a cross section of Poremba's influences. Pungent maqbouba, charred tomatoes with chile, mint and garlic in red-wine vinegar, hails from North Africa. The smoky, garlicky eggplant dip smoothed out with crème fraiche is Romanian, while the modestly briny fish-roe dip ikra arrives from the Balkans via Israel, where it is popular and was one of Poremba's childhood favorites. Rather than conventional hummus, Poremba serves masabaha, a warm, rough-hewn version made when I ate it with lentils.
Compared to the snacks and salatim as well as to Poremba's cooking elsewhere, the main courses I ordered at the Benevolent King were restrained. The selection usually includes the breaded shrimp mogador ($18), the best fried shrimp you will find this far from the Gulf Coast, sweet as if just plucked from the sea and spiked with chile heat. When I ordered the dish, Poremba served the shrimp over a crisp, peppery salad of arugula, jalapeño, radish, lime and capers.
The tagine of lamb meatballs in smoked-tomato sauce with the traditional Moroccan spice blend ras al hanout ($18) looks like a dish of meatballs in sauce. It unfolds in layers of flavors, though, with the meat's natural grassiness and a note of ginger yielding to the smoky sauce, which in turn gives way to a lingering chile heat. I was less enamored of tuna ($24) grilled medium-rare, a fine piece of fish bluntly seasoned and paired with a shaved-fennel salad and a muted fava-bean puree.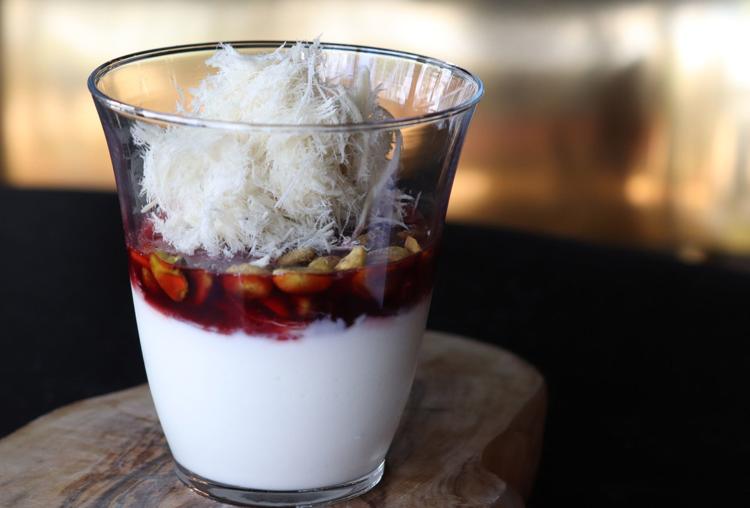 Poremba's mother, Rachel, occasionally joins him in the Benevolent King's kitchen, and a selection of her cookies ($10) is a staple of the dessert menu. Take these home to nibble on as a snack. At the restaurant, feast on pasteria ($8), a couscous-ricotta tart that is to cheesecake what jben is to cream cheese.
Tony Saputo, who made his mixology bones at Eclipse, Layla and Atomic Cowboy, has put together a cocktail list that finds balanced, cohesive flavors and textures in daunting will-that-work? ingredient lists. The Commander of the Faith ($16) is typical of Saputo's approach, a mezcal drink precisely blended with amaro, vermouth and Curacao so the mezcal's smokiness doesn't cloud the other flavors. The masterstroke ingredient is aquafaba, the liquid you drain from chickpeas, which gives the drink a silken, foamy texture.
My favorite drink here is the Prince of the Believers ($14), a swanky riff on the gin-and-tonic with crème de violette and the apertifs Bonal and Capertif. It's refreshing enough to cool down the inevitable return of summer's fury, complex enough to sip well into autumn.
Where The Benevolent King, 7268 Manchester Road, Maplewood • Three stars out of four • More info 314-899-0440; thebenevolentking.com • Menu Moroccan-inspired cuisine • Hours Dinner Tuesday-Saturday
Editor's Note: An earlier version of this review misspelled the last name of Parigi chef Ramon Cuffie.