At Cinder House, the 3-month-old collaboration between the acclaimed chef Gerard Craft and the Four Seasons Hotel St. Louis, the menu advises diners to allow up to 25 minutes for Dia's Cheese Bread. The note is helpful. The long lead time is unusual for an appetizer.
The note is also a nudge. Dia's Cheese Bread is baked to order. This dish is important to the kitchen. You should order it.
Those who have followed Craft's career since 2005 — when the then-25-year-old Washington, D.C., (via Salt Lake City) transplant opened the original Niche inside a cozy Benton Park address — need no introduction to Dia's Cheese Bread. It is, if not his signature dish, his anchor.
Dia was Cecelia Assuncao, Craft's childhood nanny and a native of Brazil. (She died in 2009.) Craft grew up eating her versions of the cheese bread pão de queijo, the fried, chicken-stuffed dumplings coxinha and other Brazilian fare. She was an early and lasting influence on his own cooking, and that influence is why "Gerard Craft opens a Brazilian-influenced restaurant at the Four Seasons" isn't culinary Mad Libs.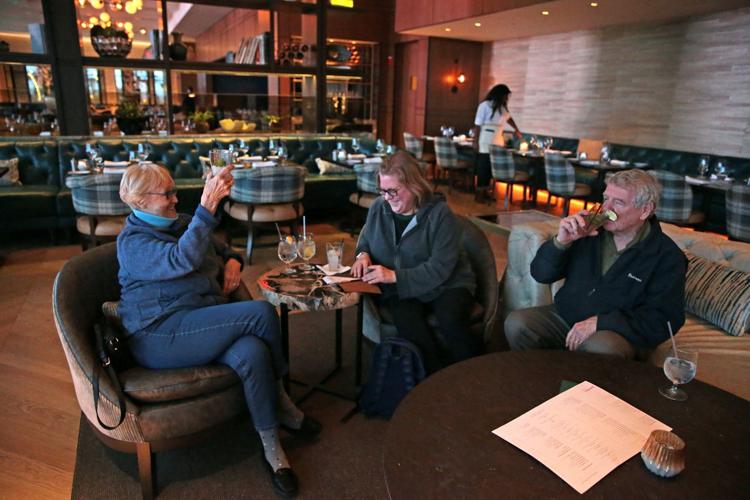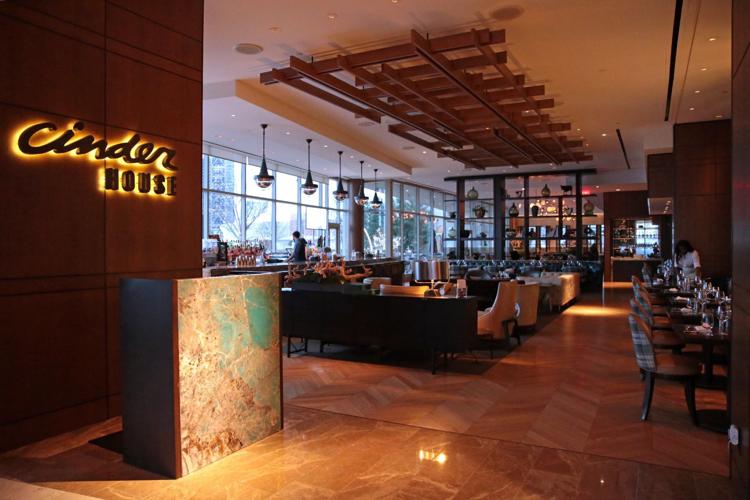 Cinder House serves Dia's Cheese Bread ($12) with sliced country ham, a ramekin of whipped lardo and some pickled vegetables. But pão de queijo is an indulgence by itself — a gooier gougers.
If you haven't followed Craft's career over the past 13 years, your only clue to the importance of Dia's Cheese Bread might be that note about the 25-minute baking time. For that matter, your eyes might scan right past all the Brazilian dishes to Cinder House's selection of steaks and chops.
This is the tension underlying Cinder House. Is it the latest restaurant from Craft, the James Beard Award-winning chef of Pastaria, Sardella, Brasserie by Niche and Taste — a restaurant that happens to be located in a luxury hotel? Or is it a luxury-hotel restaurant that happens to feature a menu developed by Craft?
Does that difference even matter? The simple answer is no, it doesn't. The restaurant's name references wood-fired cooking, which brings the menu together in its broad embrace. Craft, executive sous chef Michael Fricker and the restaurant's front- and back-of-house teams deliver the sort of experience you would expect given Craft's résumé and the Four Seasons' reputation, and Cinder House is a worthy successor to the Italian restaurant Cielo, which opened with the hotel in 2008.
(The relatively rapid renovation of the space from Cielo to Cinder House has given the bar and dining room a sleeker look, though the main attraction of the space remains the view directly south of the Gateway Arch and, more broadly, downtown and the Mississippi River.)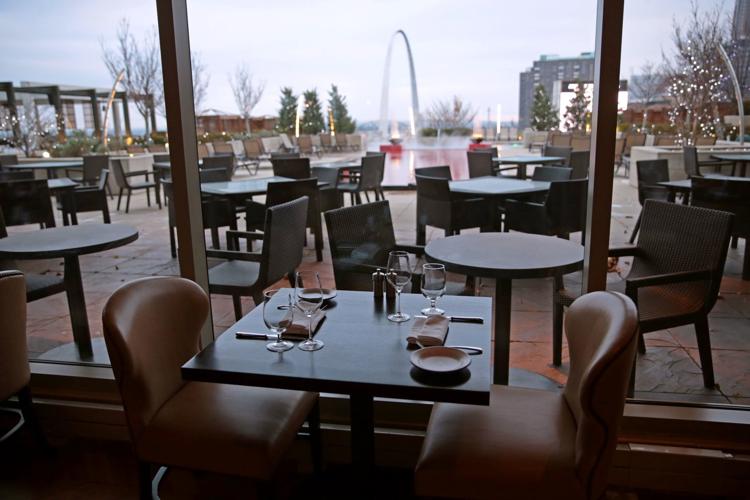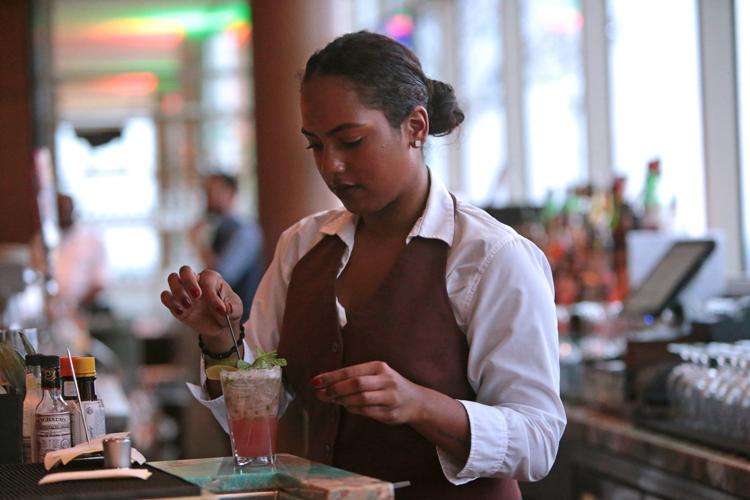 I found the Brazilian dishes more compelling than the fare described more generically as From the Grill: Dia's Cheese Bread and Craft's take on coxinha ($12), which he has fondly — and not incorrectly — compared to Chicken McNuggets, though the coxinha's fried crunch yields to a more sumptuous interior of poached chicken and smooth catupiry cheese.
Of course, there is feijoada ($32), likely Brazil's most famous dish. Cinder House's version is imposingly meaty. It begins with black beans cooked with ham hock and bacon, and the bowl brims with a changing array of four meats: in my order, pork ribs, sausage and pulled meat and beef brisket. Chimichurri sauce and orange slices do the necessary work of brightening the dish with heat and acid, while farofa gives it a little crunch. Tucked away under all of this is some kale. It made me feel marginally better about my meat intake.
Moqueca ($30) is as painterly as the feijoada is lusty, a composition of octopus, head-on prawns and small pieces of snapper with fingerling potato confit doused tableside in a lobster and coconut milk broth. Now forget about the artful presentation and rip those prawns apart. The heads are the key: Their briny juices invigorate a broth that, between the buttery lobster and sweet coconut, could have been much too rich.
You can divide Craft's restaurants between those where he and his chefs are more modern and playful in their approach (Niche, Taste, Sardella) and those where they are more traditional (Brasserie, Pastaria). The Brazilian half of Cinder House belongs to the latter.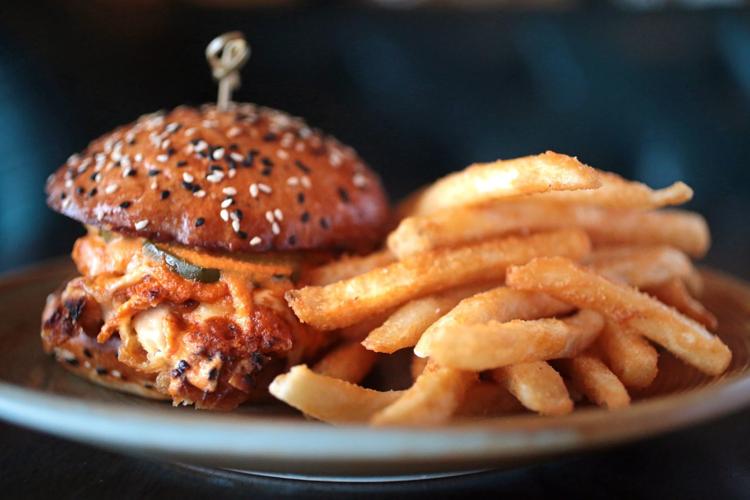 Craft isn't trying to update or riff on Brazilian cuisine or jump on some trend. He loves it, it means something to him and he honors it in the cooking. (Though his piri-piri chicken, which I ordered as a sandwich, $14, from the more casual lunch and rooftop-deck menu, could use some more piri-piri heat.)
The From the Grill menu also falls into the traditional side of the Craft dichotomy: The wood-fired grill gives the chophouse menu a more contemporary feel than you will find at an old-school steakhouse, but as emphasized as it is in the Cinder House name, the wood-fired cooking in general is nowhere near as interesting as what Vicia is doing.
Still, the grill imparts a lovely char and a wisp of smoke flavor to cuts like the 10-ounce bavette steak ($36) and two double Colorado lamb chops ($44). The former is a great "value" steak, with a slight chew that yields deep beef flavor in each bite; the lamb chops are tender and, beyond the char and smoke, showcase the meat's distinct flavor.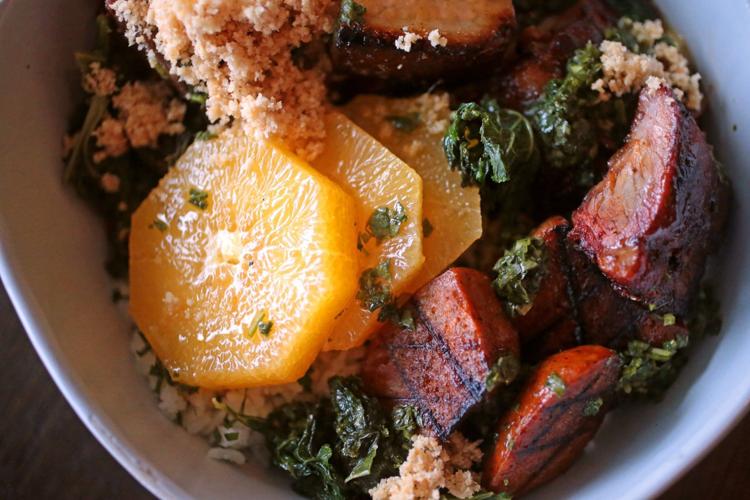 There is no hard line between Cinder House the Brazilian restaurant and Cinder House the steakhouse. The a-la-carte sides for the chops include the usual french fries and vegetables like broccolini, charred and simply, smartly seasoned with olive oil, garlic and chiles. But you can also order a feijoada-esque preparation of black beans or polenta made with manioc flour, larded with goat cheese and drizzled with spicy honey.
The cocktail list veers Brazilian with four variations on a classic caipirinha. My order, with "muddled wood-fired lime" ($11), tasted like a caipirinha. The wine list features some high-priced steak-friendly cabernets (Opus One, Bryant Family, Stag's Leap), but sommelier Anthony Geary helped guide me through more reasonably priced reds from Spain, Portugal and the new world to a fine, (relatively) reasonably priced bottle.
Some dishes don't quite fit either description. A plate of lamb ribs ($17) with a mango-honey glaze are surprisingly blunt in their sweetness. A charred-onion dip ($10) with housemade chips, on the other hand, is an unexpected stoner-food delight.
The chips and dip is the sort of fun but rigorously executed (those chips are first-rate) dish you might find at Craft's Taste, and Dia's Cheese Bread hearkens all the way back to Niche 1.0. Cinder House as a whole, though, leans closer to the Four Seasons' well-appointed corporate luxury than to Craft's other ventures present and past. It is an excellent restaurant, but not yet transcendent, priced somewhere between those two superlatives.
Where Cinder House, Four Seasons Hotel St. Louis, 999 North Second Street • Three stars out of four • More info 314-881-5759; cinderhousestl.com • Menu Brazilian dishes and wood-grilled meats • Hours Breakfast, lunch and dinner daily