One recent afternoon, I drove my car into a mostly empty parking lot at South Grand Boulevard and Chippewa Street. A little more than a decade ago, this corner was home to a good but short-lived Vietnamese restaurant called Mama Pho. Today, there is a medical-marijuana dispensary with a cute name (Root 66) and a disconcerting, if understandable, lack of windows.
I didn't need any pot. I did need the breakfast burrito and carnitas bowl from Clara B's Kitchen Table, and the food truck was serving lunch outside the dispensary. In our strange, new dining reality, this seemed as good a place as any to park a truck — though maybe not as good as wherever the dispensary's customers would be an hour later.
It reminded me of the early years of the food-truck bonanza, that weird thrill of tracking down the latest boldly wrapped contraption to some corporate campus or downtown block. Maybe the food wouldn't be worth the chase, but the chase was maybe half the point.
Whether you find it in a dispensary parking lot, as part of the truck lineup at 9 Mile Garden or at a special event in the Metro East, Belleville-based Clara B's is worth the chase.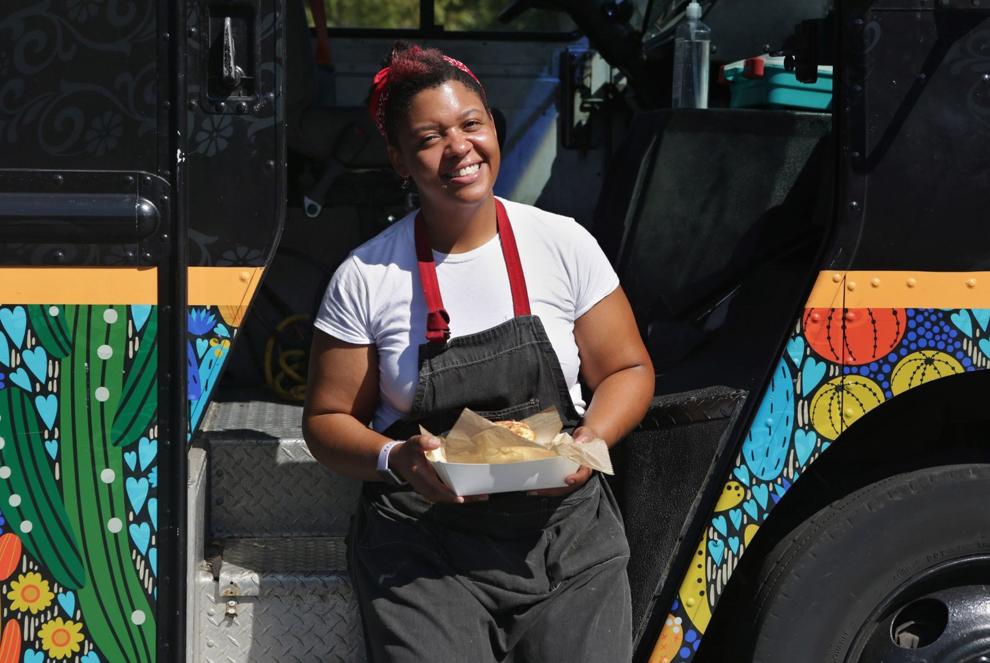 Owner Jodie Ferguson named Clara B's for her late grandmother. Clara Bloodworth was originally from Louisiana. She moved with Ferguson's grandfather to Pennsylvania, where they were farmers. When Ferguson was a young child in Lockhart, Texas — the town south of Austin that is the heart of central-Texas barbecue — Bloodworth lived with her and her mom.
"My grandmother was the matriarch that everybody kind of flocked to, and she was the one that cooked for everyone and anyone," Ferguson told me in a phone interview.
Grandmother and granddaughter were close. When Bloodworth died when Ferguson was 6 years old, she said, "the first thing I asked was, 'Who is going to feed me?'"
Ferguson obtained a degree in marketing from the University of Missouri-Columbia but had lost interest in the field before she graduated. She started cooking while in college and took an apprenticeship through the American Culinary Federation at Mizzou's University Club. From there, acclaimed chef Bill Cardwell recruited her to St. Louis.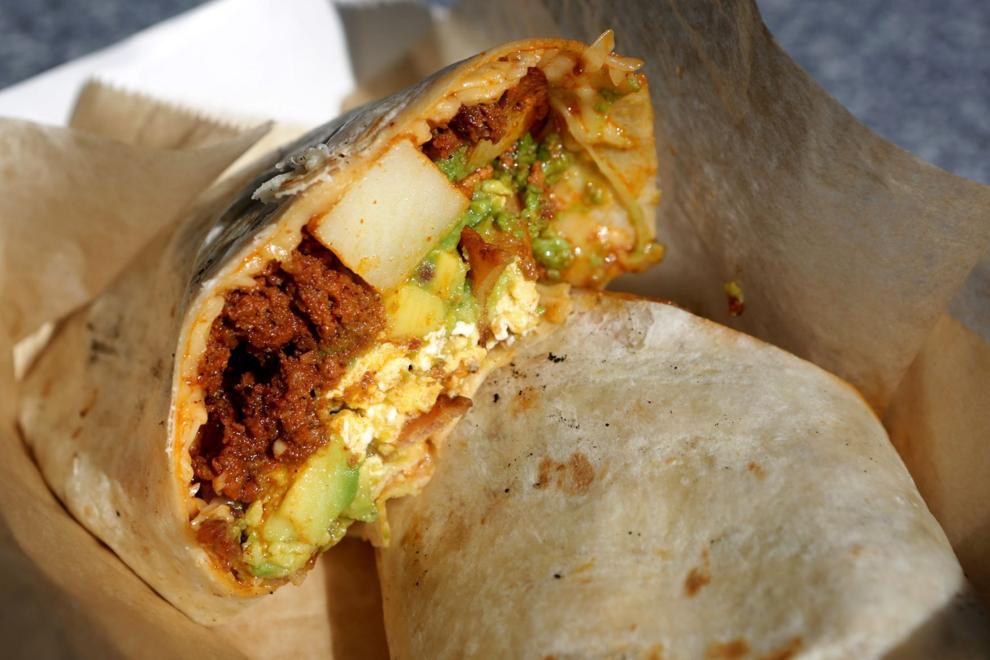 She didn't work long for Cardwell, but she stayed in St. Louis. At Table Three in Wildwood, she applied as a dishwasher, was hired as a prep cook and within a year was the executive chef. After a few years at Table Three, she moved on to positions at Ameristar Casino in St. Charles, the Marriott St. Louis Grand downtown and the Ritz-Carlton, St. Louis in Clayton.
Ferguson debuted Clara B's last year as a "proof of concept" for an eventual brick-and-mortar location. That remains the plan — she recently launched a crowdfunding campaign toward that end — but Clara B's has already proven itself an exciting addition to the metro area dining scene, a truck with character, not just a concept.
In fact, as a "concept," the Clara B's menu is delightfully tricky to pin down. Texas barbecue-adjacent breakfast-lunch, with more than a hint of Louisiana, maybe? There might be beef brisket, which Ferguson smokes over mesquite rather than the traditional Texan post oak. The meat is no less appealing for the substitution, smoky and peppery and succulent.
The first time I visited Clara B's several months ago, this brisket was the meat inside the breakfast burrito, where it jostled for attention with fluffy scrambled eggs and nicely browned cubes of fried potato. When I ordered it again this month outside the dispensary, the meat had changed to a duo, bacon and chorizo — still smoky, thanks to the bacon, but now with the chorizo's much more pronounced chile bite.
With avocado and ranchero sauce also tucked into its tortilla, this burrito is a more than complete meal, yet don't ignore the salsa served on the side. Its piercing tomatillo tang and earthy heat add another level of complexity to the dish.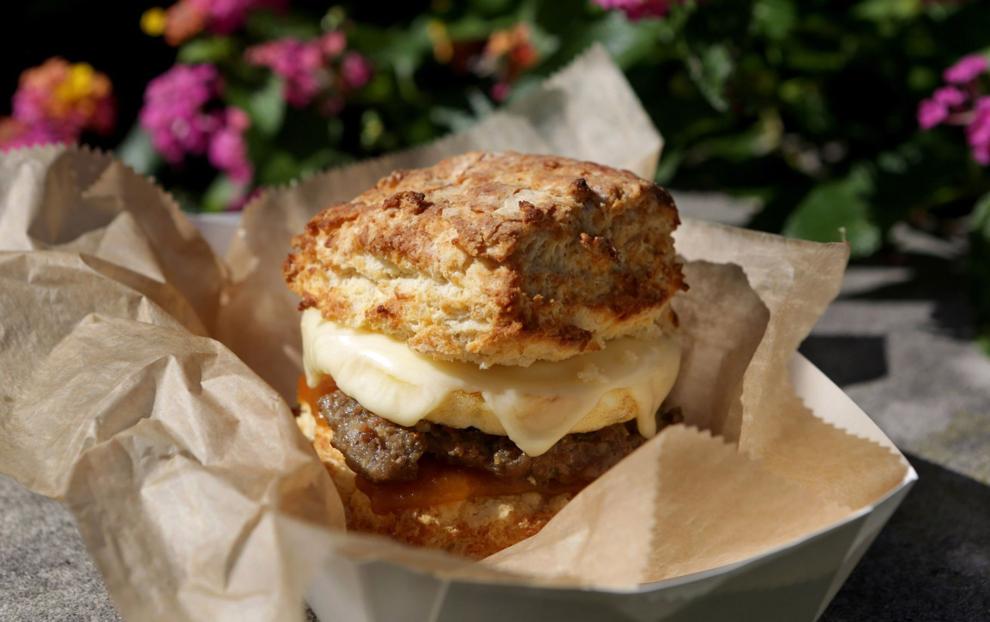 The breakfast sandwich might be more compact than the burrito, but it is still a two-hander: bracingly spiced breakfast sausage and a plump disc of two eggs baked together, slicked with melted cheese on a gently crumbling biscuit. An apricot-red onion jam brushes the sandwich with mild sweetness, and there is a prickle of heat, but next time I order this I'll take Clara B's option to add hot sauce.
Ferguson understands how to pack flavors together without capsizing the boat. The carnitas bowl tricks out its core trio of pork, rice and black beans with tangs both sharp (pickled onion) and cooling (sour cream), with the mild sweetness of avocado and the salty pop of cotija cheese. Of course, the centerpiece is the carnitas itself, which Ferguson smokes and then braises in beer. This might not be the typical carnitas process, but the meat is tender and luscious, and its smokiness lingers throughout the bowl.
New to the menu, and looking toward Louisiana, is a beautiful piece of fresh Gulf redfish flavored, but not obliterated, with blackening seasoning and served as a sandwich with greens, remoulade and a sticky, savory tomato jam. The bread is cornbread-yeast buns, airy and sweet, though the bun-to-filling ratio on my order was skewed a bit to the former.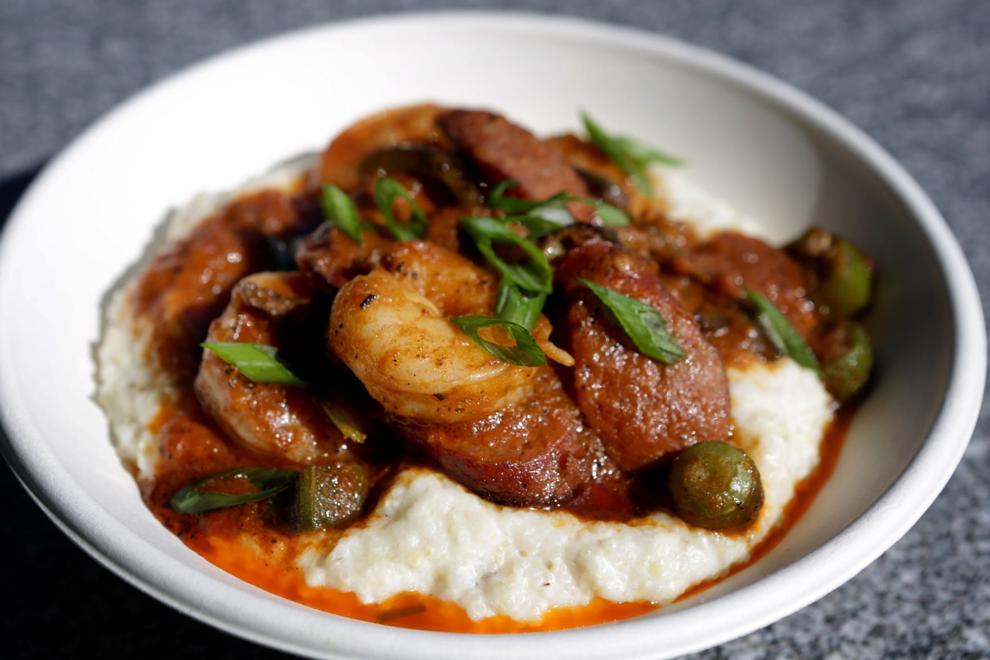 At some point in the previous decade, shrimp and grits became if not commonplace then all too often uninspired on area menus. Ferguson serves an invigoratingly straightforward version. The shrimp are grilled and then finished in a trinity-based tomato gravy. The gravy nods toward New Orleans, but Ferguson didn't want too pungent a gravy. There is a splash of Worcestershire sauce, but to soften the edges Ferguson also adds butter and a dash of sugar.
The shrimp (plump, perfectly cooked), andouille and roasted celery, bell pepper and okra sit atop grits that should be impossible. The grits are incredibly creamy — there is milk, butter and cheese — but, somehow, if they were any airier, you might mistake them for a passing cloud.
Anyway, as I said, I was visiting the dispensary for Clara B's, not weed.
We are currently not assigning star ratings to restaurants. This review is based on visits to a food truck. Contact the restaurant directly for the most up-to-date hours and operating procedures.