At Cobalt Smoke & Sea, which opened in May in Creve Coeur, two artificial, lighted ginkgo trees stand sentinel over the dining room. Their leaves glow the color of lemon-lime Gatorade. Their presence is so striking that you might not notice the replica skeleton of a pygmy sperm whale suspended from the ceiling inside a cylindrical cage.
The juxtaposition of the ginkgo trees and the pygmy sperm whale skeleton suggests — oh, I don't know. The entrance to an eccentric millionaire's private aquarium? I kind of dig it. If nothing else, Cobalt Smoke & Sea's design offers a distraction from its food.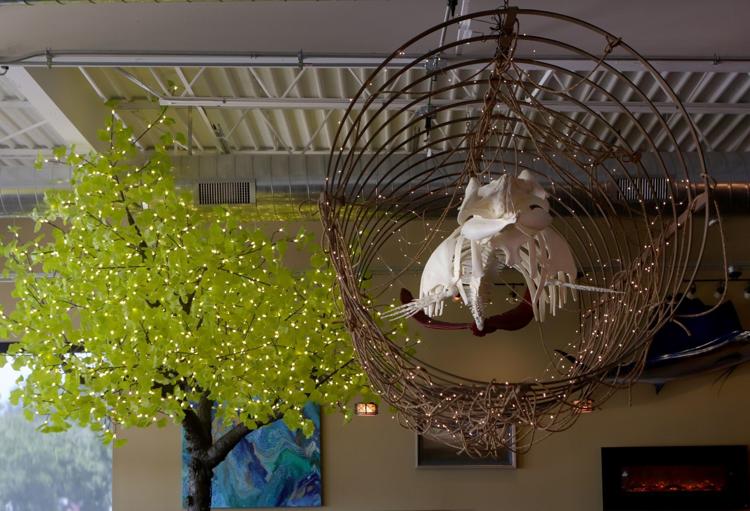 Owner Bernadette Faasen previously operated Woodsmoke BBQ in Ellisville, which closed in 2018 after six years. Smoked meats return at her new venture, though Cobalt Smoke & Sea gives them an international spin: a take on the Puerto Rican pork dish pernil, burnt ends in a Japanese-style barbecue sauce.
As you might have surmised from the restaurant's name and the pygmy sperm whale skeleton, here smoked meats share the menu with seafood. A few of the seafood dishes include smoked ingredients as accents. For the most part, though, the ampersand between Smoke and Sea is a hard break.
Faasen created the menu with Joe Stamer, who was Cobalt Smoke & Sea's executive chef from its opening until last week. I made my final review visit last Friday and didn't learn of his departure until this week, so if you want to affix an asterisk to what follows, I understand.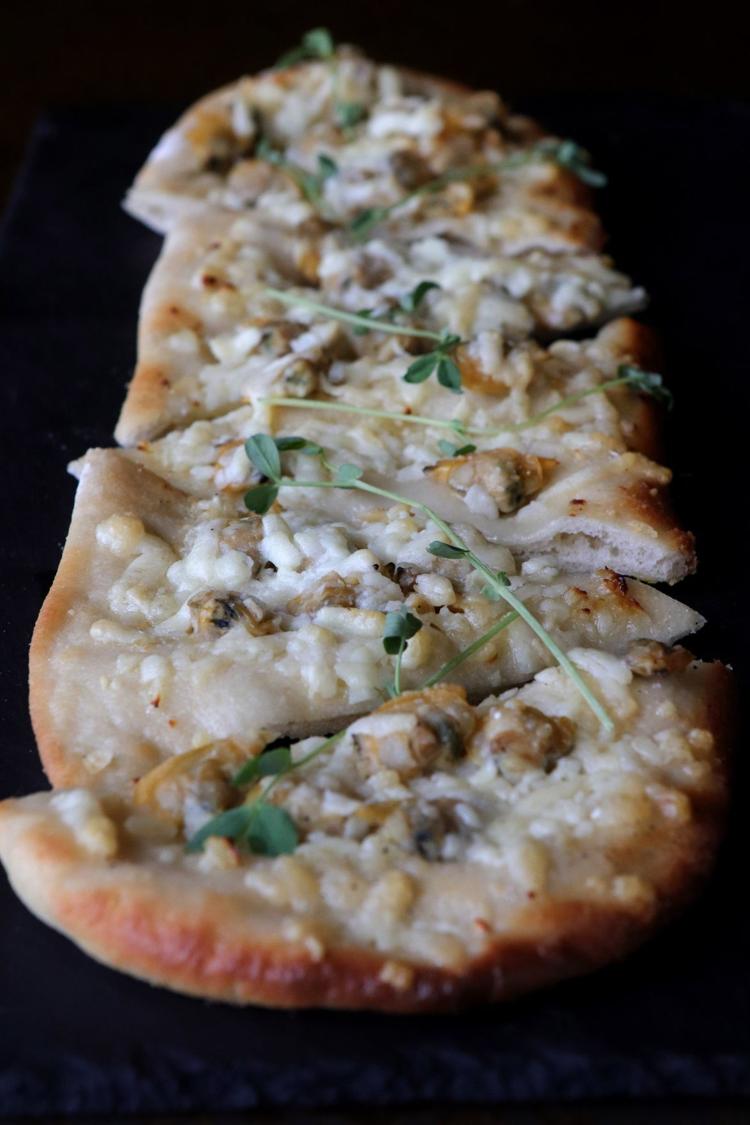 Still, Cobalt Smoke & Sea remains open, serving food at full price. (Faasen hasn't named Stamer's replacement.) And no kitchen should send out what I ate at my final meal here. This began with the New England seafood chowder ($8), which supposedly features "market-fresh" seafood and ham shank but tasted of nothing except heavily salted cream.
What followed was one of the most unpleasant dishes I've eaten in St. Louis, the smoked duck ragu ($19). This "ragu" brought modestly smoky duck meat with braised greens and wild mushrooms over what the menu said would be a puff pastry and a celery-root puree. What appeared on the plate was a lumpy, flavorless mass with a texture best described as glutinous cottage cheese.
But Cobalt Smoke & Sea's problems were also evident — if not as drastically so — at my first visit there a month ago. Neither a smoked-corn relish nor a pimenton aioli salvaged mushy crab cakes ($14.50). Burnt ends ($18) with braised leeks and baby bok choy over soba noodles in yakiniku sauce should have showcased Faasen's barbecue background. Instead the brisket's strong notes of beef and smoke, welcome in another context, obliterated any nuance in the sauce. What remained were sharp notes of soy sauce and rice vinegar and a lingering, acrid finish.
Pork Pernil ($14 or $12 for a generous lunch serving, as I ordered it) wasn't as tender as shoulder should be, and its seasonings of garlic and oregano were faint. The sofrito powering its bed of arroz con gandules carried the dish. The best meat dish I ate here was the burger ($12), made from chuck ground in-house and marbled with duck fat. The fat didn't add flavor so much as lusciousness that the cooked-through patties might have otherwise lacked.
Mussels ($13) were one seafood dish the kitchen didn't scupper thanks to a wine-based broth flavored with saffron and a smoked-tomato puree and larded with Spanish chorizo. The white clam pizza ($13) promised littleneck clams with garlic and Pecorino-Romano cheese on a "blistered" crust. I received a soft, wan crust with very few clams, though the garlic and cheese were certainly pungent.
The scallops ($24) were a gorgeous dish: three plump, browned specimens set with watermelon radish and roasted cauliflower in a puree of curried, smoked corn the color of a freshly painted school bus. Then, in what could be an epitaph for this entire past decade of restaurant dining, I ate the gorgeous dish. The scallops were too salty, and the corn puree tasted like generic store-brand "curry" powder much too generously applied.
Cobalt Smoke & Sea's hospitality also needs improvement. Across multiple visits, I rarely saw anyone attending the host stand. Once, I stood there to no avail, then sat at the bar to no avail, then returned to the host stand and was finally seated by a server. Table service is friendly but follows a rhythm — maybe distracted, then maybe attentive — almost as random as the ginkgo trees and the whale.
Where Cobalt Smoke & Sea, 12643 Olive Boulevard, Creve Coeur • One-half star out of four • More info 314-548-6220; cobaltsmokesea.com • Menu Globally inspired smoked meats and seafood • Hours Lunch and dinner daily