The evening of the Blues' infamous overtime loss to the Sharks, I watched part of the game — the not-infuriating part — as I imagine a few of you also did, sitting in a neighborhood restaurant, drinking a beer, eating a steak with a side of pasta. In my case the restaurant was Cocina Latina, which opened in late February in the Central West End, and the pasta was tallarin verde (with steak, $14.99), spaghetti tossed in a Peruvian-style pesto made with basil, spinach and queso fresco.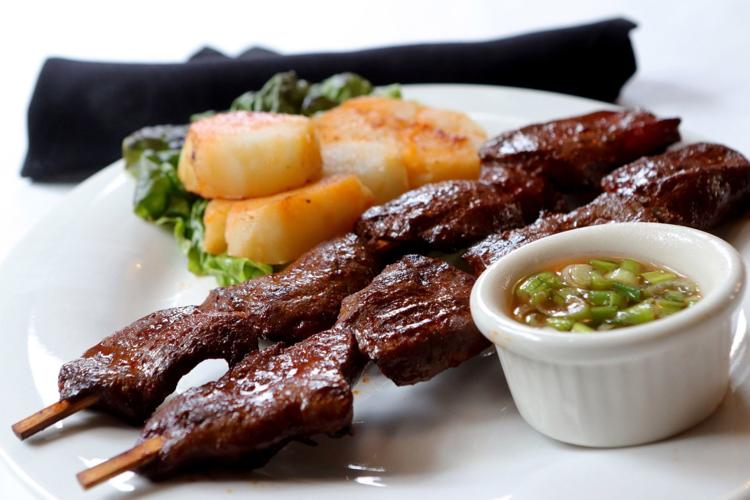 This made for a hearty, satisfying meal, with the pesto's spinach bite cutting against the steak's simple richness. It was, though, a bit of a comedown from my first course, Peruvian-style ceviche (market price, $16.99 on my visit): mahi mahi "cooked" in lime juice and then punctuated with garlic, cilantro, red onion and, especially, the potent chile heat of ají limo. The ceviche is served with choclo (Peruvian large-kernel corn, here boiled and touched with the sweetness of anise) and cancha (toasted Andean corn), and I could have happily snacked all night on the crunchy cancha and the tart fish with its intermittent pops of ají limo — or happily, I guess, until overtime.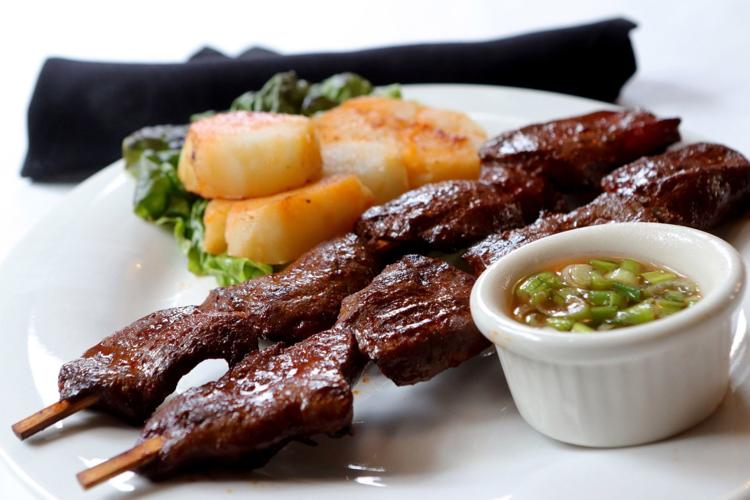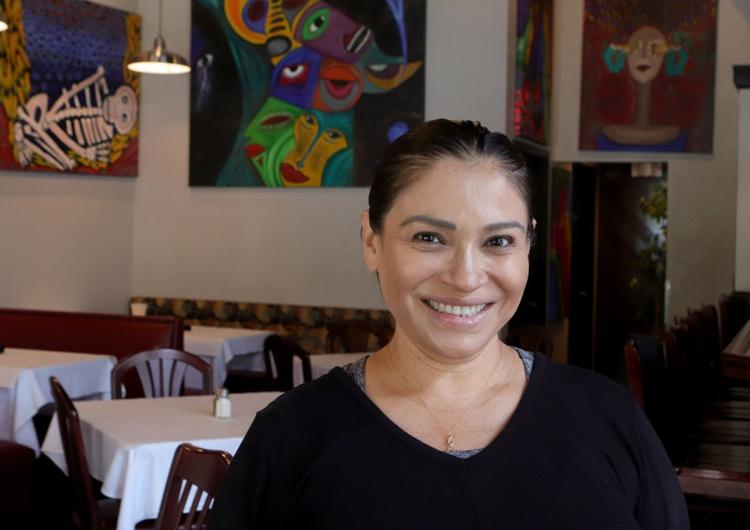 This is Cocina Latina now. This was also the restaurant Peruvian native Maritza Rios thought she might open when she moved to St. Louis from New York City 19 years ago.
"I worked in many different cuisines," Rios told me in a phone interview, discussing her 22 years in New York City, "and I always wanted to do something for South America."
Relocating to St. Louis County, however, caused Rios to change her plans.
"Back then, in the county, it was hard to introduce South American (cuisine)," she said.
Instead, Rios opened a Mexican restaurant, El Paisano, in Arnold. Today, Rios owns the El Paisano on Watson Road in Lindenwood Park. She has no connection to the El Paisano in Arnold.
Meanwhile, Rios still hoped to open her South American restaurant. She had also fallen in love with the Central West End. She spent a significant amount of time there in the middle of the last decade while her father underwent and recovered from major surgery at Barnes-Jewish Hospital. The people walking around with dogs or strollers reminded her of being on the East Coast. She said she thought to herself, "One day I'll be here."
The here, finally, is a space on the northern end of the Central West End. The dining room is modest in size, but the relatively high ceiling gives it a spacious feel, and the vibrantly colored paintings by local artist Jose Gomez provide a jolt of personality. As a whole, Cocina Latina hits that neighborhood-restaurant sweet spot — familiar, even cozy, but distinctly its own place.
You could describe the menu as Peruvian, and you wouldn't be wrong, exactly, but a more accurate description might be familial. Rios' husband is a native of Colombia, so along with a baked Peruvian empanada ($4.99) of beef, olive and hard-boiled egg in a light, crisp pastry shell, she also serves a Colombian empanada (two for $4.99), with a fried cornmeal shell encasing beef and potato. Rios' children love Cuban cuisines, so she offers a classic Cuban sandwich and ropa vieja ($14.99), its pleasantly chewy shredded skirt steak yielding bursts of the stew's flavor — tomato and garlic most strongly, with notes of red-bell pepper, cilantro and green onion — in every bite.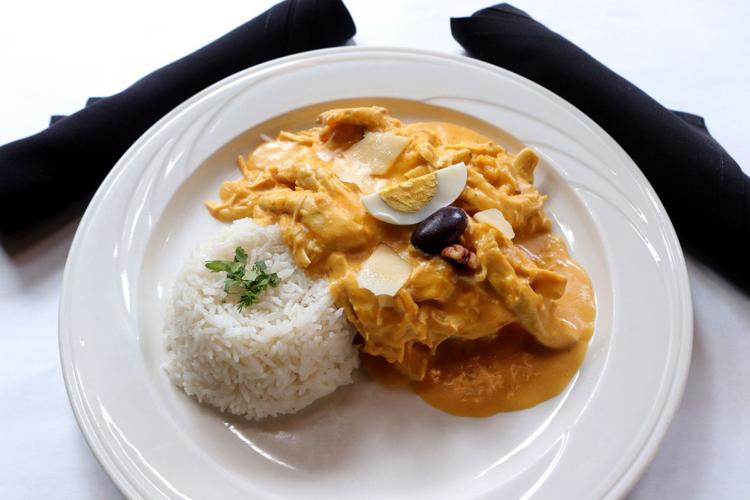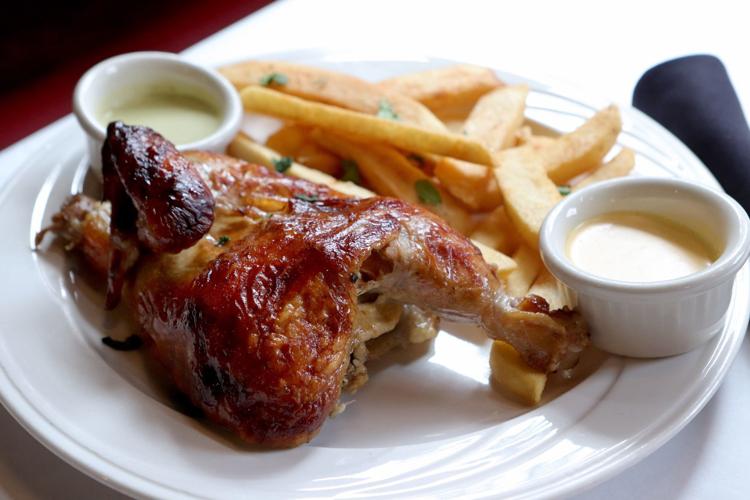 Still, Peruvian dishes are the menu's focus. If you didn't get your fill of mahi mahi in the ceviche, the sudado de pescado ($16.99) presents meatier portions of the fish cooked with fish stock, tomato and ají panca, a moderately spicy chile. The ají de gallina ($12.99) highlights one of Peru's signature ingredients, ají amarillo, a chile that imparts a vivid yellow color and a definite sting to the creamy sauce accompanying shredded chicken, potato and rice. Less complex in its presentation than the ají de gallina but just as flavorful with garlic, onion and oregano is the rotisserie chicken (pollo a la brasa, $13.99).
Of course, Cocina Latina serves lomo saltado ($16.99), Peru's Chinese-influenced stir-fry of beef tenderloin with red onions and tomatoes served with thick-cut french fries. Rios marinates the steak with garlic, ginger, red wine vinegar and an additional splash of vinegar so that these bright, acidic flavors balance the heaviness of the meat and potatoes.
Rios told me her menu will likely grow once Cocina Latina has a chance to establish itself. Considering St. Louis has 19 years of eating her food to make up for, I wouldn't wait to try it.
Where Cocina Latina, 508 North Euclid Avenue • 2½ stars out of four • More info 314-696-2294; facebook.com/cocinaslatina • Menu Peruvian and other South American fare • Hours Lunch and dinner Tuesday-Sunday (closed Monday)