Those of us on the restaurant beat talk about "cursed" spaces, storefronts that repeatedly refuse to thrive no matter how good or on-trend the food served there might be. Sometimes, the curse really is inexplicable. Usually, though, the reason is ordinary — say, a lack of parking or foot traffic — and obvious to everyone but the next determined chef.
Different, and in my experience far less common, is the "haunted" restaurant. If you believe the local lore, at least one ghost resides in the historic Mother-in-Law House on Main Street in St. Charles, which as of June is the mouthful of a restaurant Tompkins by the Rack House.
To simplify the story — and not to ruin it with reports that have undermined its basic, nonsupernatural tenets — one Francis Kremer built the house in the middle of the 19th century and split it into halves for his family and mother-in-law. The mother-in-law's spirit supposedly now haunts the house named for her.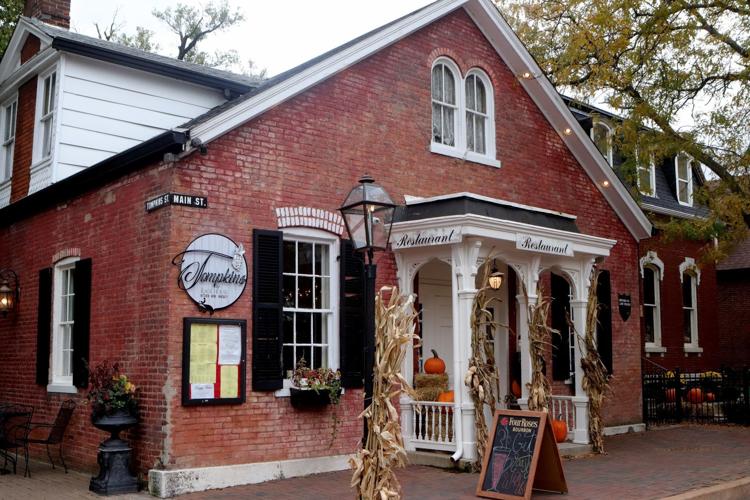 In "The Big Book of Missouri Ghost Stories," Troy Taylor shares spooky anecdotes from the owner of the previous occupant, the Mother-in-Law House restaurant: "Over the years, many customers have spoken of strange phenomena, including glasses, drinks and utensils disappearing with no explanation; water glasses mysteriously spilling; coffee cups dumping their contents in the laps of guests; and food inexplicably changing temperature."
I am skeptical by nature, and certainly on my visits to Tompkins by the Rack House no poltergeists purloined my soup spoons or steak knives. But I did experience enough weird hiccups in a restaurant with this level of laudable ambition and obvious talent in its kitchen that I might bring a proton pack when I return.
Tompkins by the Rack House is the new venture from the owners of the Rack House Kitchen Wine Whiskey in Cottleville, married couple Bridgette and John Hamilton. Tompkins is the cross street of the Mother-in-Law House's South Main Street address.
At Tompkins, the Hamiltons and Rack House executive chef Philip Day are aiming for a certain style of contemporary upscale restaurant. Patches of artfully exposed brick now interrupt the dining room's walls. Your server is sure to mention the from-scratch kitchen and local ingredients.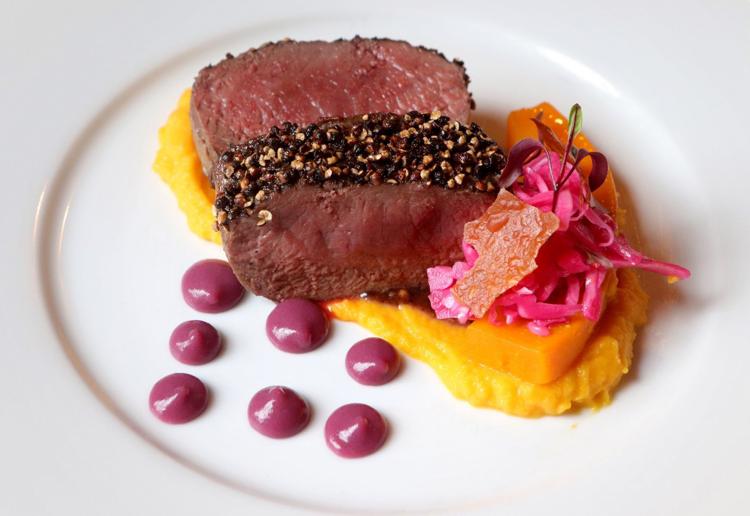 Which isn't to call Tompkins generic. The selection of main courses on Day's current menu begins boldly with koji-cured strip steak ($35) and peppered venison ($37). The latter meat remains absent from most area menus. Day makes a strong argument for its broader inclusion, delivering a crackling pepper crust and rosy medium-rare flesh.
Day gives the venison a classic pairing, a rich, peppery, gently tart grand veneur sauce. For his version, based on a poivrade sauce and prepared in the pan in which he has seared the venison, crème de cassis provides the vital currant note.
He serves the venison and sauce over a pumpkin puree with a few dollops of a bracing cabbage sauce dotting the plate beside it and a wedge of poached pumpkin bracketing the arrangement. It is a lovely, autumnal plate, but with my serving came one of the hiccups: The wedge of poached pumpkin was so undercooked I feared I was trying to eat a decorative garnish.
Like the venison, the koji-cured strip steak is a gorgeous piece of meat. Koji is the mold-inoculated grain essential to Japanese cuisine from soy sauce to sake. Recently, some forward-thinking chefs have employed it as a hack to mimic the effect of dry-aging in much less time. My steak didn't offer the glorious funk a lengthy dry-aging can impart, but its natural beefiness seemed more concentrated, its mineral tang sharper.
The steak occupies half of the plate. The other half is a mess, albeit a painstakingly composed one: blobs and dabs of potato puree, broccoli puree and black-garlic sauce, all of which cradles a few broccolini florets and beef chicharrones and exactly two roasted baby potatoes. The profoundly complex sweetness of black garlic could make an ideal steak sauce, but it gets lost here. The purees all swirl together into a bland muddle.
It might not be paranormal, but there is something magic about Day's duck breast ($30): brined, cold-smoked and then cooked to order. It offers the crisp skin and luscious meat you desire from duck breast imbued with a pitmaster's precise deployment of applewood and hickory smoke. Again, though, my plate as a whole fell short. The duck breast's bed of Brussels sprouts and duck confit was fine, though the Brussels sprouts didn't bite back against the duck's richness as fiercely as they could. But the side of grits with Marcoot white cheddar was more pasty than creamy.
The most complete dish is also the safest: butter-basted scallops ($30, or $16 for the lunch portion I ate). The plump scallops and a sort of hash of Brussels sprouts, bacon and hen-of-the-woods mushrooms surround a sweet, nutty brown-butter sauce enriched with cream and zinged with a touch of apple-cider vinegar.
Did the Mother-in-Law House's resident ghost pull off one of her signature tricks? That might explain two appetizers — meatballs made from domestic wagyu beef ($12) and the Crispy Potato Cake ($12), an oversize Tater Tot with wilted kale and hen-of-the-woods mushrooms in a white-cheddar sauce — that turned tepid between the kitchen and my table.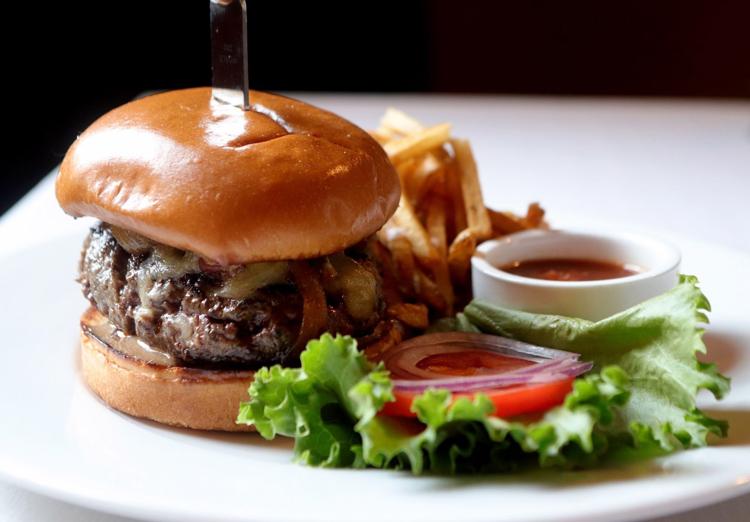 A more common temperature issue flummoxed the lunch menu's wagyu burger ($15): My requested medium-rare burger arrived closer to medium or warmer. Between its black-garlic mayonnaise and bacon-onion marmalade, this burger has enough happening that the temperature issue wasn't fatal to its flavor. But the combination of the burger's price and the kitchen's carelessness represents my general frustrations with Tompkins.
It is especially frustrating because Day can cook, and you can feel how badly everyone here wants the experience to click. Service on my visits was eager. The attention to the beverage program includes a suggested by-the-glass wine pour for each dish on the menu.
Even desserts, an afterthought at most restaurants, show exuberance. The Autumn Flavors ($10) is a cool breeze of pumpkin panna cotta and maple ice cream with a hint of warm spice and the contrasting crunch of pecan brittle and baked meringue. Death by Chocolate ($10) might be a cliche, but if I am going to give up the ghost, I would prefer death by fudge cake, mousse, gelée and ice cream than death by a thousand paper cuts.
Where Tompkins by the Rack House, 500 South Main Street, St. Charles • Two stars out of four • More info 636-493-6332; tompkinsrh.com • Menu Contemporary, seasonal American fare • Hours Dinner Tuesday-Sunday, lunch Tuesday-Saturday, brunch Sunday (closed Monday)