The most consequential decision about your dinner at Hamilton's Urban Steakhouse & Bourbon Bar was made months ago, when Paul Hamilton realized how much he didn't know about steak.
The realization surprised him, too.
Over the past 15 years, Paul and his wife, Wendy, have built a restaurant empire at the border of Lafayette Square and Downtown West: Eleven Eleven Mississippi, Vin de Set, PW Pizza, 21st Street Brewers Bar and — in partnership with Charleville Vineyard, Winery & Microbrewery — Charleville Brewing Co. & Tavern.
The Charleville brewpub opened just last year, but the Hamiltons quickly realized its space on the northwest corner of Chouteau Avenue and South 21st Street was too big for one restaurant, even one restaurant with a small brewery attached. They bandied about ideas for a second concept before Paul suggested a steakhouse.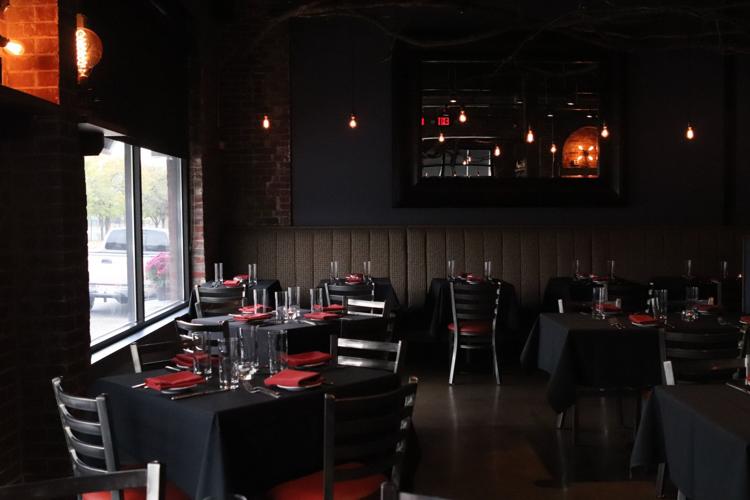 "I love steak," he told me during a phone interview when the restaurant opened in July. To his wife he remembered arguing, "We really don't need to do much research."
Narrator: Hamilton needed to do much research.
That research about cattle, steak cuts and processing plants led the Hamiltons to heritage-breed Black Angus cattle from small farms in Iowa and northern Missouri. The steaks are graded prime or upper choice, and Paul especially liked the quality of the upper-choice cuts relative to the cost. A modest selection of these steaks — a 6- or 10-ounce filet mignon, a 12- or 16-ounce strip and a 16-ounce rib-eye, all wet-aged for 21 days — would be the basis of the steakhouse menu, which is overseen by chef Brett Buettner.
Meanwhile, 2½ months of renovations turned a corner of the original Charleville brewpub footprint into Hamilton's Steakhouse & Bourbon Bar. The small space looks much more like a bourbon bar than a steakhouse. You enter into the narrow bar area, with the bar and its selection of whiskeys set against an exposed-brick wall. In the cozy adjacent dining room, you will eavesdrop without meaning to on your neighbors' conversations and speak up to make yourself heard above them.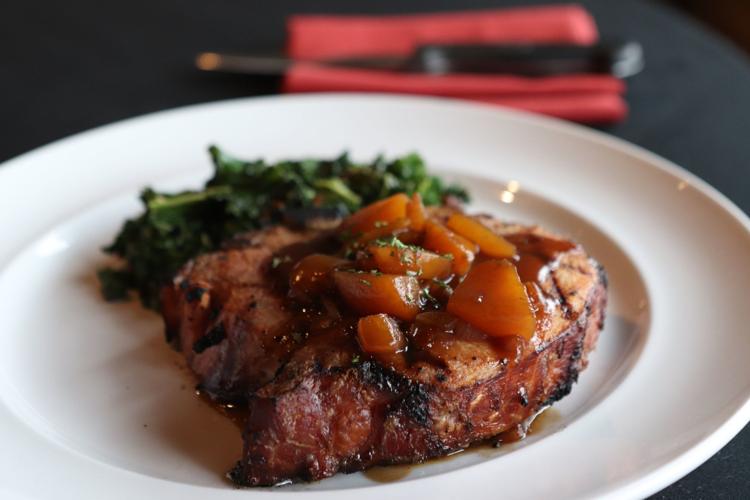 Hamilton's is more casual than the high-end steakhouse chains, and the prices reflect that — to a point. The 10-ounce filet mignon here costs $38.99. At the Capital Grille in Clayton, the same cut is $46; at 801 Chophouse, also in Clayton, $46 scores you an 8-ounce filet. The Hamilton's price includes one side, while the high-end chains will a-la-carte your credit card into jagged slivers of maxed-out plastic.
Put it another way: Hamilton's is expensive (a couple will spend more than $100 here, easy, even with restrained drink orders) but not exorbitant. The best value might be the 16-ounce rib-eye ($39.99). My order, cooked medium-rare, displayed attractive grill marking, and the peppery house dry rub added a prickly edge to its natural flavor.
The meat was tender, and if there is one substantial difference between Hamilton's and the high-end steakhouses, it might be the lack of a modifier for tender. The rib-eye wasn't buttery, it didn't melt in my mouth. It was tender, full stop. If you want to gild your steak with literal butter, you can order a knob of roasted-garlic, Korean kalbi or gorgonzola butter for $2.99 each.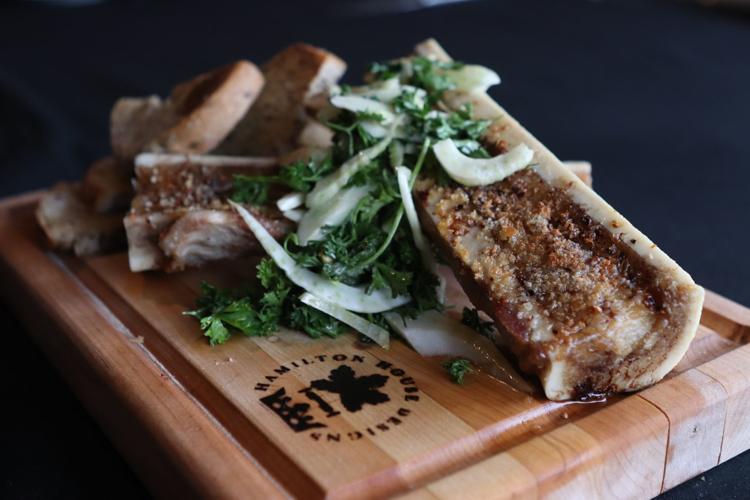 In addition to the wet-aged steaks, Hamilton's offers two cuts that are wet-aged for 21 days and then dry-aged for 21 more, a 22-ounce, bone-in rib-eye and an 8-ounce "baseball-cut" sirloin. I opted for the more economical sirloin ($27.99). By design, this hadn't been dry-aged long enough to develop any serious funk, but the flavor conveyed a lovely, intensely mineral tang wet-aged steaks usually lack.
Your choice of sides include the expected potatoes mashed or baked, asparagus, and mac and cheese (lobster optional). I dug the sweet, umami-laden roasted wild mushrooms and the sauteed kale, which is roughly half kale, half bacon lardons.
Beyond the steaks, I would recommend the lamb chops ($46.99) with a mint pistou, but these are leaving the menu soon. A shame. The three chops were as tender as any lamb as I've eaten in town. The menu gives the meat-averse a cauliflower "steak" ($19.99), which is half or more of a cauliflower head cut into the shape of a fat rib-eye, seasoned with curry powder and grilled. This is served with mushrooms, carrots, roasted red peppers and fried leeks over a pea puree. I appreciated the effort put into a vegetarian dish at a steakhouse, but this was ... a lot of cauliflower to eat, and the grilling and curry seasoning could do only so much to flavor such a thick cut.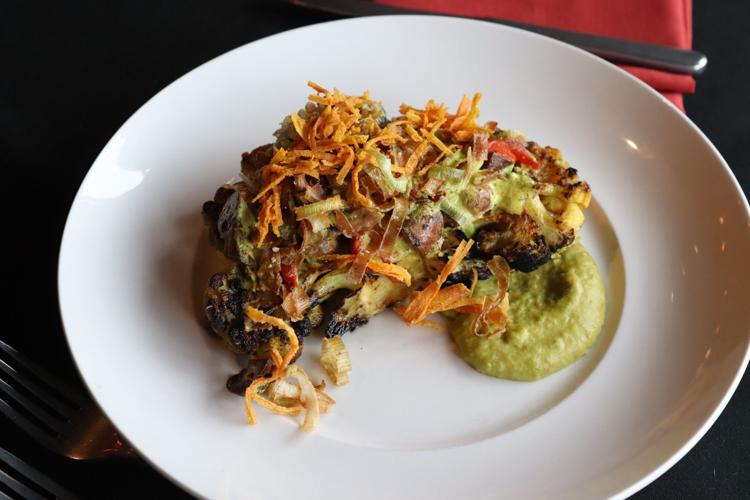 The steak program the Hamiltons devised and the kitchen's facility with the grill ensures a good or very good meal here. Beyond the steaks, though, there are enough rough edges to prevent me from a full three-star endorsement. The lobster bisque ($8.59) is thin, the flavor of sherry much too prominent. The crab cakes ($14.99), an appetizer, are mostly crab, with little filler, but the kitchen shapes them into towers rather than plump patties. There isn't enough crisp browned exterior to the cakes, and the crab meat in the center is lukewarm to cool. Dessert — bluntly tart key-lime pie ($6.99), pecan pie with filling that tasted a touch scorched ($9.99) — is perfunctory.
Still, for a restaurant built in roughly three months, Hamilton's is impressively polished. Much of that owes to the Hamiltons' track record in their restaurant group. The service is smooth. The beverage program is properly calibrated to the venue. The wine list is heavy on reds in general and California reds in particular, with most bottles less than $100. The bourbon list avoids highly allocated and rare bottles for a sensible list of good, very good and great choices, most reasonably priced at $8 to $12 a pour.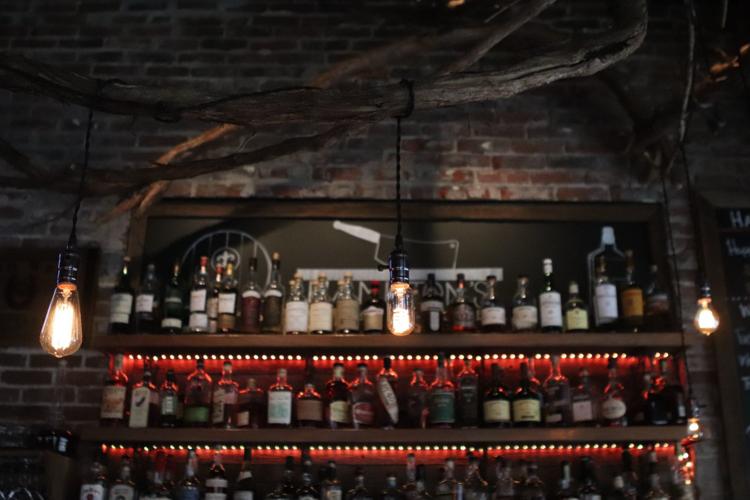 If Paul Hamilton underestimated what he knew about steaks, he wasn't wrong that the steakhouse concept, with so much of its pleasure derived from meat selected, cut and prepped well before you arrive for your meal, was perfect for this quick-turnaround project. And it is better to have a steakhouse where the rest of the food needs to catch up to the steak than the other way around.
Where Hamilton's Urban Steakhouse & Bourbon Bar, 2101 Chouteau Avenue • 2½ stars out of four • More info 314-241-2333; hamiltonsteak.com • Menu Steaks and other chops • Hours Dinner Tuesday-Saturday (closed Sunday and Monday)