At Han Lao in Brentwood, a bowl of khao poon brims with ground pork and vermicelli noodles, with cabbage and red onion, with bamboo shoots, bean sprouts and what, in some spoonfuls, seems like a small garden of fresh herbs. All this crowds a pork broth flushed with red-curry paste and thickened with coconut milk. It soothes as it stings. It shimmers with tart, citrusy accents.
When Thom Chantharasy opened Han Lao in November, he described khao poon to me in an interview as a dish Lao families make for birthday parties and celebrations, and I can't think of a more apt dish than khao poon ($8.95) with which to begin this review, which welcomes Han Lao as (to the best of my knowledge) St. Louis' first restaurant to focus primarily on the cuisine of Laos.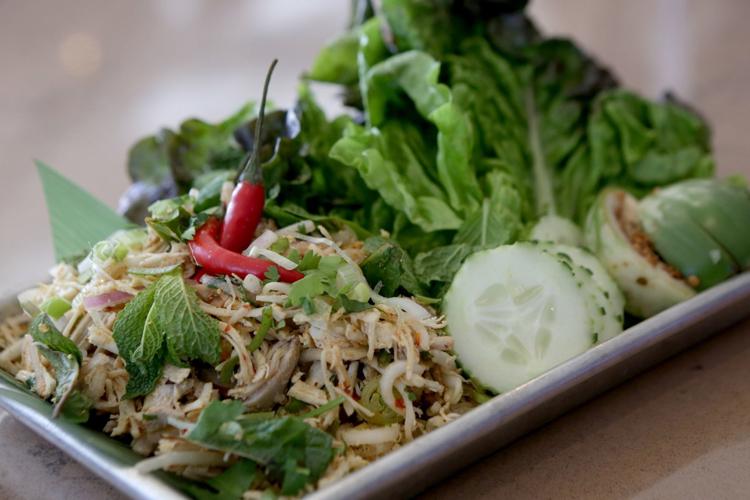 Chantharasy was 4 when his family arrived in the United States, refugees from Laos' long civil war. He grew up in Tennessee and moved to St. Louis in his late 20s. Here, before opening Han Lao, he focused on Japanese cuisine. He was working at the Tower Grove East sushi restaurant Sekisui when it closed in 2014. In 2015, he opened Robata in Maplewood, which features ramen and yakitori as well as sushi.
Family helped drive Chantharasy's decision to open a Lao restaurant next. "I grew up eating (Lao food)," he told me in our November interview. "I wanted to get my kids eating it more often."
Han Lao is casual in its look — a shotgun space but airy, with booths along one wall, a few high-top tables and counter seating along the galley kitchen — and, on my visits, in its sit-wherever-you-like vibe. The storefront's most notable aspect is likely its awkward location, a small shopping strip that is both perpendicular to busy South Hanley Road and behind a Buffalo Wild Wings.
Skip the boneless wings in Blazin' sauce and head to Han Lao instead for the fried chicken skins ($2.95). These are as crisp and puffy as chicharrones and served with housemade soy sauce for dipping. For a more immediate immersion in Lao cuisine, begin your meal with an order of the snappy-skinned Lao sausage ($5.95), verdant with lemon grass and galangal and dosed with medium-hot chile heat. The sausage's heat is moot, though. On the side is a scoop of jeow bong, a chile paste with lacerating heat but also bright aromatics of galangal, garlic and shallot and a faint sweetness.
Han Lao's menu suggests adding an order of sticky rice ($1) to your order of Lao sausage, one of several points where it provides helpful direction. This is how I ended up with a meal of the Crispy Ribs ($8.95) with sticky rice and thum muk huong ($6.95). The baby-back ribs are roasted and then flash-fried to order, and the advertised crispness yields to tender meat.
Thum muk huong is smashed green papaya tossed with fish sauce, lime juice and shrimp paste served with pork rinds and cabbage on the side. If the jeow bong is lacerating with chile heat, this sauce is incandescent, yet its flavor is orchestrated against that chile heat: salty, funky and quenchingly tart around an umami-laden bassline. The dish stands on its own, but as the menu recommends, it makes for a fine counterpoint to the ribs.
As intense in its flavor as the thum muk huong (though not nearly as spicy) is nam khao ($8.95). This begins with a fried ball of rice seasoned with red-curry paste and coconut. This rice ball is then broken into crisp pieces and tossed in a salad with nam moo (pickled pork), dried chiles and fresh herbs. The menu notes the nam moo is optional, but you should keep it in the dish: Its tangy, even sour fermented flavor pops against the more familiar flavors of red curry and coconut.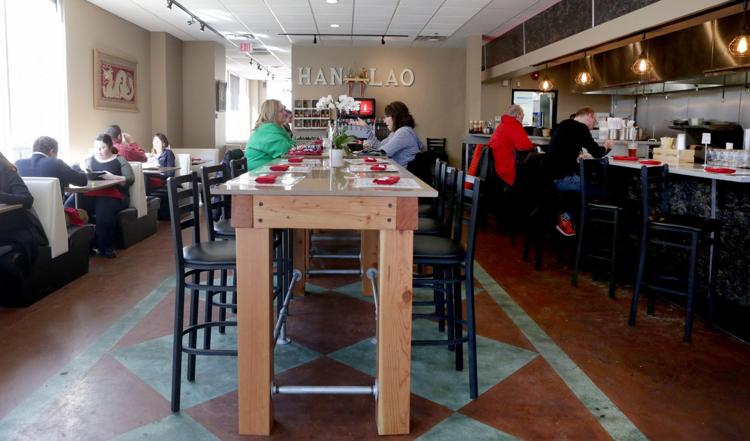 Against so many vivid dishes, khao piak sen ($8.95) might struggle to be noticed. But if khao poon is the joyous celebration in the front of the house, khao piak sen is the house's flickering hearth: pulled chicken and broad, housemade rice noodles in a silky chicken broth garnished with herbs and fried garlic. This, Chantharasy told me, is what you eat when you feel sick. It's nourishing any time.
Lao cuisine is a broader concept than the national boundaries of Laos can contain, and you might have encountered nam khao or a sausage like Han Lao's in some Thai restaurants. More pragmatically, Chantharasy has fashioned Han Lao as a Lao and Thai restaurant, and the menu includes pad thai, tom yum goong and red curry with chicken. I don't begrudge your order of any of these — the red curry I tried was a fine example of the dish, heat and sweetness balanced around the chicken and aromatics — but once you've made it to Han Lao's welcome party, mingle a little and introduce yourself.
Where Han Lao, 1250 Strassner Drive, Brentwood • 2½ stars out of four • More info 314-932-1354; hanlaostl.com • Menu Lao and Thai cuisine • Hours Lunch and dinner Monday-Saturday (closed Sunday)