By Ian Froeb | Post-Dispatch restaurant critic
If you want to understand why Anthony Devoti's decision to transform his acclaimed Hill restaurant Five Bistro into J. Devoti Trattoria is significant, look to its new kids menu. Five didn't offer a kids menu, nor would you have expected it to. It wasn't the highest of high-end restaurants — its four-course prix-fixe menu was, by upscale-dining standards, a bargain — but it was unequivocally a place for grown-ups.
At J. Devoti, not only are there options for kids, but the kids menu is a separate sheet of paper as you might find at your favorite family restaurant, with pictures to color and tic-tac-toe to play. J. Devoti gives your kids crayons, too.
Crucially, the pizza your kids order from J. Devoti's kids menu is simply a smaller version of the pizza from the main menu, with the same springy, lightly tangy sourdough crust, the same gushing-ripe tomato sauce. If your kids eat at J. Devoti, you better believe they're eating Anthony Devoti's food.
Devoti introduced St. Louis to his cooking when he opened Five Bistro in 2006 in the not-yet-booming Grove district of Forest Park Southeast. In 2009, he moved the restaurant to the corner of Daggett Avenue and Hereford Street on the Hill. Throughout Five's 12-year run, its menu changed often — daily, even — but Devoti never wavered from a commitment to quality local produce, to cooking fundamentals over the latest trendy technique or (these days) Instagram-baiting presentations, to taking the extra step from making housemade bread and charcuterie to making great housemade bread and charcuterie.
After 12 years, though, Devoti was ready to do something different. He announced in March he would close Five at the end of the month and reopen it in April as J. Devoti Trattoria, named for his great-grandfather, who had owned a grocery in St. Louis. The new restaurant would be more casual, with more approachable pricing and stronger links to the Hill's and Devoti's own Italian heritage. Unlike Five, it would be the sort of restaurant where Devoti and his wife could bring their two children.
The dining room received a fresh two-tone paint job, and framed black-and-white photographs now hang on the walls, but in style and substance the menu from Devoti and sous chef Mark Mulitsch looks an awful lot like the Five menu, housemade bread and charcuterie included. (One Five mainstay that hasn't returned at J. Devoti: the four-course prix-fixe. You can order a six-course chef's tasting menu for $65, or $100 with wine pairings.)
Dishes still change frequently, but among the appetizers you can expect top-notch versions of such crowd-pleasers as fried calamari ($12), here perfectly unsqueaky squid from San Diego lightly battered and served in a pool of garlic-forward aioli. Garlic and lemon sharpened the natural tartness of tempura-battered fried green tomatoes ($7), while a Sriracha aioli jabbed the dish with moderate heat.
But you can also open your meal with soup straight out of the Five playbook: chilled turnip puree ($8) garnished with a salad of corn and cherry tomatoes, the corn and tomato a blast of summer freshness, the soup an antidote to summer heat.
In addition to pizza, the J. Devoti menu also includes a section with a couple of pasta dishes. These hew closer to the Five profile than anything you'd find elsewhere on the Hill. Ravioli ($20) showcase the art of a high-end kitchen and a breezy what's-good-in-the-garden attitude. Housemade pasta is folded over ricotta, Parmigiano-Reggiano and goat cheese. Confit chicken and an ad-hoc sauce of white wine and chive butter fatten the dish, while shishito peppers and zucchini help cut the richness.
As at Five, a deceptive simplicity defines the main courses at J. Devoti. The pork belly ($20) is a big slab of meat, though not too fatty as far as pork belly. It eats like a chop rather than bacon. Devoti smokes the belly over pecan wood for 24 hours, braises it another four hours, then chills it. Individual cuts are sliced and grilled to order, resulting in a crackling exterior, luscious meat and a rich, smoky flavor. My pork belly sat atop a crisp, lightly sweet "pancake" made from spaghetti squash and some warm, lightly wilted greens, all of it sauced in the pork's jus.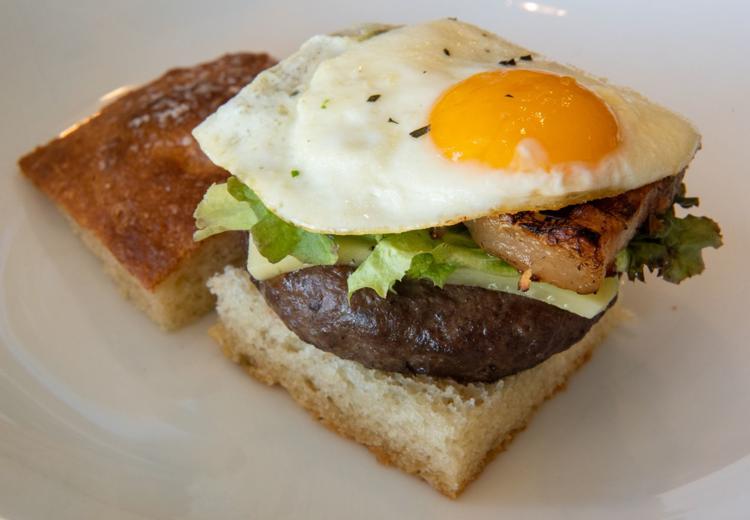 The burger at Five and its original home at Newstead Tower Public House, Devoti's late casual restaurant in the Grove, was deservedly acclaimed as one of the best in town. For J. Devoti's, Devoti wanted the burger ($17) to be a mic-drop dish. The patty is a blend of ground beef, pork and lamb, its flavor hefty enough of its own, with a welcome grassy tang thanks to the lamb. Devoti caps this with cheese, a thick slab of the aforementioned pork belly and a fried egg. All of this, with thin pickles, is sandwiched between halves of sea-salt focaccia that can barely hold it all together.
The beverage program continues the Five model, with both new- and old-world wines united by the fact that Devoti and his team have met and built relationships with most of the producers. (Most bottles are under $50; a separate reserve list is also available.)
Devoti describes the wine list as, in its own way, following the same farm-to-table ethos that underpins his cooking. Changes to its name, decor and pricing aside, J. Devoti retains the same heart as Five. It extends even to such small details as the amuse bouche that begins your meal. When my wife and I brought our children here, our server asked me quietly if my daughter, almost 5, liked hummus.
The amuses arrived: hummus with shishito peppers on a housemade cracker for the adults, plain hummus on a cracker for her. She ate it with relish.
Where J. Devoti Trattoria, 5100 Daggett Avenue • Three stars out of four • More info 314-773-5553; jdevoti.com • Menu Contemporary American fare, with Italian influences • Hours Dinner Wednesday-Saturday (closed Sunday-Tuesday)