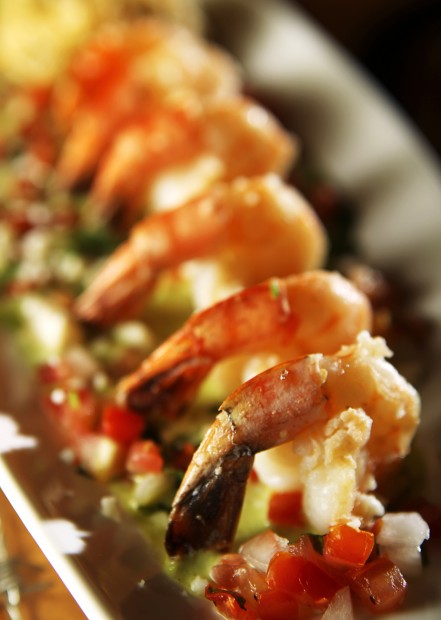 When I heard that Roberto Trevino would be adding a Mexican restaurant about 100 yards from Milagro Modern Mexican in Webster Groves, I figured the new restaurant would probably stick to the burritos and beans and rice basics that most local diners associate with Mexican food. Milagro has been pushing the local envelope for several years, so it made sense that a nearby Mexican would play it safe.
I didn't give Trevino enough credit. His Kirkwood restaurant, Amigos Cantina, nudges local diners into slightly new territory while simultaneously keeping itself grounded in familiar Tex-Mex and Anglicized Mexican standards. His new place, La Cantina, challenges patrons to go further outside of their comfort zone.
La Cantina's menu almost always has to be explained to first-timers. A short list of recognizable things like mini-burritos quickly gives way to a half-dozen or so taco fillings that diners put into their choice of tortillas.
Another page lists botanas, generally a word for cocktail snacks but which La Cantina's servers describe as small plates that are often shared.
Roasted pork and chicken entrees share the back page with a selection of quesadillas.
One of our servers was exceptionally well-trained and had suggestions for amounts to feed the two of us (three or four botanas, or three botanas and one taco filling) and good explanations of each item on the menu. That led to a meal that started with grilled fish tacos ($11) and Mexican chimichurri ($12), followed by camarones de cilantro lime ($12) and hongos a la plancha ($10), a mushroom quesadilla.
"What kind of fish is it?" resulted in an unusual answer: pangasius. As it turns out, that's an Asian fish you'll frequently find in the grocery, frozen and labeled as basa or swai. (It's also, believe it or not, one of the 10 most consumed fish in the United States.) Full-bodied like catfish, its grilled form stood up well to condiments of pico de gallo, a yogurt sauce, queso fresco and, for the classic cabbage accompaniment to fish tacos, napa.
The chimichurri had a small bed of the bright green parsley-and-garlic sauce that the dish's name would suggest under six hearty slices of beef with a flank- or skirt-steak texture and pico de gallo and queso fresco on top. The camarones were six shelled-to-the-tail, medium-to-large shrimp that tasted of fresh lime juice and were sprinkled with chopped fresh cilantro and placed atop a pool of mildly spicy poblano cream sauce.
The mushroom quesadilla was notable in that its bold mushroom and roasted red pepper flavors were dominant, with the cheese serving mostly as a vessel for catching those flavors.
Our second visit allowed us to graze through other parts of the menu. Chiles dulce ($7) were jalapeño peppers that had been rolled in a coarse beer-based batter and fried until crunchy, then sliced lengthwise. The "dulce" (sweet) part of the equation was an unexpected but nicely complementary sprinkling of powdered sugar, with a melted Monterey Jack sauce alongside for dipping.
Roasted pork parilladas ($11) had a texture like pulled pork shoulder with just the right amount of fattiness, while almejas al sarten ($14) were seared scallops with lemon-garlic sauce and served atop the poblano cream sauce. The scallops weren't the "jumbo" size listed on the menu, but including eight of them in the order made up for that.
The wine list is eclectic and perhaps not as heavy on Spanish-colonial wines as it should be, although the housemade sangria, available in red and white versions ($6.25), had an exceptional balance of citrus fruitiness.
The multilevel space, which once housed the Artichoke, and later Two Nice Guys, has been redone with wry touches like canning-jar lights. Several outdoor tables are available if you'd like to replicate a sweltering Mexican atmosphere, or if you're a fan of trains rumbling by just a few yards away.
La Cantina requires a little more thought than a standard enchiladas-and-burritos place and a little less imagination than a higher-end Mexican place like Milagro. But that very approach puts it in an interesting niche among local Mexican restaurants.
---
Two stars out of four • Where 35 North Gore Avenue, Webster Groves • More info 314-968-3256, lacantinawebster.com • Menu Slightly out-of-the-ordinary Mexican food based largely on a botanas (small plates) approach • Hours Lunch and dinner daily
---
One star Good • Two stars Very good • Three stars Excellent • Four stars Extraordinary