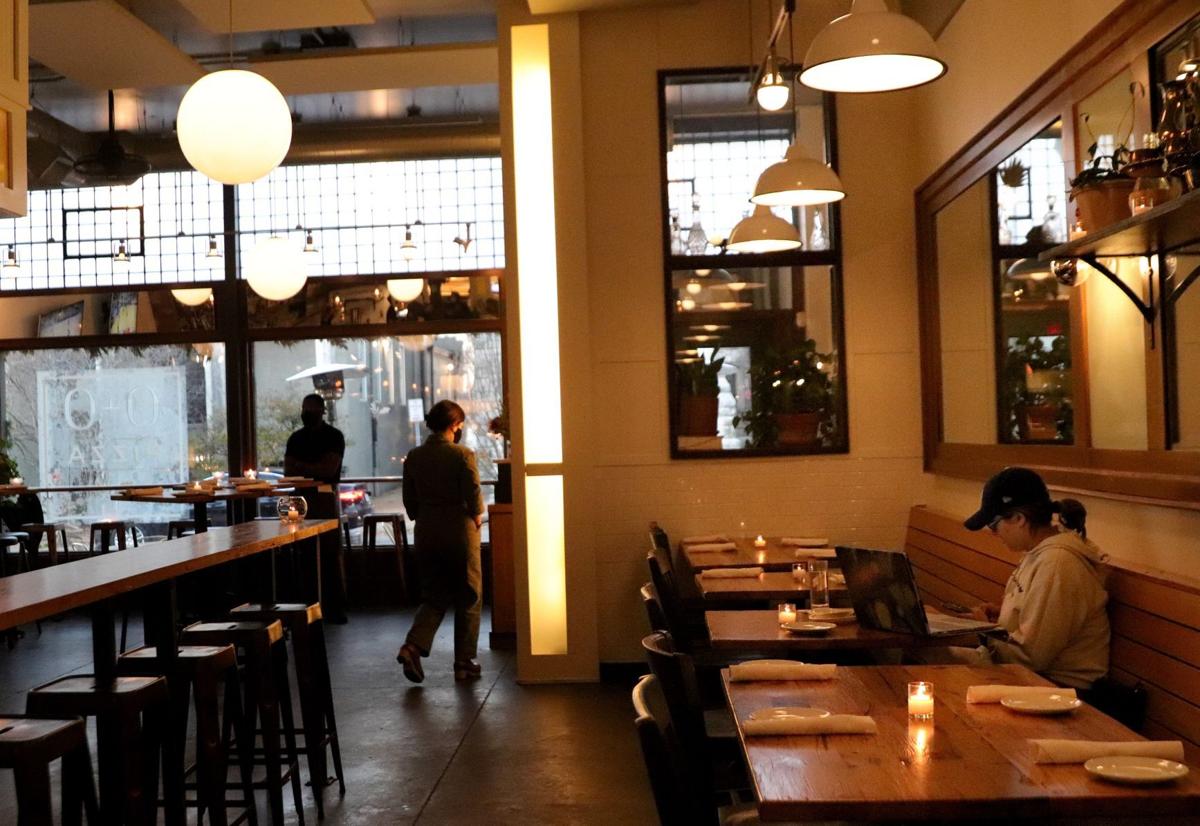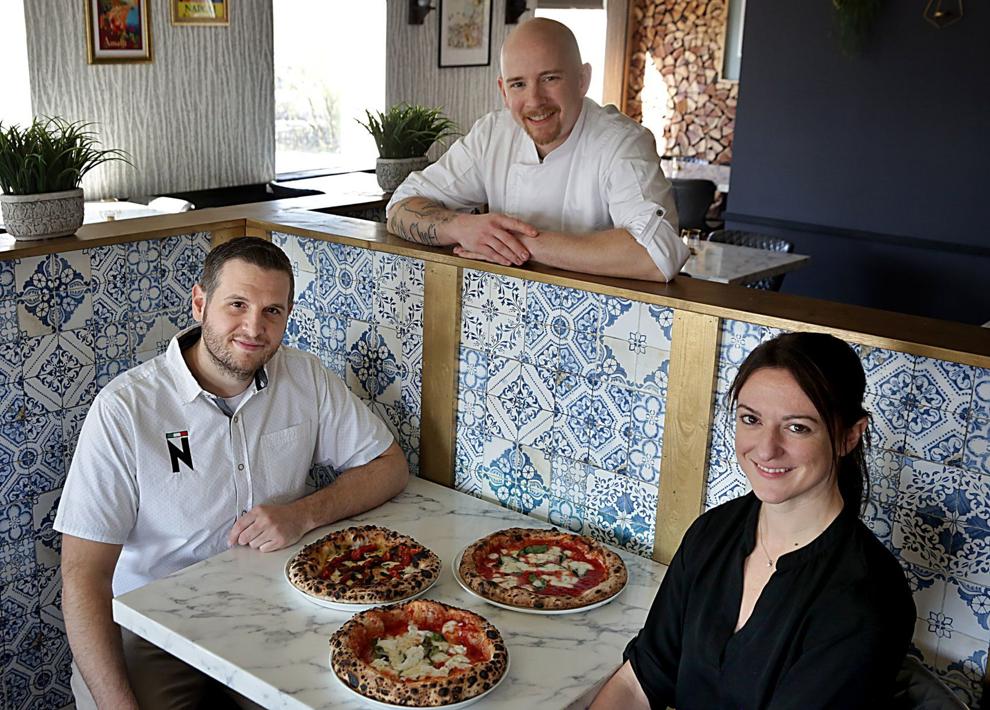 Noto Italian Restaurant
When Noto Italian Restaurant opened not quite two years ago in St. Peters, married owners Kendele and Wayne Sieve estimate 10% of diners understood that the restaurant's signature Neapolitan pizzas are meant to be served uncut into slices. Yes, Neapolitan pies can be flimsy — soupy, even. Things fall apart, the center does not hold, but unlike modern civilization, here a knife and fork will do.
The Sieves undertook a persuasion campaign. Elegant knives accompanied orders of uncut pizzas, while servers competed to be the first to sell 100 unsliced pies. Now, the Sieves guess, 65% or even 75% of diners choose uncut.
"Now that we're gaining more and more trust and word of mouth, (diners) just kind of come in and dealer's choice with us, like, 'Whatever, that sounds good,'" Wayne said in a phone interview.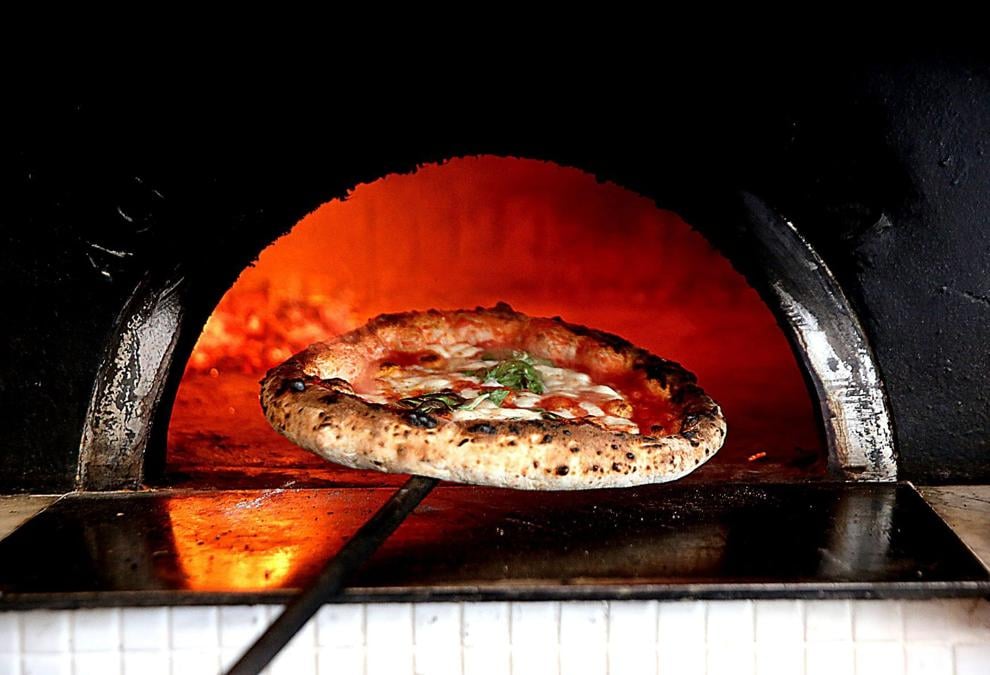 No one can question St. Louis' love of pizza, but the region's relationship with Neapolitan pies has always been fraught. I remember the online debates about soupy centers that followed Mike Randolph's opening of the late, proudly Neapolitan the Good Pie in midtown in the late aughts, and most of the wood-fired pizzerias that have followed that trailblazer have opted for a crisper, Neapolitan-esque approach.
Noto makes a powerful argument for the real deal. The dough is fermented for 52 hours and fired in a 1,000-degree, wood-burning oven for about 90 seconds. The puffy, leopard-spotted crust is smoky and tangy, crackling and airy. If you order the Bufalina pizza — the Neapolitan-est of Noto's pies: the house summer-ripe San Marzano tomato sauce and buffalo-milk mozzarella imported from Campania, Italy, with basil, olive oil and sea salt — you don't so much as knife-and-fork the pizza as spread the center onto the crust as you would softened butter onto bread. It is glorious.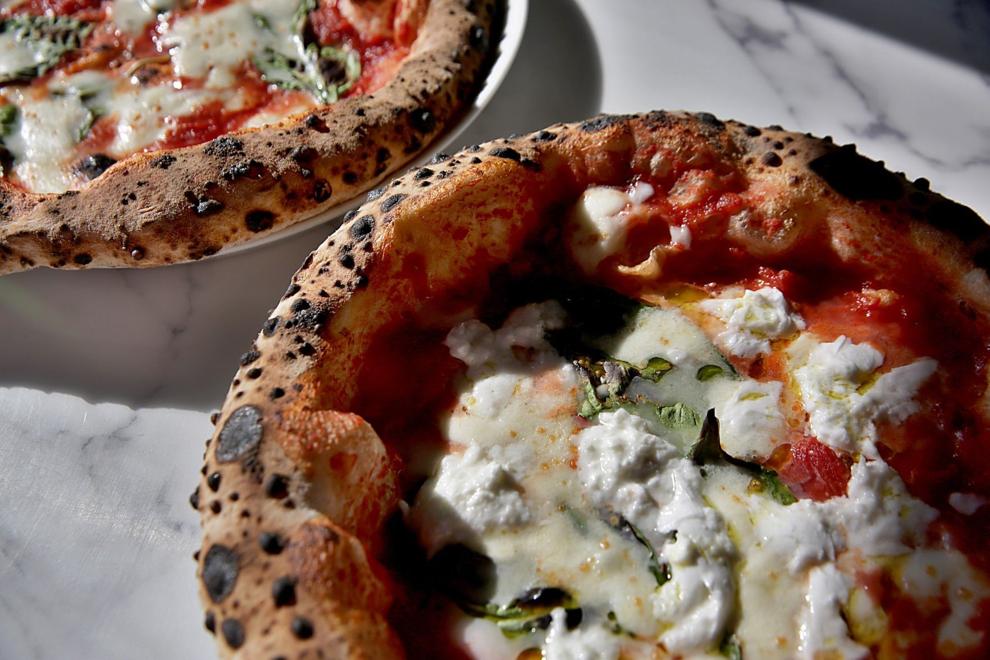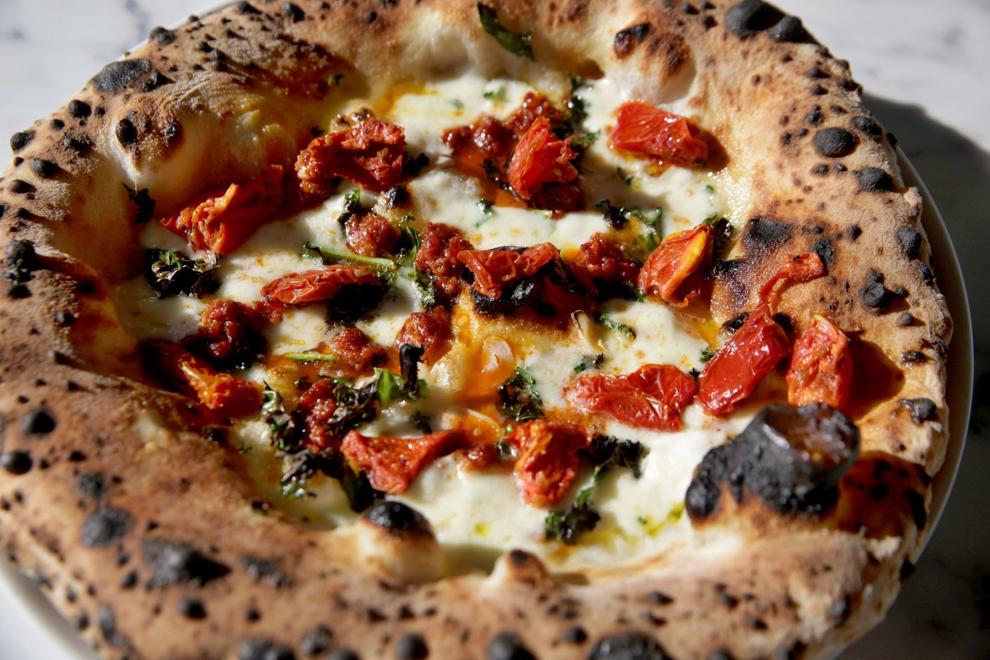 This crust takes equally well to the Bufalina, a more American pairing of pepperoni and hot honey and the kitchen's creations. Of these, I especially love the Cavolo, which replaces tomato sauce with an olive oil base and bursting, umami-laden roasted tomatoes. The tomatoes, the autumnal bite of kale and the slinky heat of 'nduja swim — but don't sink — in a pool of molten fresh cow-milk mozzarella.
(Contra the received wisdom about Neapolitan pizza: I brought the aforementioned pepperoni-hot honey pie home for my wife's dinner, a roughly 35-minute drive. With just a brief reheating, it was, if not fresh-from-the-oven ideal, still pretty great.)
The Sieves weren't Neapolitan novices when they opened Noto in January 2020. They launched the concept in 2017 as a food truck — or, to be more precise, as a wood-fired oven trailer. Wayne had first eaten Neapolitan pizza while in Glasgow, Scotland, for a culinary competition, and his passion for the style had grown with subsequent trips to Italy.
The trailer marked a return to professional cooking for Wayne, who had made his bones in country-club kitchens before leaving the industry for several years. Meanwhile, Kendele was working alongside her father, Jasper Noto, at his J. Noto's Bakery. When her father announced he wanted to retire, she and Wayne decided to convert the bakery's St. Peters location into a restaurant.
In addition to her front-of-house duties, Kendele is also in charge of Noto's desserts, which include decadent cannoli redolent of pistachio. Macy Foster is the stellar bartender, deftly moving among a cocktail list of original concoctions and riffs on the negroni, the Old-Fashioned and other classics.
Noto had just entered my usual review window when the pandemic shutdown hit in March 2020. Does it feel faintly ridiculous to review it now, 23 months after its debut? A little. But on the bright side, I have experienced a fuller version of Noto. This April, the Sieves hired Josh Poletti as executive chef. Poletti, who has cooked at numerous area restaurants including the (late) Libertine, Basso, Pastaria and Louie, has helped transform Noto from a great pizzeria into a great Italian restaurant.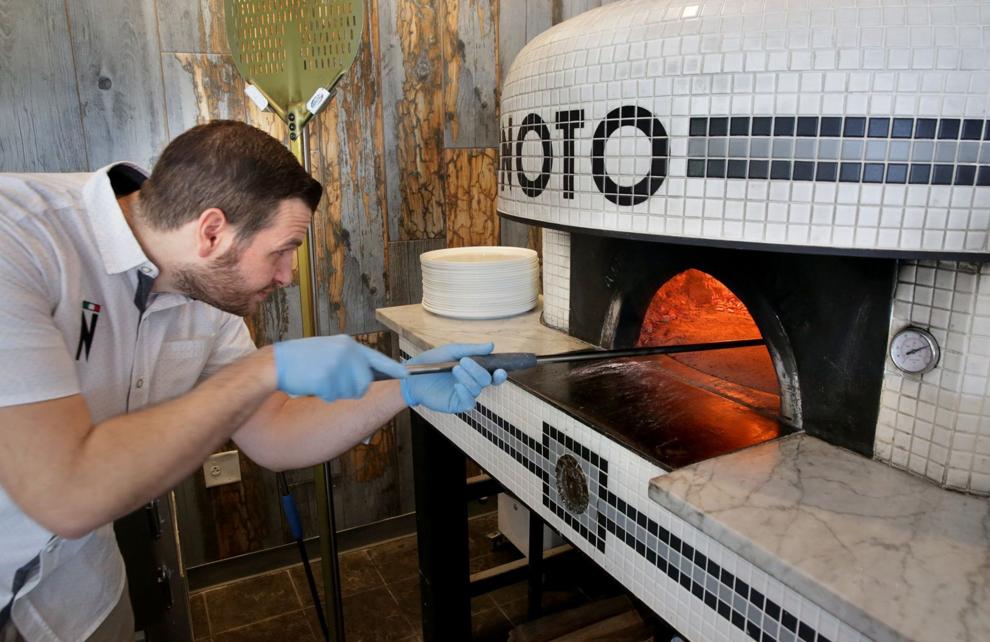 You can spot some of Louie's DNA in Noto's pan-seared and oven-roasted pork chop. Its gorgeous mahogany exterior, dressed in a subtly briny and almost pesto-like olive vinaigrette, gives way to a perfectly pale pink medium interior. On the side is a mix of meaty roasted mushrooms and just-wilted spinach and a supple, souffle-esque slice of gnocchi alla Romana.
Poletti has also helped usher Noto into the upper rank of St. Louis pasta restaurants. This can be a matter of such unfussy elegance as firm, meaty tortellini (prosciutto with spinach, lemon, ricotta and Parmigiano-Reggiano) in a nearly consommé-clear broth or bouncy bucatini in an amatriciana sauce featuring housemade guanciale as well as Calabrian chiles and Pecorino Romano.
A lobster cream sauce richer than most bowls of lobster bisque dresses ravioli plump with both lobster and shrimp as well as roasted tomato and preserved lemon. A luxe dish, no doubt, but garlic, Calabrian chiles and more roasted tomatoes in the sauce are bracing counterpoints. Did I order this not-modest dish as an appetizer before a pizza main course? Was it not the first time I'd opted for a pasta-pizza combination at Noto?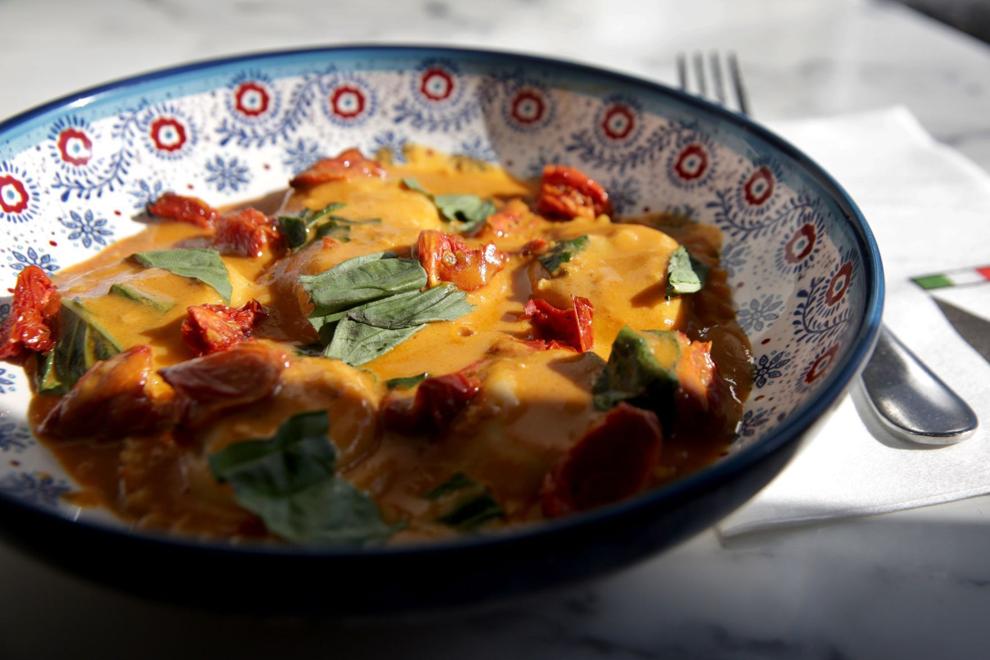 I've already waited two years to write this review. I'm not wasting any more time.
Where Noto Italian Restaurant, 5105 Westwood Drive, St. Peters • More info 636-317-1143; notopizza.com • Menu Neapolitan pizza, pasta and other Italian fare • Hours Dinner Wednesday-Saturday (closed Sunday-Tuesday)
O+O Pizza
What's more, O+O Pizza chef Mike Risk has previewed his fresh take on Italian cuisine at Olive + Oak's more casual sibling, the Clover and the Bee. Pre-pandemic, the Clover and the Bee's daytime cafe menu gave way at dinner to a Flintstonian bone-in veal chop Parmesan and delicate gnocchi with butternut squash and smoked pork belly in an apple cider-rosemary sauce, among other delights.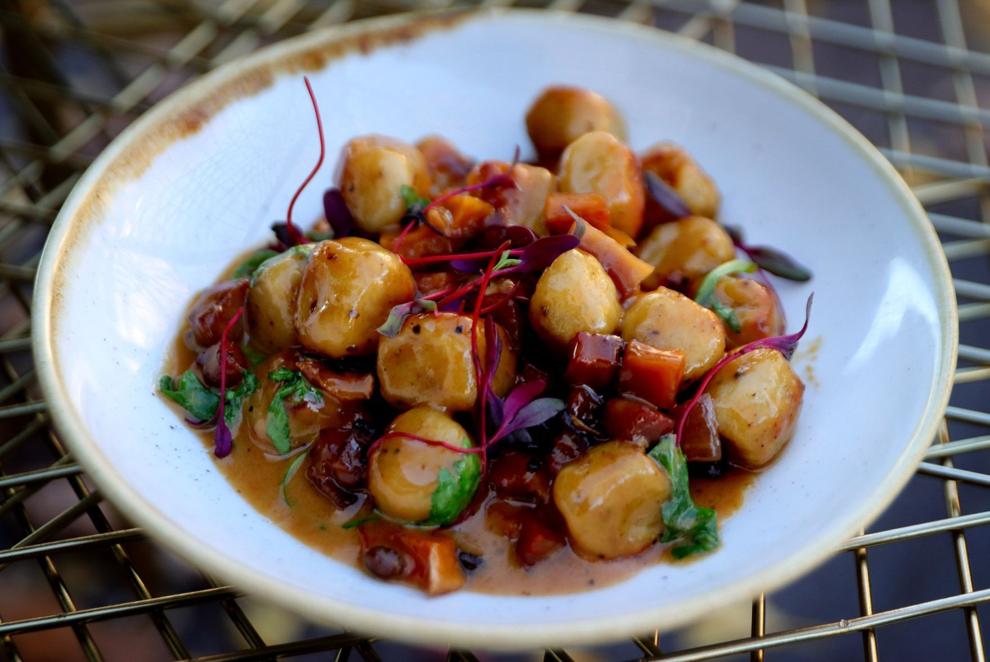 Those gnocchi have lately graced the menu at O+O Pizza, which debuted in September 2020 in Olive + Oak's original storefront. (Olive + Oak has relocated a block to the west.) Still, however familiar any individual dishes or the pizzas-pastas-mains menu format or the dining room and bar's vibe might have been, over my visits to O+O Pizza this summer I was struck by how new the restaurant felt.
That is partly a credit to O+O Pizza's namesake dish. If not revolutionary, the pizza is a refreshing break from pies that you can slot into established styles, wood-fired or New York, St. Louis or deep-dish. Risk and co-owner Mark Hinkle did take some inspiration from New York-style pizza but also looked to New Haven, Roman and tavern pies. What they ended up with is a thin, light, crisp crust that retains enough chew to hold your interest.
The key, Risk told me in a phone interview, is the kitchen's Doyon oven, which can cook up to nine pizzas at once on three perforated metal decks. It generates tremendous airflow, like "the best convection you've ever had."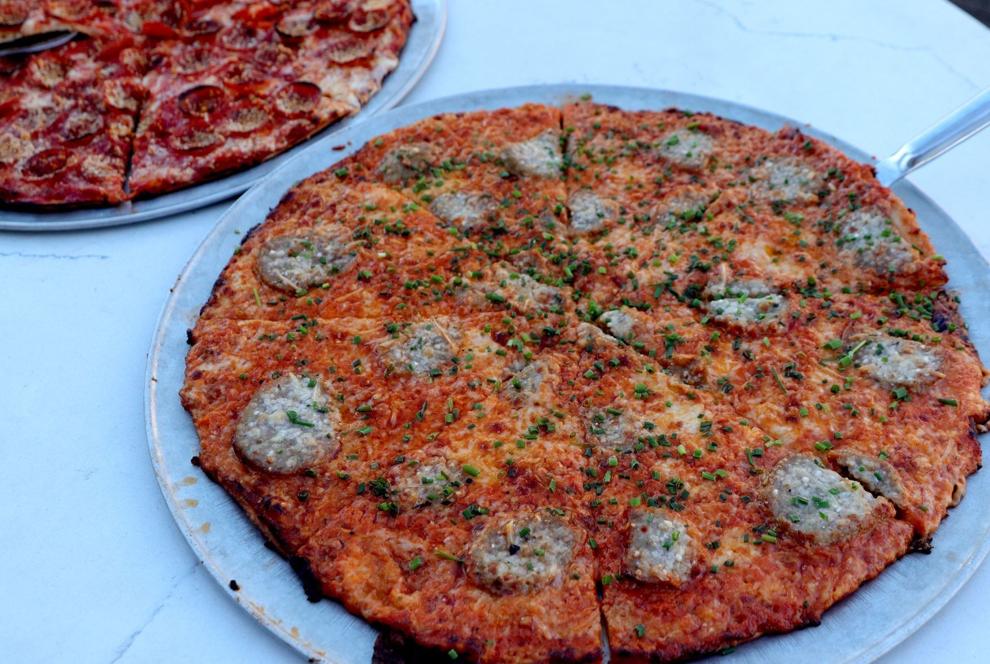 The O+O Original is the baseline cheese pie to be topped with your choice of ingredients or enjoy unadorned for its trio of crust, tomato sauce (neither too acidic nor too sweet) and a blend of pecorino and mozzarella (the ideal balance of creamy and salty, with a little stretch to it). The style lends itself to punched-up versions of familiar combinations: pepperoni cups zinged with Calabrian chiles and hot honey (the "OG" Pepperoni) or tender meatballs on a swanky tomato-vodka cream sauce with a nudge of chive (Mark's Meatball Pie).
But even more than its pizza, what sets O+O Pizza apart is Risk himself, who offers a rare combination of serious kitchen chops and a refreshed perspective. Risk started working at Trattoria Marcella as a teenager and stayed at the iconic and influential Lindenwood Park restaurant for 12 years.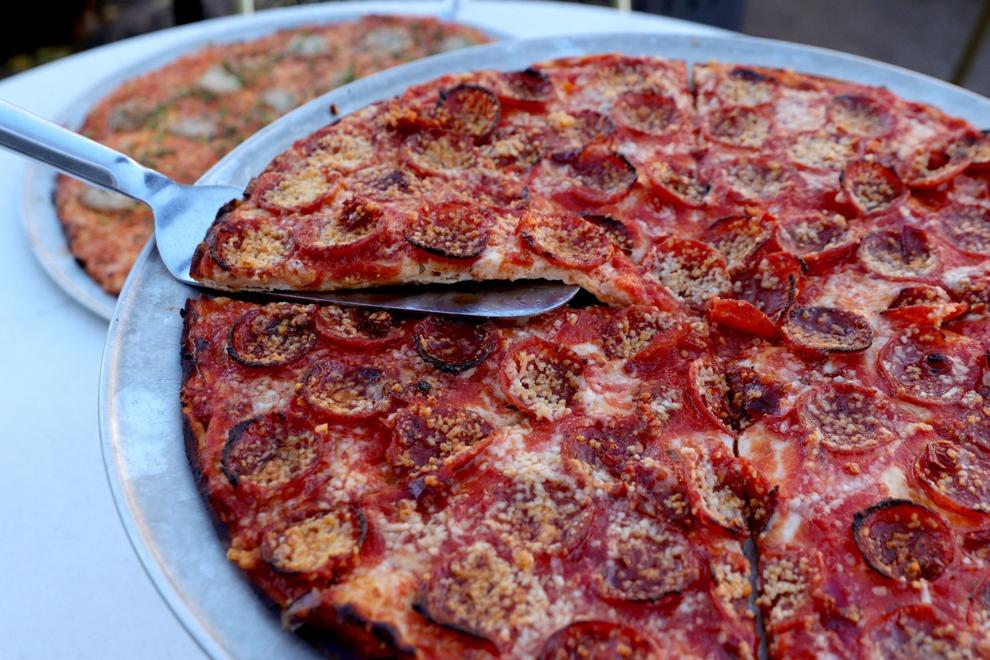 In 2008, however, not wanting to lose any more time with his young children to fine dining's long hours, he left Trattoria Marcella and focused on more casual restaurants: 9th Street Deli in Soulard, which he co-owned for two years, and the Mack Bar & Grill in Southampton, which he has operated since 2008.
As Olive + Oak was preparing for its 2016 debut, a friend who worked there asked Risk if he could help cook. Saying yes was among the most consequential decisions of his life. His passion for upscale cooking was "reignited" — "I didn't even realize how much I missed it," he said — and he met his future wife, Olive + Oak's soon-to-be widely acclaimed executive chef, Jesse Mendica.
So at O+O Pizza, Risk can approach toasted ravioli with respect and playful ambition, turning the beloved appetizer from little pillows into miniature top hats filled with beef, pancetta tesa and fontina. These T-ravs give you that familiar initial crunch and pleasant pasta chew, but once the filling takes over, each becomes almost dumpling-like.
Risk can plate a main course that wouldn't look out of place at Olive + Oak: a gorgeously crusted and exactly medium-rare strip steak dripping with a quickly melting herb butter, served with a disk of semolina gnocchi and roasted Brussels sprouts, all of it immediately or eventually getting an umami boost from a colatura vinaigrette.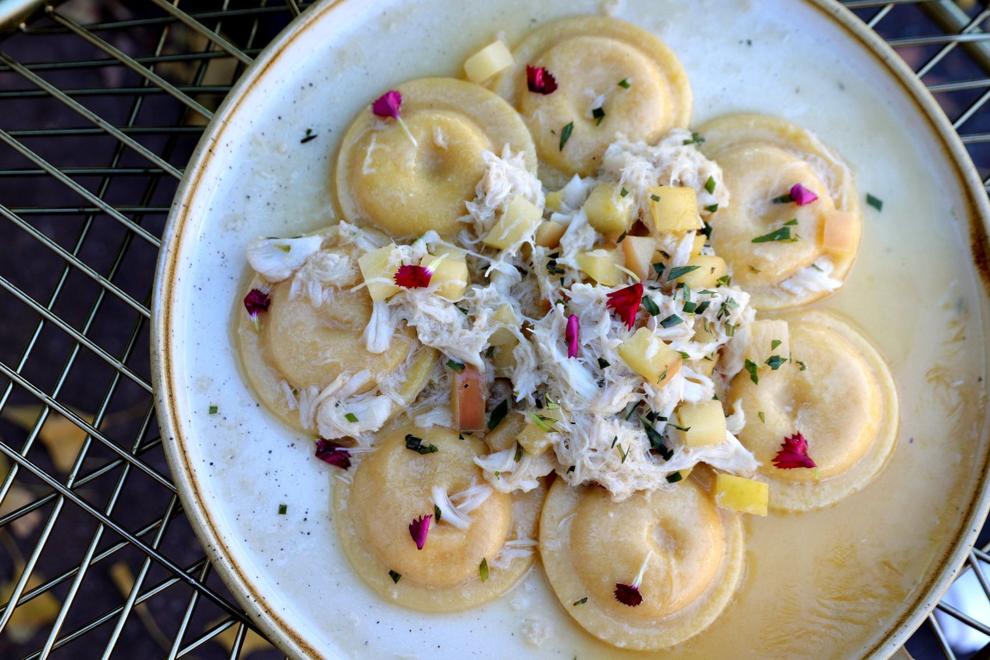 As at Noto Italian Restaurant, though, the real rival for the pizza's appeal is pasta. What the menu calls occhi di lupo, or wolf's eyes, are dimpled ravioli filled with butternut squash in tarragon-flecked brown butter. (This name also apparently refers to a different, tubular pasta.) Risk arranges these occhi around a mound of jumbo lump crab meat and chopped apple, and this trio lifts what could have been a predictable autumnal sweetness into surprising luxury.
The grilled octopus corzetti pushes past luxury into a sort of giddy intensity: The already meaty octopus is sauced with bone-marrow butter, the richness of which tomato, leek and a little thyme can just barely restrain. There are eight corzetti coins — in honor of an octopus' eight tentacles, naturally — and the discs have an intriguing nubbly texture that reveals itself to be the stamped image of an octopus or, on the flip side, its tentacles' suckers.
Risk had the stamp custom-made in Italy for the best possible reason: "I'm like, 'Man, it would be cool to have an octopus stamp.'"
Where O+O Pizza, 102 West Lockwood Avenue, Webster Groves • More info 314-721-5422; oandopizza.oohosp.com • Menu Pizza, pasta and other Italian fare • Hours Dinner daily
Edera Italian Eatery
Edera Italian Eatery is a location in search of a restaurant, a restaurant in search of a voice that has settled on contemporary, upscale Italian much in the same vein as Noto and O+O Pizza. As we lurch through the end of the pandemic's second year, I wouldn't bet against a place with courtyard seating so inviting — with winter looming, you can book a chalet — but after multiple visits to the dining room and a couple of pizzas to go, I can't recommend the food wholeheartedly.
Developers the Koplar family debuted Edera in October 2020 in the space in the Central West End's Maryland Plaza where they had operated Scape from 2007 to 2019. The rollout included Mike Randolph of the Good Pie, Público and Randolfi's Italian Kitchen as the consulting chef. Randolph is no longer directly involved, however.
Andrew Simon, a former Scape executive chef, now leads Edera's kitchen. Like Noto and O+O Pizza, the menu divvies up its main courses between pizzas, pastas and plated entrees. Here, though, the kitchen never finds its groove in one category, let alone in all three.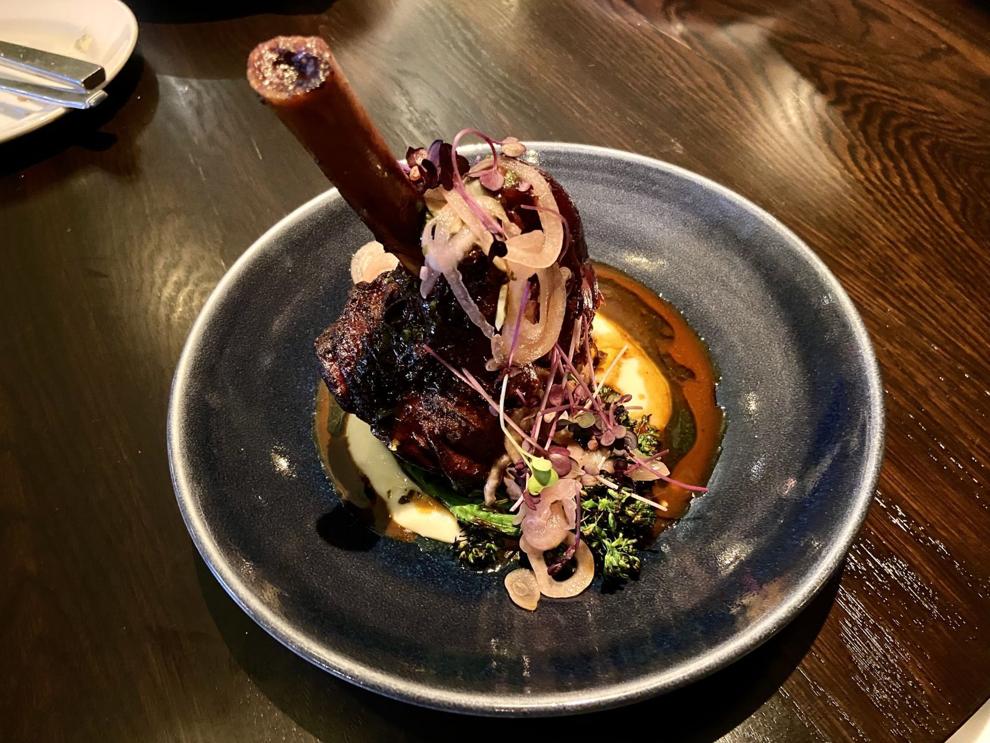 The crust is more structured than a Neapolitan by design, and at best — those takeout pizzas I mentioned — it makes for a lightly chewy base for the smart pairings of roasted mushrooms and taleggio (the Fungi) or sausage, Calabrian chiles, kale and mozzarella (the Salsiccia). When I ordered a pie in the restaurant, the crust tipped toward doughy, and crisp pancetta with taleggio and mozzarella couldn't compensate for a too-sweet heirloom-tomato jam (the Tomato & Pancetta).
Bucatini collapsed around its signature tube, turning into a floppy linguini-bucatini hybrid that I twirled into an ill-judged ersatz ragu of salsiccia, kale, vodka and goat cheese. Three shrimp sat off to one side, rubbernecking. The pappardelle Bolognese was glum: OK noodles in an underseasoned sauce, the dish is best described as meat in cream. Also underseasoned: a tremendous lamb shank in a puddle of potato-goat cheese puree that would have needed twice its volume to make any impact.
I did find glimmers of hope among the antipasti: meaty fried mushrooms with the sweet smack of roasted garlic; briny clams with pops of mustard and caper in a citrusy cream sauce that I sopped up with focaccia. The flavors were bold and generous — big enough, maybe, to fill a space that this neighborhood needs.
Where Edera Italian Eatery, 48 Maryland Plaza • More info 314-361-7227; ederastl.com • Menu Contemporary Italian fare • Hours Dinner Tuesday-Saturday (closed Sunday-Monday)
Napoli III
Not every new Italian restaurant needs to reinvent the Parmesan wheel. In the case of Napoli III, more or less cloning yourself does the trick.
As the stark Roman numerals make clear, this is the third member of the Pietoso family's restaurant group, following the original Café Napoli (and, later, Bar Napoli) in Clayton, and Napoli 2 in Town and Country.
Napoli III opened in December 2020 in the Streets of St. Charles, the mixed-use development by the intersection of South Fifth Street and Interstate 70 in St. Charles. This has become a restaurant-expansion hothouse — Mission Taco Joint, Sauce on the Side and Narwhal's Crated have all opened locations here — but I think Napoli III will find a niche here.
The vibe is swanky but not exclusive — a place where you and the family can nosh on toasted ravioli or crisp-tender fried calamari, but where you can also escape to treat yourself to a half-dozen sweet, briny Malpeque oysters on the half shell or a whopping veal chop tender down to its jutting bone in a silken red wine-wild mushroom sauce.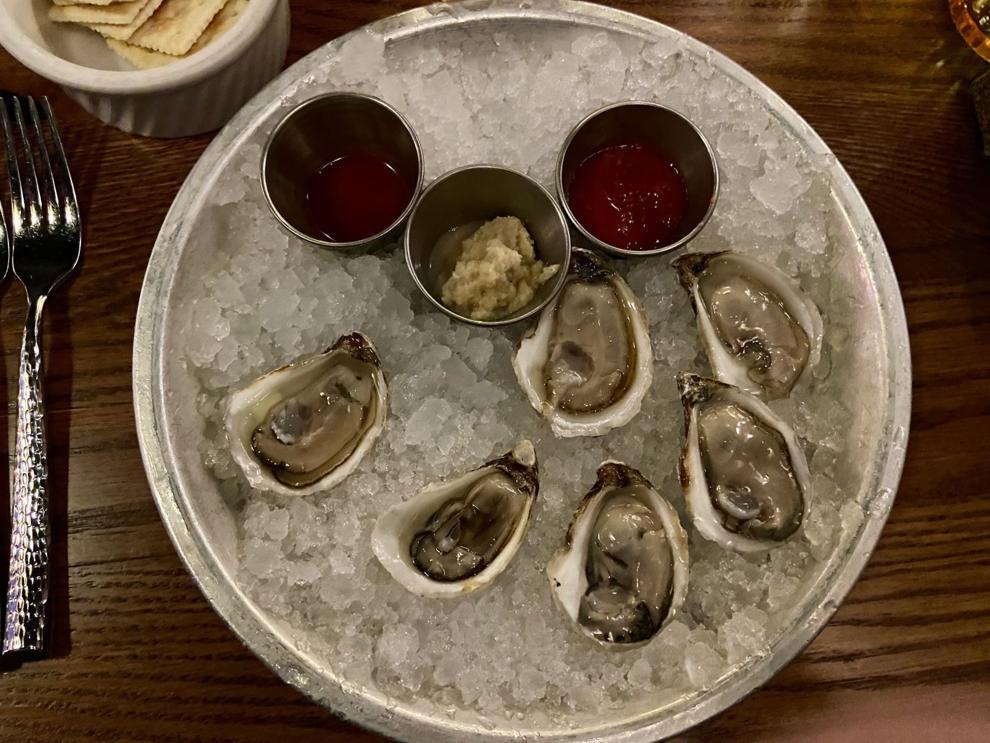 You're not here for the chef's autobiography or an obscure pasta rescued from some nonna's hilltop trattoria, but the kitchen led by chef Jon Berger isn't preserved in St. Louis amber. The meat inside the agnolotti cacio e pepe is domestic-wagyu beef cheek, and its succulence collapses into the sauce of black pepper and Parmesan as easily as you give into Napoli III's charms.
Where Napoli III, 1450 Beale Street, St. Charles • More info 636-757-3418; napolistl.com/dine-3 • Menu Upscale Italian fare • Hours Lunch and dinner daily