Mayo Ketchup, which opened in August in Lafayette Square, isn't the only St. Louis restaurant where you can sate a craving for plantains. Just a mile away is Fritanga, which has been serving tostones, maduros and tejadas — and very good Nicaraguan fare in general — for 12 years now. But I don't think I have seen the banana's starchier cousin put to as many different uses as I have at Mandy Estrella's fast-casual Puerto Rican, Dominican and Cuban restaurant.
Here you can order tostones as a side dish ($4), but the pieces of twice-fried green plantain also serve as the base of tostones con aguacate ($8). This bright, brisk appetizer tops each of the tostones with a small scoop of smashed avocado, cilantro, pickled onion and, to taste, a spritz of fresh lime juice.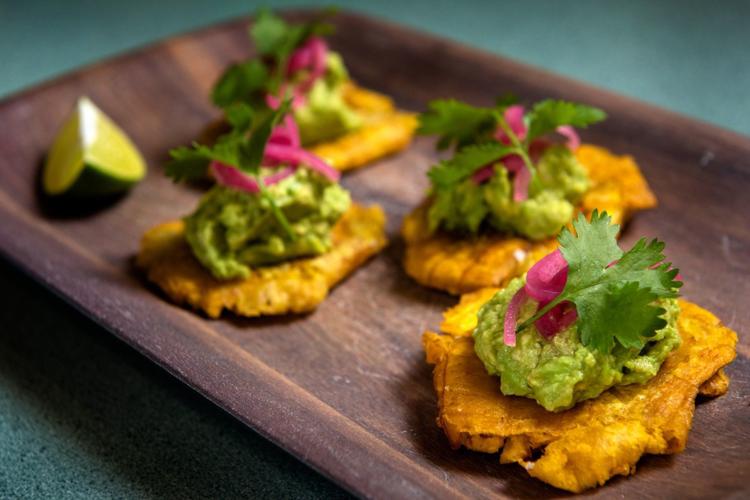 Tostones also garnish the restaurant's best dish, pernil with arroz con gandules. Maduros — fried ripe plantains, softer and sweeter than tostones (as a side dish, $4) — perform a similar role for the ropa vieja, the pernil's chief rival as Mayo Ketchup's standout. We will return to this competition shortly.
Great planks of twice-fried green plantain are the "bread" sandwiching steak or pork with cheese, lettuce, tomato and garlicky mayonnaise. This is the jibarito ($10), a dish that originated in a Puerto Rican restaurant in Chicago. Dramatically oversize, as delicious as it is challenging to hold together, the jibarito is ready for Instagram.
If you know Estrella's work as a chef, the prominence of plantains at Mayo Ketchup is no surprise. She is, she told me in a phone interview, "obsessed" with plantains. Her nom de chef is Plantain Girl.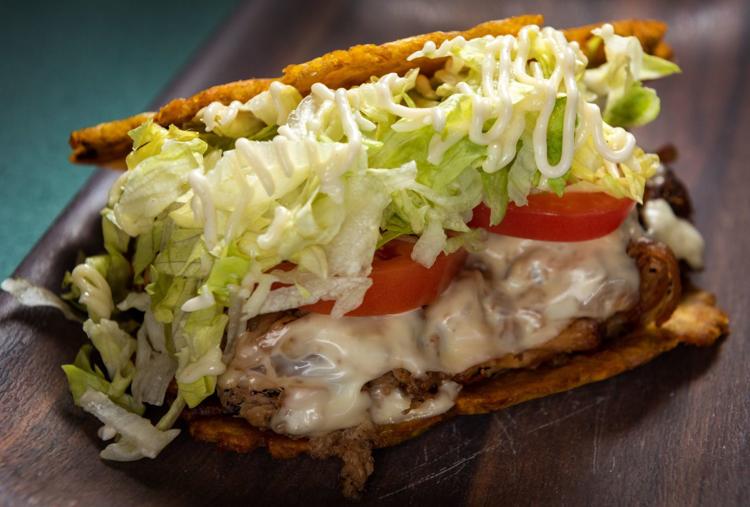 A St. Louis native, Estrella moved to Orlando, Florida, after graduating from the culinary program at St. Louis Community College's Forest Park campus. There, she met her now-former husband, a native of the Dominican Republic who helped spark her passion for cuisines from the Caribbean. After returning to St. Louis, she launched a catering and event business under the Plantain Girl moniker.
In 2018, Estrella introduced a full menu of Puerto Rican, Dominican and Cuban fare at Alphateria, the restaurant at the then-new location of Alpha Brewing Co. in Tower Grove South. Her role there ended in March of this year, but it let Estrella announce Mayo Ketchup this summer with a clear idea of what its menu would look like.
Mayo Ketchup occupies the prime location at the corner of Park and Mississippi avenue across from Lafayette Square Park that was previously occupied by the Mexican restaurant Laredo. The layout of the long space remains the same, with three dining spaces, each stepping down from the previous one as you move from south to north. You know how the counter-service format works: Order at the register at the back of the first dining room, and take your number to a table.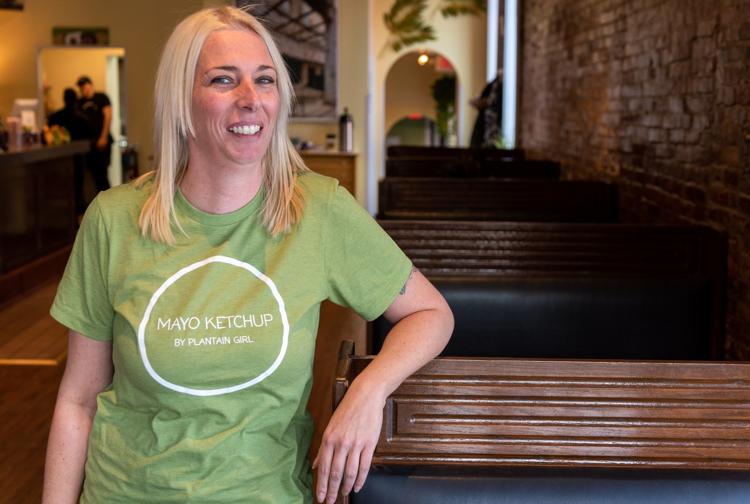 The menu also follows a familiar fast-casual template, focusing on sandwiches and rice bowls. Of the sandwiches, while the jibarito is the most striking, el Cubano ($8) is the star, thanks to the same slow-roasted, spoon-tender pork that distinguishes the pernil. The pork and a medium-thick slice of ham, with Swiss-American cheese, mustard and dill pickles, is pressed between slices of traditional Cuban bread.
This crisp, airy bread, which incorporates lard in its dough, is one of those vital details that help set Mayo Ketchup apart from the burgeoning field of local, independent fast-casual restaurants. So too is Estrella's smart reliance on slow-cooked meats, which gives many of her dishes a complexity of flavor not often associated with fast-casual convenience.
The citrusy pernil ($13), with its warm, early-summer breeze of cumin and oregano, would probably be Mayo Ketchup's best dish even without its garnishes (avocado and grilled onion as well as the aforementioned tostones) and bed of arroz con gandules. With the rice, cooked in a culantro-pungent sofrito teased with peppers and olives, it triumphs over even the juicy ropa vieja ($14) and its more modest bed of white rice and black beans with pickled onion, avocado and maduros.
We are still not finished with plantains. On Wednesday evenings and all day Sunday, Mayo Ketchup offers one of Puerto Rico's signature dishes, mofongo ($13): a mound of fried green plantains that have been mashed with garlic, olive oil and pork skin and topped with succulent fried pork (or, if you wish, pollo guisado or avocado). All of this sits in a pool of vegetable broth that not only stands up to the pork but infuses its richness into the plantain mash.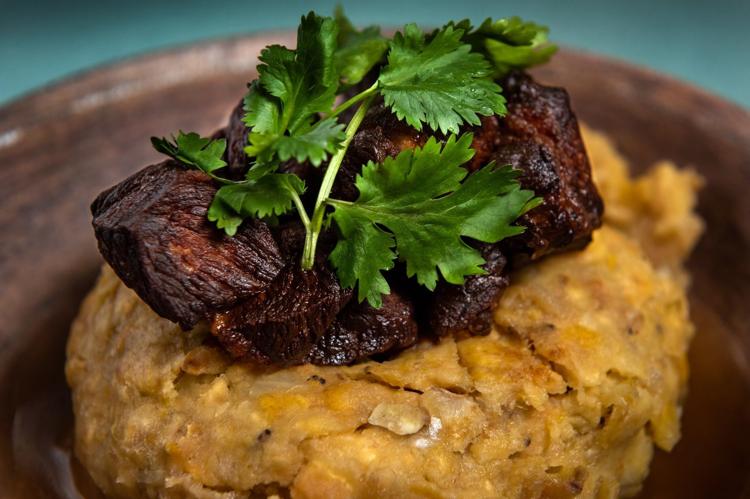 On Saturday and Sunday, you can order tres gulpes ($14), a traditional Dominican breakfast with a (somewhat) lighter mound of mashed boiled green plantains topped with two fried eggs, springy, peppery Induveca salami, deeply browned queso de freir and pickled onion. It requires some work to get all of these elements in one bite, but the competing textures and flavors of the whole truly is greater than the already impressive parts.
Given the heartiness of the main courses, you will need to share what the menu lists as Shareables: the tostones con aguacate; small, flaky empanadas filled with molten Swiss-American cheese, with a guava sauce for dipping ($5); slices of Cuban bread toasted and topped, bruschetta-style with whipped goat cheese, tomato, onion and cilantro ($8).
Besides tostones and maduros, side dishes include a-la-carte portions of arroz con gandules and black beans with rice. Don't overlook the shoestring fries ($4), the perfect dipping vehicle for your table's bottle of mayo ketchup, the tangy Puerto Rican blend of mayonnaise and ketchup that, against all odds in favor of plantains, gives the restaurant its name.
Where Mayo Ketchup, 2001 Park Avenue • 2½ stars out of four • More info 314-696-2699; plantaingirl.com • Menu Puerto Rican, Dominican and Cuban fare in a fast-casual setting • Hours 11 a.m.-8 p.m. Wednesday-Thursday, 11 a.m.-9 p.m. Friday-Saturday, 11 a.m.-5 p.m. Sunday (closed Monday-Tuesday)