Consider two different arepas at Público, Mike Randolph's new restaurant in the Delmar Loop.
The Higado ($8) is sexy, even on the page: lamb liver butter, fried sage, maple syrup. Your thumb swipes right on the menu. What arrives from the kitchen is no less alluring. A scoop of lamb liver pâté mounted with butter sits atop a leavened-corn pancake. Scattered over the plate, curled and twisted from the heat of their frying, are the sage leaves. It's difficult, in the restaurant's low light, to see the drizzle of maple syrup, but its presence is obvious from the first bite.
The offal-shy might start here. The butter mellows the liver's strong flavor so that it doesn't dominate the dish but instead, with the sage, becomes the necessary accent to the sweetness of the syrup and the arepa itself. For all its edginess, this dish is as elemental as a hunk of great bread smeared with cultured butter and sprinkled with sea salt.
Meanwhile, the guacamole arepas ($12) deliver everything that you think you want from a Mexican restaurant in one tidy dish. Two arepas, each bearing a generous scoop of brightly flavored guacamole, sit atop swirls of queso and a tomato and arbol-chile salsa. This isn't a concession to popular tastes, but a clever realization that the joy of a conventional Tex-Mex or Mexican restaurant is the cumulative pleasure of those familiar flavors.
Ordering both the Hidago and the guacamole arepas gives you a fuller picture of what Público is, but the restaurant is still appealing if you strictly prefer one to the other — if you're the type to slurp a frozen paloma (Espalon Blanco tequila and house-made grapefruit soda, $7) or to tease out the smoky nuances of a margarita ($9) made with Del Maguey Vida Mezcal.
That's just one reason why Público joins the very, very short list of the most thrilling restaurants to open in St. Louis so far this decade.
You'll never be bored following the career of Mike Randolph, a chef who often seems as restless as he is talented.
Then things got interesting.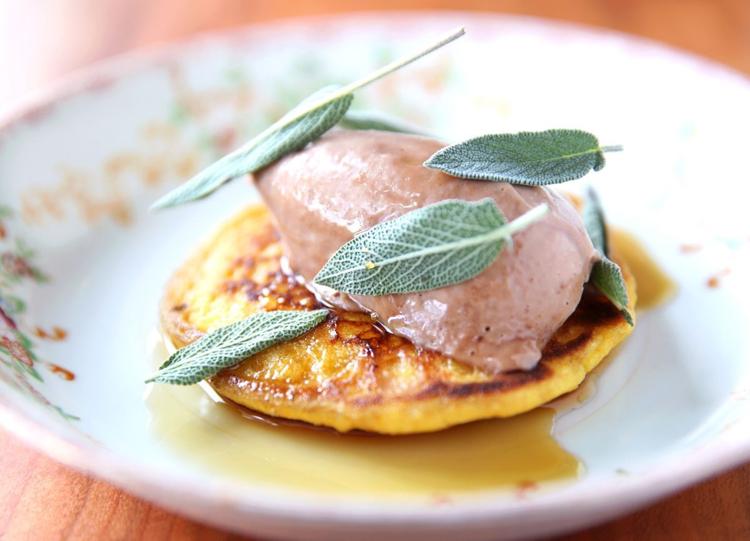 The news annoyed me only because we shouldn't be talking about the Good Pie right now. We should be taking about Público.
The banner draped outside Público — one of the very few jarring not-quite-finished touches here — describes it as "a wood-fired cantina," which is as apt a description as any. The design by SPACE Architecture + Design emphasizes that cantina — or, if you like, gastropub — feel with dim lighting, blond-wood tables and striking dark-wood fixtures that branch out from one wall.
The bar dominates the single room, with tables in front and behind it and cushy booths to one side. At the back is the open kitchen, which includes a few seats for diners at the pass. The focal point of the kitchen is the oak-burning hearth and, next to it, the vertical spit, or trompo, where the pork shoulder for the tacos al pastor roasts.
That trompo is a clear sign of Randolph's serious intent here. And those tacos al pastor ($7.75 for two) are dynamite. The flavors are full and brilliant — sweet pineapple, earthy, spicy guajillo chiles and, of course, the pork itself — and the texture is a revelation. The spit-roasting gives each piece a definite char, while the hours spent basting in its own juices imbues it with velvety succulence.
Yet Público isn't really a Mexican or, more broadly, a Latin American restaurant, though the region is certainly its prime source of inspiration. Randolph's approach is bold, borderless and flavor-forward. It's as close in spirit as any St. Louis restaurant has come to the revolutionary approach that David Chang pioneered at his Momofuku restaurants in New York City.
The Smoked Pollo tacos ($7.75 for two) owe as much to American barbecue joints as Mexican street vendors. The chicken is deeply smoky — some local spots could take lessons — and pickled red onions provide the perfect counterweight. And the Pescado Blanco tacos ($8.50) riff on lox and cream cheese, of all things. The pairing of smoked white fish with jalapeño cream cheese is inspired — and delicious.
(Another sign of Randolph's dedication: The tortillas for the tacos are made with Landrace Bolita corn imported Uruapan in the Mexican state of Michoacán. They are excellent.)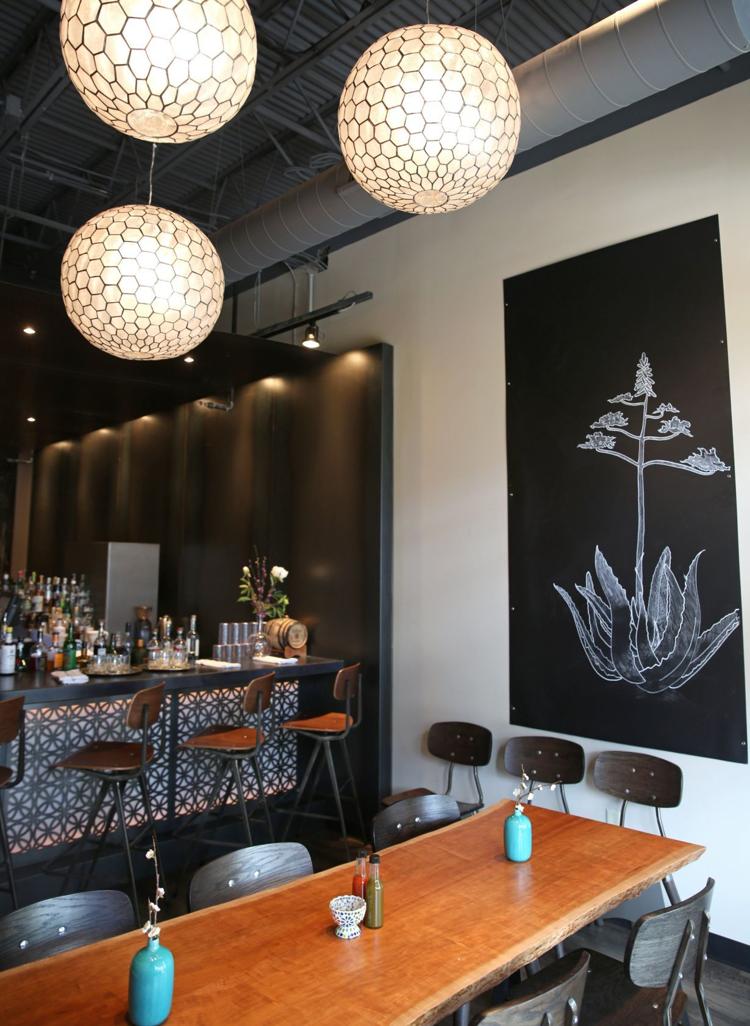 Many of the dishes here are small plates, and if there's any issue to Público's approach, it's that some of these work best as perfectly calibrated dishes, while others shine as sides. Err on the former side. So many of these dishes sparkle: grilled oysters ($8) encased in a sort of stuffing of corn, bread and green chorizo; grilled sweetbreads ($8) finished in a pan with pineapples in a very spicy habanero chile sauce; incredibly tender baby octopus ($11.50) smoky from the grill and a liberal dose of paprika and then cooled with a verdant salsa Vera Cruz.
The Cobia Caprese ($8) is a particularly smart reinvention of the classic salad, with cobia ceviche playing the mozzarella's role (slightly squishy texture, relatively neutral flavor). The fish swims in a tomato broth spiked with serrano peppers and further brightened by basil and mint.
Grits ($6.50) seem like an obvious side, but chorizo and red-eye gravy give it the punch of a bigger dish. Either the pinto beans ($4.50) larded with lamb drippings and sparked with mint and chive or the whole, small onions ($5) grilled in duck fat and dressed with a cilantro vinaigrette pair well with one of the few larger dishes, like a hanger steak ($18) basted in a lime-anchovy butter.
The menu features two dishes meant to be shared: a whole grilled chicken and a whole grilled fish. The latter on my visit was a yellowtail snapper (market price $35), stuffed with lemon, lime and jalapeño and topped with lettuce, salsa verde, crisp strips of fried tortilla and chicharrones made from fish skin. A stack of tortilla is served with the dish to make your own tacos, but I found myself skipping the middle step and pulling the fish directly off its bones.
You might as well finish your meal with the outrageous Missouri rice pudding ($13) swirled with mango and topped with a classic foie gras torchon that has been frozen and then grated. The foie gras is no mere indulgence, though. It adds richness, of course, but it also adds complexity to the pudding's sweetness.
For $6, you can add this grated foie gras torchon to any dish. Or you can happily ignore that foie gras is available here at all. However you approach Público, you'll find one St. Louis' most talented chefs finally at home.
---
Where Público, 6679 Delmar Boulevard, University City • 3½ stars out of four •More info 314-833-5780; publicostl.com • Menu Inventive modern fare inspired by Mexican and other Latin American cuisines • Hours Dinner Tuesday-Sunday
Welcome to the 2015 Go! List, our critics' and readers' picks for the best people, places and things in St. Louis. Select one of the five major categories to view its list of winners.
Food
and Beer
Music
and Clubs
The
Arts
TV, Film
and Books
Around
Town
Stay up-to-date on what's happening
Receive the latest in local entertainment news in your inbox weekly!