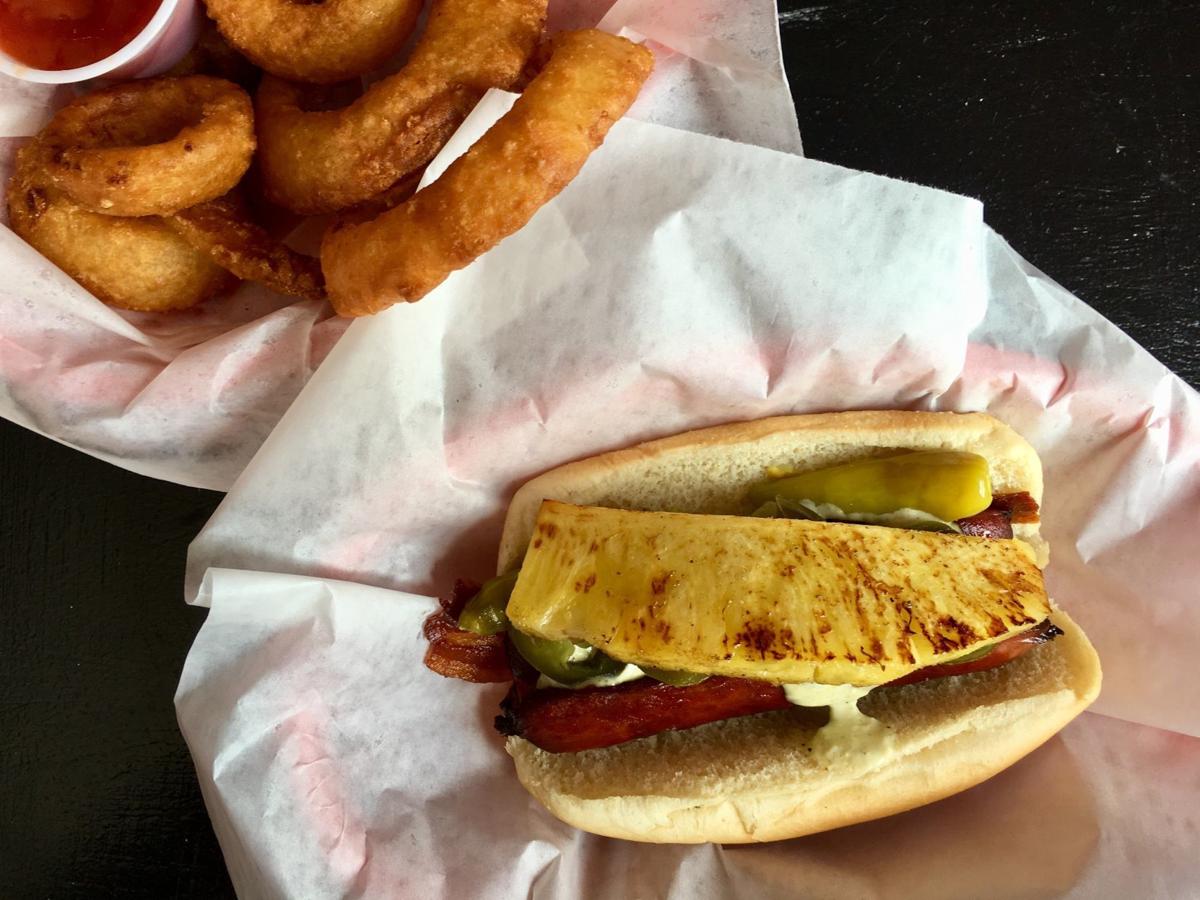 I can't fault Mike's Hot Dogs, Soups & Sandwiches for leading with its hot dogs. This year-old restaurant at Olive and Midland boulevards in University City serves a fine frank, a quarter-pound of snappy, juicy Angus beef.
You can order this with brown mustard, sauerkraut and caramelized onions (the New Yorker, $6) or as a classic Chicago arrangement of yellow mustard, relish, pickle, tomatoes, onions, sport peppers and celery salt ($6).
I gravitated toward the restaurant's original creations, though. The Volcano ($7) pairs the frank with peppered bacon and tops the meat with onions, jalapeños, sport peppers, hot sauce, a jalapeño aioli and a slab of seared pineapple. The pineapple is key; its sweetness is the ideal foil for all that heat.
The Old Mexico ($7) accents the hot dog with adobo seasoning and both jalapeños and the jalapeño aioli. Here, to balance the chile punch, there is a black bean and corn relish and queso fresco. In the Old Mexico and the Volcano alike, the garnishes never obscure the flavor of the frank itself.
At Mike's, the eponymous Mike Eagan Jr. brings nuance to dishes that are unavoidably messy — but that also easily could have been simplistically over the top. Credit his restaurant experience. His career began when he was a teenager at Charlie Gitto's on the Hill. With his brother and fellow chef, Tim, he opened Park West Grille in Benton Park West, and for nearly a decade he was the executive chef at Cardwell's in Clayton.
Credit also Eagan's love for hot dogs. He and his brother have also operated hot dog carts in the past. At Mike's, Eagan uses Red Hot Lou hot dogs, which are made by El Rey Cooked Meats in Ferguson and feature a flavor similar to his favorite hot dog, the Red Hot Chicago.
"We took a Chicago thing, and we found a way to make it local," he told me in a phone interview.
Mike's, which debuted in August of last year, is a no-frills operation: You order at the counter and wait at a table for your food. The most striking decoration is the deep shade of red paint covering the cinder-block walls.
Hot dogs might be the heart of Mike's, but there is good reason the restaurant's name doesn't stop there. The burger is a quarter-pound patty stacked one ($5), two ($7) or three ($9) high. An enjoyable burger. For a stronger beef flavor, though, opt for the grilled steak sandwich ($9), juicy slices of steak with sauteed mushrooms for an extra hit of umami as well as caramelized onion and Provel.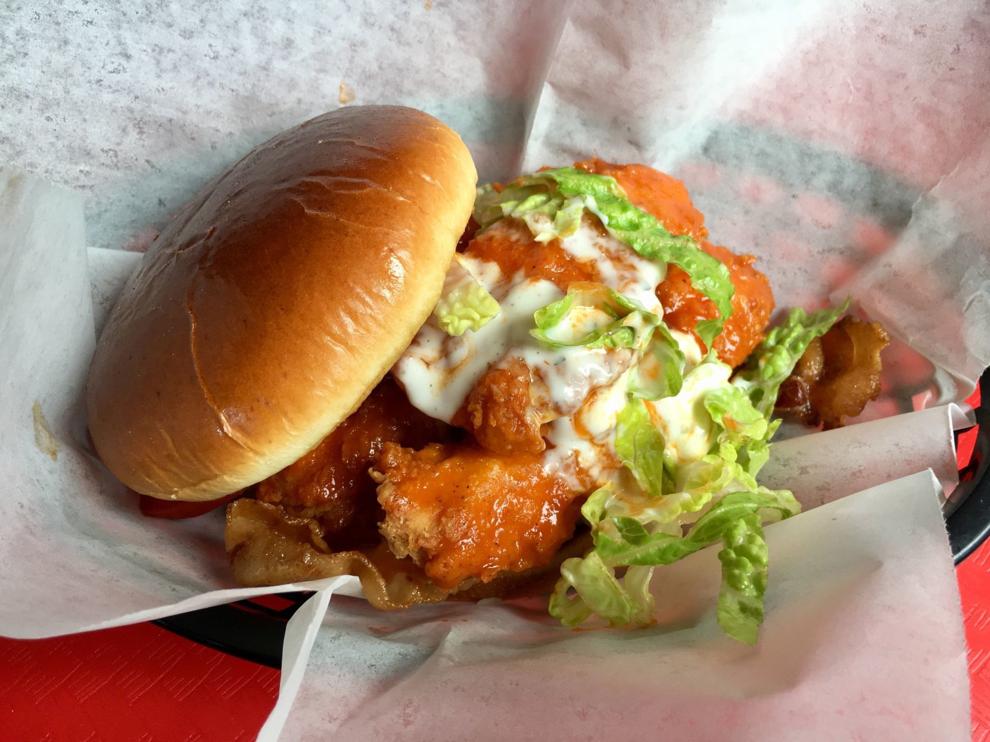 Eagan pays attention to detail even in a dish as familiar as a buffalo chicken sandwich ($8.50). The buffalo sauce is calibrated precisely between hot and tangy, and under both this sauce and cooling ranch dressing, the fried chicken retains its crispness. The same jalapeño aioli that dresses the Volcano and the Old Mexico hot dogs is the accent that distinguishes what Eagan calls the Club ($8), turkey, Black Forest ham and bacon with Provel and Monterey Jack cheese on sourdough.
Though wedged between hot dogs and sandwiches in the restaurant's name, Mike's soups are worth your attention. Or, rather, Mike's chili and gumbo (each $5) are worth your attention. Whether you consider either dish a true soup is a question as fraught as whether you consider a hot dog a sandwich.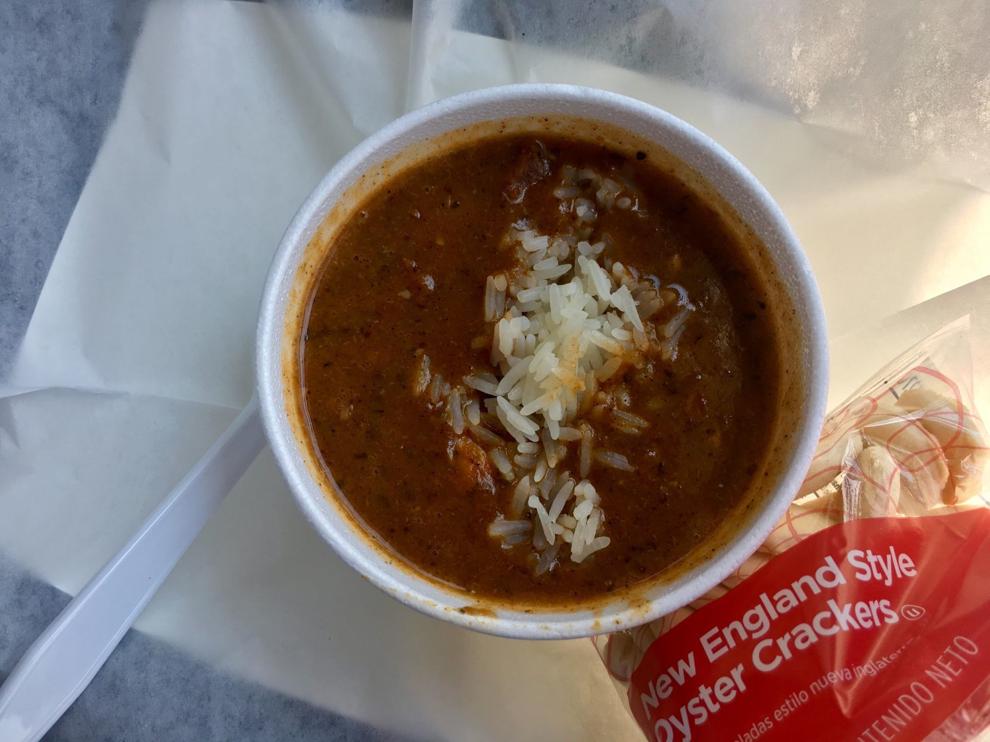 At any rate, the chili brims with ground beef (and a few beans) under a garnish of chopped onion and Monterey Jack. The spicing is as warming as it is piquant. Mike's gumbo is thick with andouille, chicken, shrimp and okra, and it boasts the rich savor of a dark roux and a complex medley of (by Eagan's count) 16 or 17 spices.
This gumbo is too good to pour over a frank a la a chili dog, but if I were to conduct such an experiment, I would only do it at Mike's.
Where Mike's Hot Dogs, Soups & Sandwiches, 7293 Olive Boulevard, University City • Two stars out of four • More info 314-776-9225; mikeshotdogsstl.com • Menu Hot dogs, burgers, sandwiches and soups • Hours 11 a.m.-8 p.m. Monday-Saturday (closed Sunday)