If you want the best value for your money in St. Louis dining right now, you can't beat the nigiri omakase at Nippon Tei. For $18, chef Nick Bognar prepares five immaculate pieces of nigiri sushi. Your selection likely will include a sushi standby like salmon, but even here Bognar might treat you to sake toro, salmon's sweeter, more luscious belly meat. And Bognar doesn't mechanically affix this sake toro onto rice smeared with wasabi paste. Instead, he brushes the fish with nikiri (sweet soy sauce) and then garnishes it with grated real-deal wasabi root.
Or Bognar might torch the salmon belly and balance its now steak-like fatty richness with lemon zest. He'll set this beside whichever specials have arrived on the most recent flight from Japan: snowy, fleetingly sweet hirame; oily, intensely briny mackerel; shima-aji, its balance of body and sweetness the ideal midpoint between the hirame and the mackerel.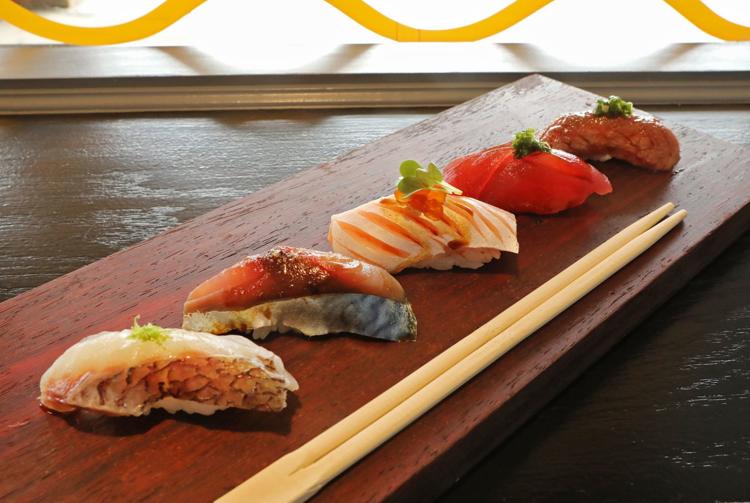 If you're lucky, there will be a luxurious serving of uni from Hokkaido, Japan, creamy as custard, its flavor pure, cold ocean distilled. Is that a sliver of A5 Wagyu beef from Japan, basted with tare, lightly torched and melting in your mouth like steak butter? It is, and it, all of it, whatever you receive, is $18.
If you prefer sashimi, Bognar's sashimi moriawase, with 12 precisely cut pieces and accompaniments, including a rainbow of roe, is enough for two people and also a steal at $36.
For those of us who have despaired of the state of sushi in St. Louis, Nippon Tei is a revelation. Or, really, it's two revelations. Not only is the 26-year-old Bognar trying to bring the St. Louis sushi scene into 2018, he's doing so at the restaurant his mother, Ann Bognar, opened in 2001, when he was 10, a place that years ago settled comfortably into the bland shopping-plaza-scape of Manchester Road near Ballwin.
Growing up as the son of a chef, Bognar felt pressure not to enter the restaurant industry himself, he told me in a phone interview. Inevitably, though, as a teenager, he worked part-time in his mother's restaurant, and he studied in the culinary-arts program at South Technical High School in Sunset Hills. He learned about preparing sushi at Nippon Tei, he worked catering gigs with his high-school culinary instructor, and he realized he loved cooking.
"I had a drive to get really good at something," he said, "and I was lucky to be at (Nippon Tei) and talk to the sushi chef."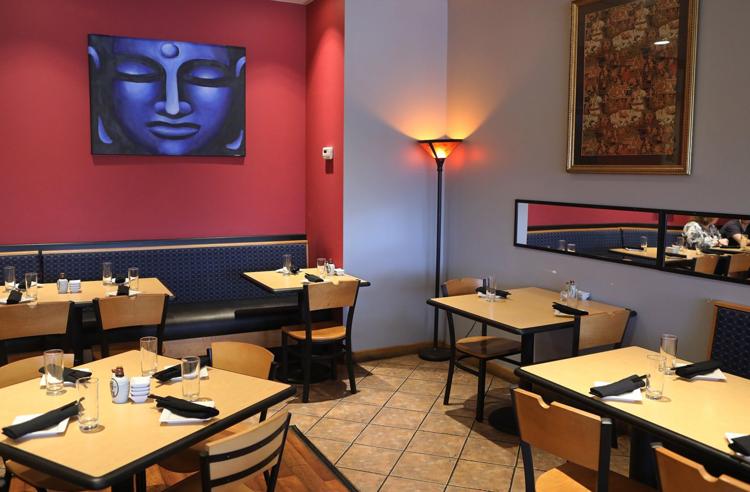 (One of the Nippon Tei sushi chefs he learned from was his aunt, Whitney Yoon, who now opeartes Sushi Koi in the Central West End. Coincidentally, about a month ago, doing research for next year's edition of the STL 100, I ate a fine meal at Sushi Koi and wondered how I'd missed the place for so long.)
Bognar attended culinary school at Forest Park Community College and went to work as chef and manager at Tei Too, his family's Thai restaurant in Webster Groves. (Ann Bognar is originally from Thailand.) In 2015, he helped kickstart the area's ramen boomlet by opening Ramen Tei in what had been Nippon Tei's bar. I was tough on Ramen Tei in my 1½-star review. In hindsight, the food notwithstanding, I didn't appreciate how appealingly ambitious the young Bognar was to undertake such a project.
(Bognar has recently revamped Ramen Tei's operation. I didn't include it in this review, however.)
Meanwhile, one of Bognar's childhood friends had moved to Austin, Texas, and was a server at the sushi restaurant Uchiko, where chef Tyson Cole, among many plaudits, had won the James Beard Foundation's "Best Chef: Southwest" award in 2011. Bognar used his connection to land a job there.
"That's when the real learning began," Bognar said. "They were doing things I'd done before, but it was all being done in a better way."
Dishes didn't appear on the menu until they had been studied and tested for weeks. The ethos, Bognar said, was daunting: "Anything can be improved. Anything can be pushed to its limits."
After a year, Bognar moved to Cincinnati to be with his girlfriend and oversaw a new sushi concept in that city. His mother liked the more contemporary style of sushi he'd learned in Austin and showcased in Cincinnati and thought it was time for a change at Nippon Tei.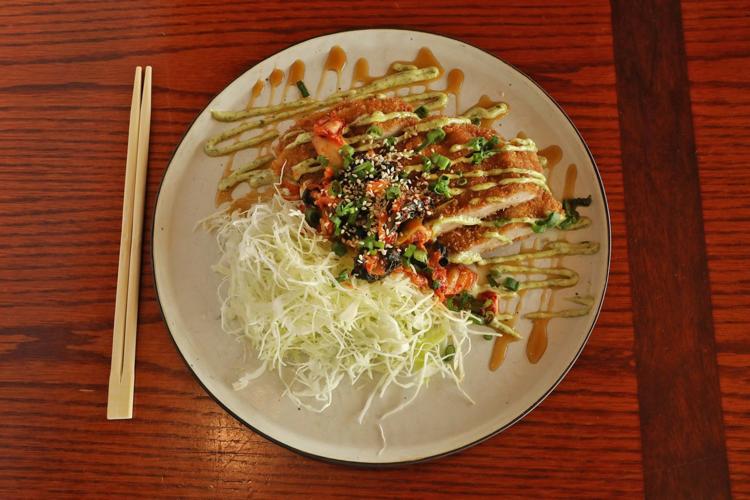 Bognar hasn't changed the look of his mother's restaurant. It remains a pleasant retreat from the strip-mall hustle, its ambiance part generic sushi restaurant, part hotel-lobby bar. Bognar's menu isn't expansive: a few salads, excellent versions of familiar starters like gyoza ($7) and crab rangoon ($7); rice bowls and pork tonkatsu.
I'm generally ambivalent about the multiple-ingredient sushi rolls popular at American restaurants. At Nippon Tei, I recommend looking for what Bognar himself seeks in assembling his nigiri omakase: the best fish, the fish in season. So on one visit I enjoyed a spider roll ($14) with tempura-fried soft-shell crab and, for a potent seasonal accompaniment, asparagus. The gorgeous sake toro is the heart of its self-named roll ($14), its richness doubled with avocado and cut with lemon zest, ponzu and the heat of togarashi.
You can order nigiri sushi and sashimi a la carte, though you'll be hard-pressed to assemble the balance of quality and value that the omakase and moriawase selections do. And if the value doesn't tempt you, know that Nick Bognar hasn't just made Nippon Tei the biggest bang for your dining buck; he's also transformed it into one of St. Louis' most exciting restaurants.
Where Nippon Tei, 14025 Manchester Road • Three stars out of four • More info 636-386-8999; nippon.teistl.com • Menu Sushi and other traditional Japanese fare • Hours Lunch Tuesday-Friday, dinner Tuesday-Sunday (closed Monday)