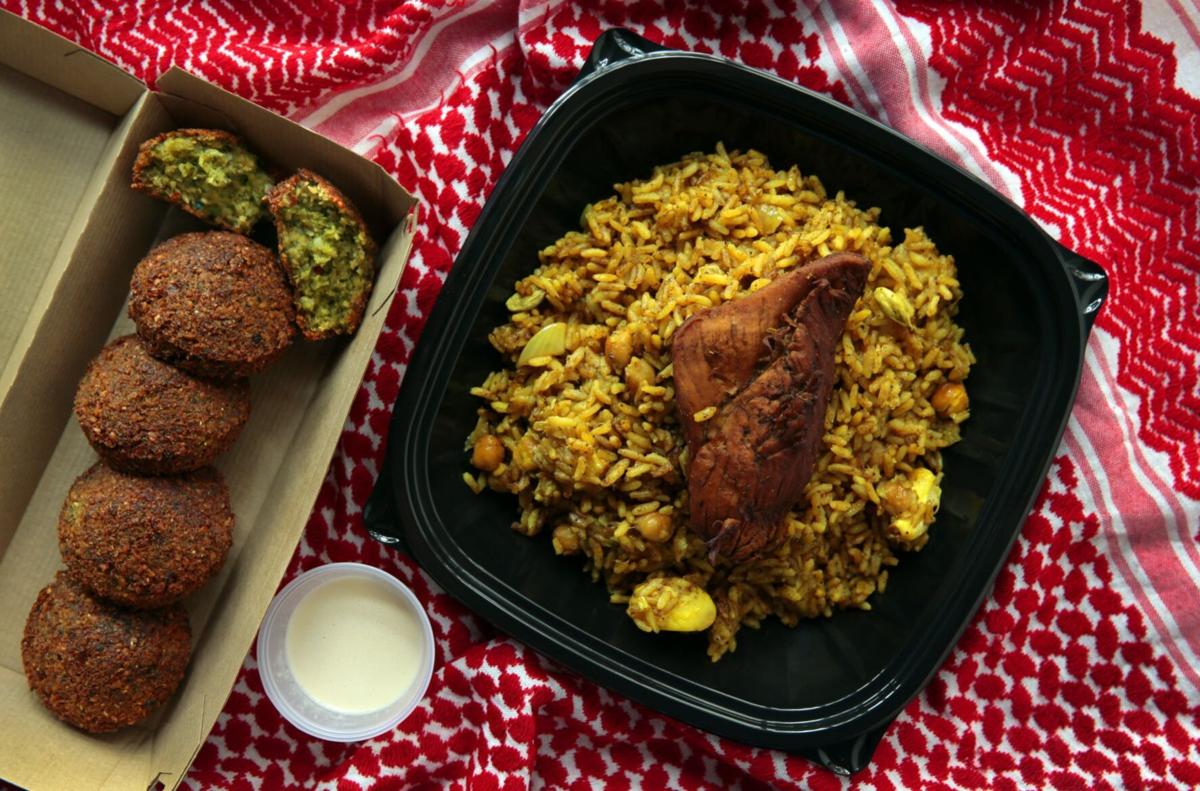 American Falafel might not have invented the kefta burger — a cursory search online yields numerous examples — but this year-old Delmar Loop restaurant really runs with the idea.
Though I ordered the burger to dine in, owner Mohammed Qadadeh brought it to my table wrapped in foil. My fries stood upright in a white paper carton. The spuds were much too thick to pass for McDonald's fries, and there was no plastic Disney princess for my kids to break immediately upon receipt, but it was a happy meal nonetheless.
The kefta patty was nestled with American cheese, lettuce, a tomato slice and pickles between the halves of a sesame-seed bun. Even in its quarter-pounder costume, the kefta showcased its classic profile of ground beef zapped with onion, parsley and zesty, warming spices. The mild tang and supple creaminess of American cheese took as well to the kefta as it does to any patty. The lettuce and tomato were lettuce and tomato: crisp, fresh, fine.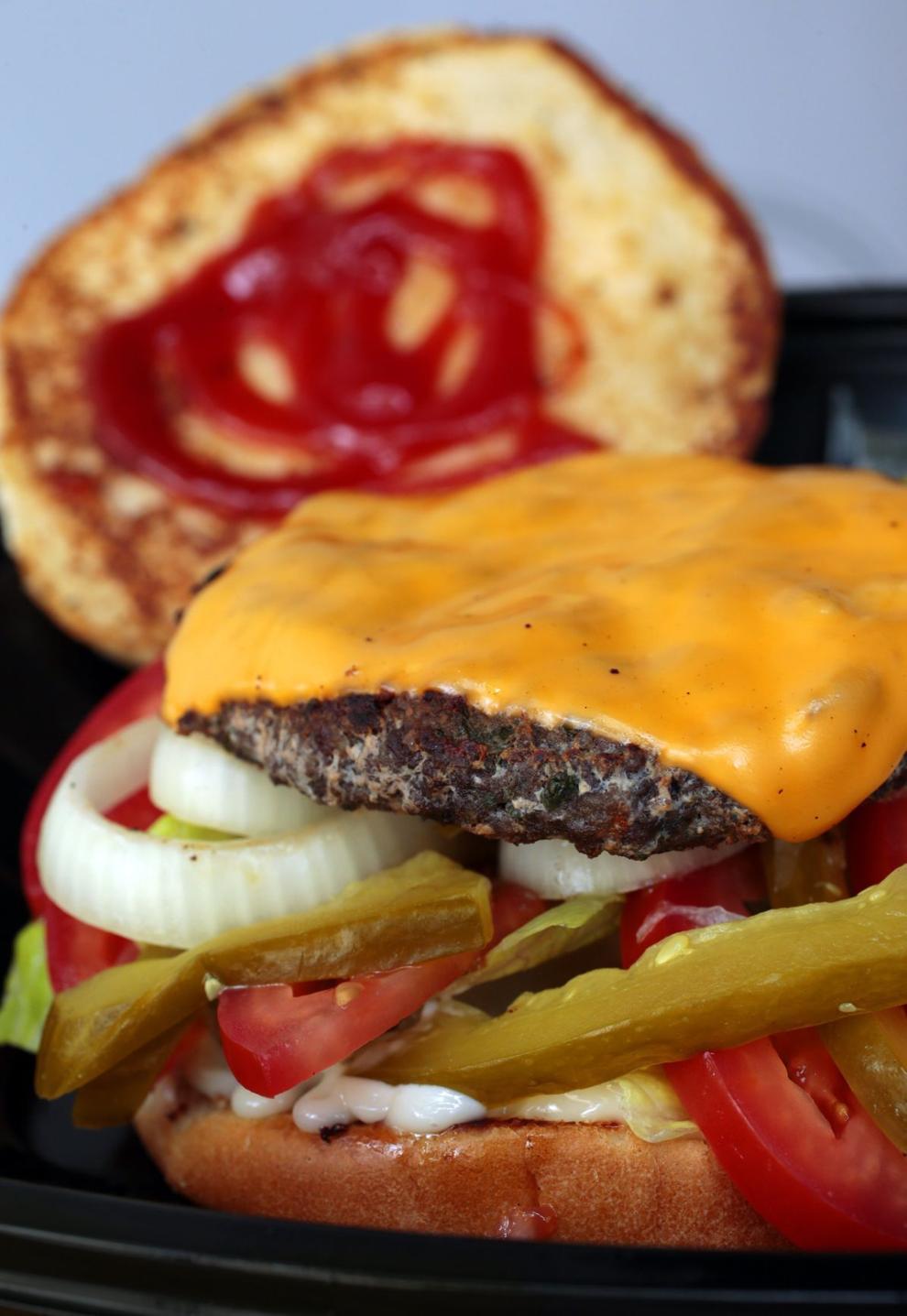 The pickles, though — the pickles were brilliant. Instead of the skinny wafers with a whisper of dill you expect from a fast-food burger, Qadadeh and the mononymous chef Feras use the vibrant salt-and-sugar snap of their shawarma pickles. Light but with enough texture to contrast the kefta, these make the sandwich.
The kefta burger is new to American Falafel's menu. Qadadeh and Feras wanted to offer traditional kefta, but Qadadeh told me in a phone interview it would require "a little bit more equipment, a little bit more investment.
"So we thought about it and thought about it and thought about it."
One day, the answer became clear: Put the kefta on a bun. The anecdote speaks to American Falafel's appeal. With its sleek branding and fast-casual format, the restaurant might scan as the seed of a new chain. But on its menu and inside its small storefront, you find personal touches and idiosyncrasies.
It begins when you place your order at the counter with Qadadeh himself, and he hands you a complimentary cup of hot, sweet tea garnished with fresh mint.
When American Falafel opened at the end of May 2020, it marked a second career for Qadadeh. He had previously been a vice president at MasterCard. He split his 18 years with that company between St. Louis and Dubai. His time abroad rekindled his connection to the food of his native Jordan and the broader Mediterranean area, and he saw an opening for that fare in St. Louis.
Qadadeh knew Feras from Jordan, where the chef had cooked at Qadadeh's family's restaurant during his three decades in the industry. When Qadadeh learned Feras was moving to the United States, where his children had come to study, he recruited the chef to help him create American Falafel.
(When I first interviewed Qadadeh in June 2020, he introduced Feras as Feras Baidon, but the chef prefers to go by Feras.)
The restaurant is a small storefront on the Loop's University City side. It wasn't the first restaurant I dined inside since the pandemic arrived, but it is the first I have reviewed. Its dining room holds very few tables spaced well apart.
I have delayed answering the obvious question: Yes, you should order falafel at American Falafel. Qadadeh imported a falafel-making machine from Jordan to capture the proper flavor. While I can't vouch for that level of specificity, I can report that he and Feras make falafel that deliver the ideal crisp-to-tender bite and a subtle but lingering heat from hot green chiles.
You can order these as a sandwich, wrapped in lavash with tahini sauce, hummus, pickles and chopped tomato. I think I prefer them by themselves — maybe with a dab of tahini sauce. Falafel right out of the fryer are on my pandemic-era list of restaurant foods never to take for granted again.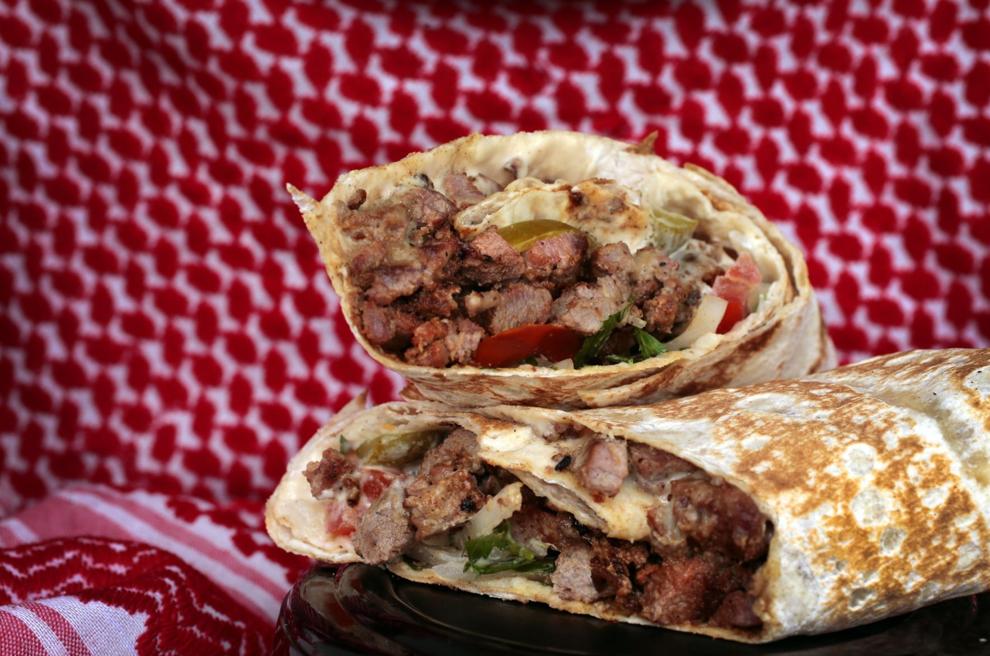 You will find beef and chicken shawarma on American Falafel's menu but no rotating vertical spits in its kitchen. Qadadeh and Feras do plan to install spits eventually, but they weren't sure whether they would sell enough shawarma to avoid wasting meat. As with the kefta, they figured it out. They season the steak and chicken in their respective secret shawarma spice blends and grill them to order on the flattop.
The adaptation works, though the steak might take a couple of bites to get used to. The familiar flavors are present — tahini sauce and those pickles, a little tomato and onion — but the meat's char is more electric than spit-roasted shawarma's, its texture not quite as yielding.
Lately, Qadadeh and Feras have added the Palestinian dish qidreh rice and chicken to the menu Tuesday-Thursday: chicken cooked with whole cloves of garlic and rice in chicken stock. The chicken in my order was overcooked, but the garlic was a revelation — a sort of middle ground between the pungency of sauteed garlic and the sweetness of roasted garlic — and the rice popped with turmeric leaves and bracing cardamom. For a cooling counterpart, Qadadeh brought me a bowl of cucumber-heavy tzatziki.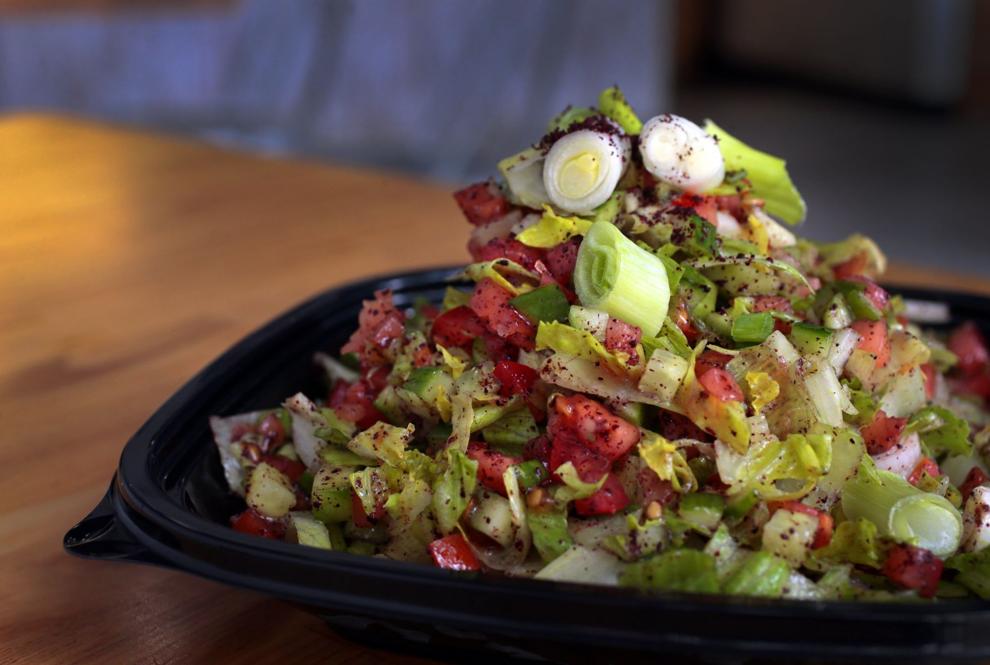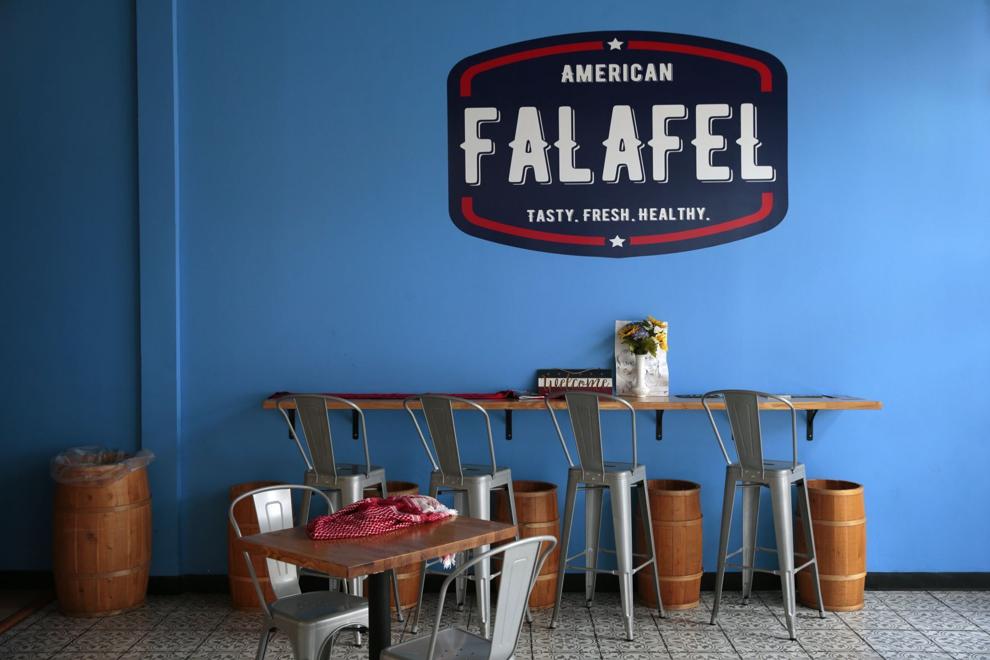 The standout chicken dish (and sandwich for that matter) is chicken sumac: chicken cooked in stock with sumac and other spices for three to four hours, then pulled and wrapped with only sauteed onions and slivered almonds as accents. The sumac infuses the tender chicken not only with its citrusy punch but also with a gorgeous reddish-purple hue. Pair this with the impeccably fresh fattoush for a bright, light example of the restaurant at its best.
To see the restaurant at its most creative and nimble, you can order that kefta burger. But there is also the baba ganoush, so intensely smoky I assumed they must keep a small smoker or kettle grill out back so they can throw the eggplant in the coals.
No, Qadadeh told me. They set the eggplant right on top of a gas burner and char it directly.
We are currently not assigning star ratings to restaurants. This review is based on dine-in service and takeout. Contact the restaurant directly for the most up-to-date hours and operating procedures.
Where American Falafel, 6314 Delmar Boulevard, University City • More info 314-553-9353; americanfalafel.com • Menu Falafel, shawarma, chicken sumac and more fast-casual Jordanian fare • Current services Dine-in; patio; takeout • Hours 11 a.m.-8:30 p.m. Tuesday-Sunday
Photos: American Falafel in the Delmar Loop
Qidreh rice with chicken and falafel bites, from American Falafel in the Loop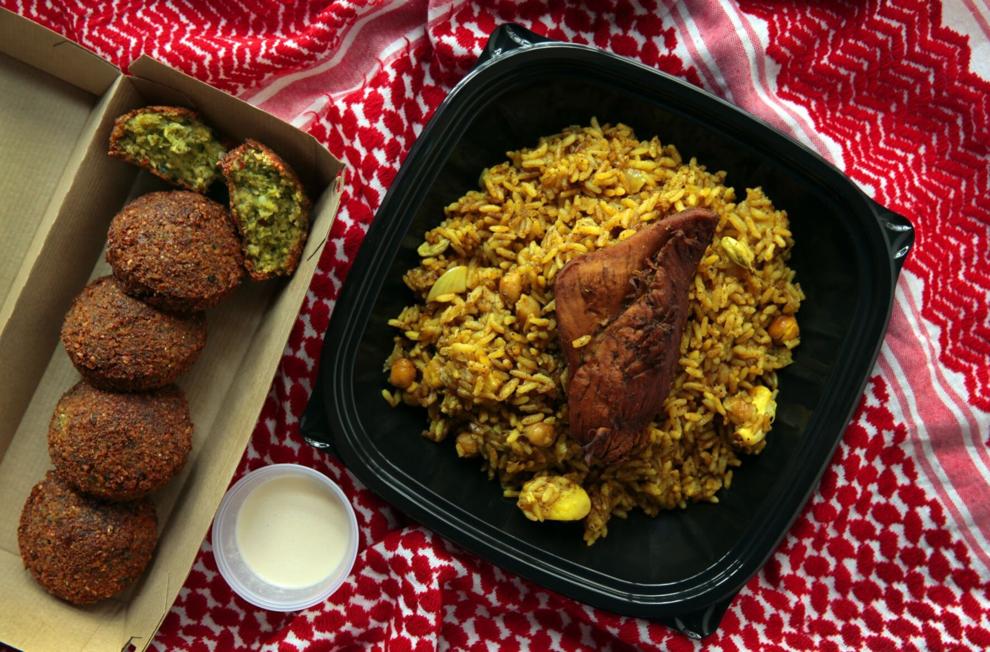 Days before the pandemic shuttered restaurants, American Falafel opened in the Loop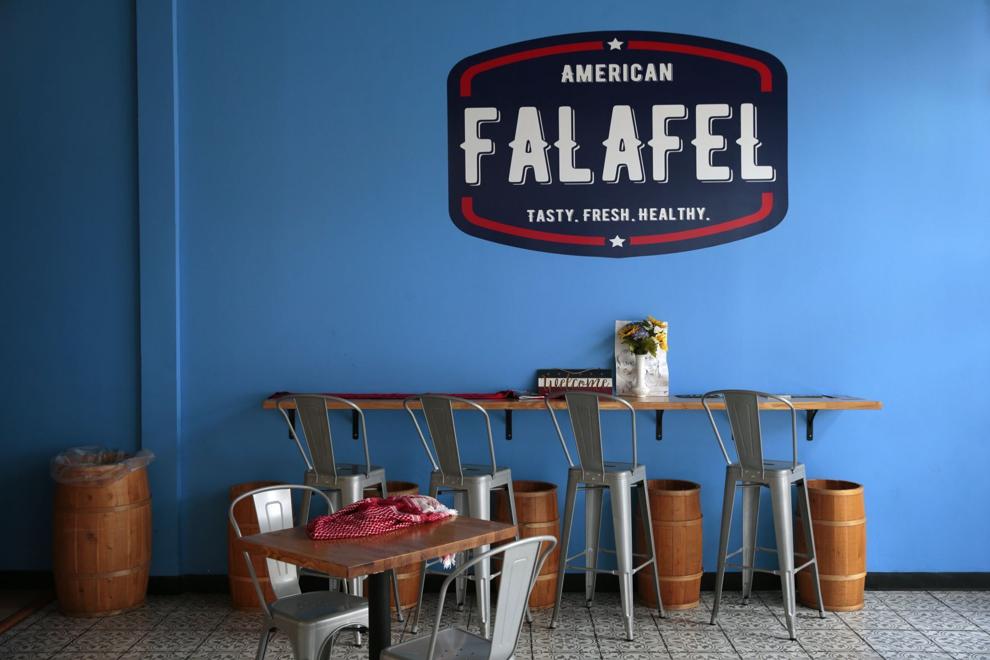 Chef's Salad from American Falafel in the Loop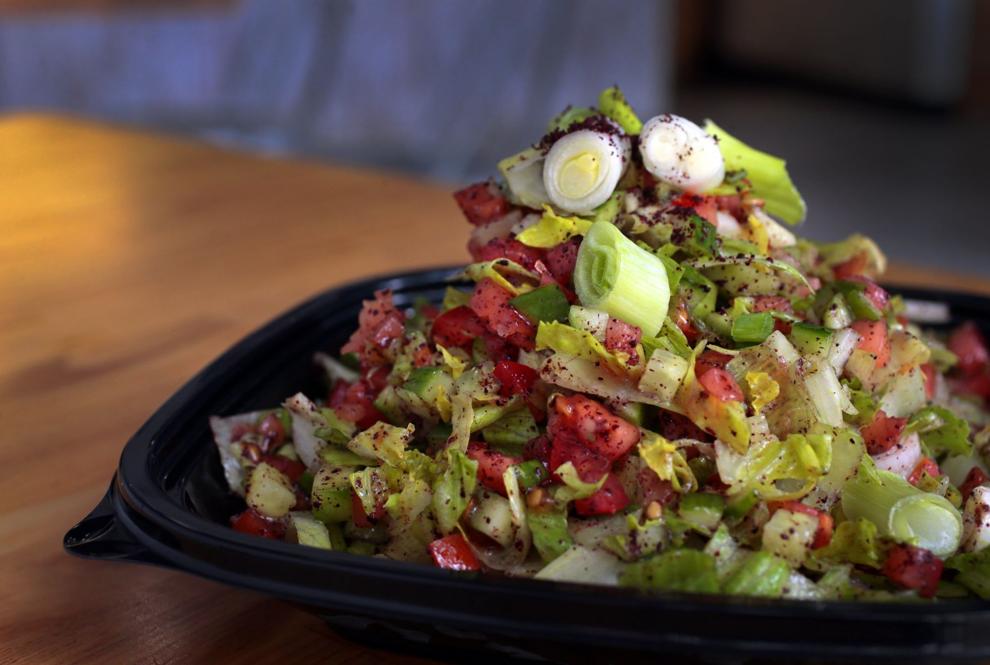 Falafel bites from American Falafel in the Loop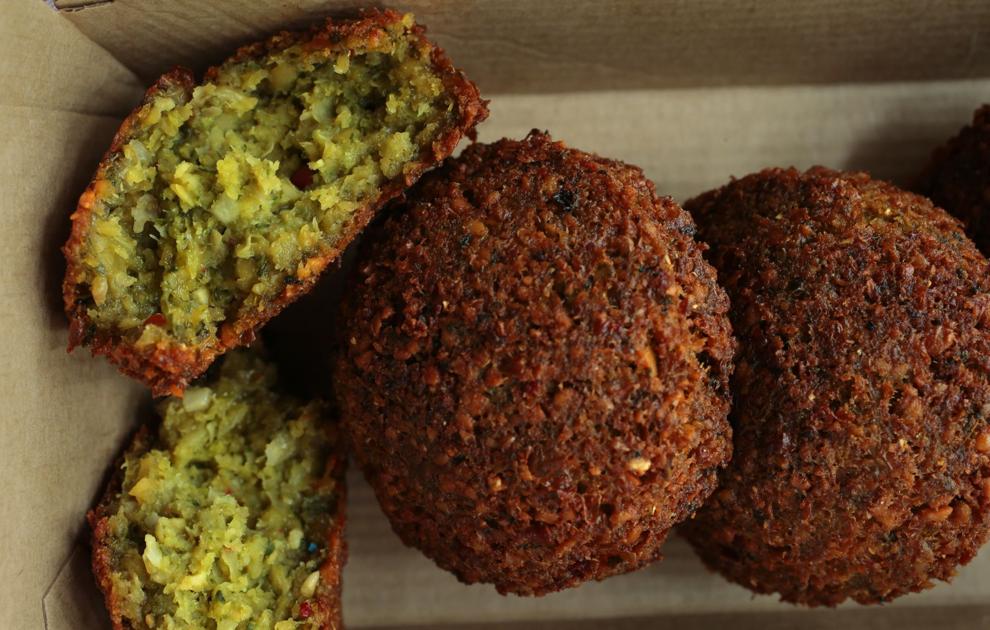 The Kefta burger from American Falafel in the Loop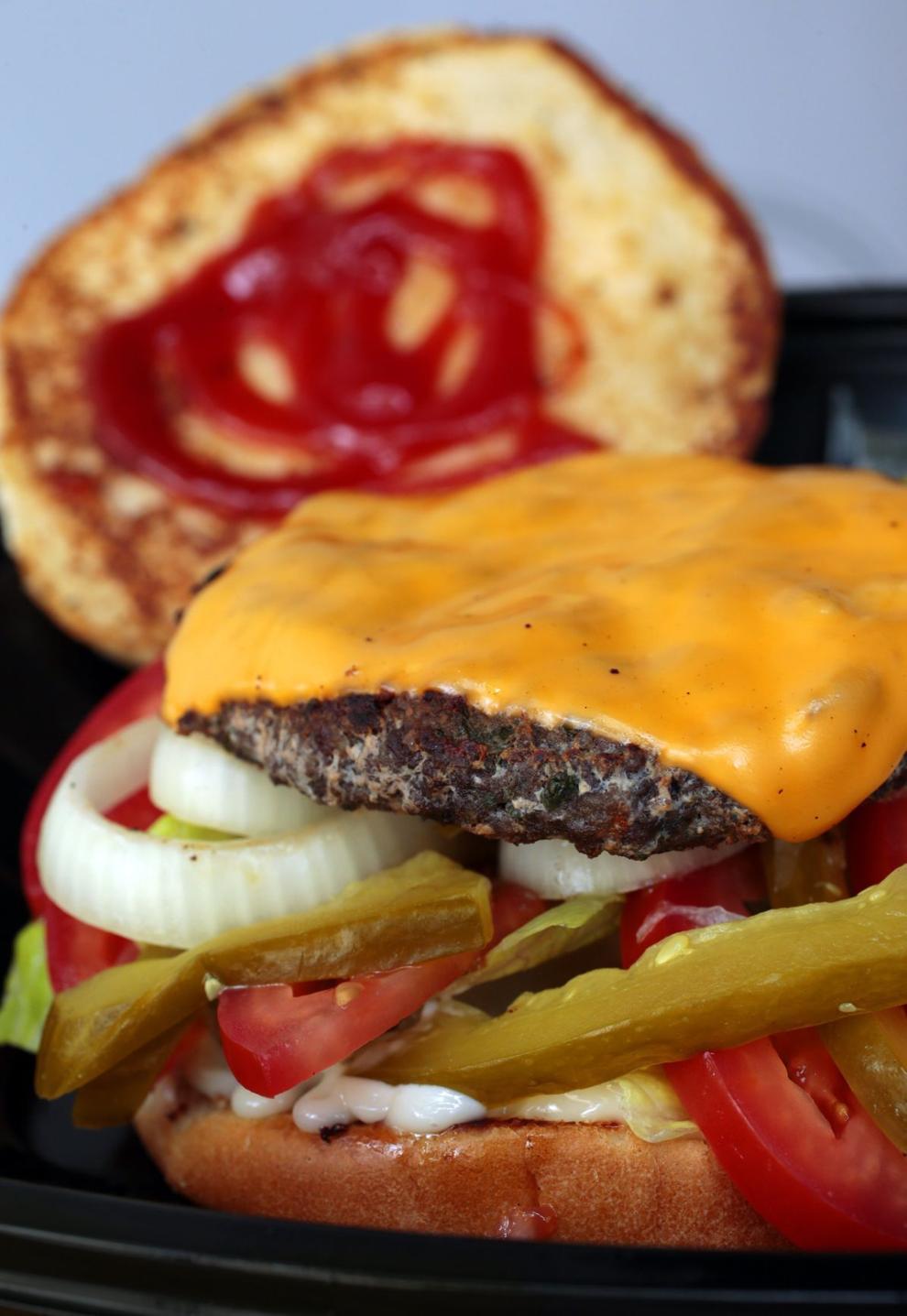 Steak shawerma from American Falafel in the Loop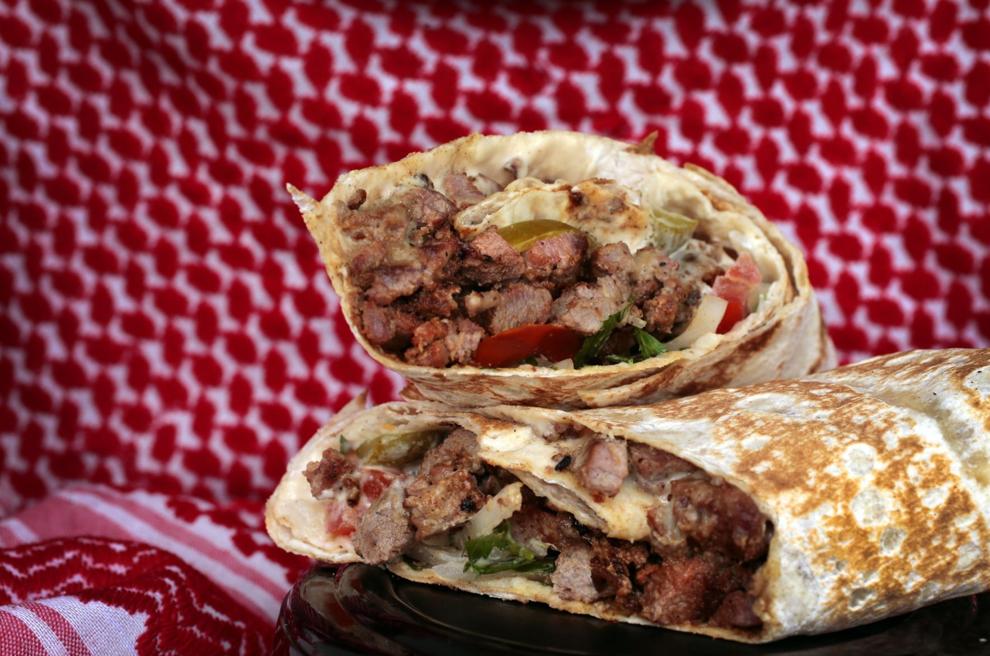 Days before the pandemic shuttered restaurants, American Falafel opened in the Loop
Hummus, Jordanian-style, from American Falafel in the Loop