Pop debuted as boldly as any restaurant I have covered in 13 years on this beat. On Jan. 31, Dave and Kara Bailey hosted a special-invitation dinner at L'Acadiane, the Cajun- and Creole-influenced concept the prolific restaurateurs (Rooster, Baileys' Range, Bridge Tap House & Wine Bar, et al.) had opened in Lafayette Square a little over a year earlier. During this dinner, the Baileys transformed L'Acadiane's decor, concept and name into a new restaurant and bar focused on sparkling wine.
I couldn't attend this grand reveal. My introduction to dining at Pop was a sedate Wednesday evening in August, sitting alone at the bar. I sipped a glass of sparkling wine from the Tokaj region of Hungary. If I didn't say "Wow!" aloud, I certainly sat up straighter in my seat.
If you know Tokaji as a sweet wine to pair with dessert — or to enjoy itself as dessert — Királyudvar's sparkling Tokaji from the Henye vineyard is a bracing corrective, with a profound, saline minerality and a flavor the menu (credit where it is due) artfully describes as "charred lime and tonic."
At $16, the Királyudvar is on the higher end of Pop's by-the-glass pricing, but for sparkling-wine aficionados and novices alike, I suspect it will repay your curiosity and the modest splurge.
You might say the same about Pop's wine list as a whole, though not all the splurges will be modest. But once you have left Champagne proper for the rest of the Old World and into the New, you will find many bottles priced under $50.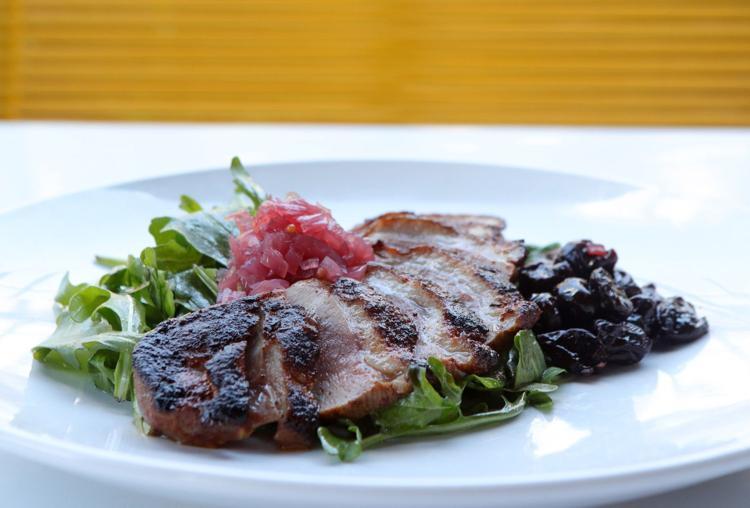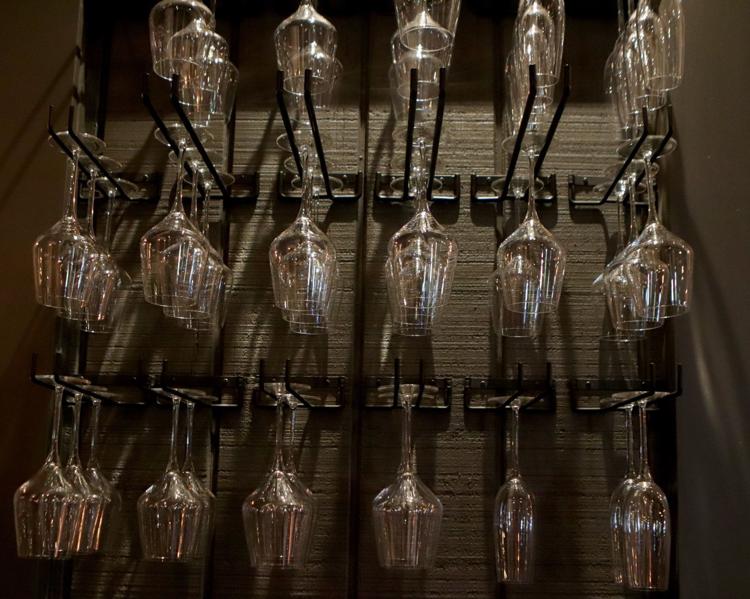 Or you might be tempted, as I was, to take a chance on a vintage cava: the 2010 Recaredo Brut Nature Gran Reserva Terrers. For $74, the Terrers delivers cava's refreshing, food-friendly character and the sort of complexity you would expect from a more expensive bottle of Champagne.
"At the end of the day, sparkling wine is what Kara and I share," Dave Bailey told me in an interview shortly after Pop opened. "That's our shared beverage."
The Baileys' love for sparkling wine is evident in Pop's list, which is guided by sommelier Beckie Lambson. It also emerges in such small details as the device a attached to a bottle of txakoli to give the Basque wine the proper high pour. And it allows Pop the confidence to base even the cocktail list around sparkling wine with drinks both established (the Manhattan-esque Seelbach, $10) and original (the summery, watermelon-flavored Blushing & Bashful, with tequila and sparkling malbec, $11).
As a restaurant, Pop is certainly an improvement over L'Acadiane, which muddled Cajun and Creole traditions. And as the wine list expands well beyond Champagne, the menu — developed by a team of chefs who work for the Baileys and overseen day-to-day by AJ Benga — admirably avoids the obvious pairing of sparkling wine and straight-up French cuisine.
But what Pop's identity as a restaurant is, even in the broadest sense, I can't say. In general, dishes succeed when the kitchen finds invigorating accents for familiar comforts: popcorn ($3) enlivened with ras el hanout, edamame ($5) dressed with Iberico cheese and lime, focaccia ($13) topped with the piquant combination of Iberico cheese, capicola, pickled onions, capers and an arugula pesto.
A chile-cured duck breast ($21) delivers just enough heat to cut through the meat's natural fattiness and spark its more conventional accompaniments, an onion jam and a dark-cherry chutney. Likewise, an otherwise straightforward paillard chicken breast ($19) over a squash hash benefits from both a sage beurre blanc and preserved lemon and more sage under its skin.
Seafood should be a promising match for sparkling wine, but here Pop falters. Seared Atlantic salmon ($14) was beautifully browned without being overcooked, which made its generically sweet soy glaze all the more frustrating.
Only an aggressive dose of chile heat saves the scampi ($18) from a similarly generic — even dated — fate of shrimp and red-bell and poblano peppers with tagliatelle in a lemon-garlic sauce. The scampi also includes Prince Edward Island mussels, exactly three specimens in my order, one of which hadn't fully opened.
A dish of scallops ($21) atop a beet hache in a safflower beurre blanc promises an intriguing contrast between the bivalves' buttery sweetness and the earthier sweetness of the beets. In practice, this is less interesting than the textural contrast between the plump scallops and the crisp lattice-cut potato chips arranged alongside them.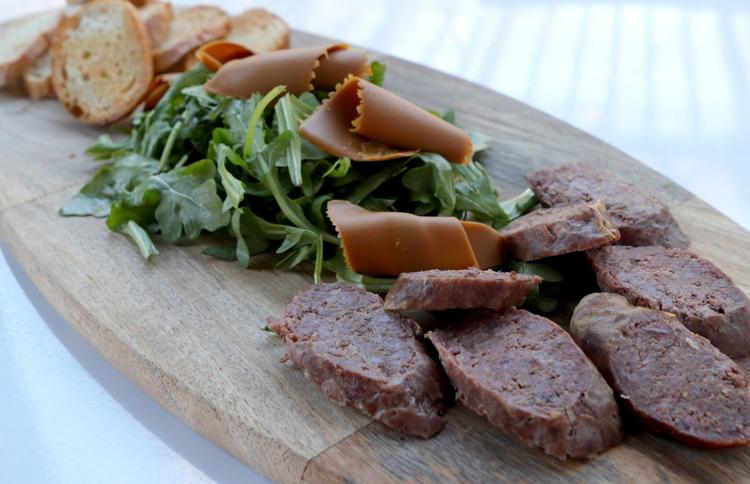 The dish doesn't quite coalesce, but the scallops are fine by themselves. The same can't be said for another time Pop ventured outside its comfort zone, a board that lets you top crostini with housemade bison sausage, gjetost cheese and Champagne-dressed arugula ($9). Pairing bison sausage and caramel-like gjetost might work, but not yet at Pop, where my order of the bison sausage was underseasoned and dry.
Of all things, Pop's burger and fries ($15) might present the restaurant with its most promising path forward. The burger is a thick patty — cooked exactly to my requested medium-rare when I ordered it — that is smartly accented with pickled radish, micro daikon and a horseradish aioli. The skinny fries are cooked crisp in bacon fat. They come the closest of any fries in town to McDonald's glorious beef-fat fries of yore.
(Pop's kitchen maintains a separate deep-fryer if you don't want your fries cooked in bacon fat.)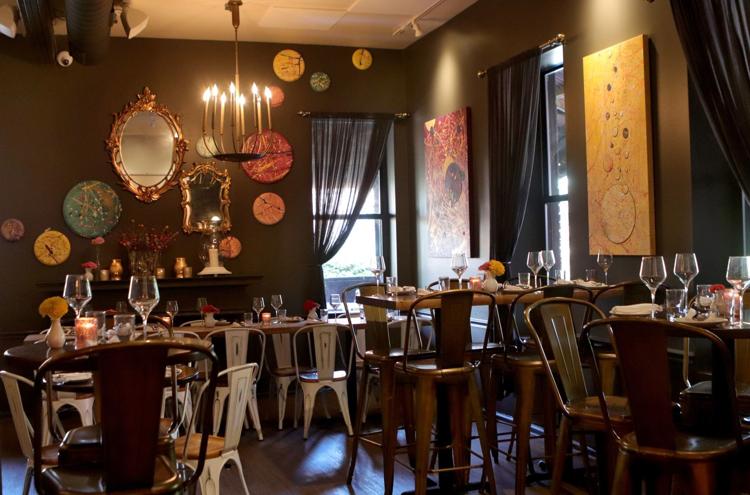 The burger and fries show a kitchen confident in its take on a commonplace dish, neither overthought nor simplistic — and confident that if the burger and fries themselves don't blow your mind, pairing them with almost any of the sparkling wines here likely will.
Where Pop, 1915 Park Avenue • Two stars out of four • More info 314-241-8100; popstlouis.com • Menu A wide array of sparkling wines and contemporary bistro fare • Hours Dinner Wednesday-Sunday (closed Monday and Tuesday)