At some point during a visit to the newly relocated Taco Circus — any visit, your first or your 100th — you will lean back from the table, trembling, certain there has been a mistake. The server misheard your order. The kitchen misread your ticket. The staff has you confused with Nathan's Hot Dog Eating Contest champ Joey Chestnut.
A leaning tower of breakfast-quesadilla wedges ($13), each thick with chorizo, potato, egg and cheese. Not one, but two full-size chimichangas ($13), plump with ground beef, rice and beans inside crackling tortilla shells. Even the humble taco, served here on a large tortilla and, as a group on the menu, named after the busy nearby thoroughfare Kingshighway.
You didn't expect this much food.
The abundance is especially shocking if it had been a while since you squeezed yourself into Taco Circus' clown car of an original location in Bevo Mill, where chef Christian Ethridge and his team plated top-notch Tex-Mex fare at short-order speed in a space that wouldn't have passed muster as an efficiency apartment.
That space was all the Austin, Texas, native Ethridge could afford when he and Mikey Carrasco opened Taco Circus in 2015. (Carrasco left in 2016 but is back working at the new location.) In the following years, as this modest south St. Louis storefront became a destination for breakfast tacos and pork-steak burritos — and even as Ethridge introduced bigger dishes to its menu — he wasn't plotting a larger, more ambitious Taco Circus. Instead, he imagined a 24-hour, drive-thru Tex-Mex restaurant a la Del Taco — fast-food done his way, without cutting corners.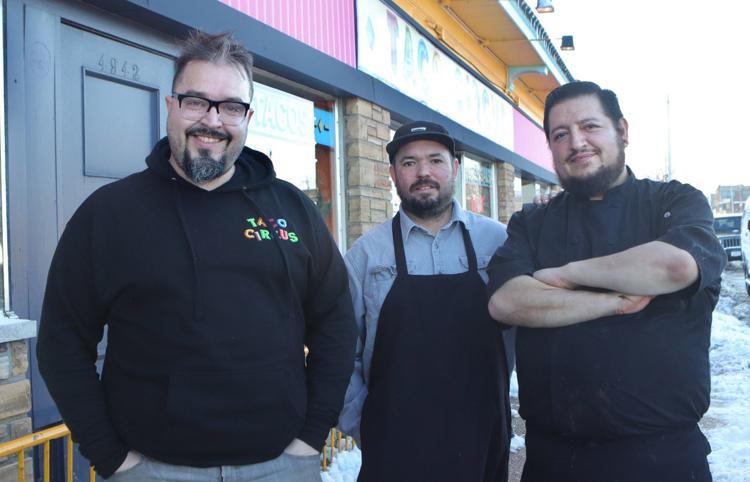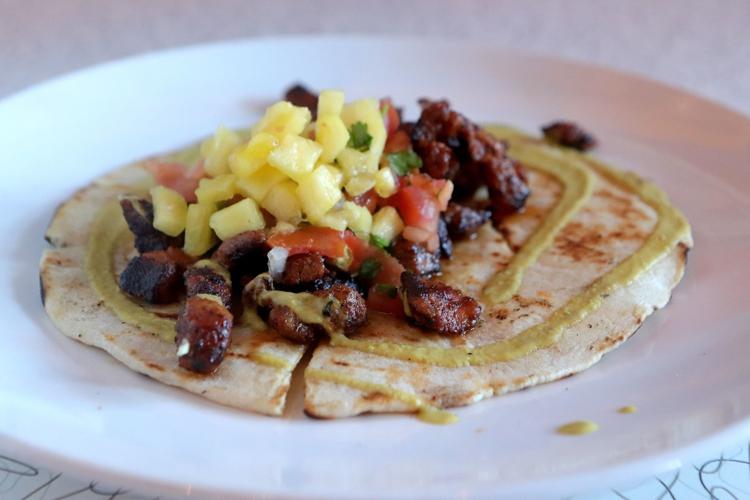 But then Sean Baltzell and Casey Colgan, the duo who run Parlor Arcade Bar and the under-construction Takashima Records in Forest Park Southeast's Grove district, asked Ethridge to take a look at the Southwest Garden address previously occupied by Three Flags Tavern. He saw the potential in the space: a desirable location, a spacious patio. In partnership with Baltzell and Coglan, he would move Taco Circus here.
The new Taco Circus is larger and more polished than the Bevo Mill original. Most notably, the kitchen is no longer in the middle of the dining room. Still, it retains the original's playful, vibrant spirit. Part of a research trip to Austin, Ethridge told me in a phone interview, was to convince his team he wasn't crazy to feature hot-pink paint.
There is a lot to process here, and if you counted yourself a fan of Taco Circus in its earliest days, you might be surprised at how far down the menu the new location has placed straightforward street and breakfast tacos (each $3) served on small corn or flour tortillas. For me, though, Taco Circus' appeal has never simply been its tacos. Instead, Ethridge thinks through each component — meats and tortillas, sauces and sides — and through technique and quality ingredients is able to plug these components into a wide variety of appealing dishes.
The meat remains the focal point even of the oversize Kingshighway tacos (each $5): juicy, citrus-accented strip steak with pico de gallo and sour cream (the Willie Nelson); al pastor pork with pineapple and pico de gallo (the Jackie O). New to the relocated Taco Circus is fried pangasius swai (aka Vietnamese catfish), tricked out as the Tijuana Fish Taco with iceberg lettuce, tomatillo cream and off-the-cob esquites.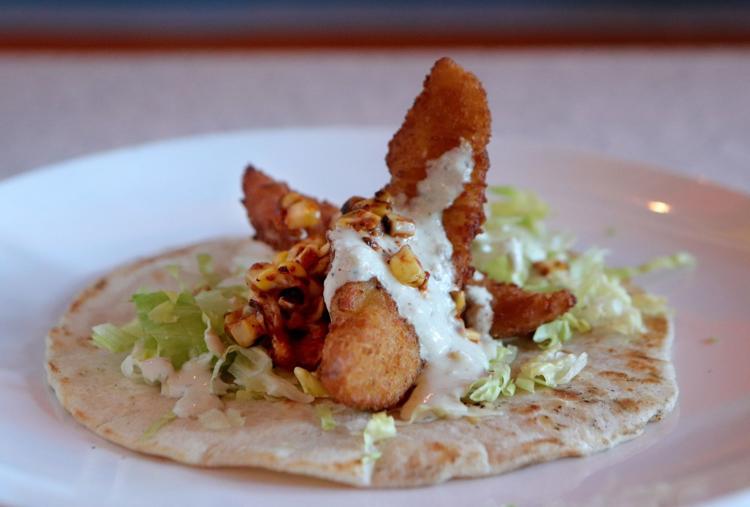 Luscious pork-steak carnitas seasoned with chiles, black pepper and Mexican oregano stands out folded with rice and beans inside the Mexican Flag Burrito ($14), which in turn is striped with salsa verde, queso blanco and salsa ranchero. (For the burrito, and several other dishes, diners can choose the main filling; vegetarian and vegan options are available, though not for every dish.)
Ground beef simmered in a New Mexico red chile sauce is the flickering fuse through busy huevos rancheros — here called the St. Cecelia Plate ($14), after both the patron saint of music and Ethridge's mother — with the beef, cheddar cheese and four over-easy eggs on a bed of tortilla chips.
The St. Cecelia Plate is served with flour tortillas freshly made in house. These can't overshadow an oversize plate of beef, eggs and cheese, but I found myself enjoying them even more on their own than as a huevos-rancheros conveyance. If you have never eaten freshly pressed flour tortillas, they will be a revelation, pillowy, pliable, with just the right doughy pull.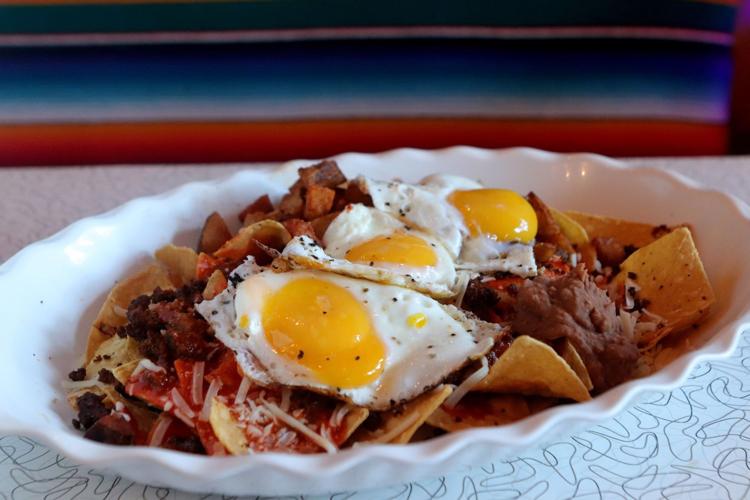 The next time I eat Taco Circus' flour tortillas, they might be a revelation for me. Since my final review visit, Ethridge, still not satisfied with the finished product, has changed the recipe to incorporate lard.
The combination of perfectionism and restless creative energy has always distinguished Taco Circus, and it continues at the new location. You might be content with your gratis chips and salsa and the squeeze bottles of the house red and green sauces on every table — the green is an especially searing blend of nothing more than jalapeño, oil and salt — but you can also order a flight of four salsas ($10), riffs and experiments from the kitchen.
On my visit, these included a mild tomatillo cream sauce and a salsa verde served hot, not as potent as the house green but with a compelling vegetal bite. The tamarind-chipotle delivered a fine balance of smokiness and sweetness with a piquant tart finish. Best of all was the thin, bright Ski Soda Sauce, its citrus notes fizzing with the heat of habaneros.
(The underseasoned guacamole — small $5, large $10 — could use some of the attention lavished on the salsas.)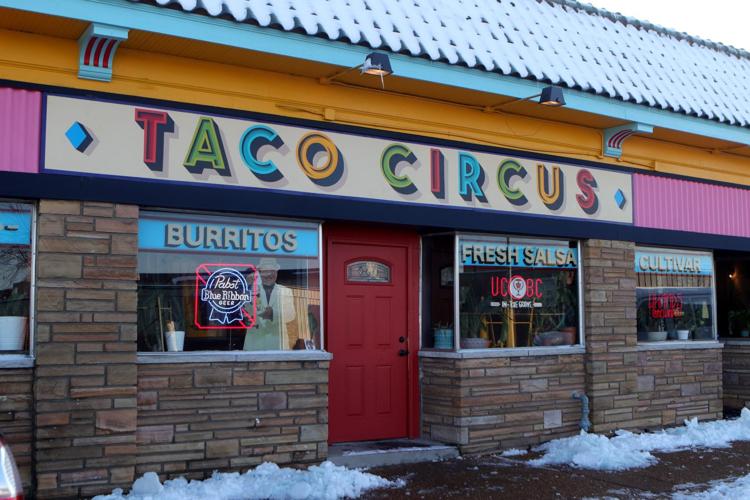 Taco Circus being Taco Circus, a "flight" of salsas doesn't equal four dainty ramekins. Each of the four bowls by itself would be enough for two or three diners to share. One final note on size: While larger than the original building, the new location isn't a large space. A wait is possible at both lunch and dinner and likely at prime dining times. On one attempted visit, there wasn't even room for a solo diner at the bar.
This year's patio season will open up more seating, of course, but you get the sense this circus might be destined for even bigger big tops.
Where Taco Circus, 4940 Southwest Avenue • 2½ stars out of four • More info 314-899-0061; tacocircus.com • Menu Tex-mex fare, generously portioned • Hours Lunch and dinner Tuesday-Sunday (closed Monday)