At Dixon's BBQ, I kept ordering the ribs. Three times for this review — four if you count the rib tips, which you should. I'd treat myself to another half-slab after I file this column, but I'm writing on a Monday, and Dixon's is closed today.
I'm not emerging from a rib-free pandemic bunker. Barbecue has been my family's takeout go-to over the past year. I could spin you some critic's claptrap about ensuring Dixon's is delivering a consistent product, and while that isn't wrong, it also isn't the truth.
From the offset, all-wood smoker parked behind his Overland storefront, owner Joe Dixon delivers meaty spare ribs rubbed with salt and a nose-crinkling dose of black pepper. There is some garlic, too, and a couple of undisclosed ingredients, but Dixon believes less is more: pork, salt and pepper, woodsmoke cherry and oak.
"The more I've cooked over the years, I've started appreciating the actual flavor of the meat itself," he says.
This straightforward intensity builds with each proper tug of meat from bone. It's invigorating, this Central Texas approach to a slab of ribs — even more so with the rib tips, the classic St. Louis cut, where you really need to get in there to separate the morsels of pork from the slippery cartilage.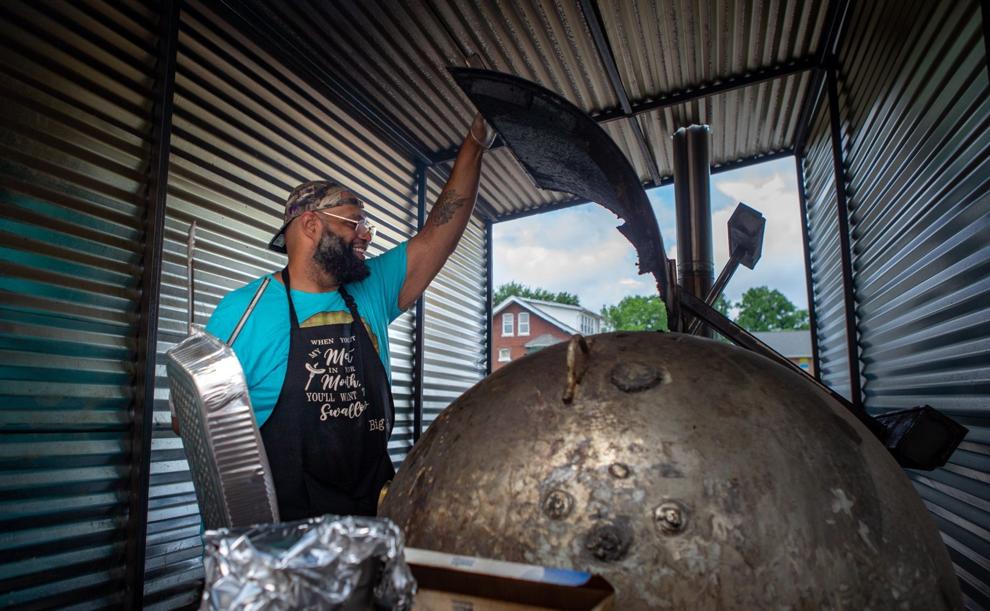 Dab the ribs with the Dixon's BBQ house barbecue sauce or bathe the slab in it entirely. Your call. You need at least a touch of its tang to complete the dish, and I dig its caramel sweetness with a coiled bite. It reminds me of Coca-Cola.
I didn't expect to be raving about the ribs at Dixon's BBQ. Dixon previously operated Dixon Smoke Co. from December 2015 until June 2018 in Midtown, and while I enjoyed the ribs at that restaurant, when it closed, I mourned its brisket, especially the burnt ends, and its standout side, juicy corn on the cob slathered in a spicy barbecue aioli.
Brisket, both sliced and burnt ends, and that corn on the cob have returned at Dixon's BBQ, but Dixon says ribs and rib tips are his family's barbecue legacy. His mother, Charlene Runnels, ran the barbecue restaurant Charlie's in Berkeley, and even before opening the restaurant, she was expected to bring her ribs and rib tips — and her peach cobbler — to family reunions.
Dixon's mother, he remembers, "always barbecued, and I was always the person who ran in the house to get the pans, and I was always the person who was just always there beside her."
Runnels died in 2017, and grief led Dixon to close Dixon Smoke Co. the following year. Last spring, when he announced he would reopen in Overland as Dixon's BBQ, he told me, "I'm just trying to come out of it now and get back to cooking, man."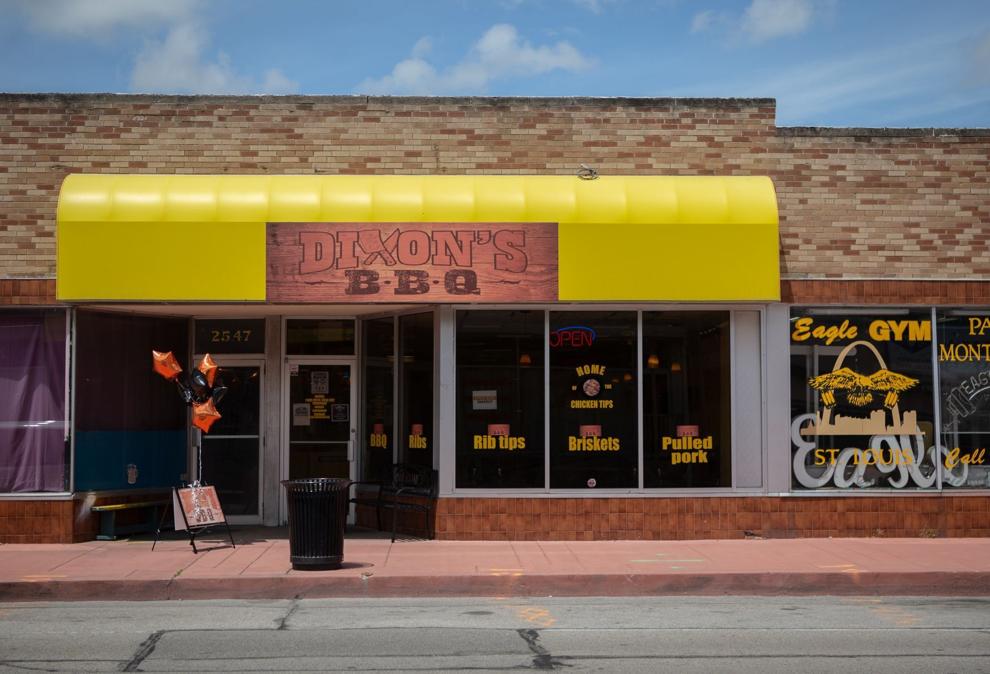 Dixon's BBQ debuted in November beneath a bright yellow awning on Woodson Road just south of Midland Boulevard. The restaurant will offer dine-in service — Dixon says he is aiming to add 16 tables in late July — but for now it is takeout only. (You can call in your order if it totals $50 or more.)
The front windows act as a menu primer, advertising ribs, rib tips, brisket and pulled pork. One pane proclaims Dixon's the "home of the chicken tips." If you never visited the original Dixon Smoke Co., you likely need more than a primer right now.
Chicken "tips" are juicy pieces of thigh meat that Dixon developed as an alternative for customers who don't eat pork. These were an accidental discovery, years before he owned a restaurant. He overcooked some chicken at home, and his kids told him it tasted like rib tips. You might not confuse these chicken tips for pork, but they deliver a smokiness and charry sweetness that typical pulled smoked chicken can't match.
No St. Louis restaurant would dare declare itself the home of burnt ends, but from his original midtown location to his new home in Overland, Dixon has staked as strong a claim to these miraculous morsels as any local pitmaster. Under their caps of crackling bark, the cubes of beef practically quiver with their own succulence.
I'm surprised more St. Louis chefs haven't pursued this Kansas City trademark with the same ambition and enthusiasm that they have shown for Central Texas brisket. At Dixon's, at least, the demand is there. In fact, Dixon was selling out of burnt ends so frequently that he has restricted their availability to Friday and Saturday. That way, he says, he should be able to produce enough both days to keep customers happy.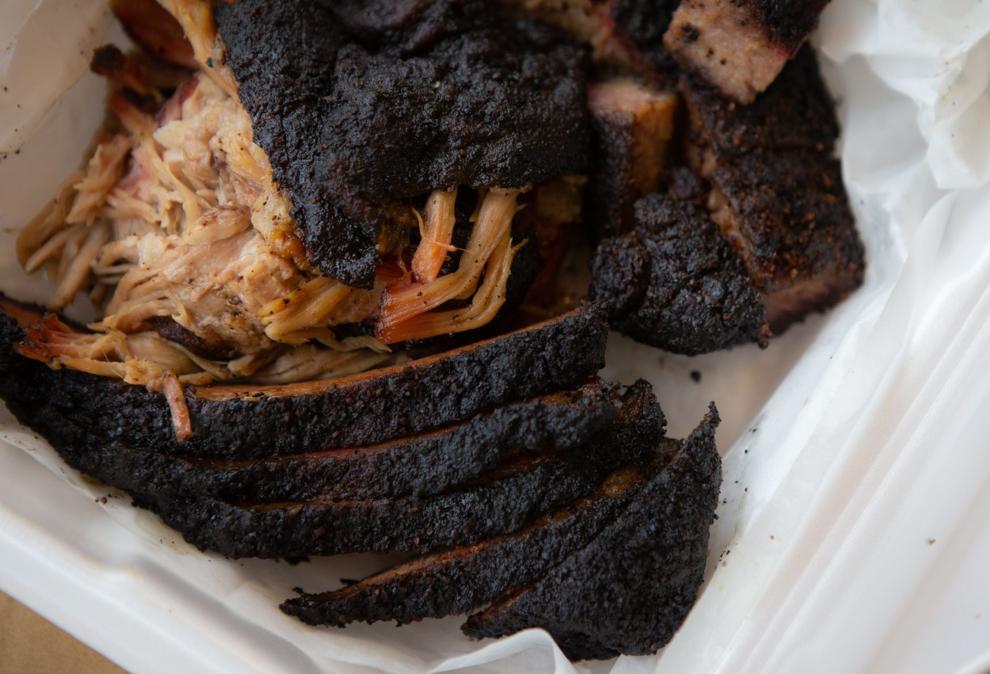 The best slices of Dixon's brisket can share a plate — or takeout clamshell — with those burnt ends: brawny, smoky beef jiggling with rendered fat. Some of the leaner slices I tried were, well, lean, and on one visit, I wished the brisket had a stronger smoke profile to match the beef's natural richness.
Still, for a relatively small operation that has opened under the past year's far from ideal circumstances, Dixon's delivers barbecue of remarkably consistent quality, from the substantial ribs and brisket to a simple, snappy beef link. Across the broad regular menu (which expands on "Soul Food Sunday" to include turkey legs and ham as well), only the pork steak, a few chews on the wrong side of tender enough, failed to impress.
Corn on the cob — buttery sweet, a little smoky and glistening with that tangy, teasingly spicy aioli — is the must-order side from the standard array (mac and cheese, green beans, beans, coleslaw, potato salad).
As Dixon learned from his mother, the barbecue isn't complete without a piece of peach cobbler, as sweet and thick as the St. Louis summer.
We are currently not assigning star ratings to restaurants. This review is based on takeout. Contact the restaurant directly for the most up-to-date hours and operating procedures.
Where Dixon's BBQ, 2549 Woodson Road, Overland • More info 314-395-2855; facebook.com/dixonbbq1 • Menu Pork ribs, beef brisket and more barbecue • Current services Takeout • Hours 11 a.m.-7 p.m. Thursday-Saturday, 11 a.m.-6 p.m. Sunday (closed Monday-Wednesday)