In this time of quesabirria, can a simple carne asada taco get a minute? At Locoz Tacoz, better make it two minutes. Tyler Garcia doesn't skimp on the star ingredient. The bulwark of two layered corn tortilla holds, but morsels of skirt steak spill out of the taco from both ends. The meat demands just enough chew to let its subtle seasoning of garlic and herbs build. To its garnish of cilantro and onion, you need add only a splash of the restaurant's salsa verde, bright and punchy with serrano and jalapeño chiles, or the formidable adobo salsa.
This is an essential St. Louis taco, and if carne asada isn't as Instagram- or TikTok-friendly as birria de res, that makes it even more of a fitting introduction to Locoz Tacoz. Here, Garcia continues to make his own way.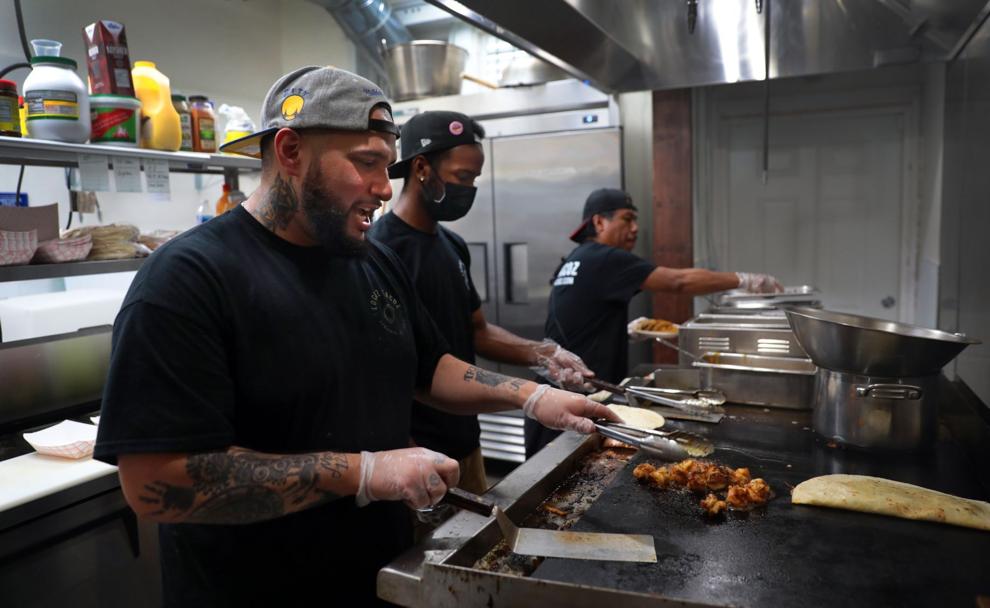 Garcia is the son of Antonio and Brenda Garcia, the owners of the great Bridgeton restaurant La Tejana Taqueria and several affiliated businesses. In 2013, at Tyler's urging, the family launched a La Tejana food truck. Within a couple of years, he wanted to add fusion dishes alongside his family's traditional recipes and, more generally, to do his own thing. He rebranded the truck as Locoz Tacoz.
Garcia's plan was always to open a brick-and-mortar restaurant. His opportunity has arrived with a walk-up counter inside Tres Equis, a bar from the same team behind — and on the same block as — Amsterdam Tavern.
Tres Equis and Locoz Tacoz both opened in February. They share the space but are separate entities. That space includes seating along the bar itself and at a few tables, but its greatest draw this almost-post-pandemic summer is the spacious back patio. Garcia has even ordered a grill to throw Sunday carne asadas (cookouts) there.
The current Locoz Tacoz menu is compact, based around three meats and two seafood options. In addition to carne asada, there is al pastor pork and chicken tinga. The former is marinated overnight in a recipe that dates to the opening of La Tejana and then grilled to order. If this lacks the succulent sweetness of traditional spit-roasted al pastor, it still delivers good char, tickling spice and, as that vital final note, the juicy pop of pineapple.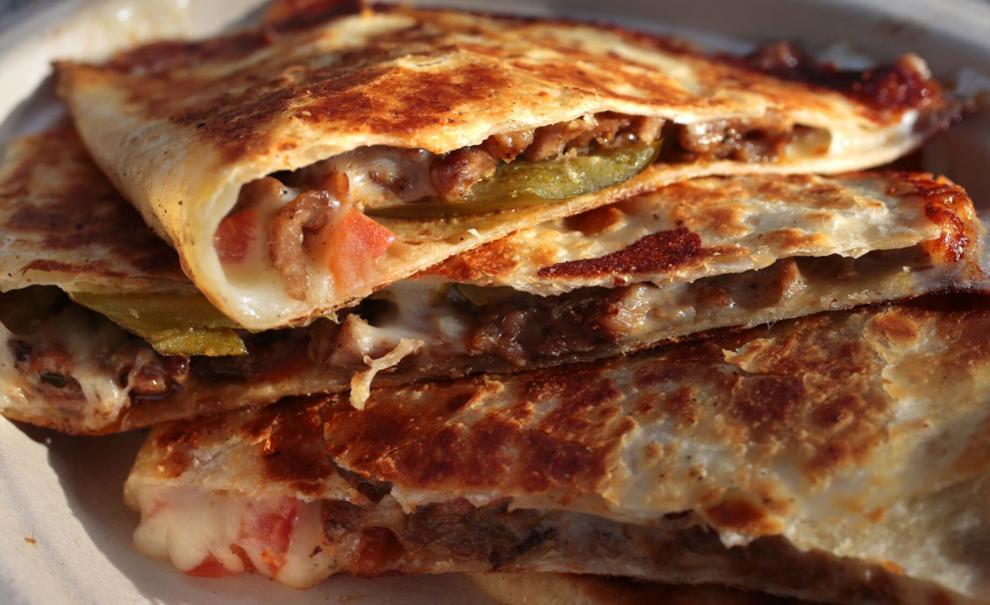 Chicken tinga is two meats, in fact: shredded chicken and a little housemade chorizo with tomato, onion and garlic in a chipotle sauce. This is a close second to the carne asada in my affections. The sharpness of the chorizo helps draw out more heat from the smoky chipotle.
Shrimp are on the small side but plump, buttery and peppery. These and the three meats you can order as street tacos (corn tortillas with cilantro and onion) or gringo (flour tortillas with lettuce, tomato, queso fresco and a tangy house sauce). Fish tacos — crisply fried tilapia served in the gringo style by default — are another highlight, especially with a dash of lime juice and one of the salsas.
Besides tacos, Locoz Tacoz offers burritos, quesadillas and tortas. With a slick of melted Oaxacan cheese and a generous portion of meat (carne asada again, in my case), the torta here isn't exactly light, but Garcia's approach is measured. The bolillo is toasted on the grill to give the sandwich a bit of crunch, and the meat and cheese isn't so hefty that I couldn't appreciate the slices of ripe, sweet avocado.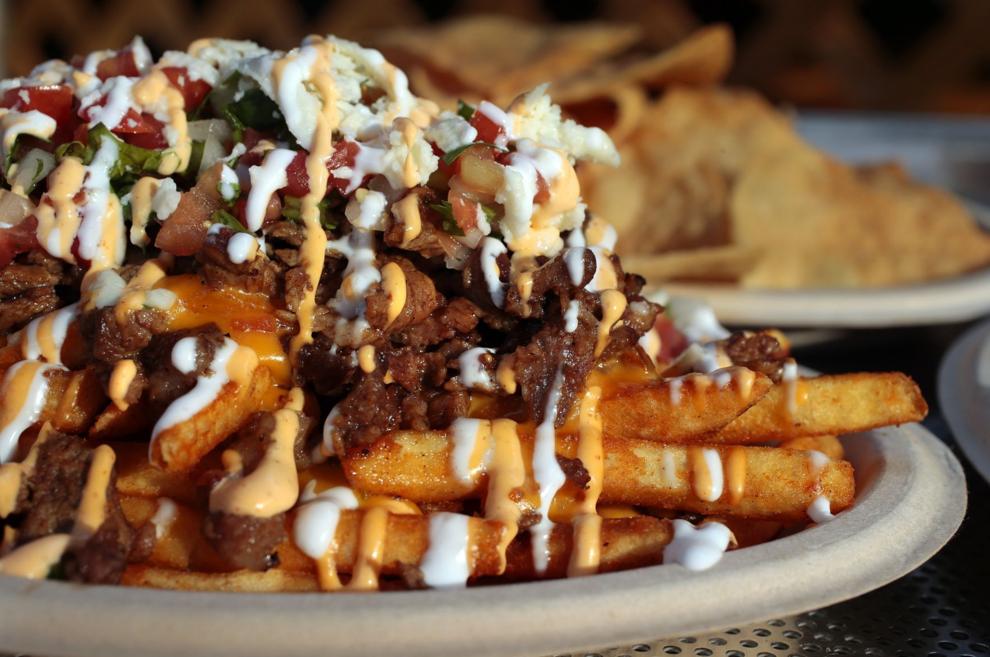 Do you need more carne asada? The Locoz Fries smothers pretty good fries in carne asada, pico de gallo, Mexican sour cream, cheese sauce, queso fresco and the house sauce. I somehow restrained myself to an order of Mexi Fries, which are coated only in the thick, housemade cheese sauce blended with pico de gallo for a touch of heat.
A brief note on takeout: I ordered my food to go several times at Locoz Tacoz. While tacos and fries generally don't travel well, I live close to the restaurant, and my orders didn't suffer for a brief car ride. Your mileage may vary.
I mentioned in my return to regular reviewing two weeks ago that I will inevitably screw up as I find my footing again. I don't know if this week qualifies — you tell me! — but I can feel the tension in my usual approach.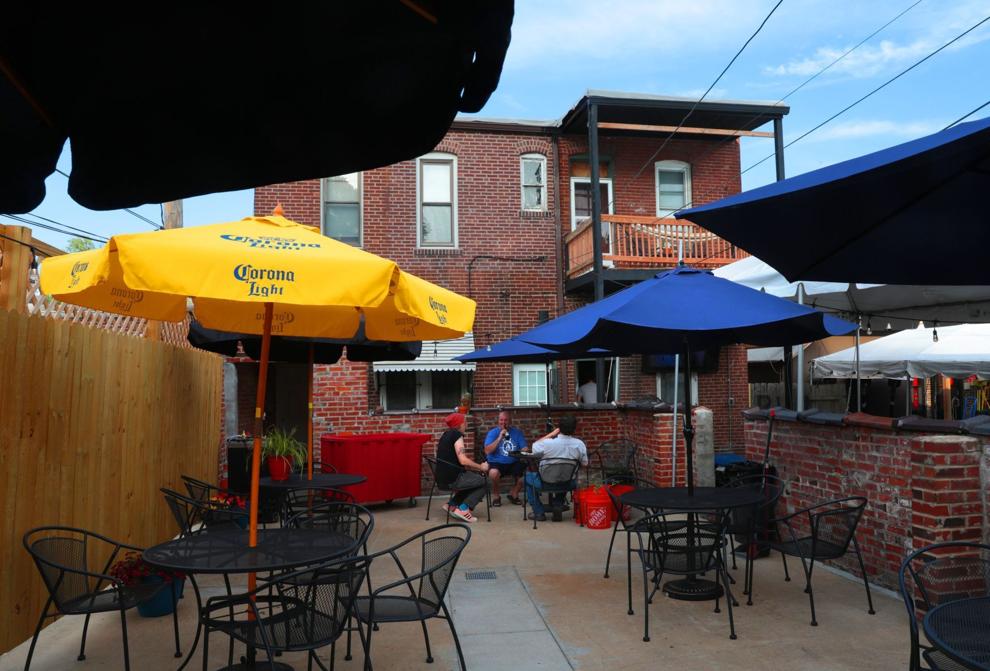 In the Before Times, I would wait at least two months before I visited a new restaurant. Locoz Tacoz is 4 months old, and thanks to several years of operation as a truck, its foundation is solid. Interviewing Garcia, though, I sensed he is even more excited about what his restaurant can become as circumstances eventually allow.
There are those backyard cookouts to come, and Garcia is working to introduce lamb barbacoa and beef short-rib tacos. I will make time to return for them — and more carne asada.
We are currently not assigning star ratings to restaurants. This review is based on patio dining and takeout. Contact the restaurant directly for the most up-to-date hours and operating procedures.
Where Locoz Tacoz (inside Tres Equis), 3169 Morganford Road • More info 314-574-9678; locoztacoz.com • Menu Tacos, tortas and more Mexican fare • Current services Dine-in (no mask required), patio, takeout • Hours 5-9 p.m. Tuesday-Wednesday, 11 a.m.-9p.m. Thursday-Saturday, noon-8 p.m. Sunday (closed Monday)