At J McArthur's, which opened in July in the city's Lindenwood Park neighborhood, the menu lists its appetizers, main courses and desserts as dishes To Start, To Continue and To Finish. It name-checks local farms, and one salad features foraged greens. Chicken wings and tacos share space with market-price fish and steaks from Missouri-raised wagyu cattle.
You haven't even ordered a drink yet, and you can already tick the box beside many of contemporary dining's trends and quirks. There are a few signs, however, that J McArthur's might not be entirely of the moment. An actual tablecloth covers your table, and you don't feel like an uninvited guest at the table next to yours. If the wine list doesn't betray a sommelier's touch, its modest range of food-friendly options shows more thought than most new restaurants' lists. The lighting is warm. The soundtrack is Coldplay's "The Scientist" — sometimes in fact, always in spirit.
Back to 2015: The food is primped for perfect Instagram postage stamps. That salad of foraged greens (Eat Your Garden, $8) is a delicate bird's nest of leaves bejeweled with thin radish slices the color of watermelon bubble gum. Diver scallops ($24), cubed butternut squash, quartered Brussels sprouts, crumbled bacon and tangled microgreens are Joan Miró shapes applied to a canvas of butternut-squash bisque.
The composition is lovely. The pairing of scallops and autumnal flavors is smart, if not earth-shaking. But take the dish apart and you begin to understand what makes J McArthur's special. It might strike you as you contemplate how the two butternut-squash elements — the silken, gently sweet bisque and the more robust cubes, cooked sous-vide style— both reinforce and refract each other. More likely, it will hit you with your first bite of the scallops themselves. The perfect sear in a cast-iron skillet adds brawn to their natural sweetness, while the texture throughout is as yielding as softened butter.
Owner and chef Ben McArthur is a St. Louis native, a veteran of several area kitchens and a graduate of both L'Ecole Culinaire and the restaurant-management program at Forest Park Community College. (The J in J McArthur's is his father, John, who along with his stepmother is a partner in the business.) Yet McArthur credits his time working with the Wilmington, N.C., chef Keith Rhodes as his most formative culinary experience.
"It was fantastic," he told me about his time cooking day-boat seafood right off the Atlantic and even fishing for it himself in Wilmington's canals. From Rhodes, who was a semifinalist in 2011 for the "Best Chef: Southeast" James Beard Award, McArthur learned the importance of learning about local ingredients and cultivating relationships with local farmers and producers.
The lessons that McArthur learned in Wilmington are evident on his menu. The brief selection of main courses includes both the scallops and a fish of the day. When I ordered the latter, it was a gorgeous piece of black grouper seared in a cast-iron skillet and finished in the oven. McArthur nudged, but didn't bully, its mild flavor, setting it over an elegant leek soubise, herbed polenta and snappy Ozark bush beans. Atop the fish sat a pomme maxim, a fried ring of overlapping, wafer-thin potato slices — a divine potato chip and excellent textural contrast for the fish if you can resist popping it Pringle-like into your mouth in a couple of bites.
The Missouri-raised wagyu steak on my visit was sirloin ($32), a cut that was as tender as a tenderloin but far more flavorful. McArthur amps up its natural mineral essence with a subtle dry rub and doubles down on its richness with a knob of herb-kissed butter. A great steak demands great potatoes, and McArthur delivers with a gratin sexed up with smoked gouda. A side of wild greens sauteed with chanterelles and hen of the woods mushrooms didn't steal the show, but it was a far more interesting accompaniment than a perfunctory pile of creamed spinach or green beans.
McArthur used familiar buzzwords to describe his approach: simple, rustic, comfort. "We didn't want to be fine dining," he told me. Yet small touches and exacting technique abound. Brining chicken wings ($10) in tea with herbs, cloves and allspice gives them a sophisticated sweetness, warm spice and tannic backbone to go with their spicy glaze and accompanying pungent chow chow and horseradish-peppered Alabama white sauce.
The duck confit salad ($12) hides its eponymous ingredient at the bottom of the bowl, and you might not notice this at first, so brilliant in varied flavors and textures is the assemblage of greens with roasted mushrooms, Ludwig Farmstead Creamery's Sangamon double cream cheese, radishes and, especially, a fried duck egg and smoked shiro plum vinaigrette. Don't worry: When you get to the duck confit, it, too, is great.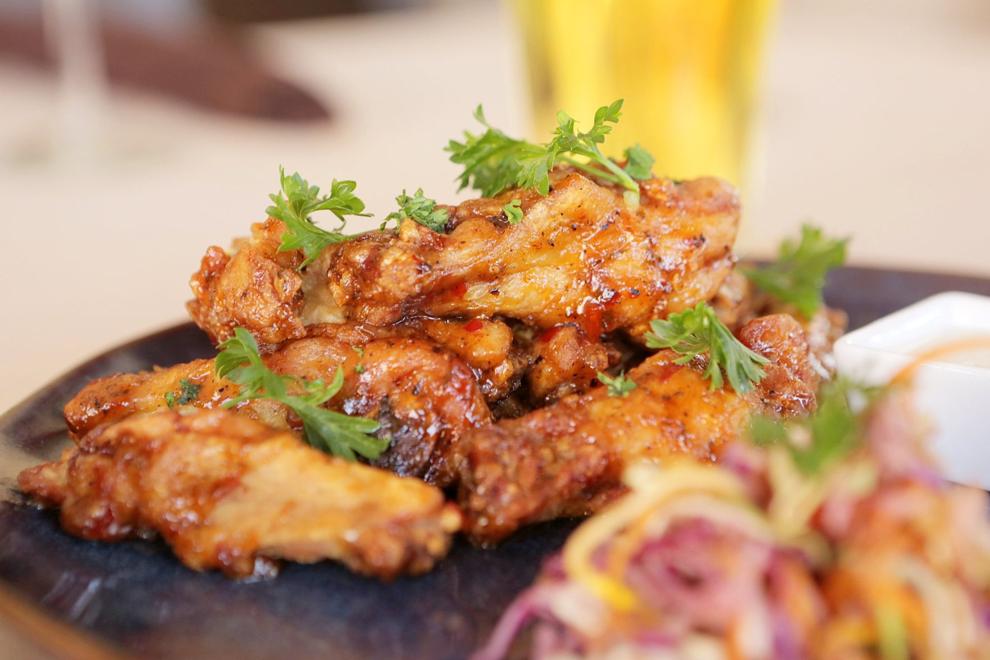 A rare admonition from a restaurant critic burnt out on same-old-same-old desserts: Don't skip the sweet stuff. Pastry chef Jordan Asbeck serves airy beignets ($9) with an apple-cranberry compote and rescues crème brulee ($8) from bland ubiquity by dosing it with local maple syrup and brown sugar and serving a pecan-cranberry oatmeal cookie on the side.
J McArthur's has already struck a fine balance between being a timeless neighborhood bistro and presenting the best of contemporary dining's tropes. What excites me the most, however, is that the three stars accompanying this review are likely just a starting point for McArthur's talents. No one who dines here will doubt his chops. They may find themselves, as I do, impatient to see him invest his cooking with an even more distinctive voice and creativity.
In the meantime, J McArthur's is one of 2015's best new restaurants, and Ben McArthur is a chef for St. Louisans to know.
---
Where J McArthur's, 3500 Watson Road • Three stars out of four • More info 314-353-9463; jmcarthurs.com • Menu Contemporary bistro fare • Hours Dinner Tuesday-Saturday, brunch Sunday
---
★ Fair ★★ Good ★★★ Excellent ★★★★ Extraordinary