The chef Philip Day had long wanted to open a restaurant, and he thought Augusta just might be the place to do it. He lives with his wife and two children a bit farther west near Marthasville. He knew this small town along rolling, scenic Highway 94 already drew visitors for its wineries, its bed-and-breakfasts and the Katy Trail. Why not add a good restaurant?
In late 2020, Day signed the lease for the property that would become Root Food + Wine — not simply a good restaurant but one of the best to open in the region in the past two years. At the time, though, he was nervous. Would diners trek there from St. Louis?
Then he learned he wasn't the only person who saw potential in Augusta. The developer David Hoffmann and his Hoffmann Family of Cos. have embarked on a $100 million project to transform this community of just under 300 into a national destination. As my colleague Steph Kukuljan has reported, Hoffmann's plans include hotels, riverboat cruises, a golf course and more.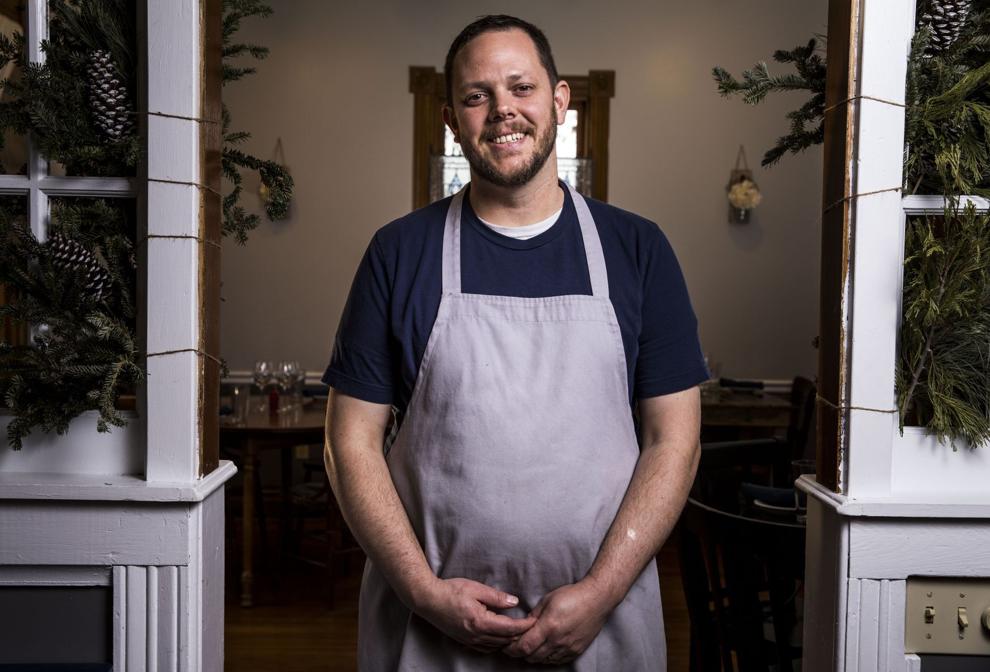 "So I saw that," Day told me in a phone interview, "and I was like, 'Well, maybe — maybe this was the right decision.'"
I have no idea whether Hoffmann's ambitious vision can succeed. I do think what Day and his team have built at Root is, on a much smaller scale, instructive in how to create a compelling destination.
Root's turn-of-the-20th-century house exudes charm in both its old bones and the details the restaurant has added. Day built some of the dining tables himself, and each table holds its own, distinct set of salt-and-pepper shakers of the kind you linger over in thrift stores.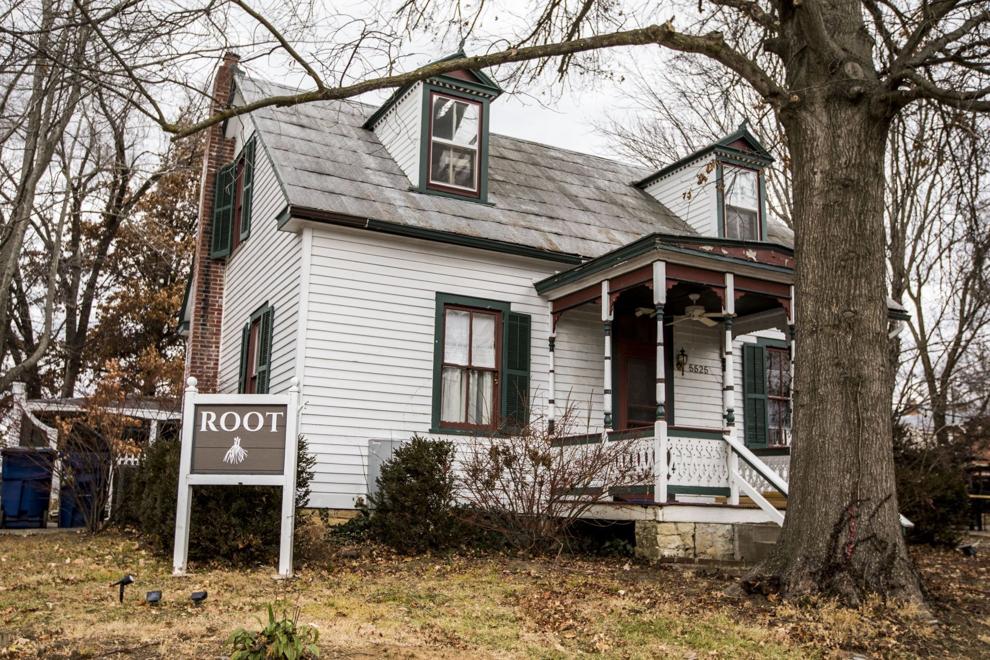 The dining rooms seat about 30, which can make for a cozy evening. Cozy might not be the first description you are seeking in a restaurant right now, but relative to the size of each room, the tables were reasonably spaced apart. (I will note, if this is or once again becomes a make-or-break consideration, that masks are not required.) Root can expand its capacity when the weather allows it by opening its patio, but reservations are strongly advised.
From far-in-advance reservations to a round-trip drive that might take as long as the meal itself, "destination dining" unavoidably carries the weight of a special occasion. Day's cooking absolutely rises to the moment, but one of the things I like most about Root is the disarmingly everyday warmth of its hospitality.
Heather Hennig, captaining the front of the house, shares the story behind a new bottle of wine on the list with the casually engaging spirit of a funny anecdote from her day off. Bartender Dylan O'Hara drops by your table to ask how you are enjoying your Pepper PhD — an Old-Fashioned refashioned to evoke Dr Pepper, and you are enjoying it very much — or to let you sample the vermouth he has been making.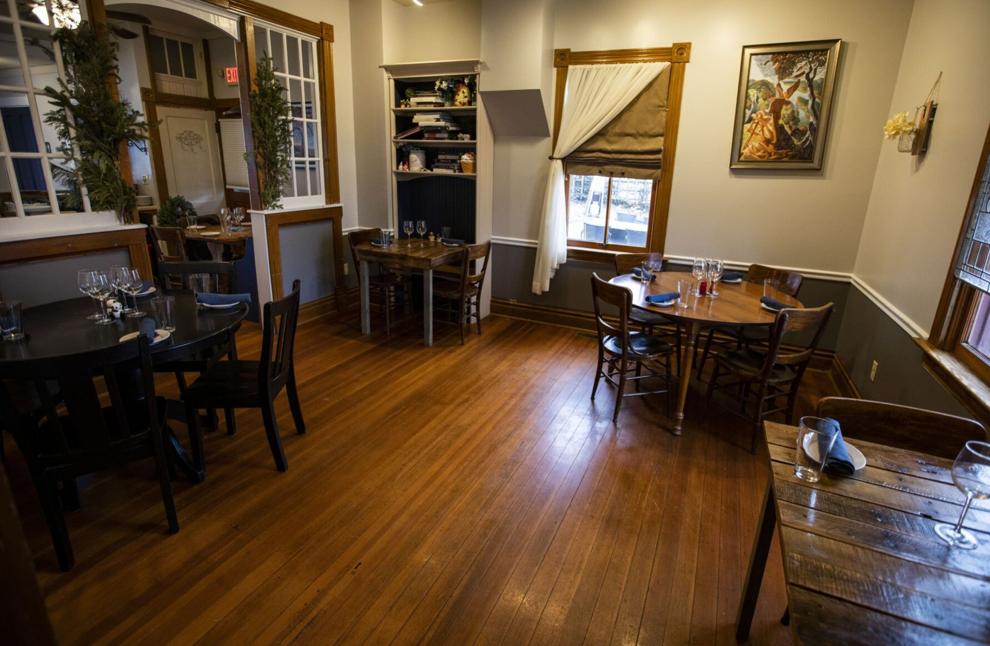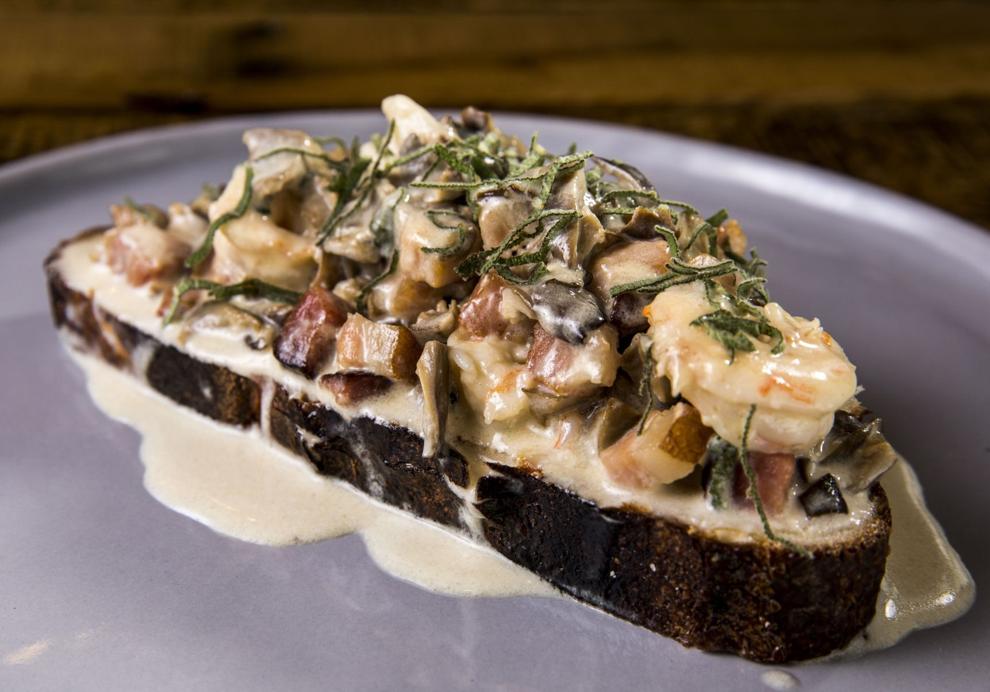 Day's menu favors local, seasonal ingredients. Even the shrimp he serves on toasted sourdough with bacon and mushroom in a sage cream sauce is sourced from the Foristell aquaculture vendor Triple J Farms.
His cooking might draw on the classical French techniques he learned early in his career under Marcel Keraval at the late Café de France (a tart with perfectly caramelized onion and white cheddar on delicate pate brisee). He also displays the modern, global sensibility of his pre-pandemic work in the kitchen of Tompkins by the Rack House in St. Charles (steamed beef dumplings in a miso butter-fortified broth nearly as savory as the beef itself).
Through it all, Day meets diners where they want to be. For a full "dining destination" experience, you can order the seven-course chef's tasting menu or the generously portioned five-course prix-fixe dinner. But Day told me Root's most popular option is a standard three-course prix-fixe: a starter, a main course and a dessert. I can see why. It's a concise, satisfying overview of the restaurant's strengths — and a remarkable value at $38.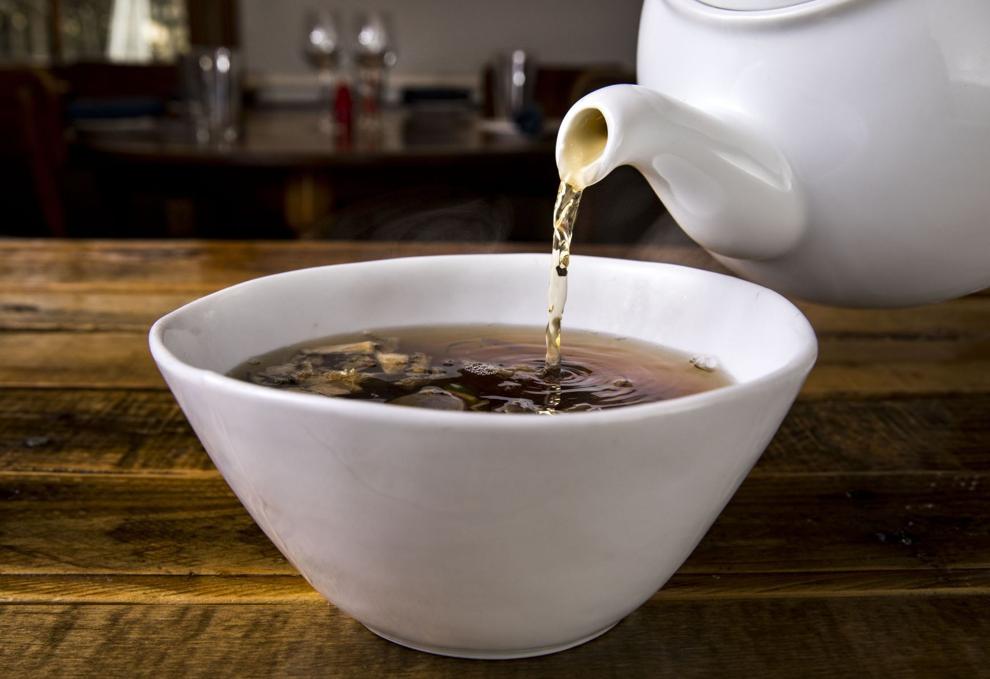 With all due to respect to everything else I ate here, if you start your meal with the mushroom soup, your evening will peak early. The golden mushroom broth, poured tableside into a bowl with oyster mushroom, barley, scallion and radish, lingers in the forest, smoky and earthy and mysteriously rich. I figured Day must use bonito for the dashi-like effect. Instead, he builds the broth from smoked mushroom stems and tamari.
The other starter this month is a deceptively simple salad of crisp romaine leaves with green goddess dressing. Over this Day very finely grates both a cured egg and white cheddar, and the two meld together on the palate into a second creamy, tangy dressing.
(The beef dumplings, onion tart and shrimp toast mentioned earlier are a-la-carte "Snacks" — appetizers to be shared, essentially — not starter options for the prix-fixe menu.)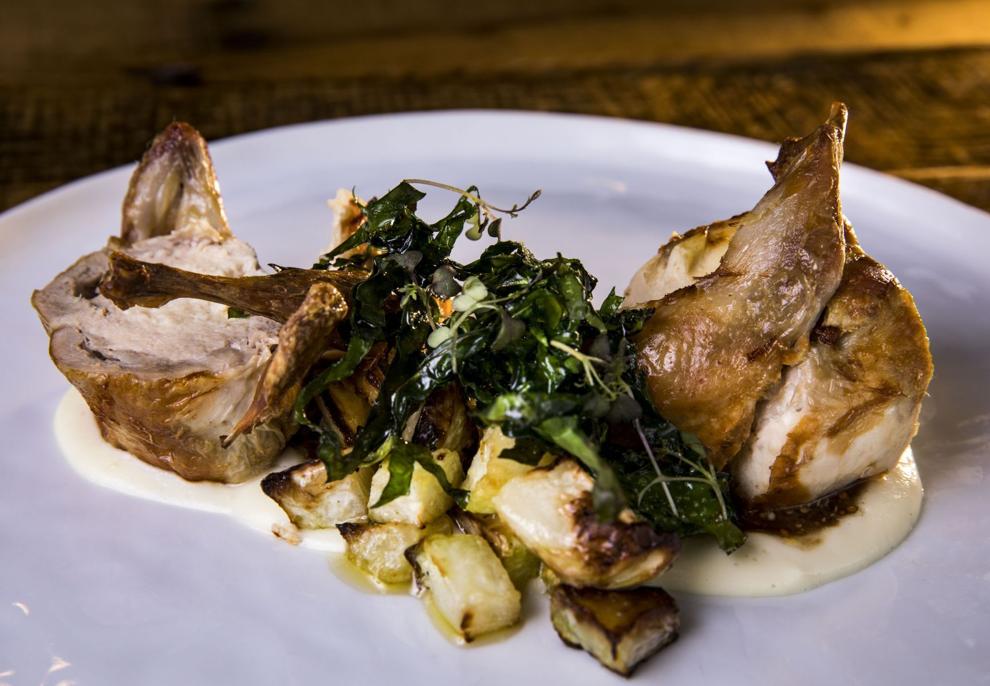 White cheddar returns as a froth in the "stroganoff" of exceptionally tender beef with oyster mushrooms and potato dumplings, one of three main courses. This froth sharpens the creamy, umami-rich sauce of the beef's braising liquid cooked down with red wine. Be sure to order the sourdough bread based on a 6-year-old starter (another Snack) to sop it all up.
What the menu describes as smoked quail is actually cold-smoked and then roasted, a clever process that yields both crisp skin and an autumnal flavor rounded out by kohlrabi three ways (a puree, roasted, leaves). To help keep the quail juicy, he stuffs it with a mousseline of quail and chicken. Likewise, a trout mousseline turns steamed trout into the most tender example of this fish I have encountered. Trout roe gives the dish some pop, but I craved a dash of heat or acid to counter the parsnips and hollandaise sauce.
Dessert takes a comforting, nostalgic turn: baked Alaska with maple ice cream and warmly spiced cake underneath its toasted-meringue shell; or a riff on s'mores that tops a sort of hybrid chocolate-pecan pie with gooey toasted marshmallow. Day serves these "s'mores" under a dome filled with hickory smoke. This is supposed to evoke a campfire, of course, but it also suggests a hearth where you would be happy to pull up a chair as often as possible.
We are currently not assigning star ratings to restaurants. This review is based on dine-in service.
Where Root Food + Wine, 5525 Walnut Street, Augusta • More info 636-544-1009; rootfoodwine.com • Menu Contemporary fare featuring local, seasonal ingredients • Hours Dinner Thursday-Saturday, lunch Saturday (closed Sunday-Wednesday)