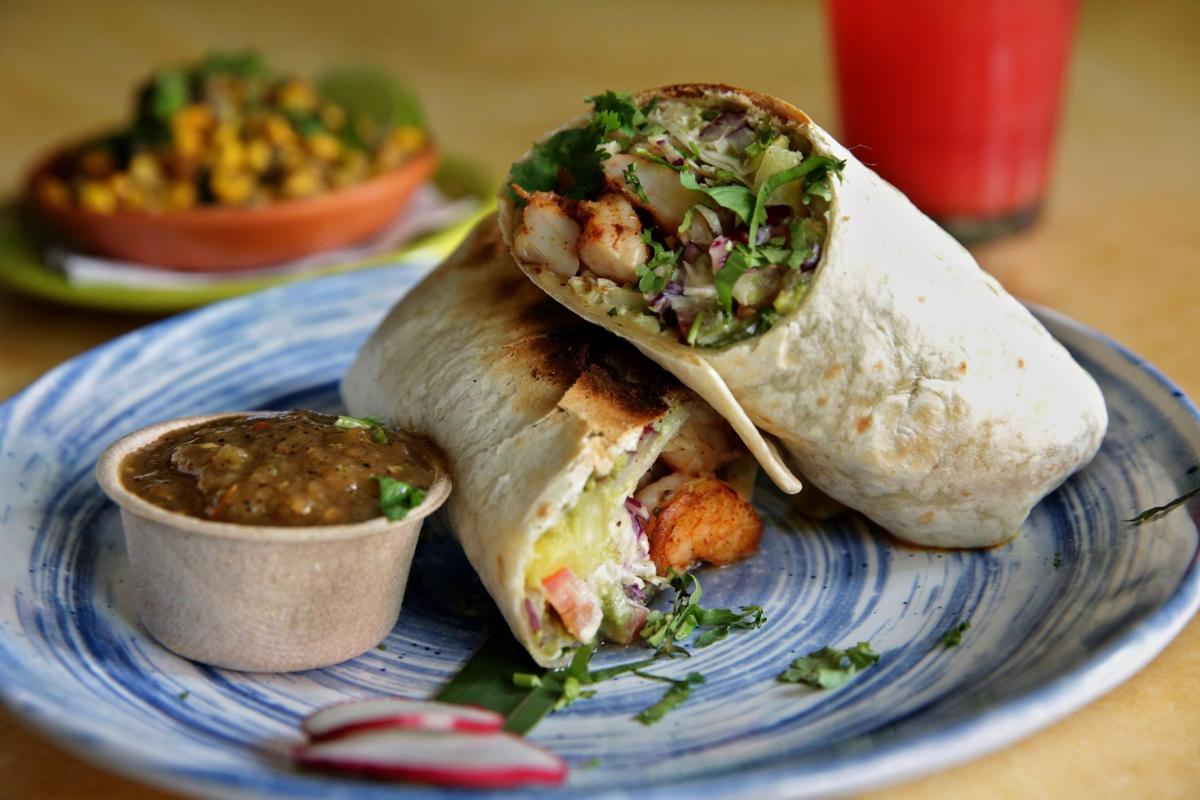 At Diego's Cantina, a server ignites the splash of Everclear atop an order of queso flameado, and fire flickers across the surface of the cheese dip. If you visited this University City storefront when it was the lively Greek restaurant Momos, you might be tempted to cry "Opa!" at the presentation.
Diego's queso flameado isn't a dining-room showstopper a la saganaki, though. The portion is modest, and the flames soon gutter and vanish. What remains is St. Louis' best queso. The blend of Chihuahua and Monterey Jack cheeses brushes the event horizon of creaminess — tortilla chips any thinner than Diego's should don adamantine armor before taking a dip — and after an initial, pleasant tanginess, it reveals a fierce chile sting.
One-year-old Diego's wears its charms lightly, with confidence. The restaurant knows what it wants to do — call it a breezy interpretation of Mexican and Tex-Mex fare — and far more often than not does it well. The menu is designed to meet diners wherever they are comfortable, whether sharing many dishes with friends in the dining rooms that evoke courtyard gardens or simply stopping by the bar or patio for a margarita and a couple of small plates.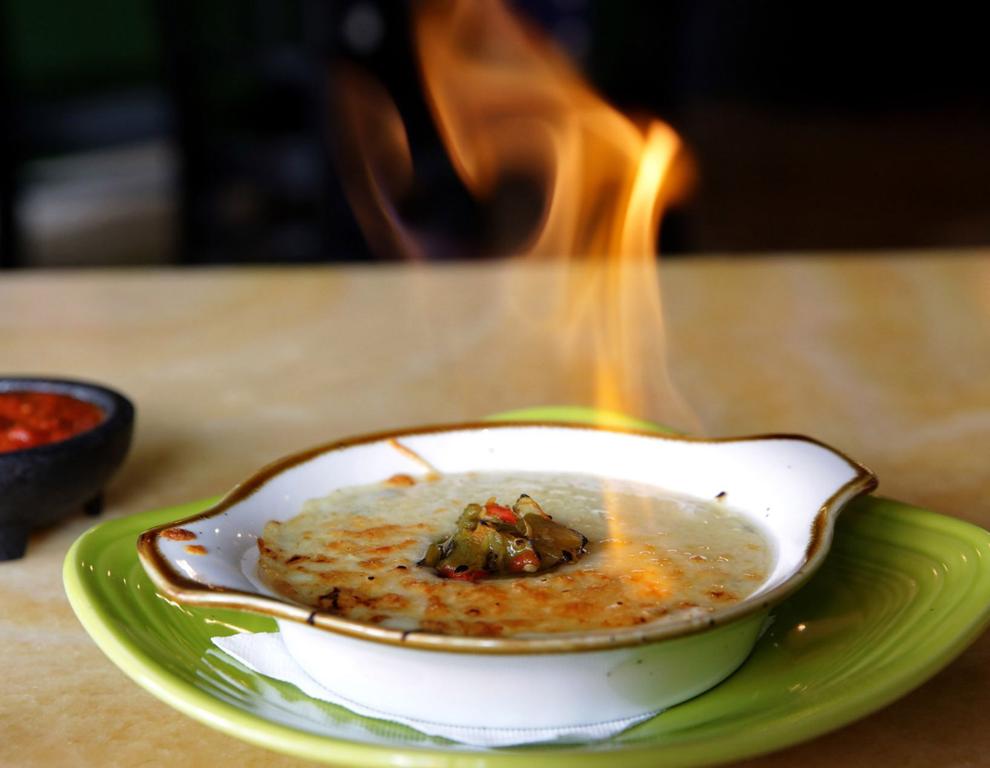 This is an admirable quality in a restaurant at any time, but especially during this fraught moment when the supposed Hot Vax Summer has fizzled out and given way to an uncertain fall. For this review, I dined indoors, but I sat by the big, open windows that essentially make the dining room and patio a continuous space. You can still order takeout from Diego's online, and at the restaurant, you not only access the menu by scanning a QR code with your smartphone, you also order and pay via your phone.
Diego's is the second restaurant from chef Natasha Kwan and her husband and business partner, Rick Roloff. The couple's first venture, the casual, plant-based restaurant Frida's, occupies this same block of North and South Road immediately north of Delmar Boulevard. They are now developing a third restaurant, Station No. 3, in the former Utah Station space in Benton Park.
When the duo first announced their plans for Diego's in 2018, Kwan told me in an interview that they wanted to fill in a void in the neighborhood left by the closure of Momos after the death that year of its chef and owner, Chuck Pener.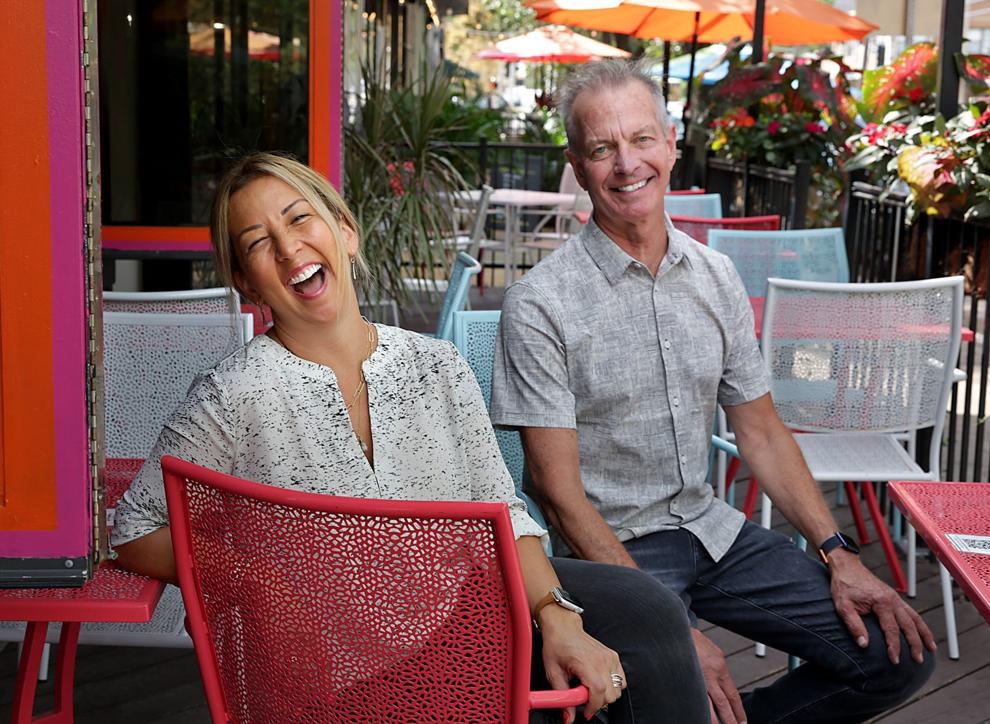 "This is my neighborhood," Kwan said at the time. "I've been a regular (at Momos) since way back."
In the two years between that announcement and Diego's mid-pandemic debut, Kwan and Roloff honed the concept to feature individual tacos as small plates alongside a-la-carte main dishes and sides that diners can mix and match however they like. The focus has remained on Mexican cuisine. Roloff was raised near the Mexican border in Laguna Vista, Texas, while Kwan has drawn on the decade she lived in Chicago, dining at that city's taquerias.
For one of its signature dishes, Diego's looks to Mexico City, birthplace of the costra taco, which uses a disc of griddled cheese as its shell. José R. Ralat, Texas Monthly magazine's taco editor, traces the rise of the costra taco to the early 2000s and a taqueria called Las Costras conveniently located next to a nightclub.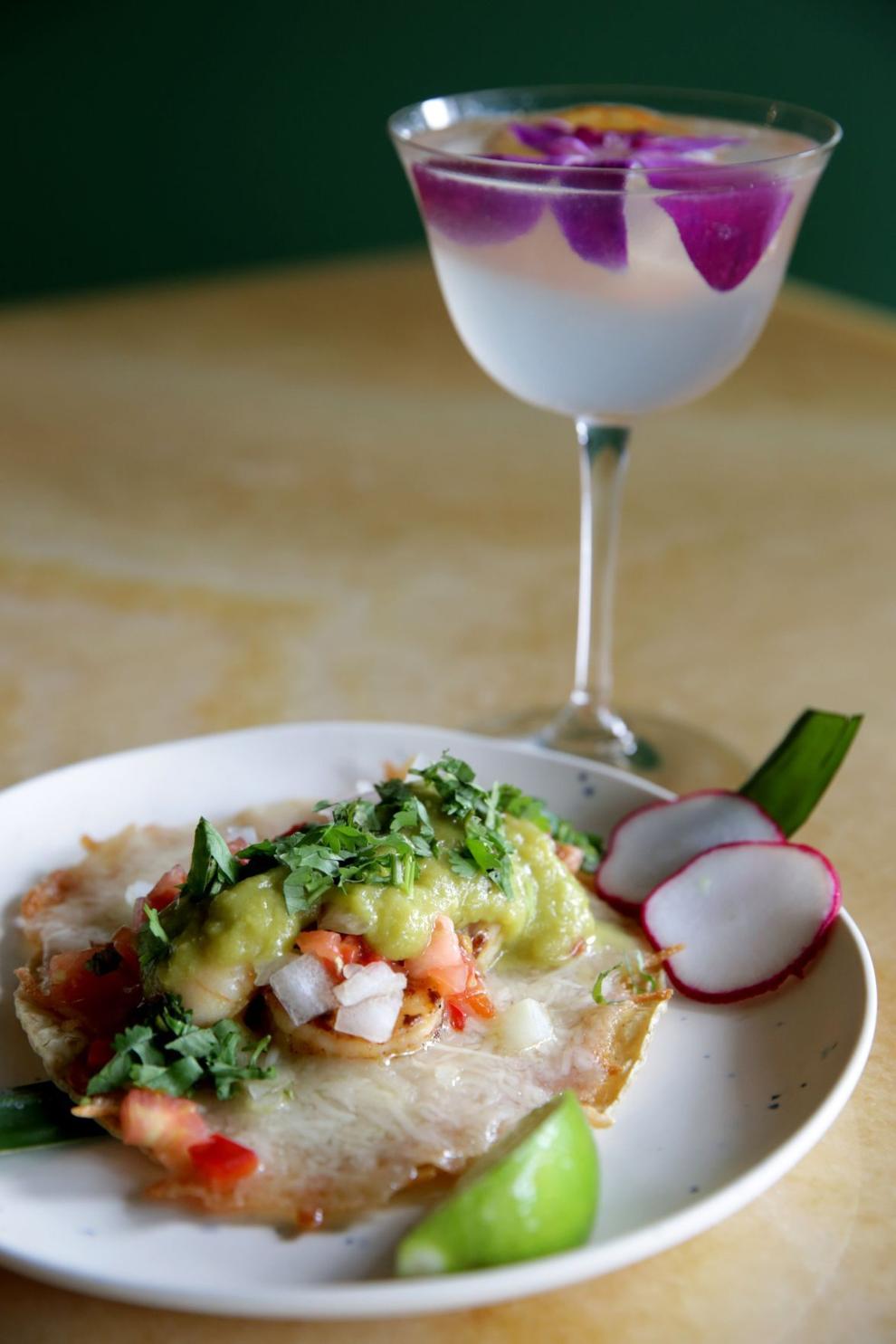 This late-night nosh is a treat at any time of day. At Diego's, the lacy-edged, elastic cheese acts as a middle layer between the taco filling and a corn tortilla. You can dispense with this tortilla if you prefer, but I like the contrast in textures between it and the cheese.
The double shell also provides structural support for Diego's towering tacos. The castro de camaron tops the tortilla and cheese with tender, peppery shrimp smothered in tomato, onion, red bell pepper and a piercing jalapeño salsa. The castro de pollo is just as unwieldy — chicken with generous garnishes of pickled onion, avocado and cilantro — if a skosh less compelling. That jalapeño salsa would be welcome on this taco too.
As you have probably gathered by now, Diego's doesn't follow Frida's plant-based path. (The menu easily accommodates vegan and vegetarian diners, though.) Here you can find seafood and chicken, and I suspect the restaurant will be a destination for the former, if it isn't already.
The careful char and firm, almost meaty texture of grilled barramundi accented with lime and a smoky chipotle crema makes for an excellent fish taco. In both the costra de camaron and a hefty burrito, the natural sweetness of shrimp shines through all of the competing ingredients. For the burrito, especially, packed with such punchy accents as pineapple, cabbage, guacamole and the aforementioned chipotle crema, this is no small feat.
For chicken "carnitas," the kitchen braises the meat and then gives it a quick saute to finish. The result will fool no one expecting pork carnitas, but on its own terms, with the salty edge of cotija cheese and a spritz of lime, it makes for a fine taco. The standout chicken dish is unquestionably the enchiladas verdes. Beneath its cap of melted cheese, the soft corn tortilla yields to luscious meat with pops here and there from chiles, onion and roasted corn. Tying everything together is a tart, subtly spicy tomatillo salsa.
Diego's wobbles only when it conforms too closely to diners' expectations of what a Mexican or Tex-Mex restaurant should serve. The tomato-guajillo salsa that accompanies your gratis chips is much too sweet, and the guacamole is so smooth it lacks any interesting nuance in taste or texture. Both the a-la-carte pinto beans and rice are underseasoned. Among the side dishes, opt instead for cool, smoky-sweet esquites.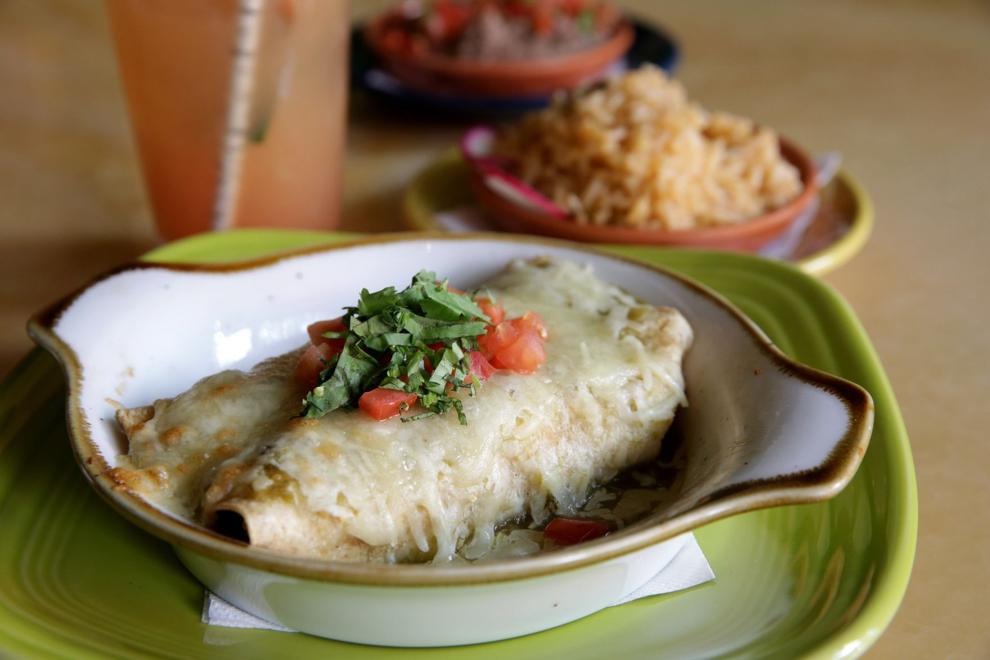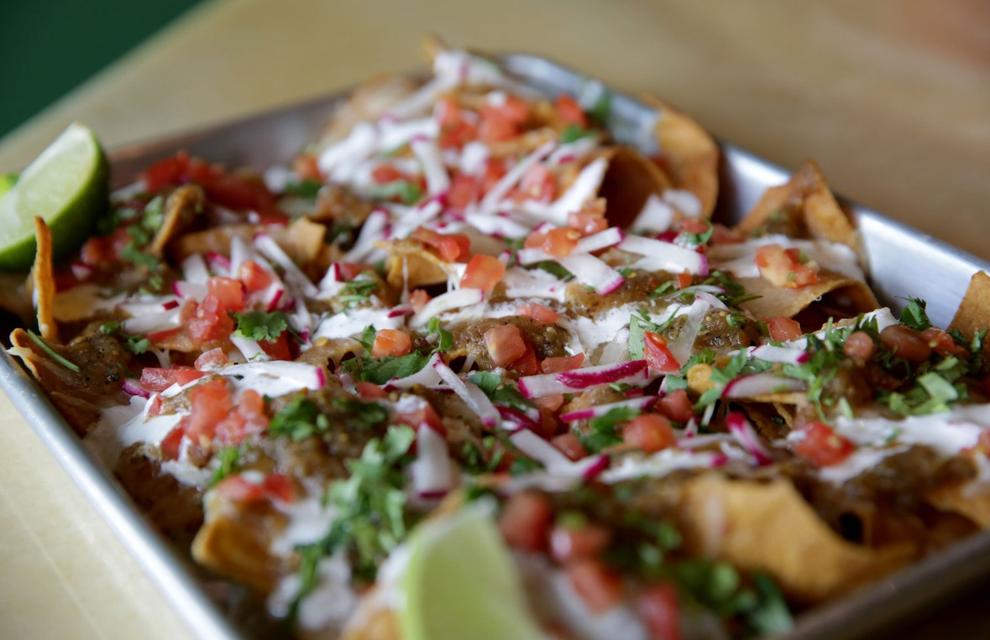 The sheet-pan nachos are irresistible Instagram bait and an enjoyable appetizer, almost every chip bearing some combination of gooey melted cheese, brilliant crema and tomato, cilantro and radish. You can add beans, chicken or shrimp to the nachos, but if you order them straight-up, definitely ask to include Diego's mix of jalapeño, serrano and habanero chiles.
It would be too much to crave an order of the queso flameado on top of these nachos. Right?
We are currently not assigning star ratings to restaurants. This review is based on dine-in service. Contact the restaurant directly for the most up-to-date hours and operating procedures.
Where Diego's Cantina, 630 North and South Road, University City • More info 314-553-9906; diegosstl.com • Menu Mexican fare, with an emphasis on seafood and chicken • Hours Dinner Tuesday-Saturday, lunch Friday-Saturday (closed Sunday-Monday)