My son, all of 10 months old, wanted more duck rillettes. He was drooling with excitement. Literally. Now, granted, drooling is his default state when awake, but he was also staring at the duck rillettes with an unnerving intensity and sometimes slapping the table for emphasis.
My 5-year-old daughter, whose culinary aesthetic is "Can I dip this in ketchup or ranch dressing?" refused the duck rillettes. She did, however, declare the slices of venison sausage that shared space with the rillettes on the Frisco Barroom's Hunter's Board ($24) "delicious."
I didn't tell her what venison is. We haven't gotten $25 worth of viewings out of our "Bambi" Blu-ray yet.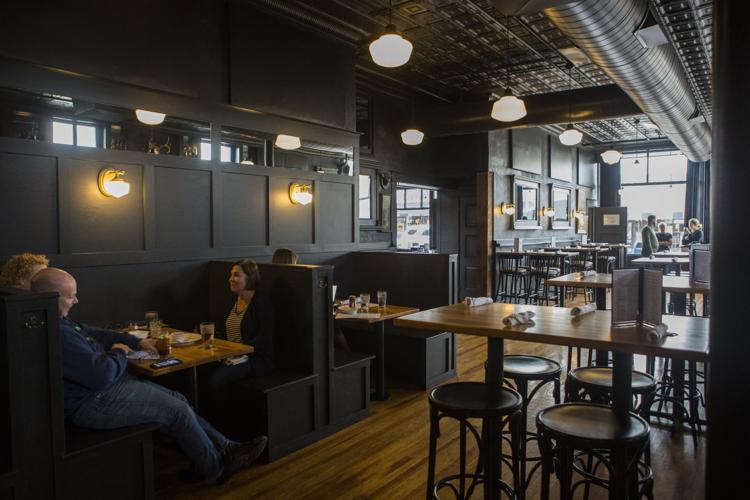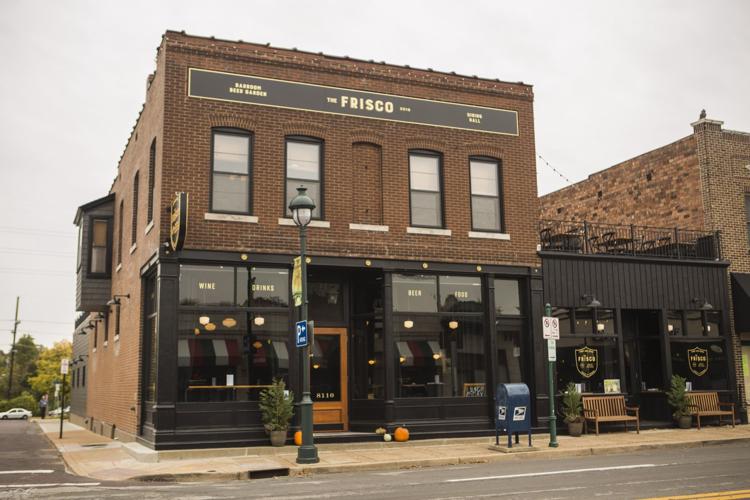 My wife and I liked the duck rillettes, which were silky with fat, but not fatty, and especially good with a dollop of raspberry-geranium jam. We liked the venison sausage too. The deer meat wasn't gamy, but its flavor was definitely distinct, spiced like a crisp autumn evening of woodsmoke and turning leaves. We liked the flaky smoked trout and the blue and cheddar cheeses and the candied nuts and all the other bits that made up the Hunter's Board.
The Frisco Barroom: where your family can bond over a charcuterie platter.
This would be a decent slogan for the Frisco Barroom if this 4-month-old restaurant needed a slogan to advertise itself. It doesn't. It's big, gorgeous and, by my back-of-the-napkin math, poised to make $1 bajillion in the heart of Webster Groves' Old Orchard district.
Owners John Barr and Kelley Hall-Barr also operate the nearby contemporary general store Civil Alchemy, and Hall-Barr founded the candle and personal-care-product company K. Hall Studio (which they have since sold). The couple know the neighborhood, and they know how to build a successful business, and the Frisco Barroom showcases an investment of time and consideration as well as money.
The restaurant sprawls across two floors, a patio and a rooftop deck. The main floor by itself is impressive in size, with the spacious bar-dining area and the adjacent dining room. Burnished wood both dark and light could have evoked a generic gastropub feel, but the Frisco Barroom distinguishes itself with details of décor and quirks of operation: At the bar, the hardwood floor gives way to checkerboard and floral patterns of white and black tile; children receive the kids menu with its obligatory box of generic crayons, but also a full-size Etch A Sketch (not to keep).
Did I say gastropub? Executive chef Tim Montgomery oversees a menu that, at a glance, lands squarely in that ascendant trend of gastropub, upscale bar-and-grill or (if you must) "elevated comfort" fare. I've written recently of my discomfort with that trend's prevalence among new restaurants, and there were a few moments here where I felt that unease. Crucially, though, Barr and Hall-Barr have drawn inspiration from some of their favorite restaurant haunts in Hall-Barr's native northern Michigan, and those dishes — the Hunter's Board chief among them — help set the Frisco Barroom apart.
In fact, the Hunter's Board is one of four charcuterie platters — or, if you like, "charcuterie" platters, as the others include the meat-free Gatherer's Board (based around a mushroom-walnut pate, $20) and the Fisherman's Board ($22), with the aforementioned smoked trout, lox and a smoked-whitefish dip. That dip, thick with cream cheese but not so thick as to obscure the whitefish's smoky essence, is also available on its own ($10).
The Cornish pasty ($11), a British classic, is another dish Hall and Hall-Barr brought down from their Michigan retreats: an oversized hand pie with an alluring golden-brown crust and a stuffing of ground beef, potato, onion and rutabaga. The stuffing in my order could have used a more generous salting, but on the side is a thick, perfectly seasoned beef gravy for dipping. The pasty was also a welcome change of pace from more conventional appetizers like French onion soup ($7) with a too restrained cap of melted Gruyere or mussels ($15) in a thin beer broth with tomato, a hint of chipotle and enough garlic to wipe Transylvania off the map.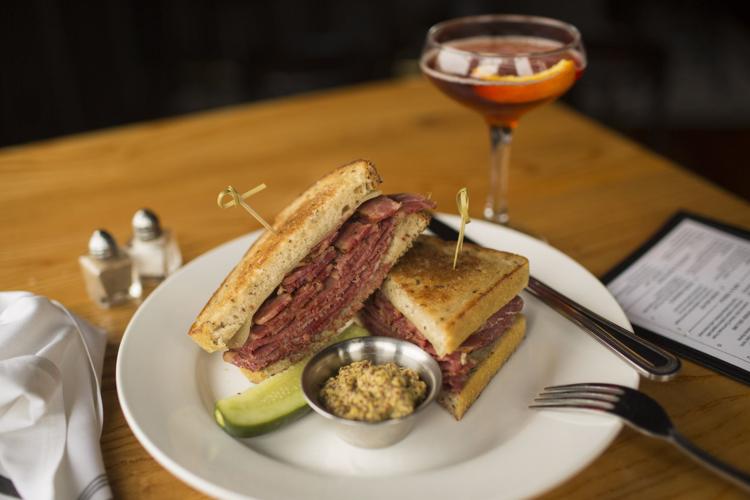 This is America in 2018, so of course there is a smashed burger with one ($8) or two ($12) patties. These patties are a quarter-pound each, and despite the menu's "smashed" billing, each is just thick enough to offset its grill char with the flavor of well-done beef. I much preferred the Frisco Barroom's sandwiches, including housemade pastrami ($13), perfectly balanced between salty, smoky and meaty, sliced thick and simply accented with stone-ground mustard on rye, and a French dip ($12) with tender, herb-kissed top round of beef and, optional but recommended, a biting horseradish cream in a baguette.
(The bread is made in house by Jonathan Craft. It is a highlight, whether as the base for a sandwich or on its own, as a freshly baked sourdough pretzel, $7.)
The Frisco Barroom didn't introduce its entrees until it had been open for two months. These aren't an afterthought, but their late addition to the menu and a build-your-own format where you choose a main dish and two separate sides puts an outer limit on the restaurant's ambition. There are no surprises, and the pleasures are straightforward: a 10-ounce tri-tip steak ($24) with béarnaise sauce; grilled shrimp in a sauce of garlic, lemon, butter and white wine.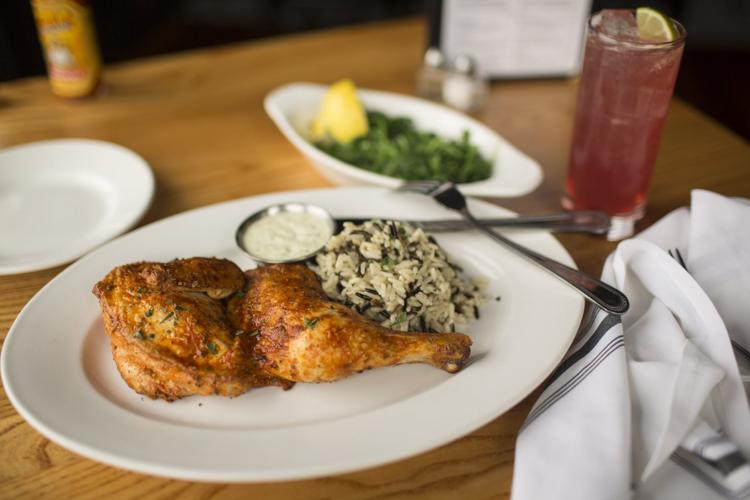 Chicken ($17) promises a "Peruvian-style" dish with a lime-cilantro marinade and a side of pepper, lime and cilantro sauce. Neither the flavor of the chicken nor the sauce popped, though, and after being roasted and then grilled, the chicken was a touch dry.
Still, I'd rather the kitchen take more chances like this Peruvian-inspired chicken or the Cornish pasty or game-focused charcuterie plates than rely solely on obvious crowd-pleasers. (This is especially true of the sides, a fine, if uninspiring range: fries, wild rice, green beans, broccoli. Only a potato-cheese casserole topped with Corn Flakes shows any verve, and it's a $2 upcharge.) I didn't expect the Frisco Barroom to bring together my family from 10 months through 40-some years old. A restaurant that can accomplish that and transcend its gastropub and comfort-food roots would be downright miraculous.
Where The Frisco Barroom, 8110 Big Bend Boulevard, Webster Groves • 2½ stars out of four • More info 314-455-1090; thefriscostl.com • Menu Classic pub fare • Hours Lunch and dinner Tuesday-Sunday (closed Monday)