There are any number of ways to enjoy Vicia, Michael and Tara Gallina's greatly anticipated restaurant nestled in the Central West End's Cortex Innovation Community — any number of dishes shared between a couple or spread among friends that can yield a meal as exciting and, sometimes, as revelatory as you can find in St. Louis in 2017. If I were to reduce the Vicia experience to one rule, however, it would be this: Don't share your goose egg.
The gently scrambled egg arrives at your table inside its own shell, which in turn rests atop a whimsical faux-nest bed. Looking down, you see a cloud of foamy smoked butter, which you spoon through to reach the egg, diced asparagus and shiitake mushroom, and a sprinkling of focaccia crumbs.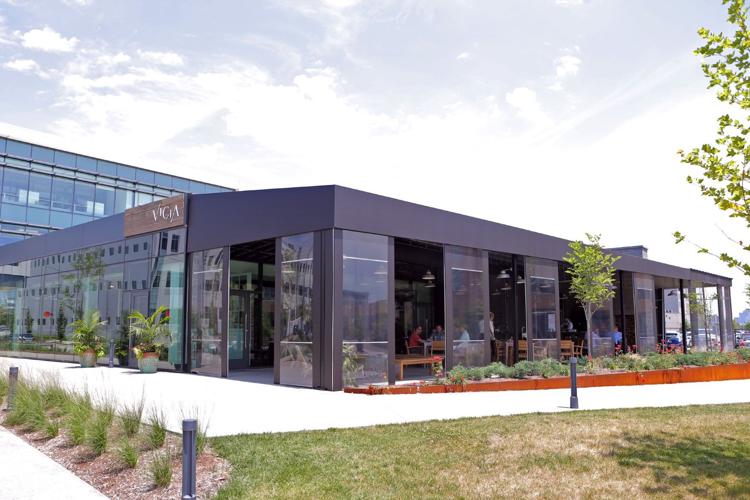 Michael Gallina certainly isn't the first chef to serve an egg inside its shell. Worldly diners will note the debt to the great French chef Alain Passard's famous l'Arpège egg. Most of us, though, will appreciate Vicia's egg on its own terms as the restaurant's statement of purpose. Here, in a few bites, is all the flavor you could want from one dish: the asparagus' pungent punch of spring, the shiitake's meaty umami, the egg's tightrope walk of sweetness and savor, a hint of woodsmoke and cream. It's as exquisite a $6 dish as I've ever seen.
A friend and I ordered one egg. Our server warned us a single egg wouldn't be enough for two. We heeded his concern. It isn't a practical matter. You can easily pass the egg back and forth. You just won't want to.
Michael Gallina grew up in Brentwood and is a graduate of Brentwood High School, the University of Missouri and the California Culinary Academy in San Francisco. In that city, he worked for the acclaimed chef Daniel Humm at Campton Place. He also worked for Humm at Eleven Madison Park in New York City and then went to Blue Hill at Stone Barns, Dan Barber's farm-to-table restaurant in Pocantico Hills, N.Y., where he rose to become chef de cuisine.
Michael and Tara Gallinas feature "vegetable-forward" cooking at the restaurant in the Cortex Innovation Community.
(There is no perfect metric of a restaurant's renown, but to give some idea of Gallina's background: In this year's edition of the influential World's 50 Best Restaurants survey, Eleven Madison Park was No. 1, while Blue Hill at Stone Barns was No. 11.)
At Blue Hill at Stone Barns, Gallina met Tara O'Keeffe, a Florida native who had left a corporate HR position to attend the International Culinary Center in New York City. After an apprenticeship working on the Blue Hill farm, she moved through the restaurant's front-of-house positions to become one of its senior captains.
The couple moved to St. Louis in the fall of 2015. They quickly introduced themselves to local diners through a series of pop-up dinners. Meanwhile, they planned their restaurant, which opened in March adjacent to the new Techshop building at the corner of Forest Park and South Boyle avenues.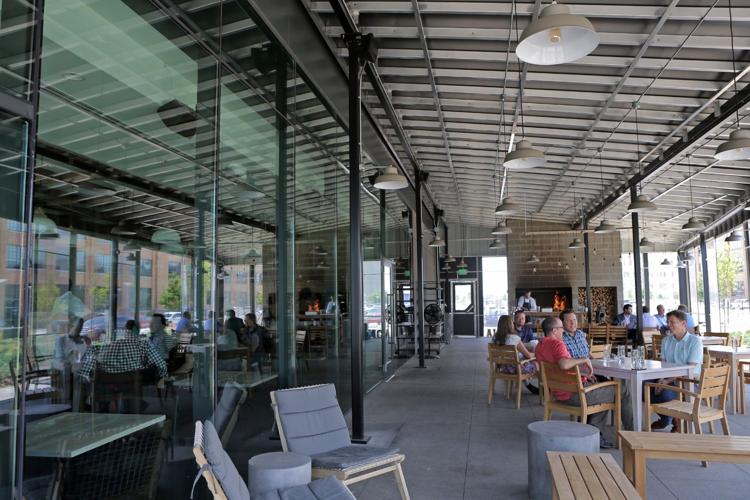 The space is striking for how uncluttered it is. Natural light, white walls and actual breathing space between the tables make the dining room seem larger and more airy than it actually is. The patio shares space with Vicia's wood-burning oven, the restaurant's hot, crackling heart.
Vicia takes its name from the genus of plant species that includes a common Missouri cover crop, and the Gallinas have framed their restaurant as a conversation about what our native soil yields. The printed menu of snacks, starters and main dishes, which changes frequently, includes notes about what is newly in season. This is, to use the trendy jargon, "vegetable-forward" cuisine — not meatless, but with the vegetables elevated to equal status with the proteins.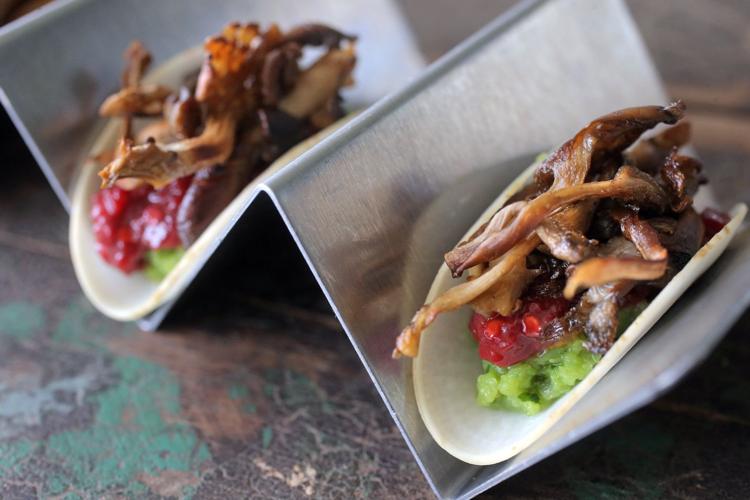 For the kohlrabi tacos ($12), a snack, Gallina used paper-thin slices of kohlrabi as the taco shells. Folded into each shell were sauteed mushrooms (or pork, if you prefer), sugar snap peas and two exceptional accents, a tart strawberry sofrito and the charred-vegetable mole, which infuses a green, vegetal brightness with a deep, smoke-tinged complexity.
The snacks aren't smaller than the starters, but less ambitious in their conception and plating. Consider the Naked Vegetables ($12), a sort of haute crudite plate of raw seasonal vegetables with four dips: a green-goddess dressing, vegetable-top pesto, goat cheese and whipped lard. The dips are terrific, the pesto and whipped lard especially, but my assortment of vegetables — turnips, radishes, cucumbers — lacked much variation in flavor or texture. The conversation was mostly crunching. Order the optional turkey-wheat bread ($5) for the pesto and lardo.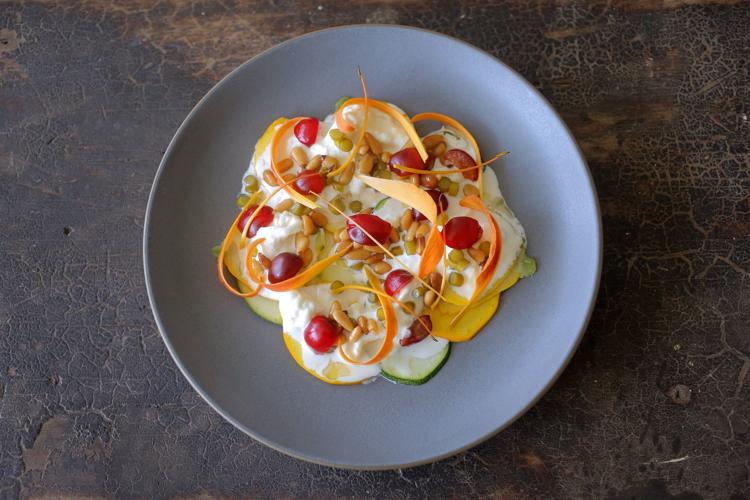 The Naked Vegetables were a rare misfire, though. Vicia's starters are exceptional. Thinly sliced summer squash with cherries, pine nuts, daylilies and ropy, creamy straciatella (like a softer fresh mozzarella) made for a light but still memorable salad ($12).
The humbly named broccoli ($14) reinvents broccoli-cheddar soup for the vegetable-forward set. A tender stalk of broccoli and a golden egg yolk bob in a broth with the just-right note of the vegetable's verdant bite. Breaking open the egg yolk enriches the broth, while wheat berries add texture and a charcuterie crumble (imagine the Bacon Bits of the Gods) gives it a smoky, salty backbone. The crowning accent, in flavor and appearance, is a cheddar foam.
For main courses, Vicia invites you to mix and match between grilled dishes and grain and vegetable sides. The grilled meats include three pieces of Berkshire pork ($14) arranged without adornment on a plate: jowl, shoulder and loin. This naked arrangement is far more successful than the Naked Vegetables. It's a study in texture as much as taste, with the almost molten lusciousness of the jowl, the more supple shoulder and the sturdier, meatier loin. On the side, to be applied sparingly, is a tart smoked-cherry sauce.
The grass-fed beef ($14) shows how Gallina can transfrom meat through his vegetable-forward ethos. The dish brings a bowl of beef belly and neck that has been grilled and then braised overnight until spoon-tender. There are green garnishes — spring onion, herbs — but they alone can't explain the dish's flavor. Gallina purees half of the spent carrots, leeks and other vegetables used to make a grill sauce and adds them into the beef's braising liquid. (The other half of those spent vegetables are blended with chiles, coriander and other spices to make the taco's charred-vegetable mole.) Those vegetables, and accents of lime juice and a simple vinaigrette, result in a dish that is undeniably beefy but as light and fresh as early spring.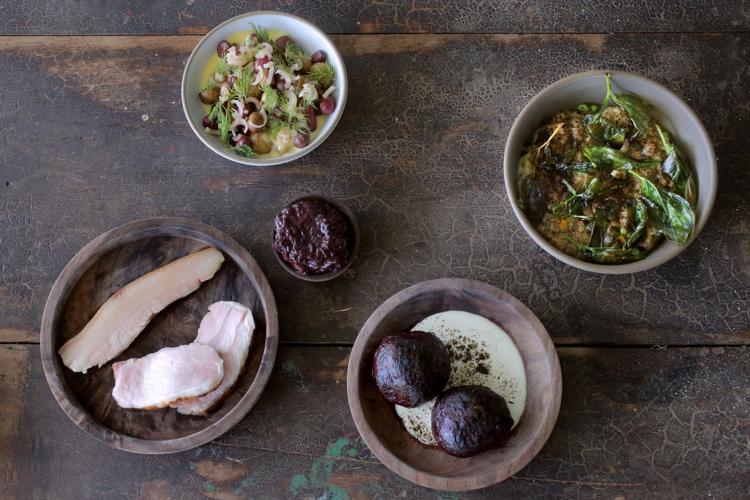 With the charred cabbage ($14), meat takes the role of an accent. Gallina begins roasting a whole cabbage in the oven and then finishes it in the grill embers. The cabbage has already been basted with pork fat, but for the individual dish, Gallina cuts a "steak" and drapes it with spalla cruda from local charcuterie master Salume Beddu. The pork infuses the cabbage with its piggy, funky essence, but thanks to the fermented fizz of sauerkraut, this dish tastes like nothing so much as the intensified essence of cabbage.
Gallina has designed the side dishes to be appealing without drawing attention from the main courses: firm kernels of Missouri rice ($12) tossed with zucchini, spring onion and fava leaves, or lightly earthy new potatoes ($12) in a sharp charred-onion aioli with garlic and pickled ramps. Only turnips with horseradish ($12) were so nuanced as to fade into the background of the other dishes.
Summer Wright, a veteran of Brasserie by Niche and Reeds American Table, is the executive pastry chef. Her desserts also follow the seasons: strawberries and cream ($12) paired strawberry sorbet with a goat's milk ice cream and light, crisp meringue. At lunch, Wright tucks strawberry and rhubarb inside a crisp turnover shell ($4).
The beverage program is compact: balanced, botanical-heavy cocktails; food-friendly craft beer and cider; wines for most budgets of recent vintage and mainly from the Old World, California and Oregon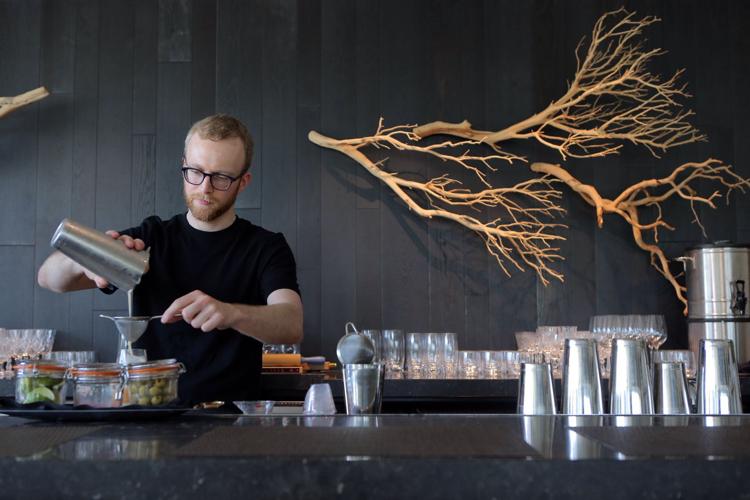 Service is attentive and professional but not overbearing. Lunch service is even more casual: You order at the bar and then are alerted by text to pick up your meal from the kitchen pass. At $11, my lunch — half of a salami-cheddar sandwich with a dynamite rhubarb mustard, and a chilled broccoli soup with that charred-vegetable mole — felt like I was stealing from a four-star restaurant.
Vicia isn't quite a four-star restaurant yet. This isn't a question of a flaw here or there. There is no checklist for the transcendent. Instead, here you'll find a chef and his team still putting down roots, learning what works and where to lead the conversation. I'd urge a more confident voice. The most fascinating details about each dish — the moments when I realized how impressive what the Gallinas want to do here is — I elicited only when I called them to fact-check.
The Gallinas and their team will find that stronger voice, I'm sure. Vicia isn't a four-star restaurant yet, but the conversation about St. Louis' next great establishment has begun.
---
Where Vicia, 4260 Forest Park Avenue • 3½ stars out of four • More info 314-553-9239; viciarestaurant.com • Menu Modern, progressive cuisine with an emphasis on vegetables • Hours Lunch Monday-Friday, dinner Tuesday-Saturday
★ Fair ★★ Good ★★★ Excellent ★★★★ Extraordinary