For as long as I've been writing about St. Louis restaurants, I've been visiting Jeffrey Plaza. At this drab strip mall on Olive Boulevard east of Interstate 170, you can bounce from the deeply beefy broth of Pho Long's namesake dish to the fiery Jamaican jerk chicken at De Palm Tree to Noboru Kidera's masterly nigiri sushi and maki at Nobu's Japanese Restaurant. Just across Olive, hidden behind another drab strip mall, is the terrific Taiwanese restaurant Tai Ke.
Not every Jeffrey Plaza restaurant has won the success it deserved. I especially miss Famous Szechuan Pavilion, which served Szechuan fare without hand-holding in the most no-frills dining room I've seen. But the element of affordable chance is what makes Jeffrey Plaza and homely strip malls of its ilk so essential. Here, immigrants, first-generation Americans or any restaurateur with more aspirations than capital might gain a foothold.
If Jeffrey Plaza enjoys an advantage over those other strip malls, it might be its location: right off I-170 in central St. Louis County, a reasonable distance from most points on the map. An advantage and — insert ominous music here — a looming threat.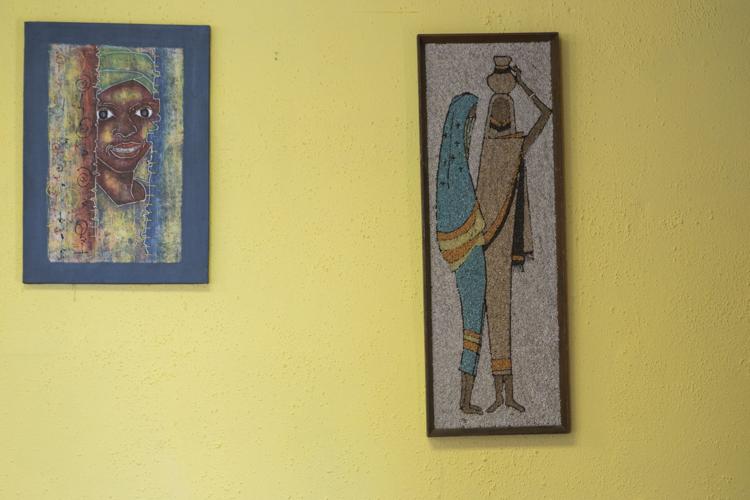 Christine Mukulu Sseremba, a native of Kampala, Uganda, opened her first restaurant, Olive Green International Cuisine, in Jeffrey Plaza in 2015, a few years after she had sought asylum in the United States. She was known as a very good cook, her son, Majesty Mukutu, told me, but in Uganda she had worked first as an actress and then had founded a company that refurbished computers from Europe and provided IT training, especially to women and the underpriviliged.
Sseremba's company occupied a building on a prime piece of land near the university. A relative of Uganda's president seized her land, she told me, and destroyed her building. She and her family fled the country.
Sseremba decided to close Olive Green last year when the building immediately east of Jeffrey Plaza, formerly Taqueria La Monarca, became available. This opened as Simba Uganda Cuisine in February. The space is more compact than Olive Green and more colorful, with Ugandan artwork on the yellow and burgundy walls.
If you're unfamiliar with Ugandan cuisine, Majesty Mukulu describes it as a combination of the country's own traditions and the influence of both Indian and Arabic fare. You need look no further than Simba's appetizers to find echoes of both in the crisp, flaky sumbusas ($4.50) stuffed with vegetables or minced beef. For a more direct introduction to Uganda, I suggest the rolex ($4.99), a classic street-food dish: a piece of chapati rolled around a skinny vegetable omelet. Though the rolex is loosely rolled, the flatbread somehow soaks in both the sweetness of the egg and the snap of the vegetables. I'd eat one for breakfast daily.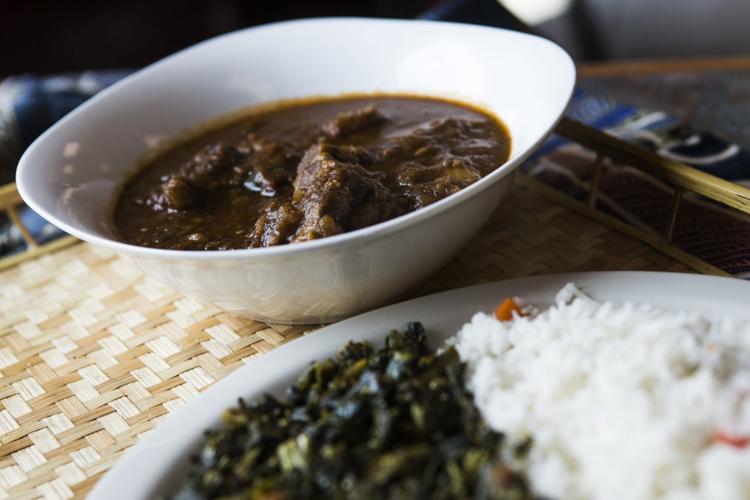 You can easily parse out the Indian influence in Simba's goat curry ($15.99). Top notes of garlic and ginger yield to warm spices (cumin, clove) with just a touch of heat. The goat meat is tender, and though its flavor is pungent by nature, it doesn't overwhelm the aromatics.
Mbizi enjokye ($12.99) delivers roasted pork ribs with a texture closer to proper barbecue — not falling off the bone, yielding only to a good tug — than many barbecue restaurants achieve. Though the meat is roasted, its combination of Malliard-reaction browning and peppery spice remind me of summer backyard grilling. A marinade heavy on onion and garlic punctuates the pork's meaty swagger.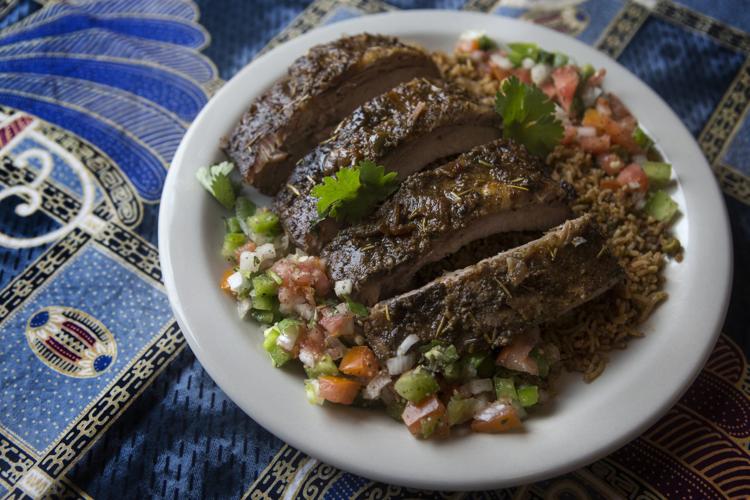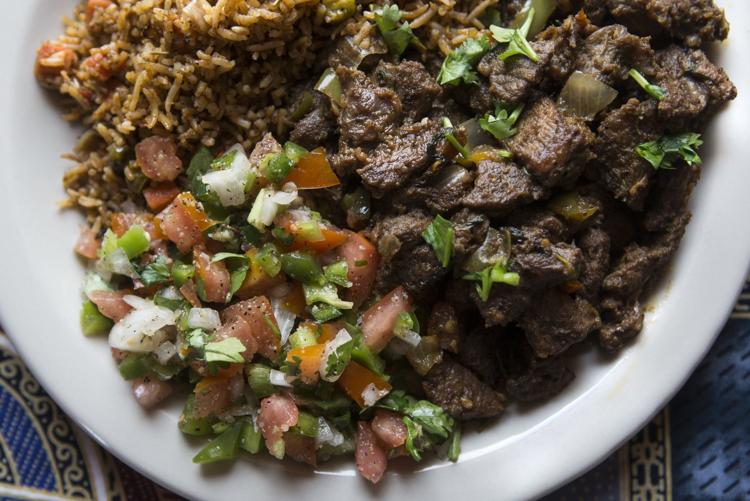 Main courses sound heavier than they are. Pair the mbizi enjoyke with rice (you can also opt for stewed potatoes), and the ribs arrive on a bed of Ugandan-style fried rice that brightens the entire dish. Garlic and a dash of heat intensify the relatively straightforward nyama nsiike ($10.99), beef sauteed with onions and green bell pepper, and a peppery dry rub sparks roasted chicken ($10.99).
Nor is Simba exclusively meaty. Many dishes come with a side of kachumbali (also known as kachumbari), a fresh tomato-onion salad. Savory, peppery greens accompany the goat stew. Vegetarian entrees include a mixed-vegetable curry ($10.99) and an herb-kissed bean curry ($10.99) with fried pinto beans nearly as hefty in body and flavor as meat.
I tried both the vegetable and bean curries on the daily lunch buffet ($12.99). Though the buffet generally draws from the regular menu, a special to look out for is the curry with smoked chicken, a complex blend of smoke and spice that, were it on the regular dinner menu, would be my go-to order.
The dinner menu offers more variety than the lunch buffet, though at dinner Simba's small staff can result in longer-than-usual waits for dishes. I offer this as a friendly heads-up rather than a criticism. The food is worth the modest delays.
It's one of the quirks that makes Simba — that makes all of Jeffrey Plaza's restaurants, each in its own way — real, human and unique.
Simba is part of the second phase of the area's redevelopment, and Sseremba told me she doesn't know yet how that will affect the restaurant. But she said she is worried.
I'm no expert on development, TIFs and the like. Maybe a big-box store and its satellites are the right choice for the community. But as dated as their storefronts might be, the restaurants of Jeffrey Plaza and neighbors like Simba are vital to the fabric not only of their immediate neighborhood, but all of St. Louis.
Where Simba Uganda Restaurant, 8531 Olive Boulevard, University City • Two stars out of four • More info 314-475-5630; facebook.com/simbaugandanrestaurant • Menu Traditional Ugandan fare • Hours Lunch buffet and dinner Tuesday-Sunday (closed Monday)