Has fried rice's moment arrived? Is the takeout staple due for the cultish devotion turned widespread popularity that has swept up Vietnamese banh mi and Japanese ramen? If so, ground zero in St. Louis might be 3-month-old VP Square in Tower Grove South.
Here chef Duncan Pham fries rice, egg and the usual vegetables (carrot, peas and scallion) with bacon, Chinese sausage, barbecue chicken and kimchi. The resulting VP Fried Rice Special ($13) can hit every palate-pleasure point: the smokiness of the bacon, the porcine sweetness of the sausage, the fresh snap of the vegetables and, crucially, the heat of the chile and the fizzy funk of the kimchi. The intense soy-sauce saltiness that can be fried rice's greatest pleasure and greatest detriment is muted.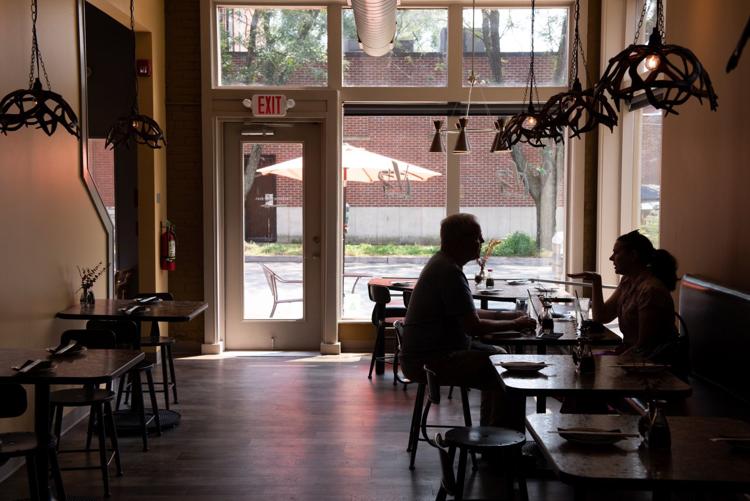 Familiar spots, new spots and some surprises make our restaurant critic's list of the 100 best restaurants around St. Louis in 2018. 
As for that other fried-rice constant, the egg, in this dish it works mainly as ballast. But Pham gives the egg its due in the egg-encrusted shrimp wontons ($7), an inelegant name for a terrific appetizer. The wontons, plump with pork as well as shrimp, are steamed and then pan-fried with eggs. The eggs set, creating a sort of dumpling frittata. The whole of it, the savor and sweetness of shrimp, pork and eggs, should be too much, but Pham leavens it with the zip of scallions and a light-soy-sauce reduction.
Pham is a veteran of the bustling South Grand restaurant scene. He, his sister, Mina, and brother, Vincent — refugees from Vietnam, via Thailand and the Philippines — opened the sushi restaurant Cafe Mochi on South Grand Boulevard at Humphrey Street in 2009. Duncan, as mentioned, is the chef of the trio. Mina works in the front of the house. Vincent is the business person and the trio's public face, the VP of VP Square. He originally established the family's presence on South Grand as a hairdresser.
VP Square sits back from South Grand on Juniata Street, directly behind the well-known King & I Thai Restaurant. The restaurant occupies both floors of its building, a former salon, with a dining room and a walk-in counter for ordering smoothies and boba tea on the first floor and a dining room and bar on the second floor.
The menu is pan-Asian, for lack of a better term, with Vietnamese, Thai, Korean, Szechuan and Japanese dishes. It's audacious, and not simply because "pan-Asian" long ago became more of a punchline than a useful descriptor. VP Square enters a district known for its vibrant, diverse restaurants, several of which serve similar dishes. And VP Square bucks the trend toward more focused menus, chefs specializing in a region or even just a handful of dishes.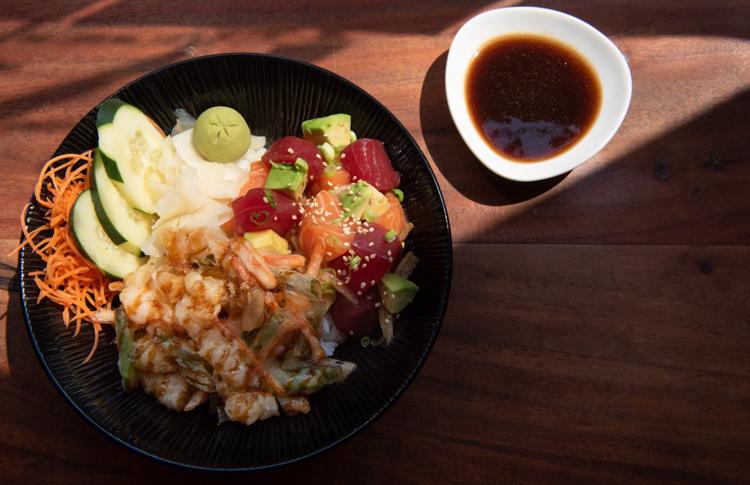 Across my visits, Duncan Pham pulled it off. Sometimes, he needed only small details to distinguish such familiar fare as fried calamari ($8.50), here paired with the assertive, lingering heat of a smoked-jalapeño sauce. The Starburst Summer Rolls ($6) take their name from the ripe slivered strawberries that add an oddly effective gushing sweetness to a typical spring-roll assortment of shrimp, crab, cucumber, herbs and vermicelli noodles. Pham's take on the suddenly ubiquitous poke ($17) adds the heft and crunch of shrimp and scallop tempura to its bowl of ahi tuna, salmon and avocado over rice.
A sticky tonkotsu pork broth clings to springy ramen noodles ($12) — a solid ramen option, especially for the immediate neighborhood, but more interesting soup options include the kimchi ramyun ($12), Korean-style noodles with pork belly and egg in a fiesty kimchi broth.
From his native Vietnamese cuisine, Pham offers an elegant bo kho ($12), beef stewed with carrot and onion in an aromatic cooking liquid like a distillation of the beefiest pho broth you've eaten. Crackling Vietnamese-style French bread comes with the bo kho; this also is the basis for a selection of banh mi, including a quadruple pork threat ($6.50) with salami, ham-hock sausage, barbecue pork and pork pate — surprisingly light thanks to its garnish of cucumber, cilantro, jalapeño, and pickled carrot and daikon radish.
VP Square's menu is expansive enough that, even after multiple visits for this review, I need to return to explore it further. And I will explore the menu further, but only once fried rice's moment has passed, and I have somehow tired of VP Square's VP Fried Rice Special.
Where VP Square, 3611 Juniata Street • 2½ stars out of four • More info 314-833-4838; facebook.com/vpsquarestl • Menu Pan-Asian cuisine, including Vietnamese, Korean and Japanese dishes • Hours Lunch and dinner Tuesday-Sunday (closed Monday)