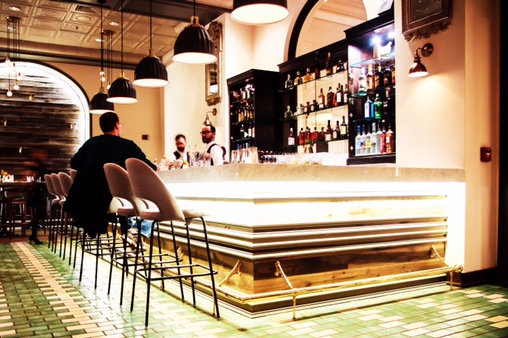 The restaurant, under the command of executive chef Kyle Lipetzky, serves an eclectic menu of mainly small plates: among them, charred octopus with brown-butter gnocchi, duck confit and spring onion croquettes, and pork belly with a ginger-soy glaze.
Bill Derbins, general manager of the Chase Park Plaza, told the Post-Dispatch on Tuesday that the idea of changing the restaurant and its menu had been kicked around for years.
"The old restaurant concept had been around for probably nine or 10 years, and it just needed to be redone," Derbins said. "You walk out our doors and you've got 30 or 40 restaurants within six to eight blocks. So you've got to reinvent yourself to be competitive."
Of the menu, Lipetzky said, "It's really just things I like to eat — things I think are fun to eat."
Also, Lipetzky said, the small-plates format lets diners build their own experience.
"The beauty of this menu," Derbins said, "is the fact that it's small plates, so we can change them out, so that the next time somebody comes in they can have a little bit of a different experience."
The Preston also features an expanded and redesigned bar, where bartenders Sasha Alms and Joshua "Doc" Johnson have the room to mix up such cocktails as the Goodnight, Mr. Preston, their take on a classic Manhattan.
"(Alms and Johnson, who) we've had the privilege of getting, really have a following of their own," Lipetzky said, "and really drive people to come in not only to experience the cocktails but the food."
The Preston team is confident that their new creation will benefit the Chase Park Plaza as a whole.
"I think [The Preston] is re-energizing the food scene here at the hotel," Derbins said. "It's giving people a reason to come back in to check out what we're doing."
Ian Froeb • 314-340-8348
Restaurant critic
@ianfroeb on Twitter