Aurora borealis, commonly known as northern lights, offer a colorful, natural light display that's both beautiful and unforgettable. But there's a catch: You have to travel to the far North, like the Yukon or northern Norway, to see it.
But to see "Flora Borealis," just visit the Missouri Botanical Garden. The colorful light display opens Friday and runs most nights through Aug. 26.
On a 1-mile path through the garden, visitors can touch specially lighted trees to hear them "tell" their own stories. The Climatron's glow will change from pink to red to purple. A laser show will be projected onto a haze pumped into the air above the rose garden.
The garden's signature building, Tower Grove House, will become a giant movie screen for a 4½-minute show projected onto its facade. A technology called projection mapping — like what's used on Cinderella's castle at Walt Disney World or on the vaulted ceiling at Union Station's Grand Hall — allows irregularly shaped structures to be used as display surfaces.
Images of blossoming cherry trees, the Gateway Arch and northern lights will dance across the exterior of the building, the country home of garden founder Henry Shaw.
The same technology will be used to project a story onto a nearby Amur cork tree, familiar to garden visitors for its crooked trunk and branches that swoop down to the ground.
The Missouri Botanical Garden partnered with AVI Systems Inc., which has an office in Maplewood, and Montreal-based Christie 360 Experiential Studios to put together the experience.
Jay Blair, who's in charge of events and exhibits at the garden, says the $2 million project has been in the works for about two years.
In the past, visitors have come in the summer for a variety of exhibits, like Chinese lanterns and the glass works of artists Dale Chihuly and Craig Mitchell Smith. Surveys revealed that people wanted to visit the garden at night, but they didn't want to be too distracted by those exhibits during the day.
"When we were out looking, I didn't really see anything that caught my eye," Blair says. "I thought, let's curate something. It took animators, composers and projection artists to pull this thing together."
The exhibit entertains and educates, sending the message that it takes animals, plants and humans to co-exist and keep the planet going, he says. Visitors can enjoy a tented beer garden with cocktails and snacks, as well as live music on select nights.
Blair says the experience is different from the popular "Garden Glow" event held in winter. The garden now owns the equipment used for "Flora Borealis" and can use it for "Garden Glow" and other events.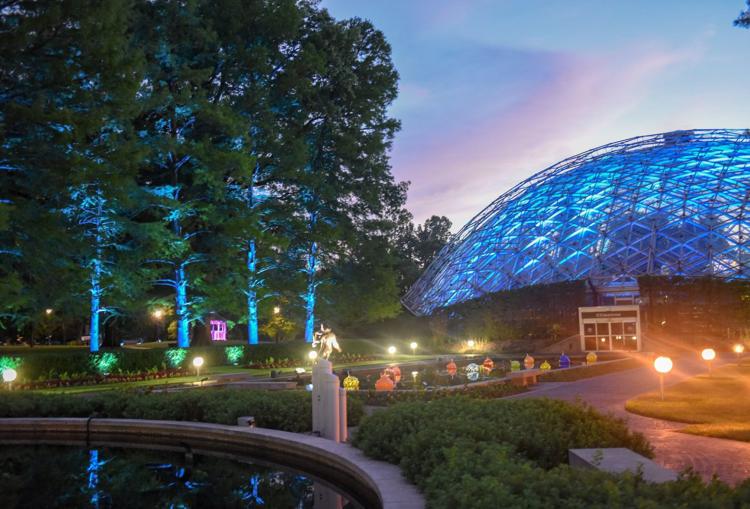 Now that the Climatron is equipped with updated, energy-efficient LED lighting, a bride can get custom photos in front of a purple Climatron, or it can glow red in support of the Cardinals.
But this summer, anyone who drives past the garden on Interstate 44 can glance south, and, if they're lucky, enjoy a St. Louis light show.
What "Flora Borealis" • When Friday through Aug. 26; closed Wednesdays in July • Where Missouri Botanical Garden, 4344 Shaw Boulevard • How much $8-$20 • More info mobot.org/flora