As far as Hugh Bonneville is concerned, he and the rest of the cast and crew of "Downton Abbey" have done their part.
The movie version of the immensely popular British period-piece soap opera opens Friday, returning all of the well-loved characters to what may be the even more well-loved English manor home that gives the film its name.
This comes after, as Bonneville puts it, "three years of baying audiences, baying wolves, saying, 'When's the movie coming? When's the movie coming?'"
The question, he said on the phone last week, is whether audiences would "get out of their armchairs and go to the movie theater."
That shouldn't be a problem. Presale ticket orders for the film have been particularly high for an adult drama.
Once again, Bonneville plays Robert Crawley, Earl of the fictitious Grantham, who presides serenely and sometimes a little cluelessly over the comings and goings at his family estate, Downton Abbey. The coming — and going — that sets the action of the film in motion is the imminent visit by the king and queen of England.
Bonneville played the role in all 52 episodes of the show and then, after three years, took it up again for the movie.
"It's like finding a familiar sweater that you'd forgotten about in the back of the closet. And the familiar holes and patches are still there. You pop it back on, and you forgot how comfortable it is," he says.
Getting everyone back together for the movie took some doing, he says. The idea of making a film version of the series was first raised in the fifth season — it ran for six — and at the time Bonneville said he thought it would be difficult to get the enormous cast back together. They would all be working on their own projects.
He credits producer Gareth Neame for the hard work and logistics-arranging to have everyone available at the same time for the project.
"If four or five of us had decided we didn't want to do it anymore, it probably wouldn't have happened. It was a matter of linking arms and jumping into the pond together," Bonneville says.
"It was like a school reunion that went well. Sometimes they don't," he says.
Bonneville, 55, managed to work on more than a dozen projects between the end of the series and the filming of this movie. Among them was the lighthearted second "Paddington" children's film and a comedic television series about the BBC called "W1A" (it's the postal code for the BBC's address, he says).
"I always gravitate toward comedy," he says. "I love doing comedy, I love watching comedy. Anything that lifts the spirits I think is worth doing."
It's a romantic comedy that Bonneville is probably best known for in this country, besides "Downton Abbey." In "Notting Hill," he plays one of Hugh Grant's friends who, in his most memorable scene, hilariously fails to recognize that Grant's date is the most famous actress in the world — Julia Roberts, basically playing herself.
But it is one of his most serious and sweetly heartbreaking films that he is perhaps the fondest of, a film he wishes more Americans would know. The 2001 true drama "Iris" stars Bonneville as John Bayley and Kate Winslet as the writer Iris Murdoch as they fall in love and get married. Their older selves are played by Jim Broadbent and Judi Dench, who have to deal as best they can with Murdoch's worsening Alzheimer's disease.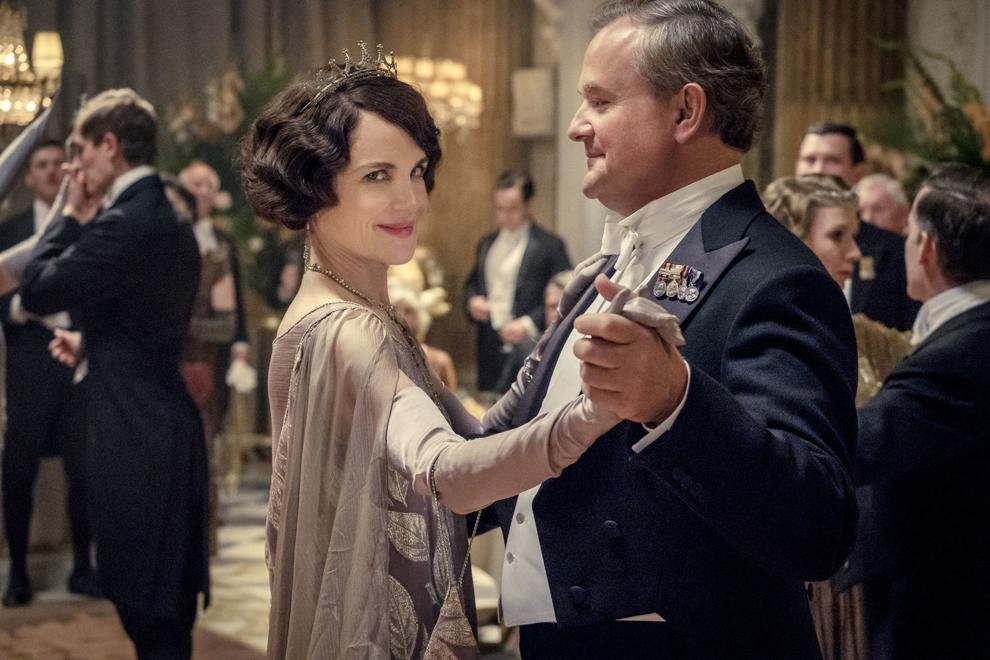 From comedy to drama, Bonneville says he enjoys making all genres of films and television. The goal of an actor is to keep working, and he has certainly done that in nearly 30 years in front of a camera, with more than 100 credits to his name.
"I've quieted down a bit. I'm not as busy as I used to be."
Still, there is one genre he has never tried. "I have never done a proper horror film. I think the time has come to do horror," he says.
When an actor has appeared in as many films and television shows as Bonneville, it cannot be a surprise that he runs into some of the same actors more than once. In Bonneville's case it's Elizabeth McGovern, who has played his wife in three projects, including "Downton Abbey." The others are a BBC comedy series called "Freezing," which was directed by McGovern's husband, Simon Curtis, and a two-part miniseries called "Thursday the 12th."
"She genuinely is one of the kindest, most good-natured people I've ever met. Which is probably why our relationship both on screen and off has been so good over the years. I'm proud to call her my friend," he says.
Their next chance to work together would potentially be in a sequel to the "Downton Abbey" movie, if one were to be made. Bonneville says if this one does well enough — if the audience does its part — more could come.
"Why not?" he says. "The occasional dipping into the chocolate box is good for everyone's diet."