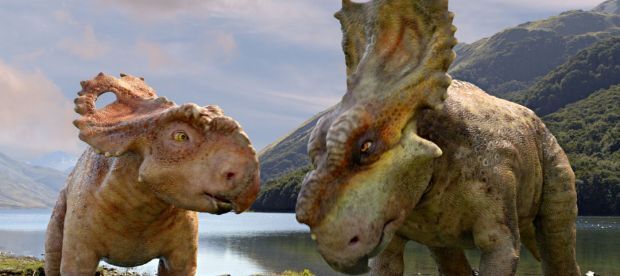 In the Stone Age of animation — the 20th century — audiences would have considered a computer-generated 'toon like "Walking with Dinosaurs" a marvel. And the 3-D enhancements would have blown their little minds. But apparently millennial kids demand something more than mere realism. They demand dinosaurs that can talk.
That was the rationale that adapted the BBC's original "Walking With Dinosaurs" documentary into this strange hybrid of science lesson and Saturday-morning cartoon.
Interestingly, the characters' mouths don't move, so without the sound, this could be a valuable educational asset; with the sound, it's an irritant that could quell kids' interest in biology like an ice age.
The narrative that's yoked to the visuals is a standard cycle-of-life story (albeit with the yucky reproduction and death scenes discreetly pushed to the side).
An annoying narrator bird (voice of John Leguizamo, for shame) tells us the setting is 70 million years ago. That's when a young pachyrhinosaurus (think triceratops) named Patchi (Justin Long) hatches from an egg.
Patchi is a runt, and his close encounter with a predatory gorgosaurus (think T. Rex) leaves him with a hole in his head plate. In a variation on "Rudolph the Red-Nosed Reindeer," Juniper (Tiya Sircar) thinks the hole makes him cute. It also lets us identify Patchi in the many herd scenes that follow.
Every autumn, the dinosaurs migrate south, and every spring they return north. Along the way there are struggles for herd leadership (with Patchi's older bother asserting his dominance) and mate selection (ditto), but the realistic dinosaur animations, seamlessly superimposed on backgrounds from New Zealand, are not too scary for grade-school kids. Indeed, the kids might laugh so hard at the fart jokes that they miss the evolutionary lessons.
In "Walking with Dinosaurs," the good intentions are fossilized under the cutesy poop.
---
What "Walking With Dinosaurs" • Two and a half stars out of four • Rating PG • Run time 1:27 • Content Creature action and peril and mild rude humor