It has been 30 years since the earnest and optimistic teenager Lloyd Dobler pursued class valedictorian Diane Court in the hit romantic comedy "Say Anything," most memorably by holding up a boombox outside her bedroom and playing Peter Gabriel's "In Your Eyes."
John Cusack, who played Lloyd, is celebrating the 30th anniversary of the movie by screening it in cities across the country and taking audience questions afterward. (He is doing the same with two of his other popular films, "High Fidelity" and "Grosse Pointe Blank.")
Friday, it's St. Louis' turn. Cusack will show a restored print of "Say Anything" at the Touhill Performing Arts Center, followed by a conversation with the audience.
He chatted by phone from his home in Chicago.
Q • What has it been like for you to show these movies, especially "Say Anything," now?
A • I'm not one to look back, so it has been interesting for me to watch them again and see the reaction of the audience. Sometimes it's like "Rocky Horror." People talk back to the screen; sometimes they recite the lines. It's kind of sweet. I'm so happy that something I did a while ago is still giving people joy.
Q • What kind of audience do you get for these screenings?
A • A lot of it is people in their 40s. What happens is there seems to be new generations introduced to it, so there are younger people, too. Mothers and daughters and fathers and sons. And just people who like movies come, too.
Q • Do the younger viewers know what a boombox is?
A • They think it's an iPhone with big speakers.
Q • In that famous scene where you're holding up the boombox, did you know what song was going to be coming out of it on the screen?
A • Cameron (Crowe, the writer/director) and I were always thinking about music for the film because we're both kind of obsessed that way. We knew we were going to use that Replacements song, "Within Your Reach." We were also playing a lot of Fishbone. But we hadn't played "In Your Eyes." We did a couple of takes with a Fishbone song ("Turn the Other Way") and one with the Replacements song.
Q • When you were filming it, did you know that would be an iconic scene?
A • I don't know if that's the only big scene. I sort of felt like that one could be it or it would be the dining-table scene where I talk about not wanting to buy things that are processed. I thought that would be the verbal scene people would remember.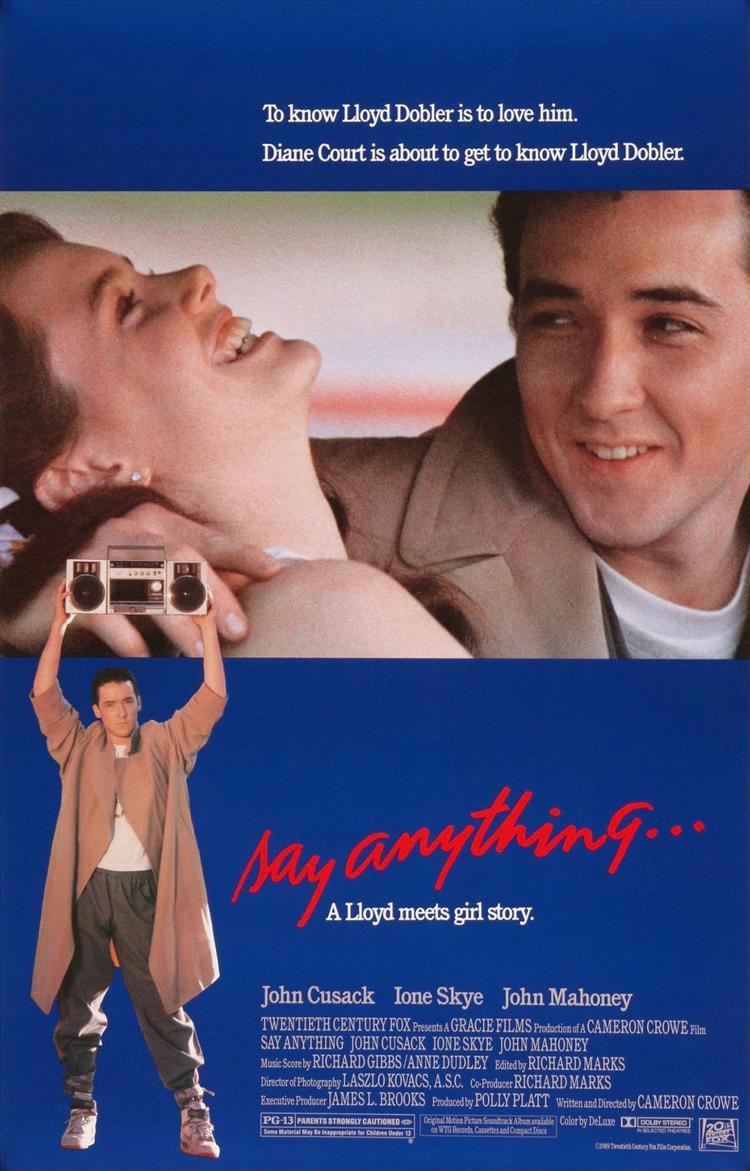 Q • When you make a classic film, do you know it at the time?
A • No matter what you do, you have to wait and see how people are going to interact with it. Some come out and are big hits and then are forgotten in five years. Some aren't seen initially, and then they are thought of as classics. You have to give it a few years to see what the reaction is. I'm not just saying that about film; all art is like that.
Q • Which of your films became more popular after a few years?
A • "Better Off Dead" was not a huge hit when it came out. I don't think people understood how weird it was. That surrealist black comedy became sort of a hit movie.
Q • Are there any of your movies that you like that audiences don't know as well as you'd wish?
A • Usually, they find them sooner or later. I did a movie called "Max." It was a very cool film. It didn't get a lot of play, but it was a fun movie. I did a film on Netflix called "We're No Animals"; it was kind of an experimental film.
You leave them on the floor, and people find them if they want.
Q • What kind of questions do you get when you show these films to audiences?
A • They can ask literally anything from the sublime to the ridiculous. A lot of the people want to know inside-baseball stuff, like the choices made in the movie, how these things happened. Or they want to tell you stuff about their experiences with the film.
One guy said, "My wife left me because I wasn't you."
A • That was my reaction, too. But then he paused and said, "And I want to thank you from the bottom of my heart."
What "John Cusack Plus 'Say Anything'" • When 7:30 p.m. Friday • Where Touhill Performing Arts Center, University of Missouri-St. Louis, 1 University Boulevard • How much $39.75-$69.75 • More info 314-516-4949; touhill.org