The locally famous story of how Kurt Warner went from stocking shelves at a grocery store to leading the St. Louis Rams to their only Super Bowl victory is being told in a new movie, "American Underdog."
The film will open nationwide on Christmas Day. But St. Louisans will have the chance to watch it Nov. 8 — and Kurt and Brenda Warner will be there to answer questions after the screening.
The event is being touted as the centerpiece of the 30th Annual Whitaker St. Louis International Film Festival, which is being held Nov. 4-21 at several venues (and online) across the area.
The screening will be at 8 p.m. Nov. 8, at the Tivoli Theatre, 6350 Delmar Boulevard. Tickets are $50 and are on sale at cinemastlouis.org/sliff.
Zachary Levi stars as Kurt Warner, with Anna Paquin as Brenda. Dennis Quaid co-stars as Rams coach Dick Vermeil. The film is directed by Jon and Andrew Erwin, from a script by Jon Erwin, David Aaron Cohen and Jon Gunn. It is based on the book "All Things Possible" by Kurt Warner and Michael Silver.
Happy 50th birthday, Kurt Warner: Here's 10 moments we won't forget
FOR OPENERS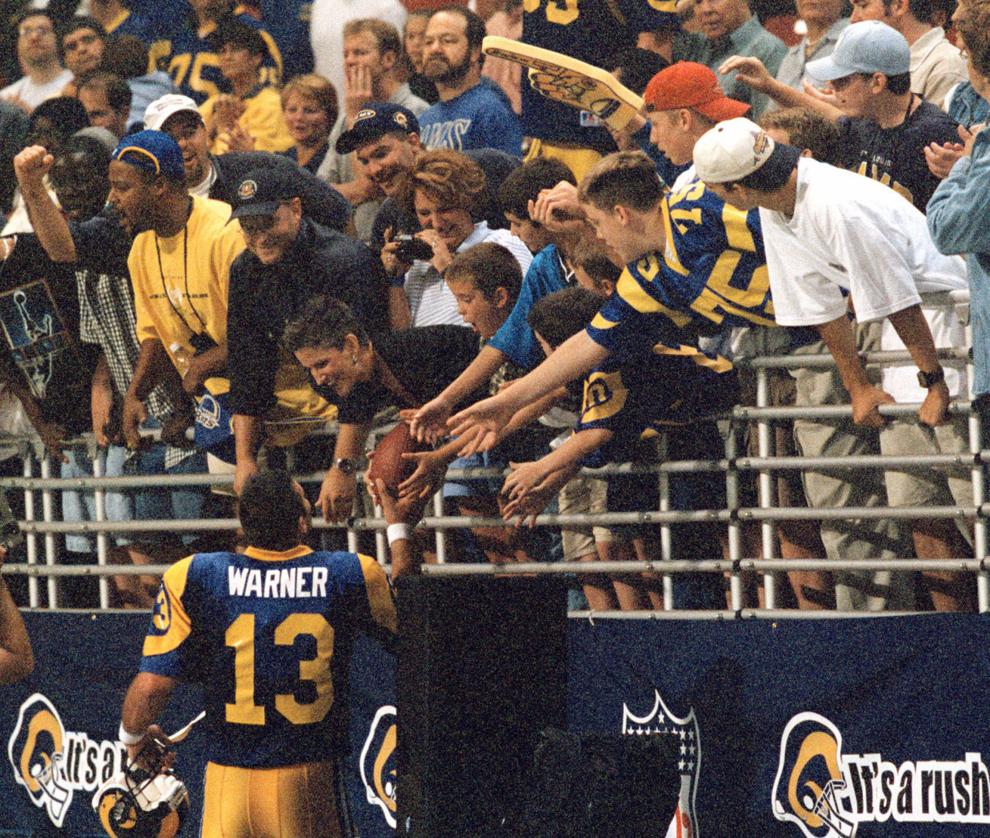 Just 15 days after Trent Green suffered a season-ending knee injury in preseason play against San Diego, the Rams opened the 1999 season against a Baltimore squad with an up-and-coming defense. No one really knew what to expect from his replacement.
Making his first NFL start, Kurt Warner began slowly, throwing two first-half interceptions. But on the Rams' final series of the half, Warner completed eight of 10 passes — to five different receivers. With 33 seconds left, he found Isaac Bruce in the back of the end zone for a two-yard TD and a 17-3 lead. And the Rams were on their way.
---
THE WITCH IS DEAD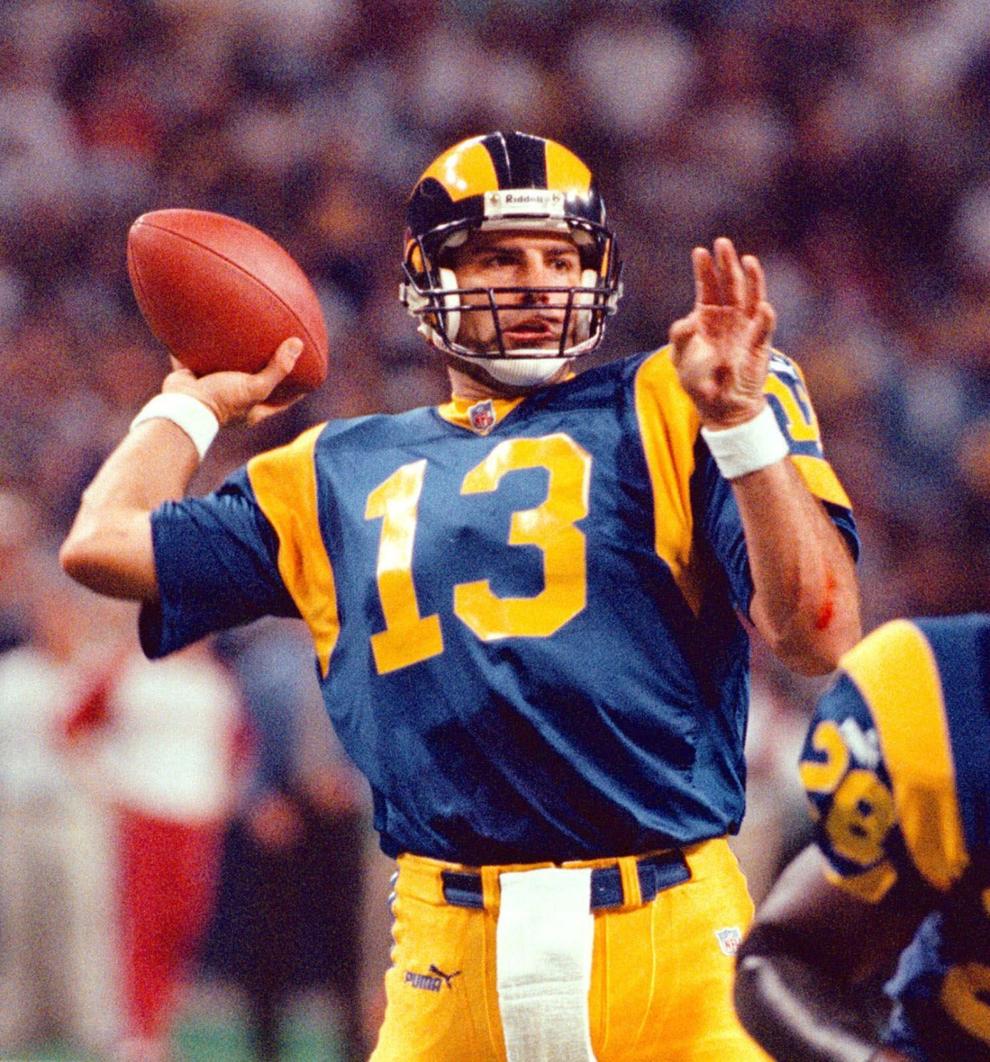 San Francisco entered the TWA Dome with 17 straight victories over the "same old sorry (bleep) Rams" on Oct. 10, 1999. But on this day, Warner completed 20 of 23 passes for 323 yards. He tied a franchise record with five TD passes, four of which went to Isaac Bruce. By day's end, the Rams had pounded the 49ers 42-20.
The Wicked Witch of the NFC West was dead.
The Rams improved to 4-0, prompting then-49ers executive Bill Walsh to walk into the middle of coach Dick Vermeil's postgame press conference, telling his old friend in a stage whisper: "You're going all the way."
HOME AT LAST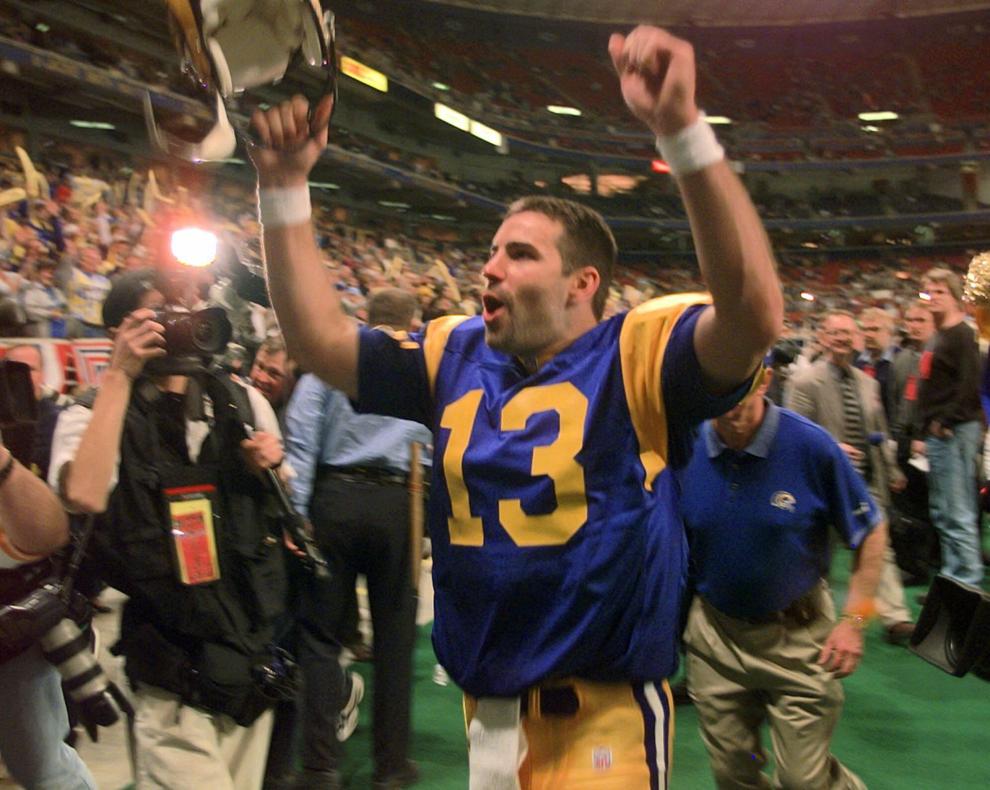 For the first time in St. Louis gridiron history, the Gateway to the West played host to an NFL playoff game. Shaking yellow foam "noodles," the sellout crowd at the TWA Dome was up for the occasion. So was Warner.
With a still skeptical football world wondering how Warner and his upstart team would perform on a big stage, he threw five TD passes and completed 27 of 33 for 391 yards. With some help from Tony Horne and his 95-yard kickoff return for a score, the Rams scored 35 unanswered points to start the second half in a 49-37 victory. The skeptics went home satisfied on Jan. 16, 2000.
THE BUCS STOP HERE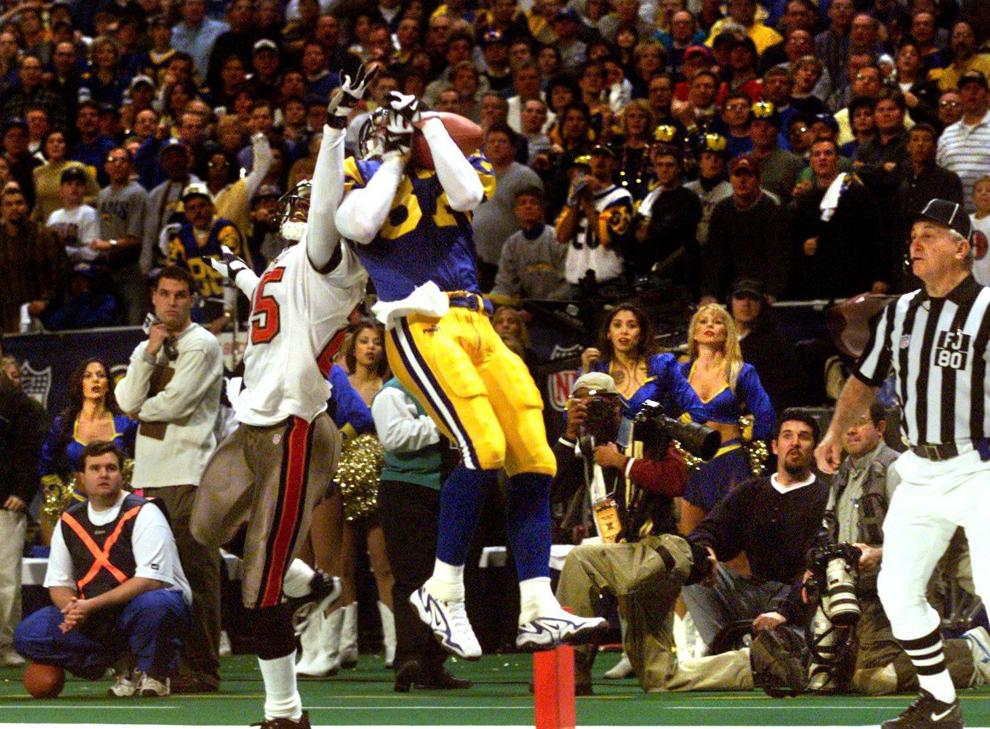 Only the upstart Tampa Bay Buccaneers stood in the way of the heavily-favored Rams and a trip to Super Bowl XXXIV. But a not-so-funny thing happened in the '99 season's NFC title game: A street brawl erupted in the Trans World Dome, a physical slugfest that saw the Bucs' defense totally neutralize an offense that had come to be known as the "Greatest Show on Turf."
With the clock ticking away in the fourth quarter, the Bucs led 6-5 when Warner threw down the left sideline to Ricky Proehl, who outwrestled cornerback Brian Kelly for a 30-yard TD and an 11-6 Rams win.
999 H BALLOON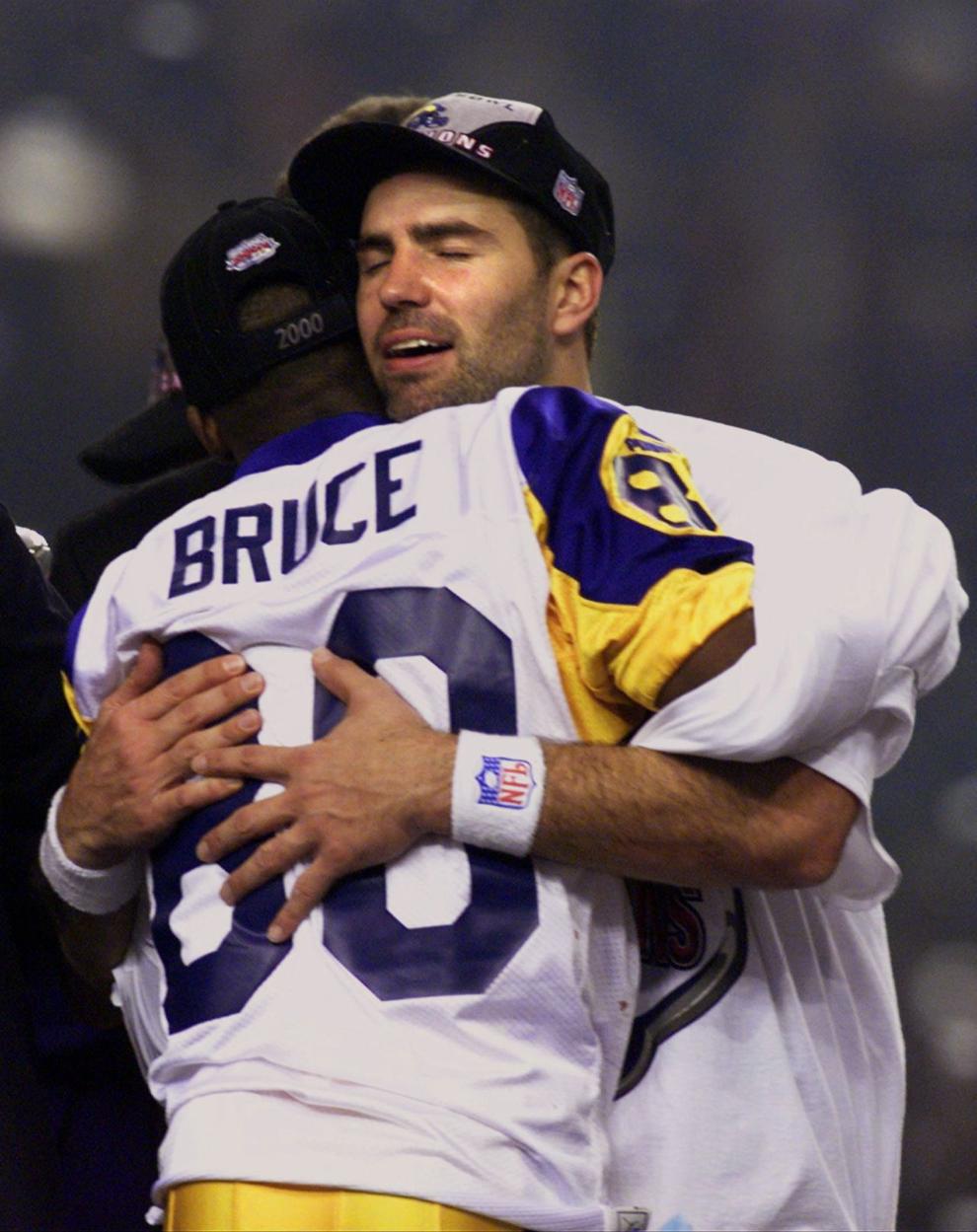 A 16-0 lead vanished into the Atlanta night. The AFC-champion Tennessee Titans roared back to tie Super Bowl XXXIV 16-all late in the fourth quarter, and had all the momentum.
On first and 10 from the St. Louis 27, the play came in from Rams offensive coordinator Mike Martz: "Twins Right Ace Right 999 H Balloon." Warner, sore ribs and all, launched a deep ball towards Isaac Bruce, absorbing a blow from the on-rushing Jevon Kearse. The contact caused the ball to be underthrown, but Bruce came back for it, then weaved his way through traffic for the game-winning TD.
---
FOR OPENERS, PART II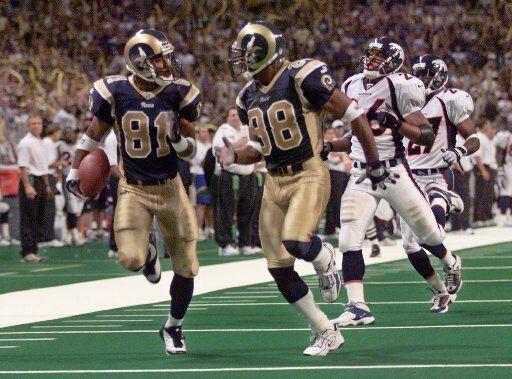 End to end action. Lots of scoring. And seemingly one big play after another. For Warner, the 2000 season opener on Monday Night Football must have felt like a return to the Arena Football League.
The game matched the defending Super Bowl champion Rams against the winner of the prior two Super Bowls — the Denver Broncos. It was Mike Martz's head-coaching debut. Warner had three interceptions, but also tossed three TD passes and threw for 441 yards, his career-high as a Ram. When all was said and done Torry Holt, Az Hakim, and Marshall Faulk each had 100 yards or more receiving, and the Rams had a 41-36 victory.
---
SWEET REVENGE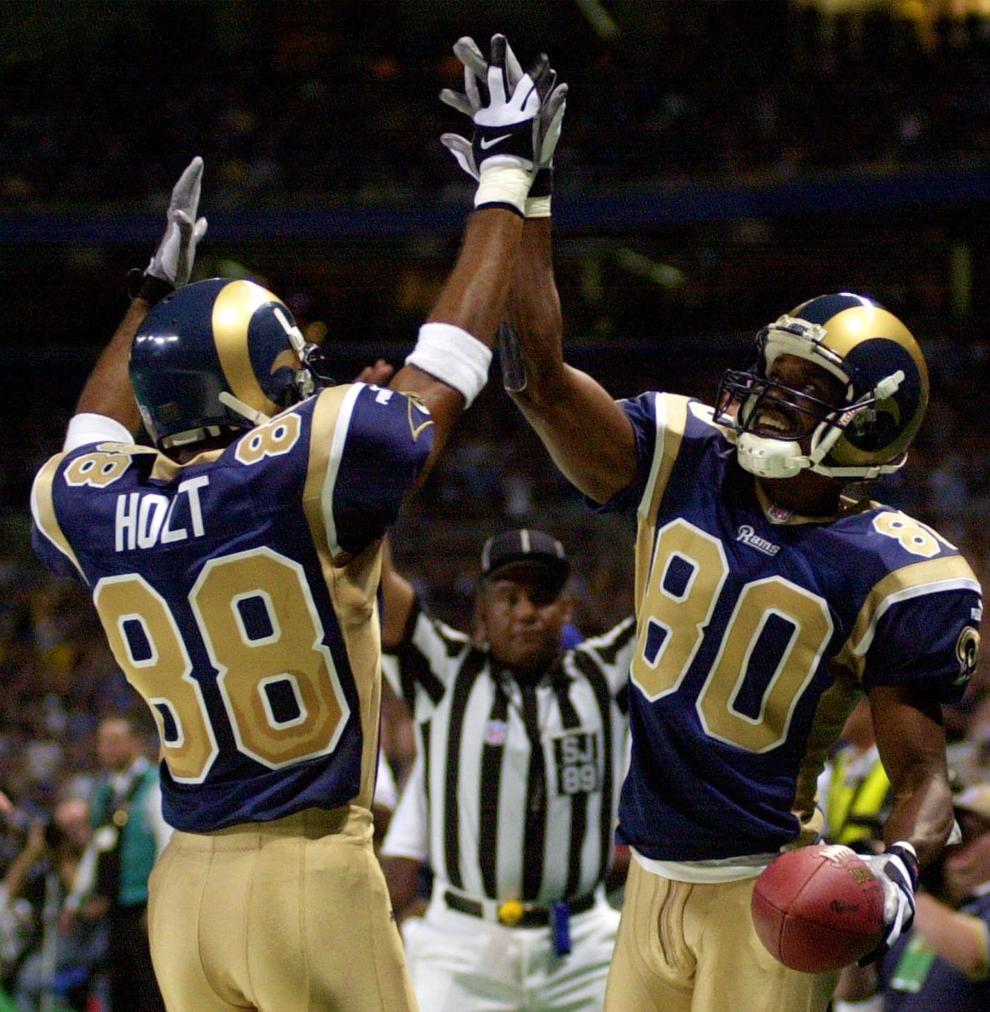 Little more than a year after San Diego's Rodney Harrison ended Trent Green's season with an unnecessary blow to the knee, the Chargers were back in the dome on Oct. 1, 2000. Mike Martz took no prisoners, calling passes on the first 18 plays of the game and 24 of the first 26. The Rams scored on their first 11 possessions — six TDs, five field goals. Green even got in on the act, throwing a third-quarter TD pass.
As for Warner? He threw the football equivalent of a perfect game, completing 24 of 30 for 390 yards and four TDs for a 158.3 rating — the highest rating possible.
---
A WILD WILD-CARD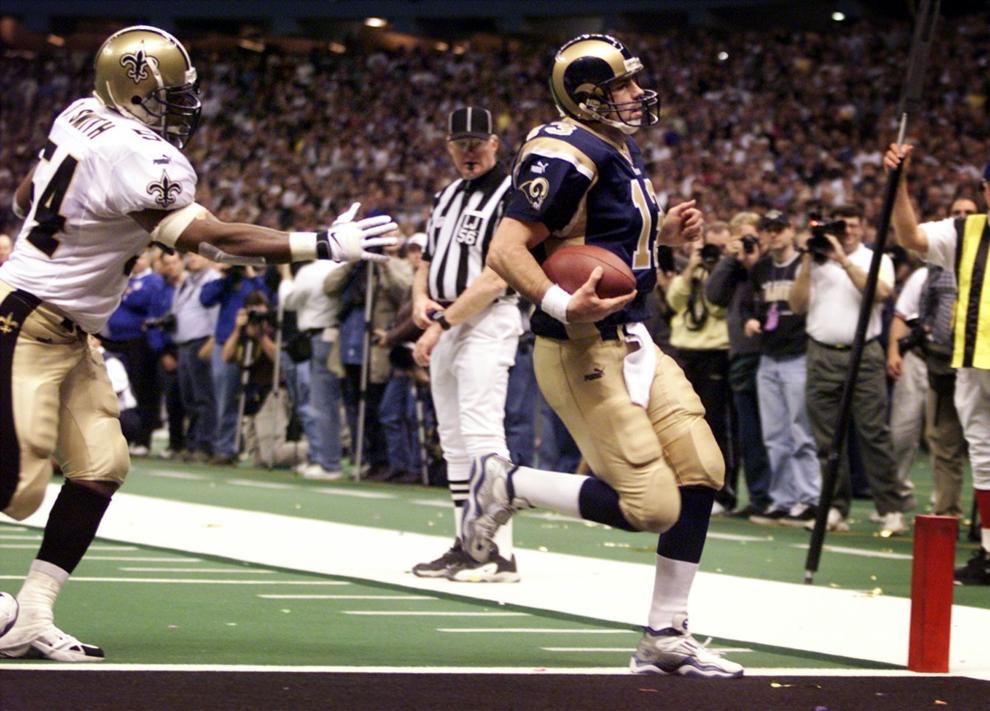 Warner suffered a concussion just six days earlier in the regular-season finale against the Saints, and didn't seem all there when the Rams returned to New Orleans for a wild-card game Dec. 30, 2000. Most of the rematch looked like a nightmare for Warner (three INTs/one lost fumble). New Orleans led 31-7 early in the fourth.
But Warner led a furious rally, completing nine of 12 passes on three TD drives. Suddenly it was just 31-28 Saints, when Az Hakim settled under a punt with under two minutes to play. Alas, Hakim muffed the punt, the Saints recovered and held on for the win.
---
ANOTHER CLINCHER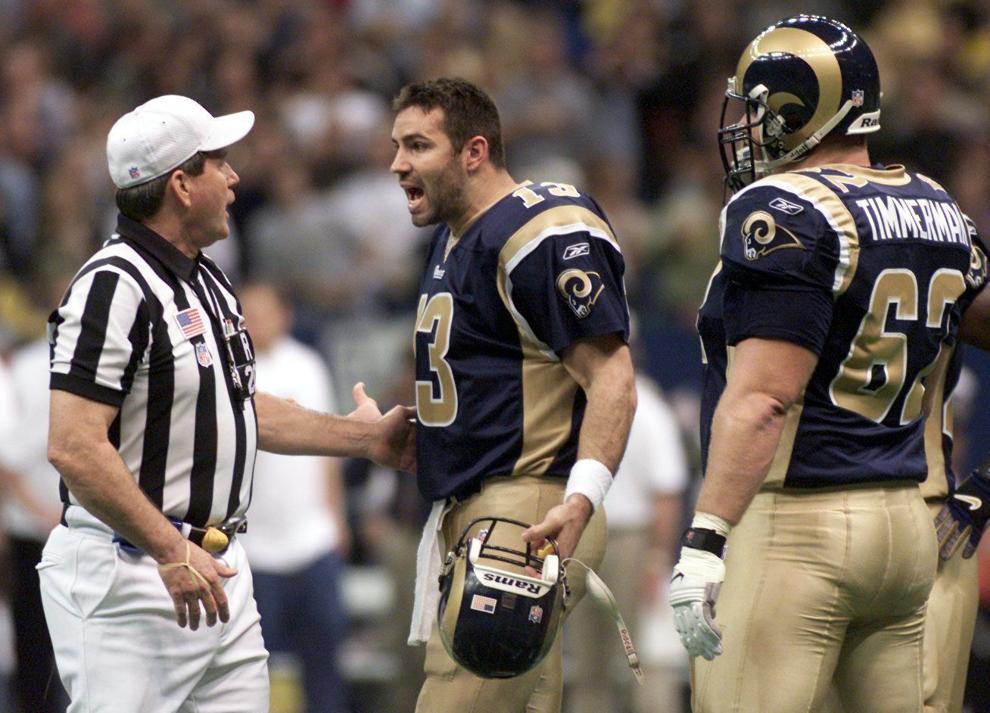 The New Orleans-St. Louis rivalry was white-hot, partly because Saints coach Jim Haslett had a knack for getting under the Rams' skin. But on the Monday Night stage, the Rams' big players made big plays in a 34-21 victory on Dec. 17, 2001.
Warner was at his precision best, dissecting the Saints for 338 yards passing and four TDs, three of which went to Isaac Bruce. It would be the last of seven regular-season or playoff games in which Warner threw at least four TD passes for the Rams. It clinched a third straight postseason berth, a record for a St. Louis NFL team.
---
OVERTIME ... ALMOST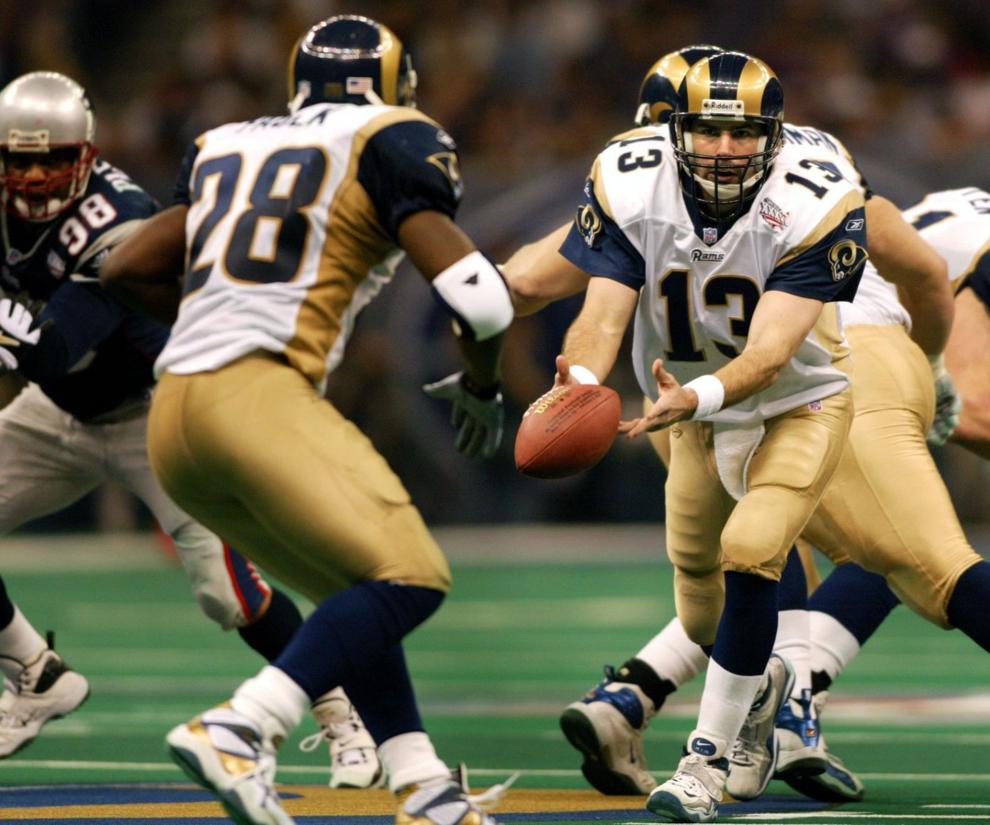 Warner scored only three rushing TDs in 12 NFL regular seasons. Which helps explain why his two-yard TD run on a QB sneak in Super Bowl XXXVI against New England was so totally unexpected. It came on the sixth play inside the Patriots' 10 during a 79-yard drive, cutting the Pats' lead to 17-10 with 9:31 remaining. The furious comeback continued with a TD pass to Ricky Proehl tying the game at 17-all with 90 seconds left.
The first overtime in Super Bowl history seemed inevitable. What a way to cap the 2001 season. But then ... well, St. Louis knows what happened.
---
BONUS: KURT WARNER BY THE NUMBERS
Numbers that stand out from Kurt Warner's career with the St. Louis Rams, New York Giants and Arizona Cardinals:
1 • Super Bowl MVP award (1999 season).
2 • League MVP awards (1999, 2001).
3 • Seasons played for Iowa Barnstormers of Arena League (1995-97).
4 • Pro Bowls (1999, 2000, '01, '08).
4-for-11 • Completions and attempts in first game played for St. Louis Rams (Dec. 27, 1998, at San Francisco).
4-for-11 • Completions and attempts in last game played for St. Louis Rams (Dec. 28, 2003, at Detroit).
5 • Touchdown passes vs. San Francisco (Oct. 10, 1999).
6 • Seasons spent with St. Louis Rams.
7 • Children for Kurt and wife Brenda.
8 • Touchdown passes during 1999 season's playoffs.
9 • Games started as a New York Giant in 2004.
11 • Game, season, or career passing records set as a Cardinal.
14 • Game, season, or career passing records held or shared as a Ram.
15 • TD passes during 1998 season for Amsterdam Admirals in NFL Europe, a league high.
36 • Games needed to reach 10,000 passing yards, the fastest in NFL history.
47 • Games needed to each 1,000 completions, the fastest in NFL history.
73 • Yards gained on game-winning TD pass to Isaac Bruce in Super Bowl XXXIV vs. Tennessee.
183 • TD passes thrown over three seasons with Iowa Barnstormers.
414 • Yards passing in Super Bowl XXXIV, second-most in Super Bowl history.
484 • Yards passing on Nov. 25, 2007 (for Arizona) vs. 49ers, a career high.