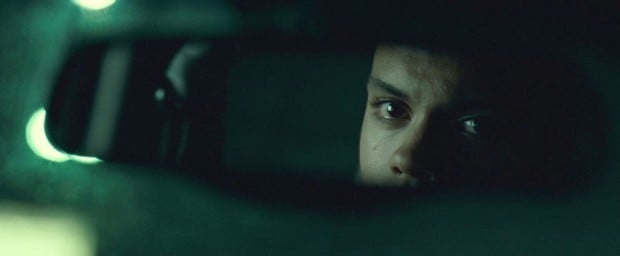 In 1995, two teenage cousins from St. Louis carjacked two Washington University coeds outside a Mexican restaurant in Dogtown. The women were assaulted and left for dead. One died; the other, who had been raped and shot three times, was rescued. The assailants were convicted of murder but spared the death penalty.
Director Aimee Lagos, a Washington University graduate, has compressed the incident into "96 Minutes," which won best debut feature at last year's St. Louis International Film Festival. Given the limits on Lagos' experience, budget and perspective, there were 1,001 ways that this project could have gone wrong, but the film is an effective drama that respects the complexity of urban life.
Shot with the obligatory handheld camera in a simulation of real time, the fractured narrative focuses on two characters at opposite ends of the chain of circumstance. Dre (Evan Ross) is an African-American high school student who is trying to set a good example for his gang-curious white cousin Kevin (J. Michael Troutmann). Carley (Brittany Snow) is a prelaw student who takes a study break to have dinner with boy-troubled classmate Lena (Christian Serratos).
Their paths converge in an Atlanta suburb, where Kevin tries to steal Carley's SUV. When Lena is seriously wounded, Dre drives toward a hospital, but Kevin continues to steer them down dangerous alleys.
Kevin is a poster boy for cause-and-effect criminality. He is neglected by his mother and abused by her boyfriends, plays violent video games and listens to gangsta rap. But Troutmann fearlessly embraces the character, while mixed-race Ross (son of singer Diana) embodies the moral and class conflicts of a good kid in a bad situation. Snow, shaking off her teen-comedy background, shows similar promise, as does director Lagos.
"96 Minutes" is a mere introduction to Sociology 101, but it's brisk enough to rustle the reading list and keep the conversation alive.
---
Three stars out of four • Rating R • Run time 1:36 • Content Violent content and strong language • Where AMC Creve Coeur