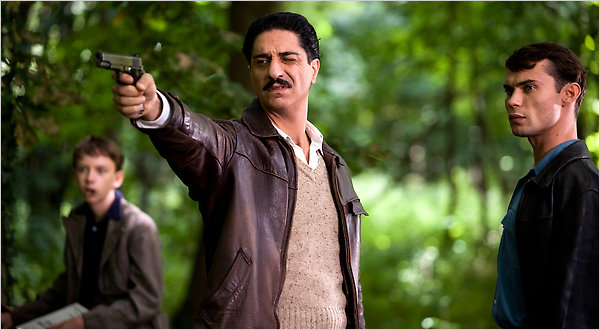 At the beginning of the World War II story "The Army of Crime," a roll call of resistance fighters who died for France does not include many French names. That's because much of the guerrilla warfare was conducted by foreigners, including Jews from Eastern Europe who had migrated to France as laborers, and communists from southern Europe who had fought the fascists in Spain.
This true story does a great service by honoring the memory of 22 brave men and women and by dramatizing the internal debates within the French population. But in staying true to life, it sacrifices some of the pacing and clarity of a conventional thriller.
The predominately Jewish group that's commemorated here was led by Armenian poet Missak Manouchian (Simon Abkarian), who was not a Jew but had witnessed the genocide of his own people. Others had repudiated religion for political engagement, and the sloganeering zeal of some of the young communists may be hard for modern audiences to fathom.
But the rage of Marcel Rayman (Robinson Stevenin), a handsome hothead who carries a pistol for close-range assassinations of Nazi occupiers, is familiar from other Resistance movies, such as Paul Verhoeven's pulpy "Black Book."
Yet "The Army of Crime" is cloaked in shades of gray. Manouchian professes that he is unwilling to kill for the cause. When he is sent to a detention camp and his wife, Melinee (Virginie Ledoyne), brings him a basket of food, a courtly German guard agrees to deliver it.
And most pertinently, the French people are conflicted about the occupation. Some are willing collaborators, while others, like the piggish policeman who beds Rayman's girlfriend and then agrees to protect him, have strategic reserves of patriotism.
In "Army of Crime," as in our own war-torn era, one man's criminal is another man's comrade.