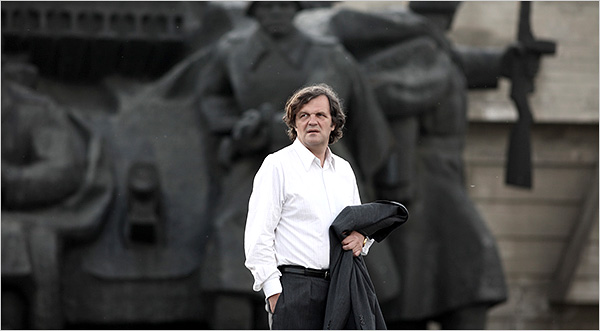 One version of history says that the Iron Curtain was torn down by a populist uprising in the Eastern Bloc. Another version says that it was Ronald Reagan, who fed the populist uprising by bankrupting the Soviets in the arms race. In the French political thriller "Farewell," based on a little-known true story, the unsung hero is a midlevel Soviet bureaucrat who betrays his nation's secrets to feed its hunger for Western refinements.
Sergei (played by Bosnian director Emir Kusturica) is less a traitor to communism than its evolutionary vanguard. He doesn't want money or asylum in exchange for the documents he smuggles to a civilian go-between named Pierre (French director Guillaume Canet); he only wants champagne for his co-workers at the KGB, Queen cassettes for his rebellious son and a peaceful future for his country.
Although it's set in a country where even housekeepers and grandmothers act as spies, "Farewell" is not initially as harrowing as a police-state drama such as "The Lives of Others." The rendezvous happen in public places, where urbane Sergei gives lists of Soviet moles who are working in the West to the nervous co-conspirator who becomes his friend.
Pierre is temporarily stationed in Moscow for a French engineering company, and his German-born wife urges him to burn the documents, but he secretly smuggles them to the French intelligence agency, which ultimately passes them to Reagan (Fred Ward, playing a much more hands-on president than the affable duffer most of us remember).