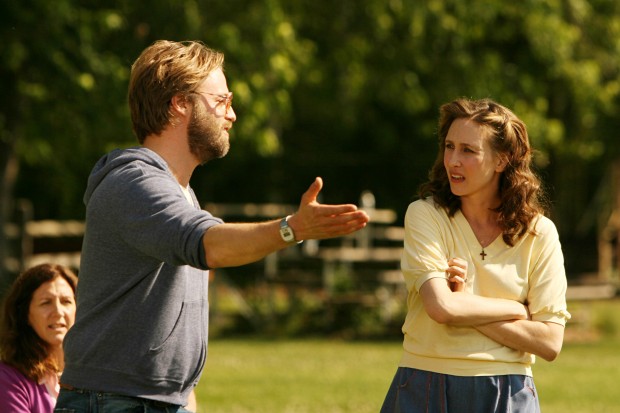 Corinne (Vera Farmiga) fled a troubled home for a life as a wife and mother. Her husband, Ethan (Joshua Leonard), once aspired, as was the fashion in the 1960s, to be a rock star. Now he's put his faith in the Lord, and Corinne has chosen to stand by him — not that she had much of a choice.
She's always had a lively mind and loved to read — qualities that make for an uneasy fit in the fundamentalist community that Ethan embraces. When Corinne speaks her mind in church, she's chided for coming too close to preaching. That's not a woman's place.
Corinne takes comfort in her friendship with Annika (Dagmara Dominczyk), whose irrepressible spirit she admires. But there's something lacking in Corinne's relationship with Ethan, who seems unaware of her needs and much more committed to following the path of the rigid Pastor Bill (Norbert Leo Butz).
Is this really the life Corinne wants?
"Higher Ground" is the directorial debut of Farmiga, who has starred in films including "The Departed," "Up in the Air" and "Source Code." Inspired by a memoir by Carolyn S. Briggs, who co-wrote the screenplay with Tim Metcalfe, the film builds slowly as it establishes Corinne's character, hints at the cracks in her resolve and carefully prepares for a poignant conclusion.
As such, the film is a showcase for Farmiga, who delivers a stellar performance. But she has surrounded herself with actors who bring a rough-hewn sincerity to their roles. St. Louis native Butz is impressive as a man who's blind to his limitations, and Dominczyk imbues Annika with just the right blend of humor and sensuality.