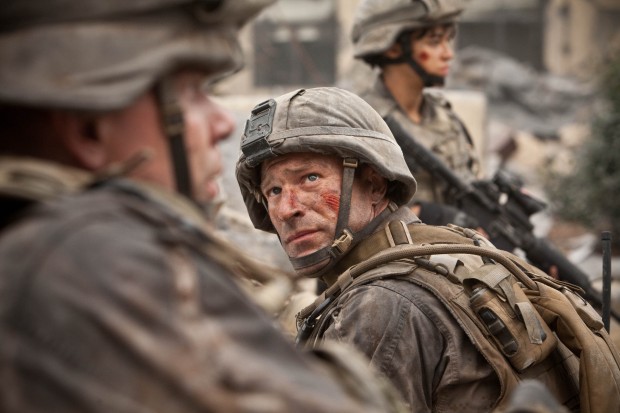 'Black Hawk Down" meets "District 9" meets "Independence Day" meets "Cloverfield" in the new alien invasion thriller "Battle: Los Angeles." The so-so film isn't nearly as good as any of the movies that may have inspired it, or even its own knockout trailer.
The big-budget flick, which also recalls last year's panned "Skyline," opens in midchaos with the Santa Monica area getting blown to fiery pieces by what looks like falling meteors.
After a few minutes of this mayhem, the film jumps back 24 hours so we can get to know the members of Marine Staff Sgt. Michael Nantz's (Aaron Eckhart) platoon, a generally nice group including 2nd Lt. William Martinez (Ramon Rodriguez), Cpl. Kevin Harris (R&B singer Ne-Yo), Cpl. Jason Lockett (Cory Hardrict), Cpl. Nick Stavrou (Gino Anthony Pesi) and medic Jibril Adukwu (Adetokumboh M'Cormack).
After quickly glimpsing their lives over several quiet scenes (one is engaged, another Skypes with his sister, etc.), the sky begins raining meteors, and the men are called into action to combat this "infestation of God knows what," as one character says.
Along the way, they pick up civilians Michele (Bridget Moynahan) and Joe (Michael Peña), and Air Force Tech. Sgt. Elena Santos (Michelle Rodriguez, in her usual tough girl role).
What they're dealing with are countless aliens — tall, leggy and encased in metal to shield their messy insides — who are mining Earth for its resources. Countless shootouts ensue, with lots of ducking and dodging as the Marines fight to protect and survive.
Nothing about it it feels fresh.
In the midst of it all, Eckhart's Nantz manages to throw in an overly scripted inspirational speech, some obvious rah-rah, while the soundtrack swells. The only thing more annoying is Rodriguez's Santos screaming "Take that!" after destroying an alien.
Effort is made to give each of these characters a face and life, but once they're in their helmets and camouflage, it doesn't matter. Save for Eckhart and Ne-Yo, who oddly never loses his character's oversize black glasses, the actors are a bit anonymous.
Though beautifully shot by director Jonathan Liebesman ("The Texas Chainsaw Massacre: The Beginning") with great special effects and set design, this battle has already been fought bigger and better.
"Battle: Los Angeles" will get you through the weekend if you're looking for a loud popcorn movie with lots of bang, but not much else.
---
Two stars (out of four) • What "Battle: Los Angeles" • Rating PG-13 • Run time 1:54 • Content Sustained and intense sequences of war violence and destruction, and language