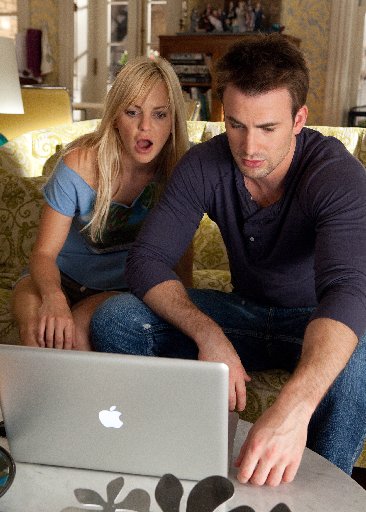 For every movie there's a motive, and in the case of the sex comedy "What's Your Number?" it might not be as bogus as it seems. Anna Faris is a funny woman, a Meg Ryan among stoner chicks, and she deserves to have a hit like "Bridesmaids." This is a pale imitation of that libidinous laughfest, but it does induce a few giggles like cheap champagne.
Faris plays a Boston bachelorette named Ally. While prepping for the wedding of her sister (Ari Graynor), Ally reads an article suggesting that women with more than 20 lifetime hook-ups are unlikely to find true love. Because she's perched on the pivotal number, Ally decides to locate her ex-lovers and determine whether any of them are marriage material.
The gimmicky premise is an excuse to pair Ally with Colin (Chris Evans), a hunky, promiscuous neighbor with amateur detective skills. Between meetings with ex-lovers who include a ventriloquist (Andy Samberg), a gynecologist (Thomas Lennon) and an ersatz Henry Higgins (Martin Freeman), Ally and Colin predictably grow close. He encourages her to make art, she encourages him to make music, they play a late-night game of strip basketball at Boston Garden, yada, yada. But Colin can't commit, and Ally's got a date for her sister's wedding with the blueblood (Dave Annable) preferred by her mother (Blythe Danner).
"What's Your Number?" is such a stereotypical sex comedy that it sometimes seems like a variation on "The Scary Movie" motif. Both Faris and Evans have starred in such parody flicks, so they keep it fun and frisky. This movie isn't as daring as it pretends to be, but with two likable stars and a quotient of absurdity, "What's Your Number?" gets a passing grade.