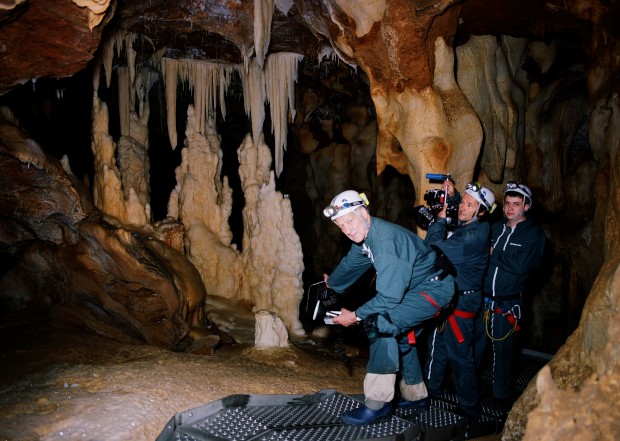 Imagine an opulent movie palace that was 30,000 years old, with posters preserved on the curving walls and the bones of the Stone Age patrons peacefully sleeping in the fairy dust. That's essentially what archeologists found in a French canyon in 1994 and what Werner Herzog brings back to life in the extraordinary documentary "Cave of Forgotten Dreams."
The Chauvet Cave in southern France contains the world's oldest known artwork — paintings of bison, bears and horses that simulate galloping motion. In his typically droll Germanic narration, Herzog calls the images that were painted and viewed by firelight "proto-cinema." Herzog reproduces that sensation with an unlikely tool: a 3-D camera, which he and his small crew were allowed to haul into the sealed cave for a limited time.
This is the best and most suitable use of 3-D in the dubious history of that technology. The Cro-Magnons painted the images on undulating walls, over the course of perhaps 5,000 years, and Herzog immerses the viewer in the ritual and romance of that prehistoric era, even while his interviewees plead ignorance of the Paleolithic people who visited there.
Those people did not live in the cave, where the bones of bears surround the stalagmites, but evidence suggests that one brave, creative man did much of the painting — and that a boy may have walked with a wolf to come view it.
The mythopeic speculations, along with eccentric sidebars about perfume, slingshots, Wagnerian stagecraft and the mutant crocodiles who live below a nearby nuclear power plant, elevate "Cave of Forgotten Dreams" above the boilerplate of science docs. This is something more than a movie; it's a testament — and re-creation — of rapture.
---
 "Cave of Forgotten Dreams" 
Three and half stars (out of four) • Rating Not rated • Run time 1:30 • Content Some disturbing images • Where The Hi-Pointe