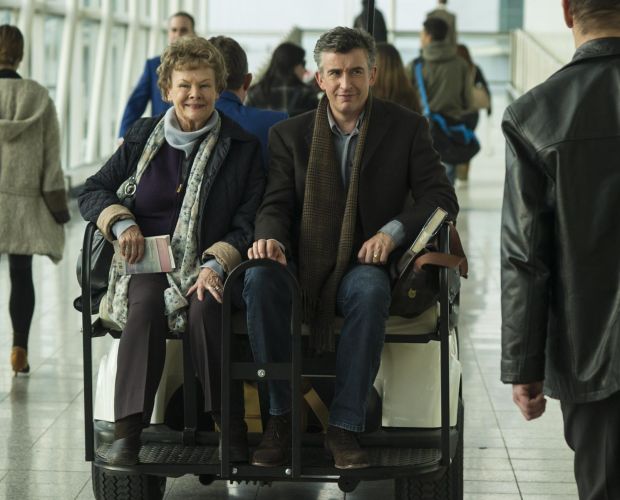 Critics invoke the term "dramedy" to describe a hybrid of comedy and drama, but you won't find it on many movie posters. Mainstream audiences are allergic to irony and want their tears and laughter served on separate plates. It's smart marketing that "Philomena" is billed as a comedy, but this adoption drama lands more gut punches than belly laughs.
Inspired by true and tragic events, "Philomena" is the story of one Irish woman, but she represents many others. When Philomena Lee was 15, the Catholic schoolgirl was impregnated by a charming stranger, gave birth to a boy she called Anthony and lived the next few years of her life in a convent.
While Philomena worked in the laundry to pay back the nuns for their "kindness," she was allowed to see her son for one hour per day. When he was 3, the boy was wrested from Philomena and sold to adoptive parents from America. She never saw him again.
Almost 50 years later, Philomena told her tale to British journalist Martin Sixsmith, who accompanied her on a transcontinental journey to find the now-grown son.
Dry-as-toast comedian Steve Coogan optioned the story, wrote a script with uncharacteristic warmth, and co-stars as Sixsmith. But "Philomena" belongs to Judi Dench.
Although the Oscar-winning actress is battling eye and memory problems, this is a robust achievement. Her Philomena is a reverent and even cheerful woman who worked as a nurse for decades and has never questioned the faith that forced her to surrender her son as atonement for the sin she admittedly enjoyed.
On a too-close-for-comfort road trip to the convent, atheist Sixsmith is shocked that Philomena bears no ill will toward the nuns, who claim to have reformed yet keep secrets behind locked doors.
But when the investigation takes the odd couple to Washington, D.C., he is disarmed by her simplicity, as she prattles about romance novels and marvels at the portion sizes of American breakfasts.
It is hard to overlook that Sixsmith is about the same age as the mysterious son and that they followed similar political paths, but although there's a twist, it's not the manipulative sort. Dench, Coogan and sure-handed director Stephen Frears ("The Queen") keep the focus on character, and in "Philomena" they've got an earthbound angel.
---
What "Philomena" • Three stars out of four • Rating PG-13 • Run time 1:38 • Content Some strong language and sexual references