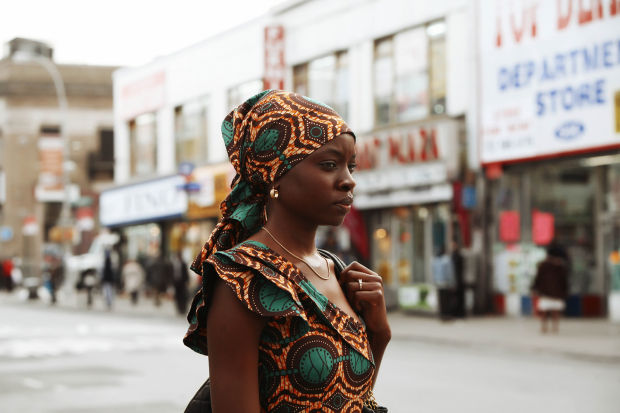 At the wedding of Ayodele (Isaach De Bankolé) and Adenike (Danai Gurira), the gender-specific rituals, the ancestral language and the long, colorful vestments suggest we are in colonial Nigeria. But this is modern-day Brooklyn, a melting pot where assimilation simmers on the back burner.
At the wedding feast, after the bride has been anointed with dollar bills, the women gather in one room, where Adenike's mother-in-law (Bukky Ajayi) stresses the importance of bearing a son. In another room, the men gather to advise Ayodele that when he inevitably takes a mistress, he should be discreet about it and always return home to his wife for a good meal and the opportunity to father a legitimate heir.
Yet even within these traditional constraints, this American marriage seems happy. The newlyweds are physically intimate, and Adenike brings home-cooked lunches to the restaurant where her husband works. Ayodele tells his mother he has everything a man could want. But she retorts that the important thing is not his personal happiness but the summoning of his unborn son.
The matriarch makes Adenike wear talismans and drink fertility potions. When those ancient remedies fail, there is never any discussion that it might be the husband's fault, and the young woman is shamed into taking drastic measures to extend the family bloodline.
Director Andrew Dosunmu, writer Darci Picoult and cinematographer Bradford Young have woven a richly textured film from threads of race, religion and gender. Yet it feels deeply organic, with a documentary realism. The look of the film is exquisite, especially the bright batik dresses and headwraps in the shallow-focus, off-center framing. The subtle sound mix captures the cacophony of urban America, from the Nigerian juju music to the Muslim call-to-prayer.
Yaya Alafia adds a tonic dose of humor as Adenike's Americanized best friend, but "Mother of George" is serious cinema of the globalist sort. Much of its success depends on Gurira as Adenike, whose lovely, strong and stoic face carries the weight of several words. Iowa-native Gurira has had roles in TV's "Treme" and "The Walking Dead," but "Mother of George" should be the birth of a brilliant film career.
---
What "Mother of George" • Three and a half stars out of four • Rating R • Run time 1:47 • Content Sexuality and some strong language • Language English and Yoruba with subtitles • Where Plaza Frontenac